Back in 1991, when Damien Hirst began showing his Natural History works, the Daily Star ran the headline "£50,000 for fish without chips". This witty splash featured a photograph of the reporter posing with a bag of chips in front of Hirt's cabinet of little fish in individual Perspex boxes, titled Isolated Elements Swimming in the Same Direction for the Purpose of Understanding (1991). The joke, of course, is that they are not swimming at all; they are forever entombed in formaldehyde in the name of art.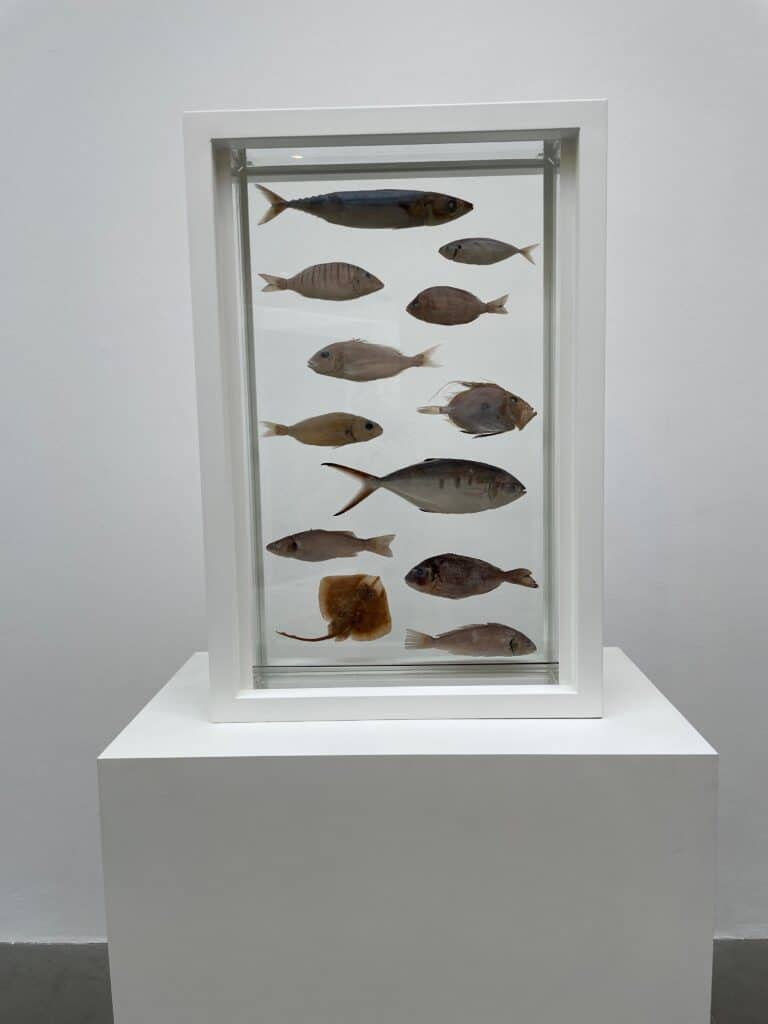 The Daily Star – a powerful Red Top tabloid – was speaking for the heretics who didn't get the joke and who thought they had the last laugh. The newspaper has since seen its daily circulation dwindle from 805,000 at the time to 209,000 today. Hirst, however, has made a career out of pickled animals whose prices, which have never included chips, have soared and soared. Who's laughing now?
This latest offering in Hirst's year-long takeover of Gagosian's Britannia Street gallery collects more than twenty pieces from the iconic Natural History series. The show features an exemplary range of works made between 1991 and 2021, including sharks, fish, calves, cows, sheep, pigs, ducks, doves, and sausages.
The centrepiece is a relatively new shark, Death Denied (2008), which hovers contentedly in its lagoon-blue formaldehyde solution in front of the entrance to the main room. The Guardian's Jonathan Jones, once a believer and now a diehard sceptic, fixated on the signs of fluffy decay around the shark's mouth and thereby missed the point, since it is unreasonable to expect organic matter to resist entropy, even when drowned in preservative. The point is that the sight of a tiger shark with a mouth bigger than your head, seemingly swimming towards you, open-mouthed and majestic, is no less vivacious today than it ever was. The calm blue water, indifferent to its occupant, contrasts with sheer, silvery bulk of the creature within to create a tableau of threat arrested by fate. And it still packs a punch.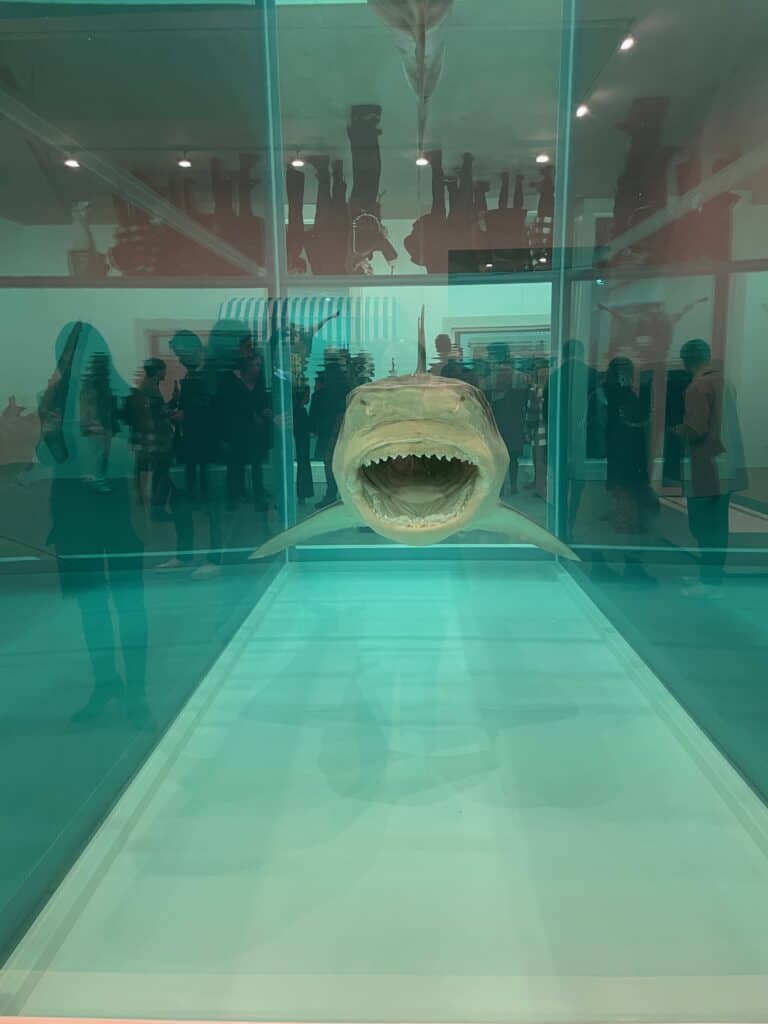 The only thing that has changed is that it is no longer shocking. And that is not just because we have become desensitised. The sheep, I AM (1995), still has those pleading, watery eyes, replete with loss and longing, and the pair of calves, Cain and Abel (1994), retain a sort of intangible fluffiness as if they might spring into action again. The shock dwindles precisely because what shocked audiences in the early 90s was not death or the inherent futility of all life, but that these zoological specimens could be art at all. Well, we're all over that now, aren't we? The indivisible remainder is its thematic importance in Hirst's body of work, as a repetitive, reiterative investigation of the aesthetics of mortality, and the undeniable beauty of the object in and of itself. 
Hirst, of course, saw this coming. So, in the mid-2000s, he began to re-imagine the series by adding props to create sculptural narratives in the manner of his vitrine sculptures. The Beheading of John the Baptist (2006) shows a decapitated cow laid prone on a tiled floor beside a butcher's knife with its head on a block, and The Pursuit of Oblivion (2004) contains a butcher's rack with sides of beef and a dove in a birdcage on an armchair sheltered by an umbrella. In these works, the animal in formaldehyde is much less important than the narrative of the scene, whatever that may be. Still, they're wry, funny, curious, arresting riffs on the theme, which is what Hirst does best – riffs on a theme. 
This is the first time Hirst has shown Natural History works by themselves. Usually, they are backed by Spot Paintings, whose glorious grids of colour are visible through the clear, still waters of death. Or they are paired with cabinets of gems or photorealist paintings. By themselves, however, they possess a spectral calm, a slow-burning shred of feeling that lingers just within reach and an energetic reflection on eternity. The thing that is not said often enough is that these animals have faces, and in those faces, forever in stasis just on the edge of decay, they betray personalities which makes communion with each work communion with a being whose fate, when all is said and done, is not so dissimilar to yours or mine.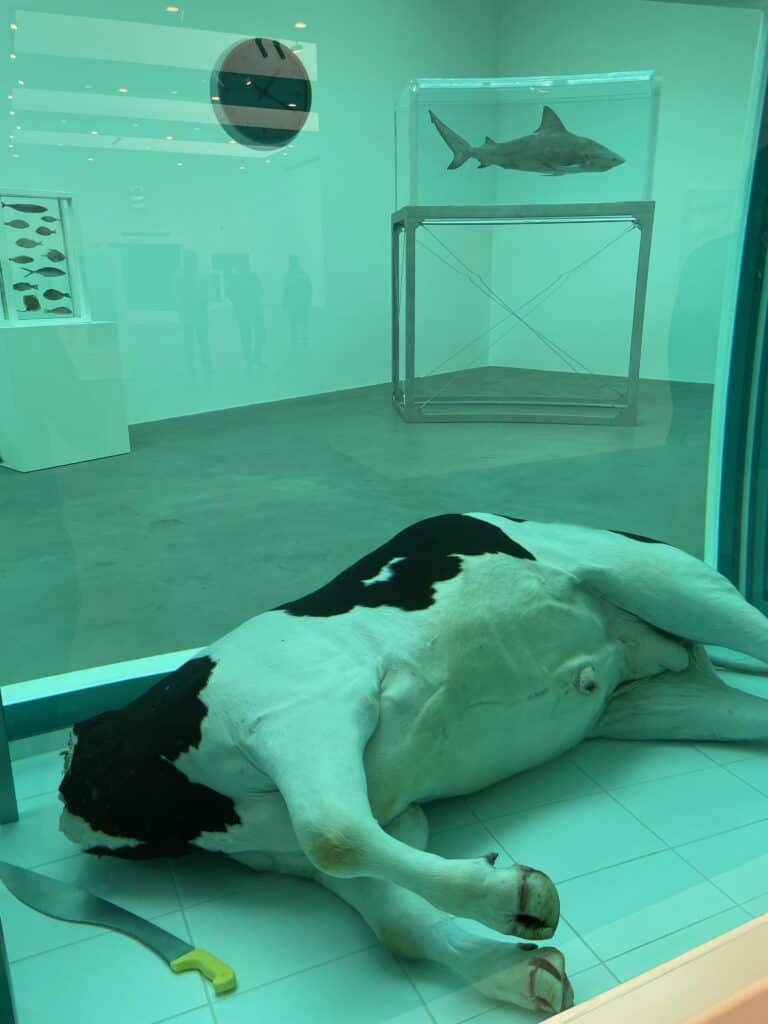 If you were on the Daily Star's side of the debate thirty years ago, now is a good time to get down there and re-evaluate your opinion because history is not on your side.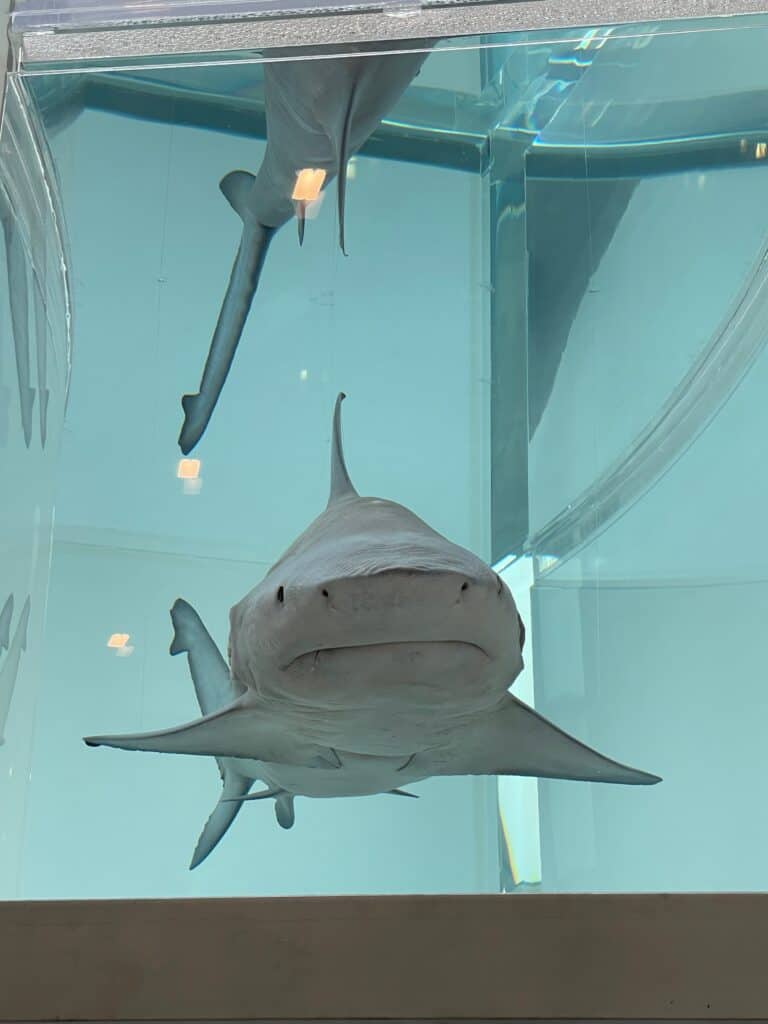 Categories
Tags