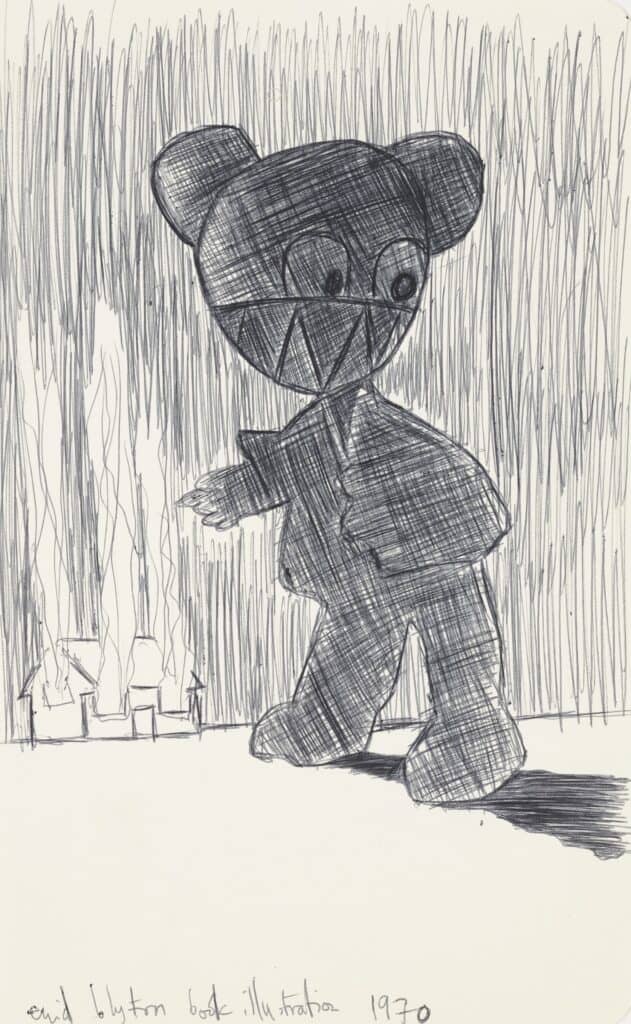 Radiohead vocalist Thom Yorke and artist Stanley Donwood first met in the 1980s as students at Exeter University and have created art together ever since. Donwood has created the cover art for all of Radiohead's ground-breaking albums since The Bends in 1996.
Presented by TIN MAN ART, TEST SPECIMENS brings together 60 works on paper the pair created in 1999-2001, whilst also working on the iconic turn of the millennium albums Kid A (2000) and Amnesiac (2001).
Thom Yorke and Stanley Donwood never worked together in an obvious way. Instead, they created a different way of thinking about creativity. Two people producing in tandem with each working concurrently and constantly bouncing images and ideas between them – pages torn from sketchbooks shared via fax (in 1999, the internet and emails were still in their infancy). Their drawings, which feed into record covers and Radiohead's expanded website and visual material, are more like diptychs than duets.
Fragments of text and unfinished images is an ongoing trope in both their works, scrawled attempts to capture energy, emotion and thought.
I think we both trying to loosen each other up in different ways. There was just a lot of work. A lot of to and fro. A lot of sifting around the same things again and again until something spoke.

Yorke says.
The pair have a variety of aesthetic approaches, even within their own works. At that turn of the century point, Donwood was fusing influences from Robert Crumb and underground 1960s comics with Piranesi and architectural drawing. Yorke was fascinated with the irreverence of the Chapman Brothers and collage approach of the Beta Band. Both namecheck Barbara Kruger and Jenny Holzer, two artists using text in bold and demanding ways, as strong influences.
Their drawings are largely black and white, something that shifts when the pair work on album imagery – these drawings are works in progress, moments in time. A lot of the drawings came from their respective dreams. "You'd wake up in the morning and trying to just capture something before it fades away," Stanley explains. "The dream thing was a key communicated between both of us then. It was like a way in, for want of anything," Thom agrees. "It was really just a nice place to start on stuff."
This has led to images such as Self-portrait with Spiders (Thom Yorke), depictions of stalagmites and stalactites in a hallway, vampiric bears or the Balkan war. The aim was to draw things to make them go away. The works were all made in the period after the Radiohead albums OK Computer was released and Kid A was being recorded, a moment of personal upheaval, and there is something intimate about peering into their minds through these drawings.
Music, or rather the expanded audience and spaces where music was promoted and experienced, was a way for Yorke and Donwood to communicate their ideas. Both were against the pretensions of the art world and focusing on a very different mass audience. "What I was wanting to do at the time was utilise Radiohead's fame as a canvas to put our ideas as big as possible in as many people's faces as possible. Using the record shop as a democratic Art Gallery and advertising hoardings as basically propaganda spaces," Donwood explains. 
A lot of the work is quite violent and scratchy. It is fed by nightmares, mental unrest, politics and discomfort. Yet both their works also contain elements of humour, cuteness and beauty. As Francesca Gavin notes in her essay for the exhibition catalogue, this is what makes these drawings still resonate 20 years later – the tension between pleasure and discomfort.
The exhibition is curated by Siobhan Andrews Kapoor: "TEST SPECIMENS offers an extraordinary, intimate glimpse into the minds of these creative geniuses at a pivotal moment in British cultural history. For us the viewers, it's a privilege to be let behind the scenes and explore this fantastical world for ourselves."
The artists are represented by TIN MAN ART, founded by James Elwes:
"We're opening the pages of Thom and Stanley's sketchbooks to the public for the first time, following the frenzy of interest over the exhibition of works associated with Kid A and Amnesiac at Christie's during Frieze week last year. These pieces were made at a time of war and political upheaval, strangely enough mirrored by today's tinderbox climate, making the timing particularly poignant. The message holds true: humanity can be chaotic and cruel, but art, collaboration and invention can shine a light in any darkness."
TEST SPECIMENS An exhibition of drawings by Thom Yorke & Stanley Donwood 8 Duke Street St James's, London SW1Y 6BN Wednesday 25th – Sunday 29th May 2022
About the artists
Thom Yorke (b. 1968) is a musician, artist, composer and activist. He is best known as lead singer and songwriter of Radiohead: the group have won several Grammy and Ivor Novello Awards and have released critically acclaimed music. Radiohead's work is widely regarded as some of the most celebrated and influential work of recent decades. The band have been inducted into the Rock and Roll Hall of Fame and their work sits in the US Library of Congress. In November 2021, as part of anniversary celebrations of the influential Radiohead albums Kid A (2000) and Amnesiac (2001), the albums were combined with a third disc of unreleased material in a triple album, KID A MNESIA. The release accompanied Yorke's two-year long project with artistic collaborator Stanley Donwood and producer Nigel Godrich, to create the KID A MNESIA Exhibition, an interactive audio-visual experience with music and artwork drawn from the two albums. In the same month, Yorke & Donwood also released two books, KID A MNESIA and Fear Stalks The Land. The former celebrates the process and artwork created for Kid A and Amnesiac, the latter compiles notes, lyrics and sketches from that period. Yorke lives and works in Oxfordshire, England. 
Stanley Donwood (b. 1968) is an artist best known for his work made for the band Radiohead, for whom he has created almost all album covers and promotional materials. Born in Essex, England, he studied Fine Art at the University of Exeter where he first met Radiohead frontman Thom Yorke. The lifelong collaboration between band and artist was initiated when Yorke asked Donwood to contribute art for Radiohead's original My Iron Lung EP (1994). Donwood's paintings, drawings and prints address socio-political issues, often employing satire that draws comparisons to Hogarth, Insa and Banksy. He has been the official artist of the Glastonbury music festival since 2002 and has won two Grammys for his artwork for Radiohead's albums Amnesiac and In Rainbows. Donwood's art has been the subject of a book, There Will Be No Quiet (2019), published by Thames & Hudson. He has written and illustrated several books of short stories, including Humor (Faber, 2014). He has exhibited at galleries in the UK, USA, Australia, Italy, Spain, Japan and the Netherlands, as well as at the Bonnefantenmuseum in Maastricht. He lives and works in Brighton, England. More at www.slowlydownward.com/
TIN MAN ART is a gallery, agency and consultancy that works with an array of artists, collectors and institutions. It was founded in 2021 by James Elwes with the intention to work alongside artists we believe in without limiting ourselves to any particular genre or discipline. TIN MAN ART believes that art should be an enjoyable, personalised experience and that anyone can be a collector, regardless of their knowledge level. 
Categories
Tags