Since Ryan Stanier launched The Other Art Fair (TOAF) in 2011 as the first fair to represent independent artists, it has expanded globally and now holds art fairs in Brooklyn, Chicago, Los Angeles, Dallas, Melbourne and Toronto. The latest London edition features 140 artists with price points that are a lot more affordable than Frieze or Basel where the galleries showcase their artists, making it a great place to start a collection or meet emerging and more established artists.
Several of the exhibiting artists – Simon McCheung, Kristjana S Williams and Sarah Emily – are currently exhibiting in 'Rebirth', a group exhibition that I curated at 99 Projects in London, and TOAF is the place where I first came across their work.
Here are my top picks.
1 Chila Kumari Singh Burman
This year's TOAF guest artist is Chila Kumari Singh Burman, whose incredible neon light installation lit up the front of Tate Britain during the winter of 2020.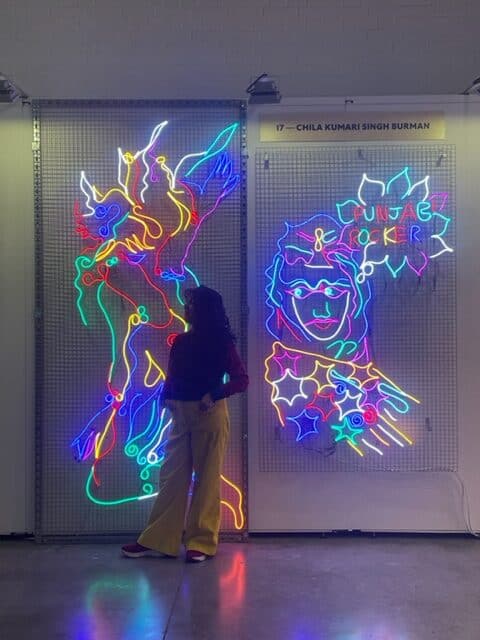 2 Benn R Storey 
Photographer Benn R Storey is exhibiting exquisite still life prints of flowers in the style of Dutch Masters. I bought one of his daffodil and hyacinth prints, with 100% of proceeds going to the Choose Love Ukraine Fundraiser. Benn says: "Symbolising hope and rebirth, the daffodil combined with the blue hyacinth's meaning of sorrow, sincerity and respect felt like the right pairing to create this limited edition print which will be available @theotherartfair this week in support of those facing war in Ukraine." @bennrstorey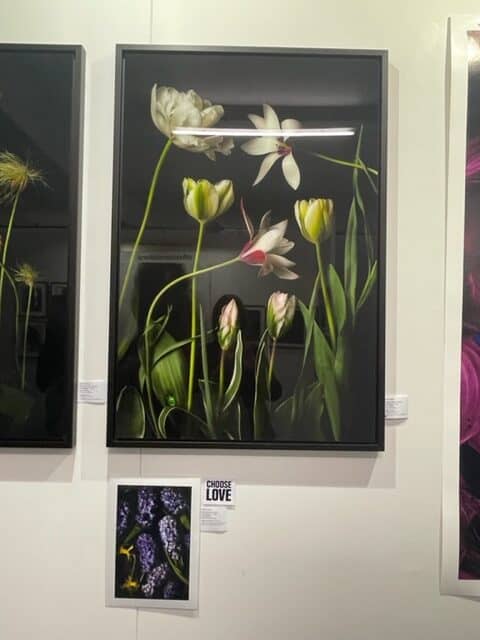 3 Harriet Riddell 
Get your portrait stitched on a sewing machine by Harriet Riddell aka 'In Stitch You'. Harriet travels the world with her sewing machine in tow, capturing the people she meets with free motion embroidery. As well as stitching portraits at TOAF, Harriet is exhibiting hand-stitched artworks including a recreation of Yoko Ono and John Lennon's 'Bed-in for Peace' at the Amsterdam Hilton Hotel in 1969, which was a protest against the Vietnam War. @institchyou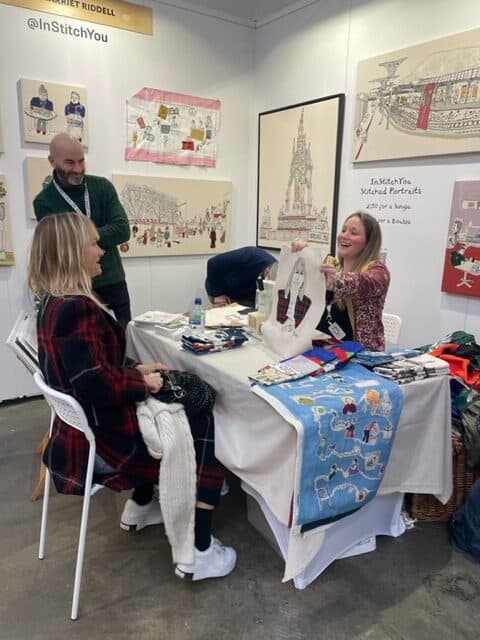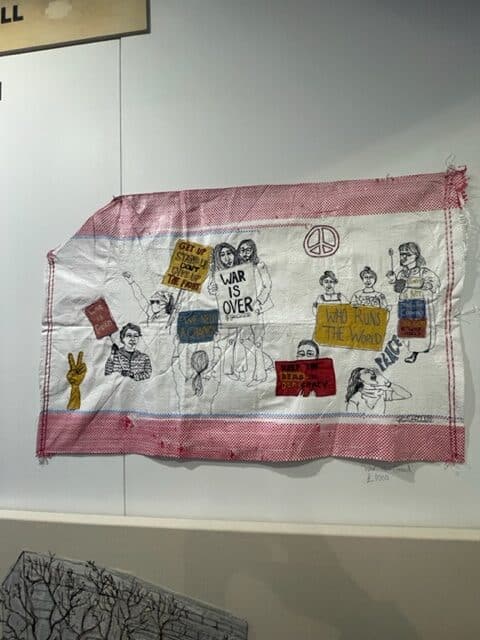 4 Evelyn Morgan 
Evelyn Morgan's eye-catching paintings are inspired by the experience of relationships ending with the classic line 'It's not you it's me', reversing this by saying 'It's not me, it's you'. She uses oil, acrylics and embroidery with a bold Pop palette. @art.evelyn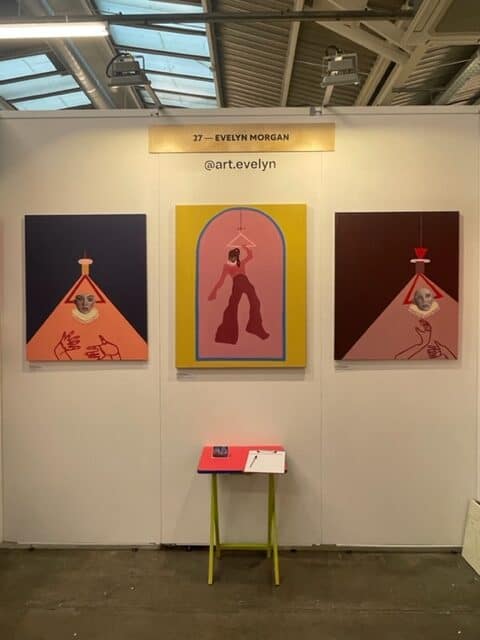 5 Sara David 
Sara David, this year's TOAF New Futures winner, is inviting visitors to TOAF to write love letters with her. The interdisciplinary artist uses her art to look at food and its meaning in society, and has created a 'takeaway' inspired booth featuring traditional Indian lunchboxes which house messages she has handwritten in henna, alongside hand-painted dinner plates. @saradavid_art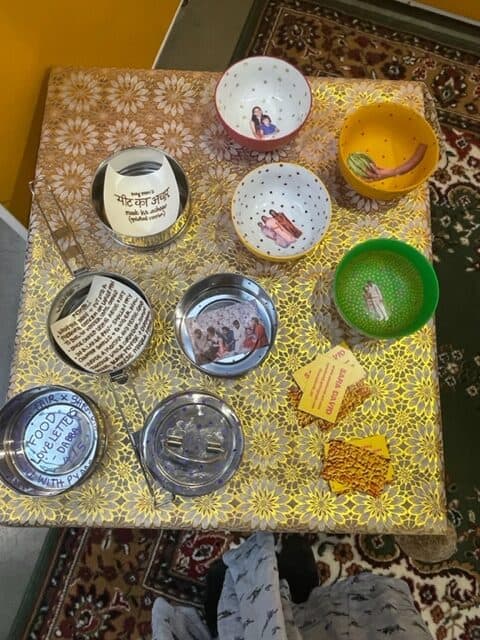 6 Let's Talk about Textiles 
Textile art by Selby Hurst Inglefield, Llinos Owen, MH Sarki, Daisy Tortuga and Sofia Niazi feature in a curated TOAF exhibition celebrating International Women's Day 2022.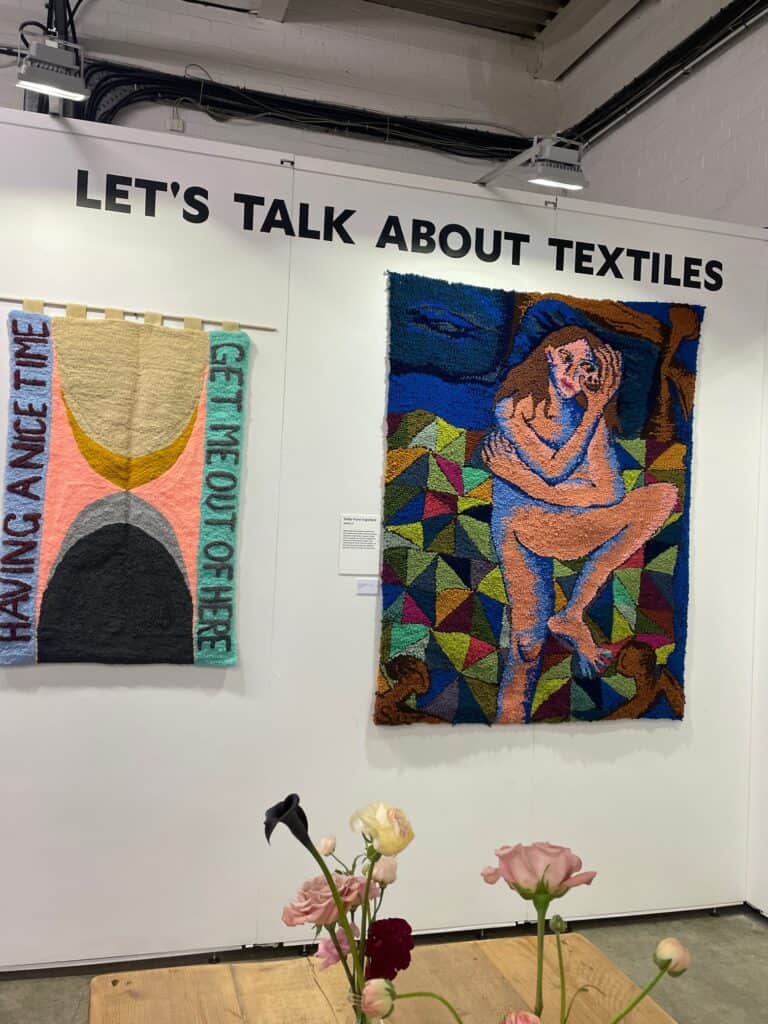 7 Anil Mistry 
Mixed media artist Anil Mistry mixes typography, graphic design and photography in his collages inspired by urban landscapes. @anilmistryart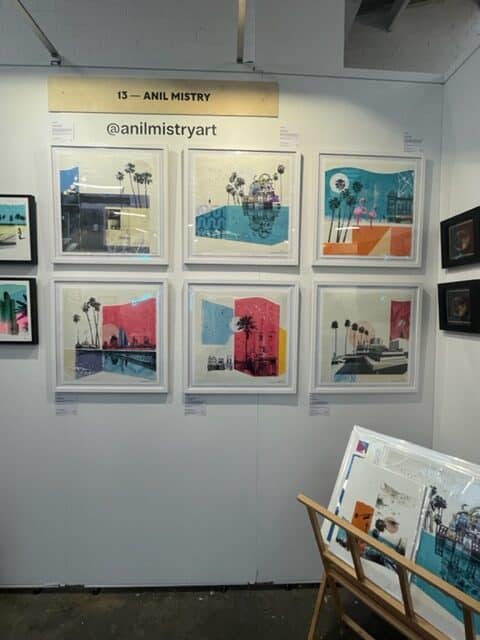 8 Amy Gardner 
Australian-born artist Amy Gardner is now based in London and her colourful prints celebrate girl power, taking inspiration from screen sirens of the Hollywood golden age and female icons of contemporary culture such as Wonder Women.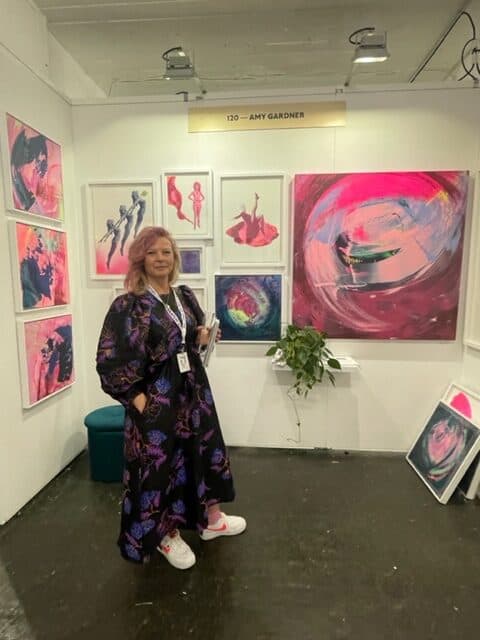 9 Sarah Emily Porter 
Abstract artist Sarah Emily Porter pours and manipulates paint in an examination of the connection between art and science. Since graduating with distinction from the Chelsea College of Arts, she has won several awards, including the Richard Seager Annual Arts Award and New Ashgate Rising Stars Award. @sarahemilyporter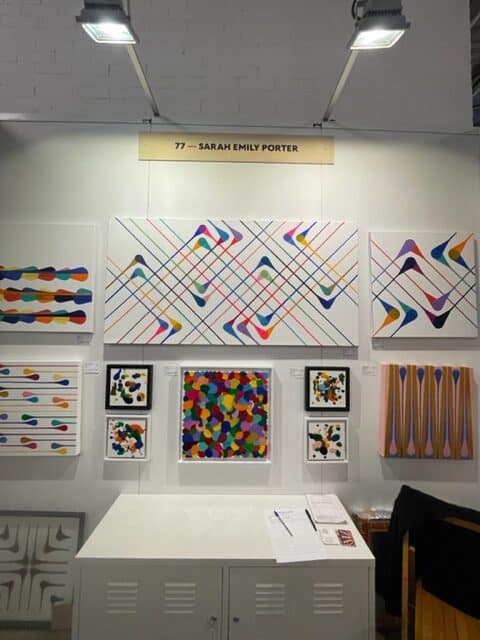 10 AA Watson 
Scottish artist A A Watson is exhibiting limited edition prints with witticisms commenting on contemporary life. He combines dark humour with portrait imagery reminiscent of Dutch portraiture of the Golden Age with slogans such as 'What's the point in being normal' and Make mine dirty'. He has created a Limited edition print 'What a Bloody Shambles', with proceeds being donated to the Choose Love Ukraine Fundraiser.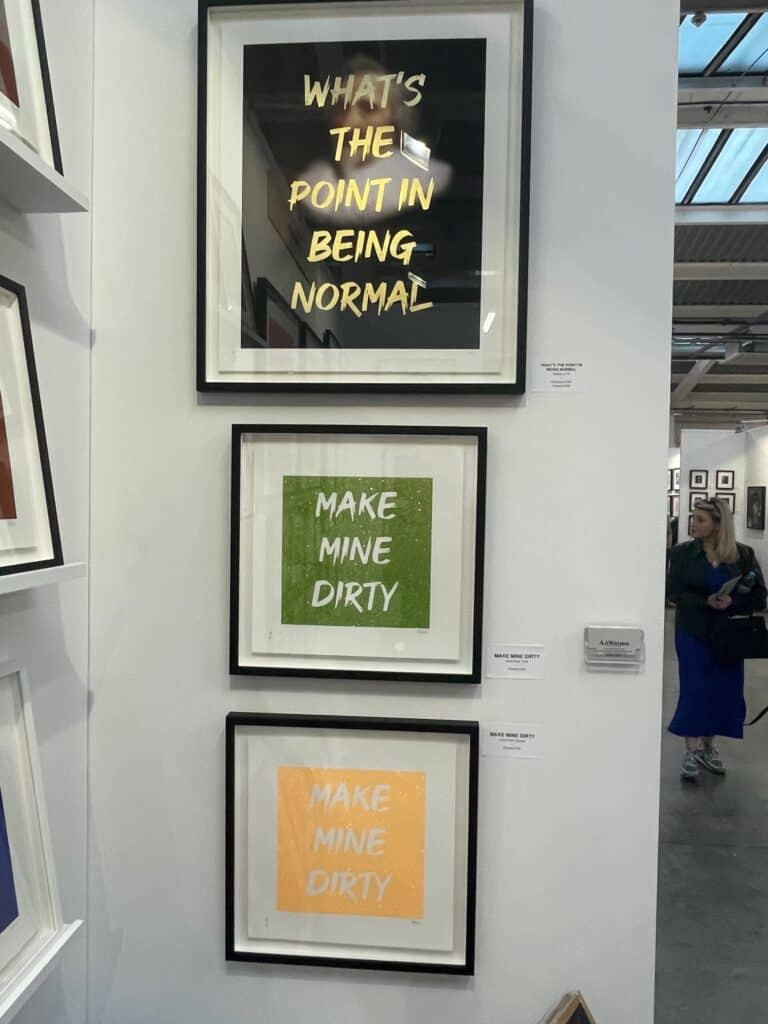 The Other Art Fair is at The Old Truman Brewery, Brick Lane, until Sunday 20th March: theotherartfair.com/london/
Categories
Tags