Tabish Khan the @LondonArtCritic picks his favourite exhibitions to see this month – this time they're all shows by female artists to coincide with International Women's Day on 8 March. Each one comes with a concise review to help you decide whether it's for you. Those looking for more shows should check out last week's top 5 where all but one remain open.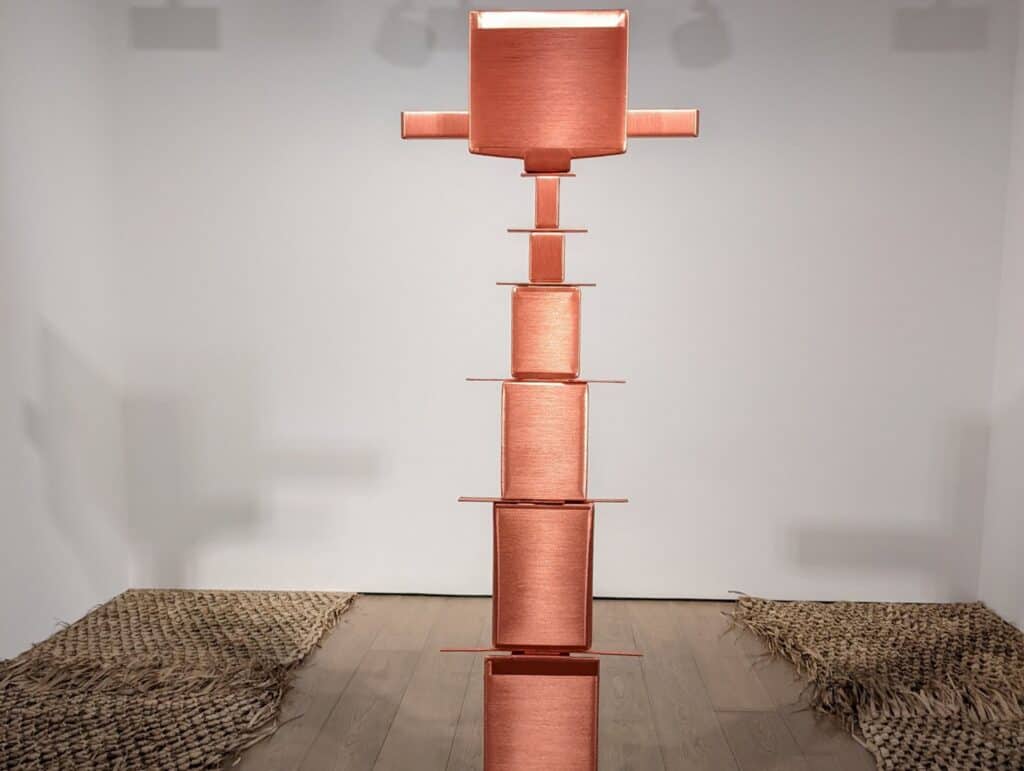 Alice Anderson: Human / Non-Human Interaction @ Almine Rech
Items of technology lose their function and are transformed into artworks through performances where some are wrapped in copper wire to form objects akin to totems and other objects like a drone and a calculator are covered in paint and used to create paintings. Traditionally female practices are used to subvert technology which is often male dominated. Until 2 April.
Beverley Onyangunga: Cut @ Huxley-Parlour*
This powerful installation of dozens of red hands references the horrific fate that met slaves in Congo in 1890 who were mutilated for not meeting harvest quotas. It's impossible not to be moved by the sight of these 'bloodied' hands and the show is accompanied by selected pieces of literature that look at the horrors of colonialism. Until 14 April.
Vlatka Horvat: By Hand, on Foot @ Peer
We all treasured our daily walks during lockdown, Vlatka Horvat took this one step further by taking photographs and then changing them into fantastical creations so a volcano appears in a playground and ladders hook on to clouds – it's a joy to behold this series of work. Until 2 April.
Helen Frankenthaler: Radical Beauty @ Dulwich Picture Gallery
Most people will best know Frankenthaler as an abstract expressionist and while at first these may look like they are paintings, they are in fact woodblock prints. It's a side to the artist I knew little about and it's pleasantly surprising. Until 18 April.
Flora Yukhnovich: Thirst Trap @ Victoria Miro
Drawing inspiration from Rococo painters, pop culture and the linkages of women to the sea in mythology and art history these are beautiful large scale paintings. It's best to ignore the crazy auction prices her work is attracting to fully enjoy her latest works. Until 26 March.
*The author of this piece was on the selection committee for this exhibition.
Frankenthaler photo: Alick Cotterill. Alice Anderson photo: Tabish Khan. All other images copyright artist and gallery.
Categories
Tags