Lauren Baker's 3.3 metres tall 'Luna Woman Power Totem' in honour of the suffragettes is a must-see on International Women's Day. As part of Enfield Winter Lights, the light installation is inspired by esoteric and alchemic traditions, juxtaposing ancient symbolism with contemporary symbolism to explore female identity, strength and power.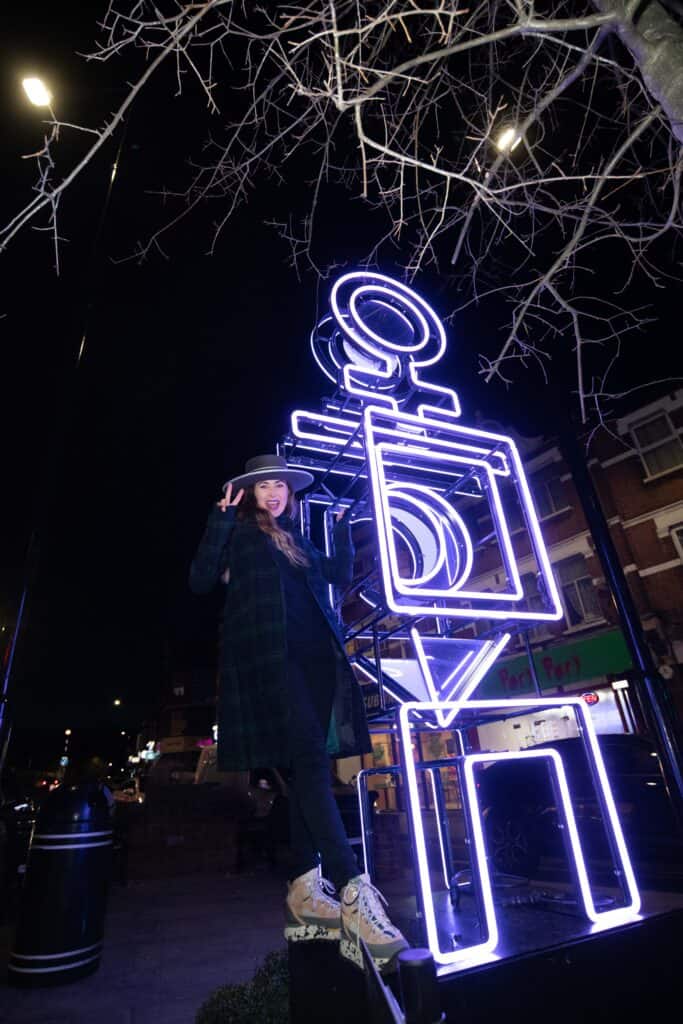 Totems tend to have spiritual significance and can become an emblem for a community. Contemporary British artist, Lauren Baker, created this totem to celebrate the courage of our ancestors and as a reminder that powerful change is always possible.
"It's an honour to be commissioned to create an installation in Palmers Green Triangle at the location where the suffragettes fought for women to have the right to vote. This was just over one hundred
years ago and now all women can vote in the UK, because of their efforts. Had I been born in that era I'm sure I would have been campaigning with them"

Lauren Baker
The moon in the belly of the totem represents the connection between the feminine and the universe, linking to the cosmic elements of the moon, amplifying a deeper understanding of our inner selves, authenticity and being in true alignment. The totem explores balance as a means to achieve a solid relationship to the self, the natural world and the universe. The artist uses ancient and contemporary symbolism to represent unity, truth and strength.
Enfield Winter Lights has been extended until 26th March; bringing light, joy and positivity. Enfield Winter Lights is a series of large-scale art installations and activations designed to illuminate our town centres.
Angel Edmonton, Enfield Town, Palmers Green and Southgate. The festival brings together artists, local businesses and the wider community, with spectacular light artworks designed to celebrate the heritage of Enfield and dazzle Angel Edmonton, Enfield Town, Palmers Green and Southgate with colour, creativity and innovation. Enfield Winter Lights is delivered by Artist Hive Studios in partnership with Enfield Council.
Categories
Tags