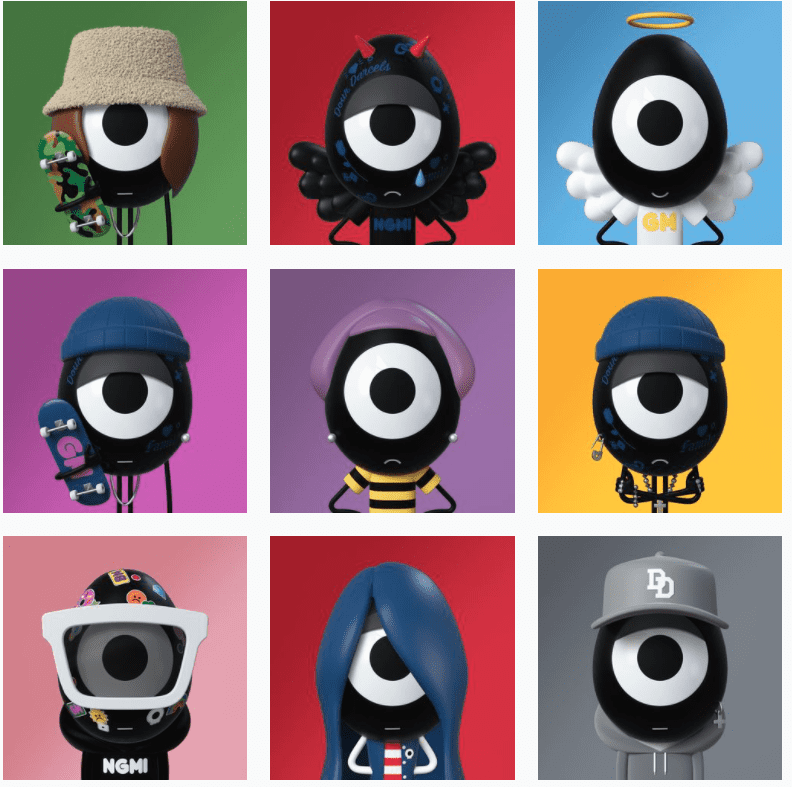 New York-based artist Craig Redman, founder of the renowned design duo Craig & Karl and brainchild of Darcel Disappoints – the cyclopean avatar that has partnered with some of the world's most renowned brands including Adidas, IKEA and Coca Cola – announces the launch of Dour Darcels; a collection of 10,000 randomly generated NFT characters in Darcel Disappoints' distinctive style. 
Available via DourDarcels.io for presale from early March, the NFT collection is community first, rewarding collectors over time with features and collaborations. The Darcels will possess 200+ colorful and fashionable traits – each avatar as unique as the next – and will serve as keys to an exclusive and close-knit community, giving owners access to benefits like special members-only events, merchandise, artwork, and exclusive artist collaborations.
In the context of the metaverse, Dour Darcels are NFTs that live on the Ethereum Blockchain as ERC-721A tokens.
Entering its 14th year, a move into the metaverse was a natural next step for Darcel Disappoints; Dour Darcels, the NFT metamorphosis of Redman's original illustrated alias, was born out of the idea that the internet should be community-driven rather than governed by centralized entities – democratizing art and creating a community of like-minded collectors. Having partnered with Colette and Nike, collectors can expect access to innovative, not to be missed drops and events when owning the unique NFTs.
Craig Redman, artist behind Darcel Disappoints and Dour Darcels, says:
"Having worked in digital art for the majority of my career, making a move into the metaverse was an easy decision. Creating a community based on Darcel Disappoint's tongue in cheek approach to life, whilst simultaneously giving access to some of the most unique metaverse-based collaborations is really exciting. I can't wait to see the response to the collection".
Purchasing a Dour Darcel will be through Dour Darcels.io – more information on the sale will be released at launch.
About Darcel Disappoints 
The cycloptic Darcel Disappoints has been chronicling one disappointing moment after another via his eponymous blog, as he navigates his way through everyday life in downtown New York. From dull solitary moments to getting inappropriately drunk at crowded openings, Darcel casts a cynical eye (singular) on himself and the stuff that surrounds him. Art, shopping, eating, booze, aspirations and anxiety all fall victim to Darcel's purview through his trusty (and rusty) monocle. Punctured with occasional moments of happiness, the blog's visual approach is spare, but bright, and the small scenes elude to bigger stories and ideas. He has been published worldwide including in The New York Times and Vogue, and in his book 'One Year in New York'. Darcel has covered Louis Vuitton store openings and Paris Fashion Week, and has worked with the likes of Coca Cola, Adidas Originals and Uniqlo. He collaborated with iconic Parisian store Colette where he exhibited his avatars of popular culture figures and with whom he collaborated on projects with brands like IKEA.
About Craig Redman 
Craig Redman is co-founder of renowned design collective Rinzen, and in 2011, formed design Studio Craig&Karl with his long-term collaborator and friend Karl Maier. His current work is filled with simple messages executed in a colorful, bold and secretly optimistic way, and aside from illustration, he works in fabric design, typography, editorial design and art direction, having worked with luxury brands like Louis Vuitton and Chanel, as well as Nike and Adidas. Focusing on portraiture with the use of distinctive heavy black lines and colorful geometric patterns, Craig Redman aka Darcel Disappoints creates faces that emphasize individual elements, giving equal attention to all head parts. His illustrations, fabric design, typography and editorial design are filled with simple messages executed in a lively and optimistic way. Using modern-day tools like iPhone, camera, laptop, Photoshop, and of course, the metaverse – he also every once in a while reaches for traditional pen and paper, letting the inspiration to guide him.
Categories
Tags