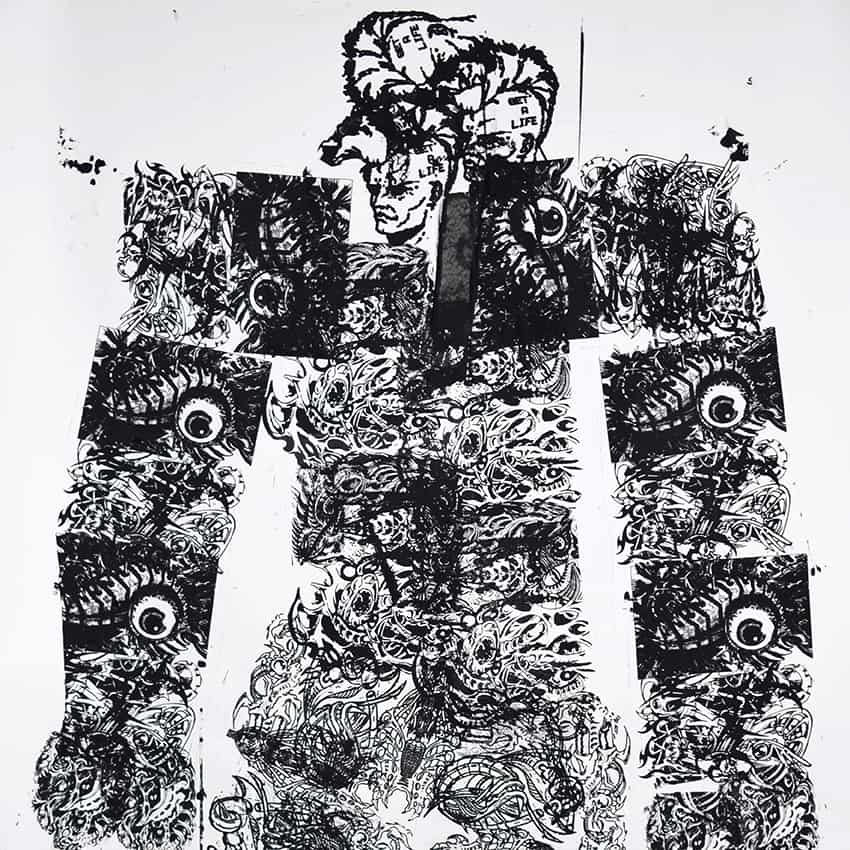 Set within two Georgian houses in Whitechapel's Ashfield Street, Gallery 46 is the perfect location for Daniel David Freeman's latest solo show BIOMECH CHANGED MY LIFE. As you enter through the unassuming front door, you are irrevocably plunged into the artist's personal vision of a chaotic post-apocalyptic world filled with mutants, cyborgs, and the comedic debris of late-capitalism in collapse.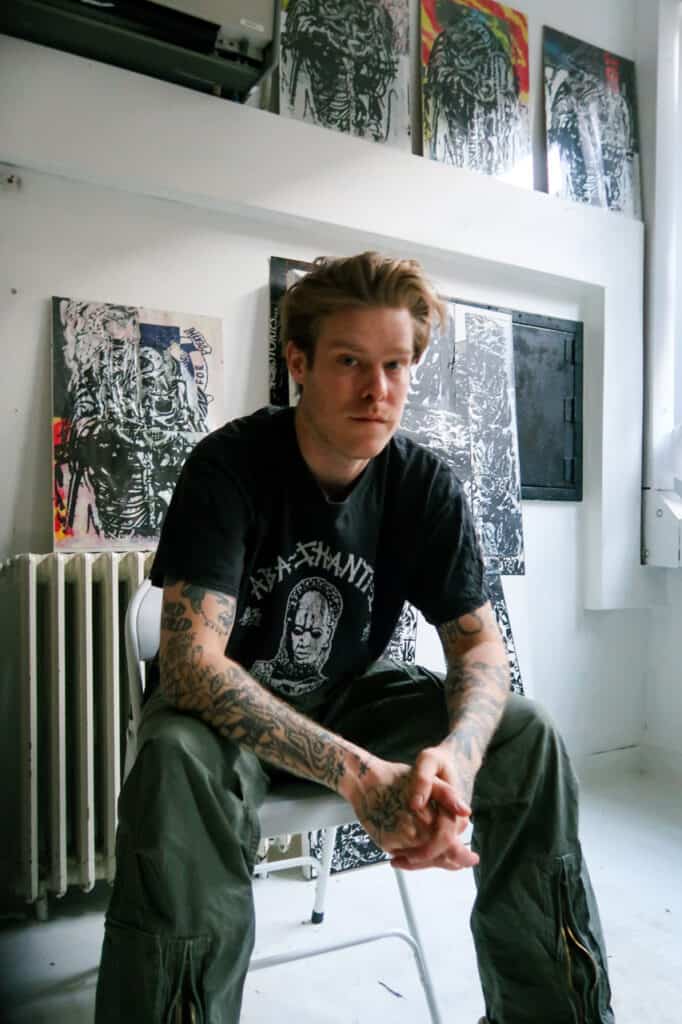 Daniel David Freeman, or DDF as he is known, made a name for himself as an illustrator working initially for Vice and cultivated an enviable graphic design career bosting clients such as the ICA, Boiler Room, Carhartt, Dazed, Dior and even the king of cool Frank Ocean. His personal art practice and professional design career run in tandem, lending him a unique vision and an execution that combines elements of functionality with a determined yet anarchic finish.
Largely consisting of printmaking, this solo show draws on DDF's works created between 2011 and 2021 as old pieces are ripped up and repurposed to form new amalgamations. There is a certain impetus to produce unusual assemblages that seems to mark his output, mixing the human and robot, the present with the past and macabre visions of the future.
Over three floors, the exhibition features printmaking, collage, textile garments and video works by guest artists. It feels like a rickety cottage has been transported back from a dystopian artistic wasteland to offer a warning to the drone-like humans of what Paul B. Preciado would term the pharmacopornographic era. This being the period in which we live, whereby we are so mediated by technology, the medical institution and capitalism that our very bodies have become biopolitical archives for the powers that be. (N.B. If you're into queer theory, see Paul B. Preciado's memoir-cum-theoretical-text Testo Junkie)
Collage pieces such as the SHOOTING UP WITH MARIE CONDO series combine a lifetime's worth of Trendy London Boy litter; Dover Street Market logos, baccy packets, covid tests and prescription pill packets. Screen-printed over these iconographic items are biomechanical steam-punkish figures with gigantic hands and menacing mohawks. Together these works read as a disruptive personal archive, both of historic creative output reimagined and the bits-and-bobs that make up a life.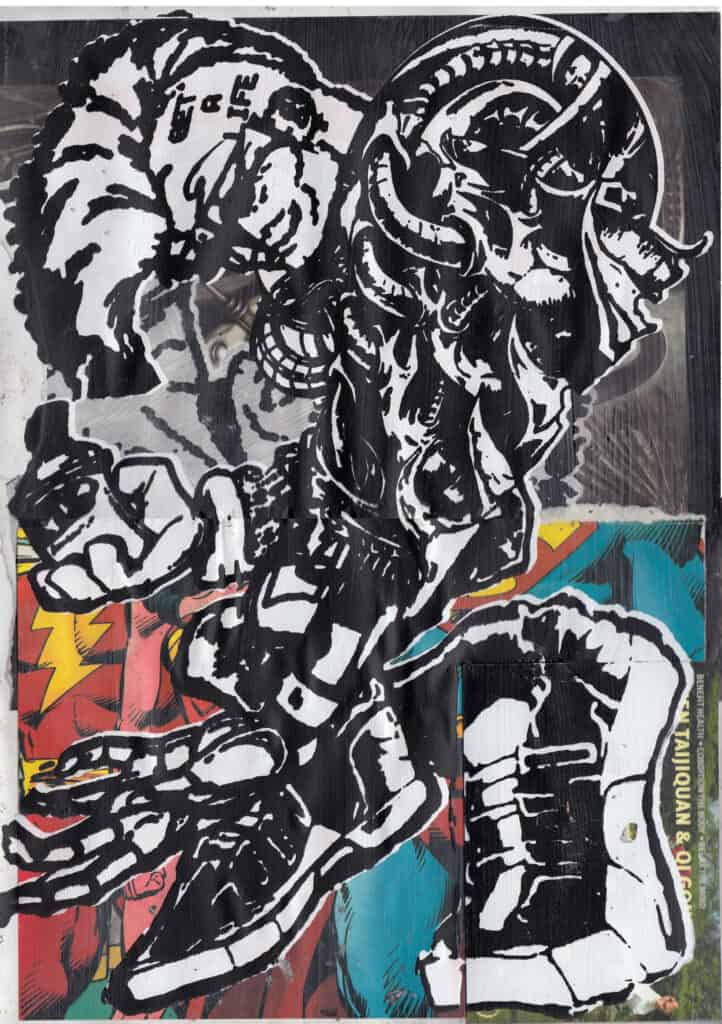 For DDF the act of reusing artistic waste is particularly important, and this certainly comes through in the works. He sacrificially destructs old pieces as a literal method to disrupt and rethink his own practice while accepting the natural evolutions and moments of failure that trouble a creative journey. It's a kind of mournful restoration, repackaging pieces that didn't sell in the past and injecting the new works with a spirit of making-do-with-what-you-have – one that would likely become familiar in a life post Armageddon.
The show is punctuated by a cheeky sense of self-deprecating humour, particularly present within the titles such as A SEX THROUPLE THAT TOURS THE WORLD ON AN ARTS COUNCIL GRANT. He pokes fun at the very institutions and establishments that maintain the artworld and troubles the DNA of an artist. Indeed, a double helix DNA structure appears as a recurring motif incarnating questions of selfhood and the biological or experiential factors that make us ourselves.
This idea reaches its culmination in the gigantic bodily cyborgian figures that fill the upper chamber of the gallery. They are intimidating, domineering and yet comic. Offering imagined humanoid forms for an era we have gladly not yet entered. Similarly, clothing pieces from DDF's 'imaginary brand' GET A LIFE look like the armour of a subculture not yet born. As a welcome antidote, the video responses from guest artists including Sam Coldy, Sara-Louise Ewertson, Jesse Pimenta, Jack Sachs, Will Samuel and Patrick Savile bring colour and the dynamism of movement into a monochromatic and darkly humorous world. They uncover new entry points into DDF's work and literally introduce the technological aspects alluded to throughout his works.
Overall, the exhibition reads as a brilliant kind of futuristic imagining or speculative fabulation. The work is consistently grounded in the contemporary moment by collaged every-day detritus, yet the figures come upon you like scavenging cult leaders of the nuclear apocalypse. Of the strange creatures and pseudo-humans that DDF conjures up, H.G. Giger would be proud.
Categories
Tags