Skarstedt is to present Andy Warhol, an exhibition of notable works from varied series spanning over two decades of the artist's prolific career, on view beginning February 10th at Skarstedt 20 East 79th Street.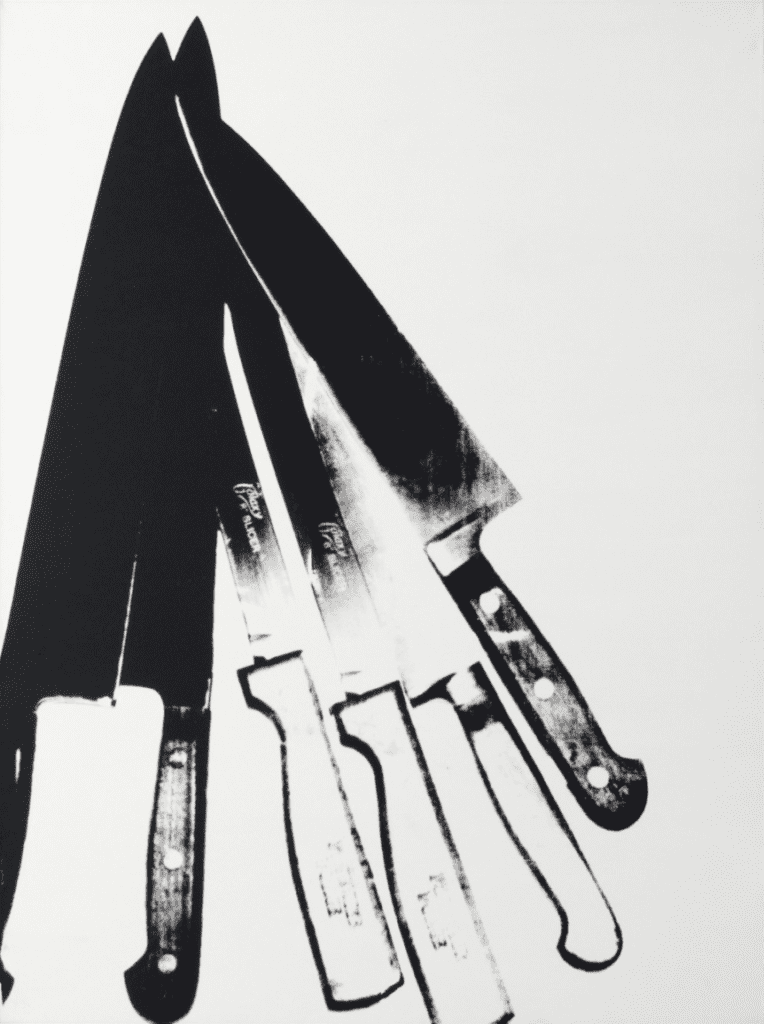 Orbiting Warhol's thematic curiosities, money, religion, portraits, death, and violence appear and reappear within his work, each time refreshed with incisive perspectives. Following his seminal Death and Disasters ­series from the 1960s – wherein the electric chair was introduced as subject, repeated in assorted colors and scale – Warhol's Knives from 1981-82 mark the return to his study on violence, as well as his dominant reinvestment in working on canvas. Marrying the morbid and familiar, he began experimenting with photography of rare guns and knives only to arrive at commonplace cook's knives sourced from a local kitchen supply shop. Searching to confront the depravities in daily life, Warhol elevates what one might find in a drawer in any home, though within the context of their dangerous potential.
Following a decade of portraiture, whether commissioned or a celebration of marginalized subcultures, Warhol returned to Marilyn seventeen years after his inceptive and lionized silkscreens from 1962. Reversed and repeated four times, Marilyn is presented with a backlit vision – her face now dark while former shadows push through with electrifying colors. Combining seriality with the expressive possibilities of paint, Warhol inked the negative silkscreen on top of gestural strokes of green, red, and coral, renewing his mastery of this process both in practice and concept. Concurrent to this Retrospective and Reversal series, a similar inversion takes place in Warhol's Head (After Picasso) – the artist's self-reflection simultaneous to broader art historical revisions, as if acknowledging his own position within the canon.
An icon among his many icons, Warhol became synonymous with his themes and subjects; curator Henry Geldzahler in conversation with art historian Robert Rosenblum, asks, "When you see a portrait of Marilyn Monroe by Andy Warhol, who do you think of first, Andy or Marilyn?" "I can think of two things at the same time," he replied.' (H. Geldzahler, Making it New: Essays, Interviews, and Talks, 1996, p. 357).
ANDY WARHOL February 10th – April 2nd, 2022 Skarstedt NY
Categories
Tags