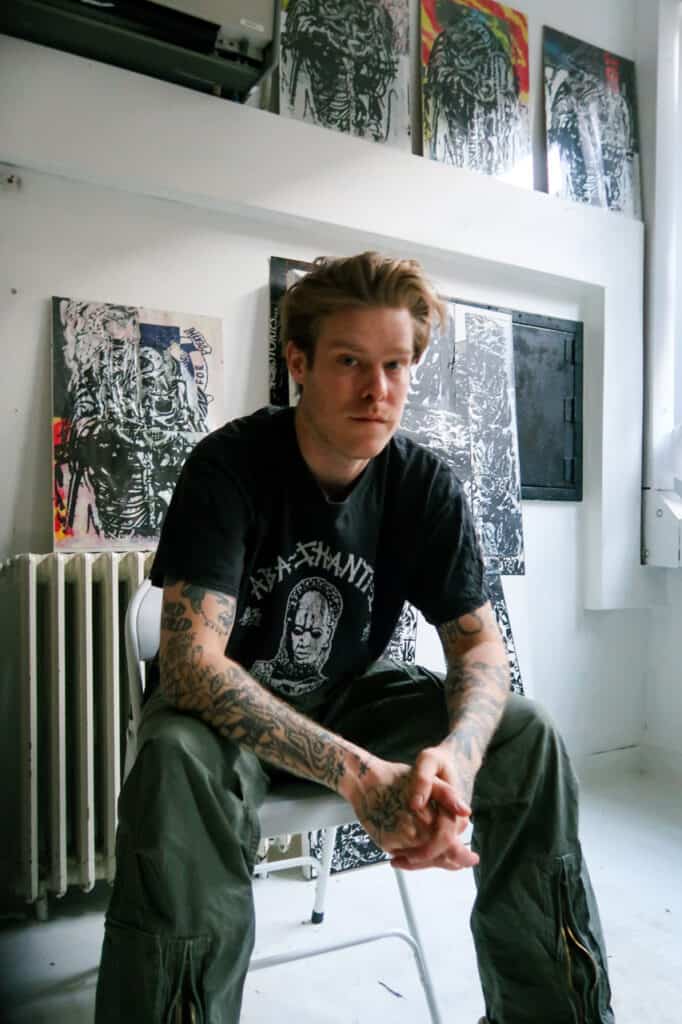 We caught up with Artist Daniel David Freeman ahead of the opening of his show BIOMECH CHANGED MY LIFE to find out about the show and his art practice.
 
Can you tell us about your art practice how has it developed during COVID times?
I think essentially it got a lot better. Mainly due to the luxury of time Covid allowed. I was working as a part-time art teacher for pretty much the whole of prime Covid and the paid time off allowed for a period of concentration on questioning what I was doing and how I could make it work. Every day throughout lockdown I was able to create something purely because I could. Although a lot of it has ended up in the bin or enveloped as background of other works it was a once in a lifetime opportunity to really get to the bare bones of my practice.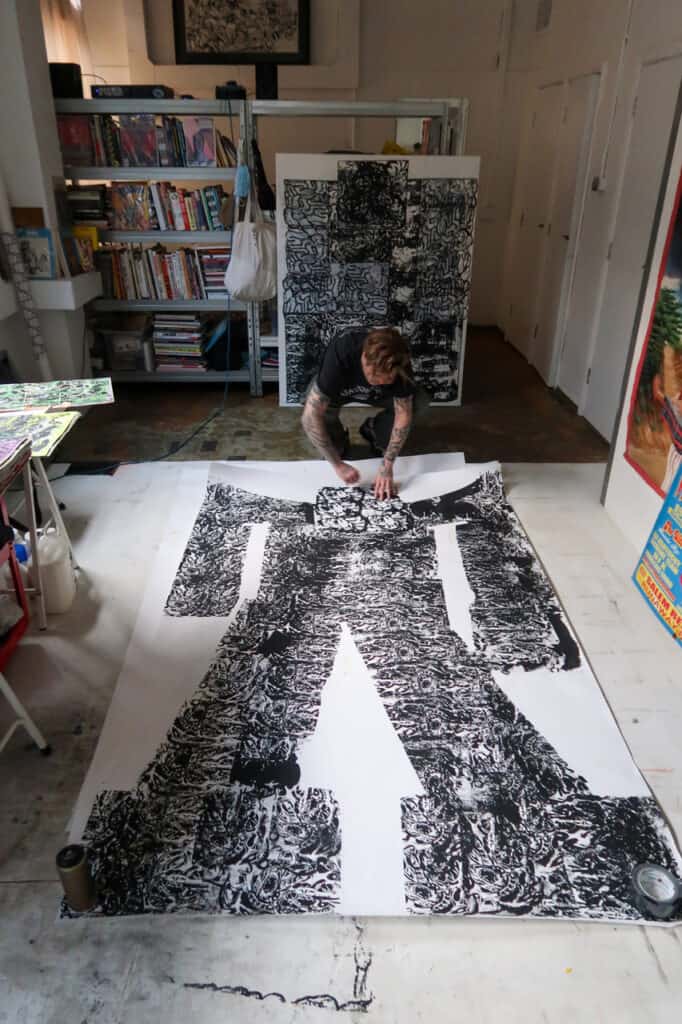 Can you tell us about your upcoming exhibition BIO MECH changed my life
I have always been influenced by folk and outsider art when image-making and Biomech offered me a pool of inspiration showing how a lot of untrained contemporary artists find their way into creativity. There is of course an element of humour in choosing this as a starting point as opposed to more socially aware or academic ideas but aesthetically I have been able to be more expressive as the themes are more personally interesting. Similarly, the otherworldliness of the imagery is a suitable metaphor for my anxieties about fitting in with what people expect art in a gallery to be today. 
The show will consist mainly of my experiments in printmaking across collages of former works and found printed matter. This sacrificial destruction of the older works acts as another metaphor for how I have rethought my practice – but their partial inclusion also champions their part in its development. These experimental pieces also lead to my first works on canvas; something I don't think I would have been ready for had I not taken this gradual approach in developing my ideas.
As well as my works there will be a selection of some of my favourite graphic artists and designers using my imagery to embellish their work. The space in which art is displayed is of course ever changing and I wanted to use this show as an excuse to experiment how my imagery could also illustrate the digital space.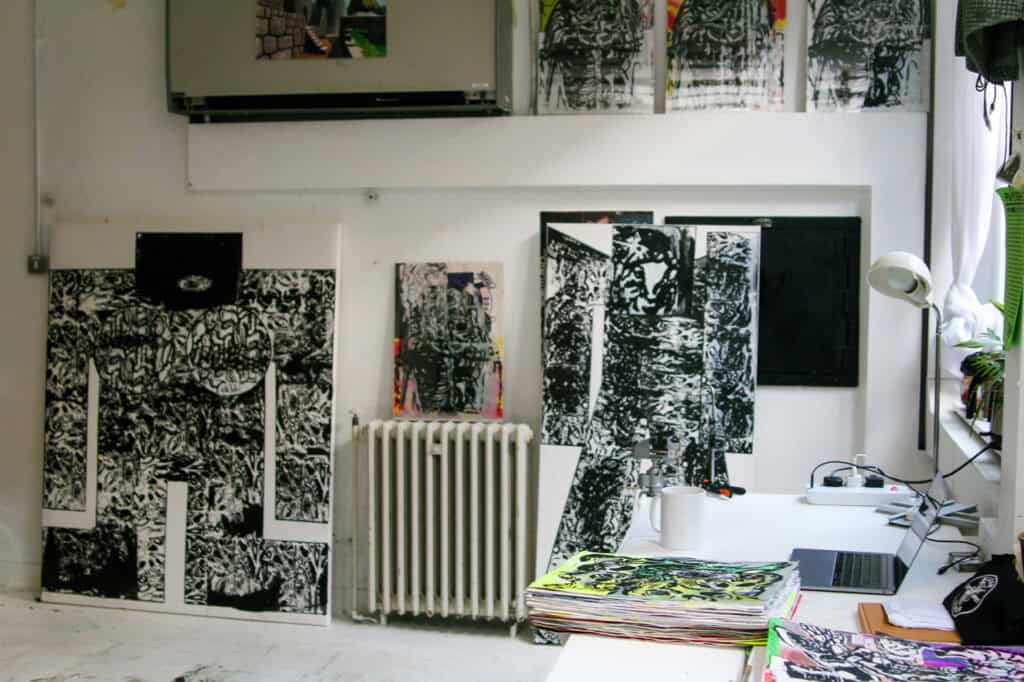 How is it being a contemporary artist in London at the moment?
Although I don't think being from London or living in London offers you as much of an advantage as it once did, it still has a lot of benefits. I am fortunate to live in the centre of town so I'm very spoiled in terms of easily seeing exhibitions and getting to see what's up in the bigger art world. Similarly having lived here forever I have amassed an amazing group of friends that aids not only top chat but constant collaboration – arguably it is still the largest creative community in the country. 
However, It's extremely unpredictable so predictably offers way less of the securities other professions provide. My take on it has been that being an inherently creative person means you find varied ways to get by whilst maintaining your own practice. I am lucky in that I now lecture at universities and my work is graphic enough that I am able to employ an illustration practice alongside my 'art' practice.  
When did you know you were an artist?
When I could draw Judge Dredd off by heart.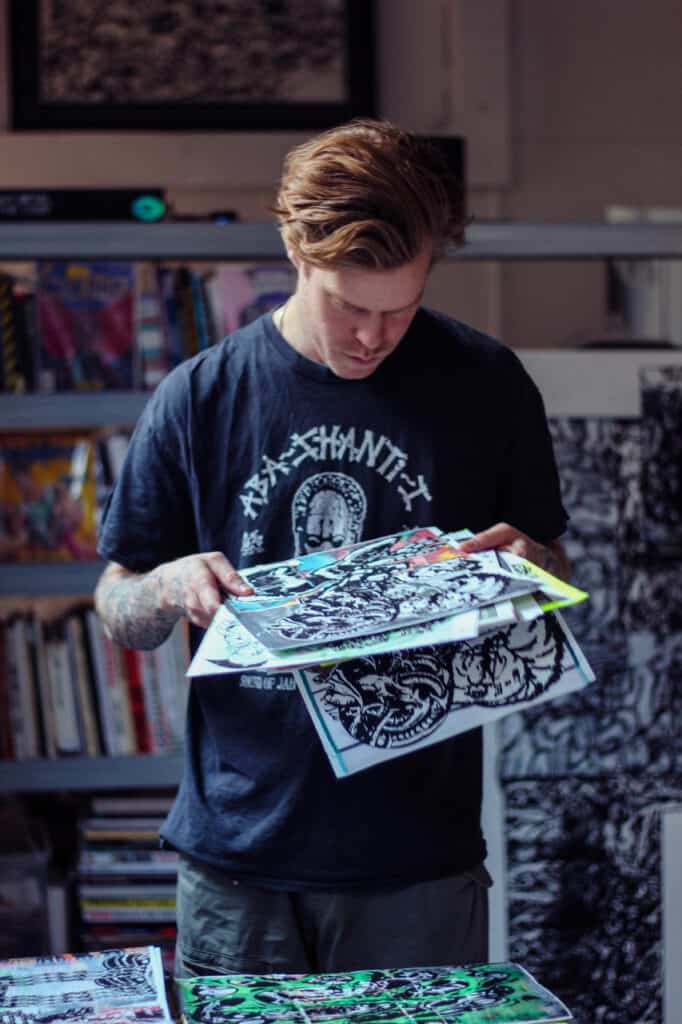 What is success?
For me, it has always been about being able to be yourself in everything that you do. If you are able to be self-sufficient from anything where you feel you are fully self-expressed you are doing something very right. Rolexs also scream success too.
When do you know when work is finished? 
I don't think I do, I think that's what's been very fun about this particular show. I've got plans for the work afterwards already. I think it's important for artists to think about waste in their practice as much as you do in every other element of your life. In some small, and perhaps idealistic, part I'd like people to see my recycling of old works and things from my environment as a positive comment on how we can all do more to help the planet.
If you had £25k to buy an artwork (just one) who would you buy? 
No idea what their prices are but I'd either buy something big from Rob Mcnally, Seb Jefford or Sean Steadman. Failing that, I think something really high on the nerd scale like an original Brian Bolland drawing of the Joker from the Killing Joke, Batman comic.
8 After BIO MECH do you have something else planned?
Yes – I have another show in May! 
Categories
Tags