Jane Hayes Greenwood: still from Silvery River, 2021
Recent years have seen an enhanced respect and attention for plants, consistent with an environmental role made more obviously vital by the issues raised by global warming. This year's England Tree Strategy, for example, aims to treble planting rates and Wales has just announced a target of 86 million new trees over the coming decade. So perhaps it isn't surprising that plants are cropping up regularly in artistic and curatorial practice. For example:
Paloma Varga Weisz: Lazlo's dream, 2018
At Pi Artworks, a starry line-up of sixteen artists are brought together to explore the human-plant interface under the title 'Trees Die Stand', a metaphor of human behaviour derived from a grandmother's declaration in a 1949 play by Alejandro Casona: 'Do not see me fall. Dead inside, but standing tall. Like a tree'. Perhaps the most direct suggestion of the eponymous theme comes in a limewood carving by Paloma Varga Weisz.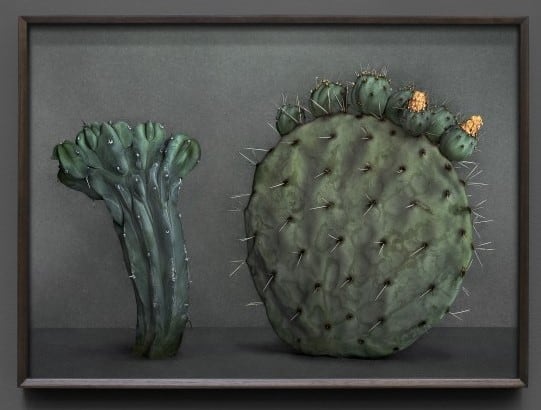 Mario Testino: Cactus (II), 2021
Mario Testino is best known for his fashion and portrait work, but Hamiltons are currently showing his recent prints of cacti. Most are of two contrasting species in apparent anthropomorphised conversation – one way of equating human and vegetable, and cutting across the established hierarchies. Such implied dialogues, says the gallery 'serve to enhance the essence of the individual whilst emphasising a sense of natural community'.
Matt Bryans: Burl/Rilknut, 2021
Kate MacGarry is showing installations of hand-carved burls and fungi, collected in Norway by Matt Bryans. He's a master of stripping away objects to reveal them afresh, and here he removes the bark to reveal  how the birch, elm, oak and spruce have scarred in response to disease, infection and parasites. The action generates what feels like an appropriate mix of reverence and concern.
Jane Hayes Greenwood: Clusterfeeder, 2021
At Castor Gallery, Jane Hayes Greenwood's animation 'Silvery River' uses the internal structure of the breast to form a flower which proves a copious producer of colostrum and milk. She also presents various imaginary plants: I particularly like the Clusterfeeder, a grey plant compatible with trypophobia. Holes aside, it also suggests hearts, mussels and… the beaks of many ravenous baby birds. You won't be surprised to learn that Hayes-Greenwood is currently breastfeeding her second child…
Art writer and curator Paul Carey-Kent sees a lot of shows: we asked him to jot down whatever came into his head
Categories
Tags