Tabish Khan the @LondonArtCritic picks his exhibitions to see before the end of the year – all closing soon. Each one comes with a concise review to help you decide whether it's for you. Those looking for more exhibitions should check out his top museum exhibitions to see this Winter, where all are still open to visit.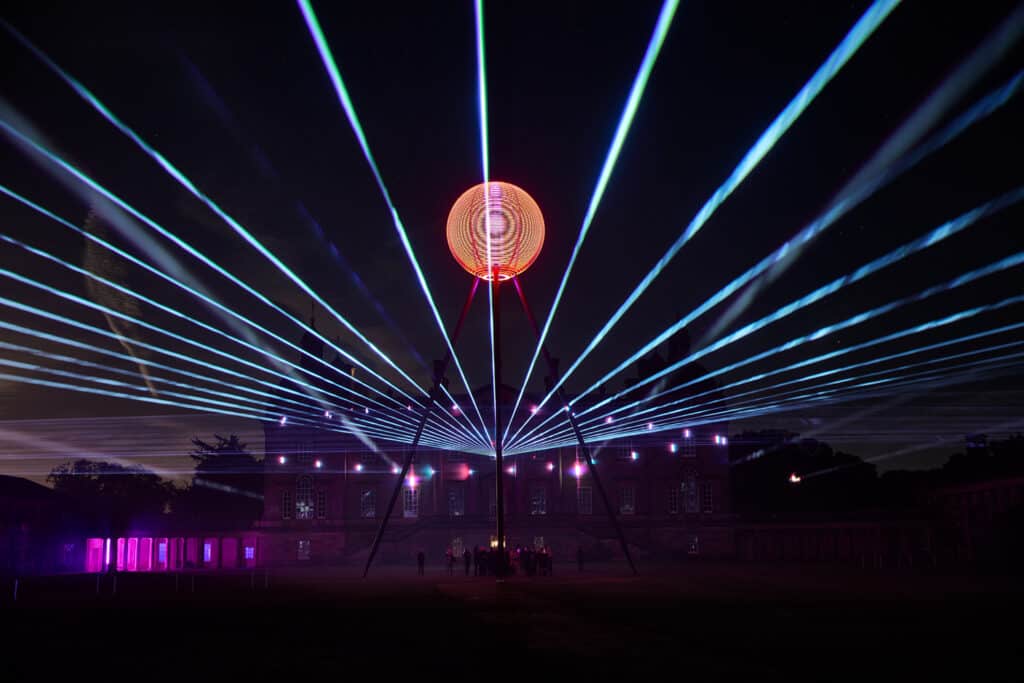 Chris Levine: 528 Hz Love Frequency @ Houghton Hall, Norfolk
A gigantic sphere stands outside this stately home spinning and pulsing with light as lasers stretch across the grounds to create a truly atmospheric nocturnal exhibition. Indoors lights create images in my peripheral vision in clever optical illusions alongside his light portraits. It's amazing the atmospheric art Levine can create using light in the darkness.
Until 23 December.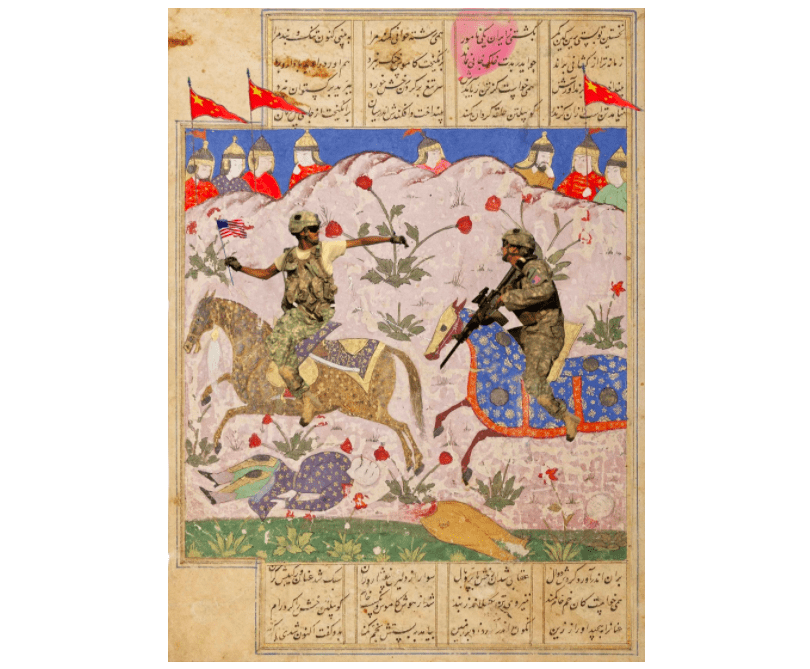 Shadi Rezaei: The Silk Road – A Route to the Great Game of Progress @ Fiumano Clase
Traditional Persian paintings are given a contemporary political make over where the women now appear in Burqas and ancient soldiers are replaced with those from the colonial and contemporary era in reference to the history of Afghanistan, which was once part of the Persian empire. The subversion continues as heavy weights, an item associated with masculinity, is presented in a pink box filled with goose feathers and military parades get a cartoon makeover. Until 16 December.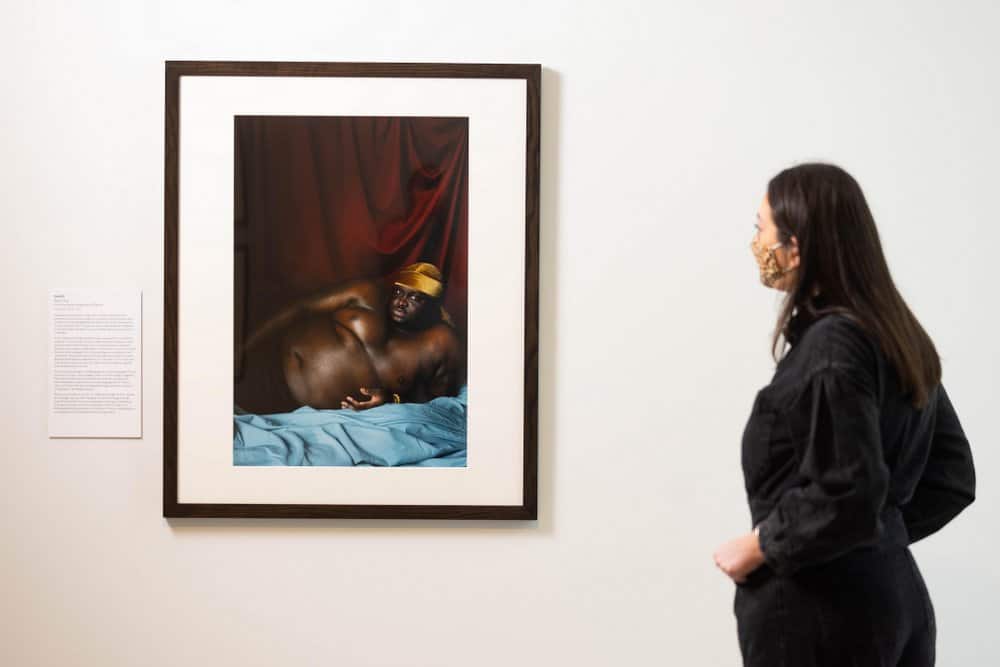 Taylor Wessing Photographic Portrait Prize 2021 @ Cromwell Place
With the National Portrait Gallery closed for a major refurbishment this annual prize has found a new temporary home at Cromwell Place. It's a standout year with some excellent winners including powerful portraits of Aboriginal women and a beautiful black male reclining nude highlighting how body positivity also affects men too. Until 2 January. Update: this show closed early on 23 December.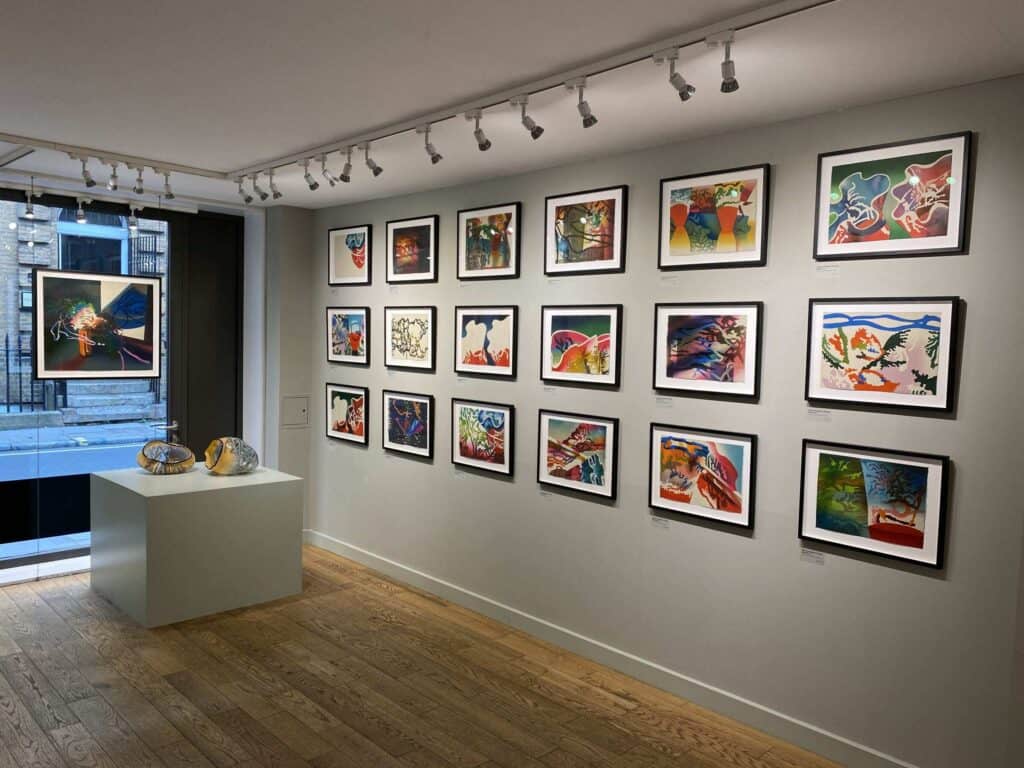 Sophie Layton: Circular Changes @ Eames Fine Art
Sophie Layton's printmaking has evolved over the years I've been seeing her work, but the big leap for this show is the introduction of glass works that mean her work is now present across two and three dimensions with the pieces pairing up so that the same floral arrangements can be seen on both works, each giving it a slightly different take. While the two mediums are very different they work beautifully together. Until 24 December.
Bran Symondson: The Art to Disarm @ House of Fine Art
Weapons are transformed into beautiful works of art using butterflies and gold paint. While he's not the first artist to use weapons as a medium he has served in the Army so has had the chance to witness first hand how destructive they can be – as her remarks I've shot it and been shot at by it. He was also a photographer embedded with the Afghan National Police and these photographs accompany the gun sculptures in the show. Until 9 December.
Taylor Wessing image © David Parry/ National Portrait Gallery. All other images copyright artist and gallery.
Categories
Tags