Friday 26th November 2021 sees the launch of a new vertigo-inducing art salon: abovetheClouds, a hyper-real exhibition space way up at the dizzying 31st floor of a skyscraper, which also just happens to offer a grounding experience in its 30-seat cinema theatre.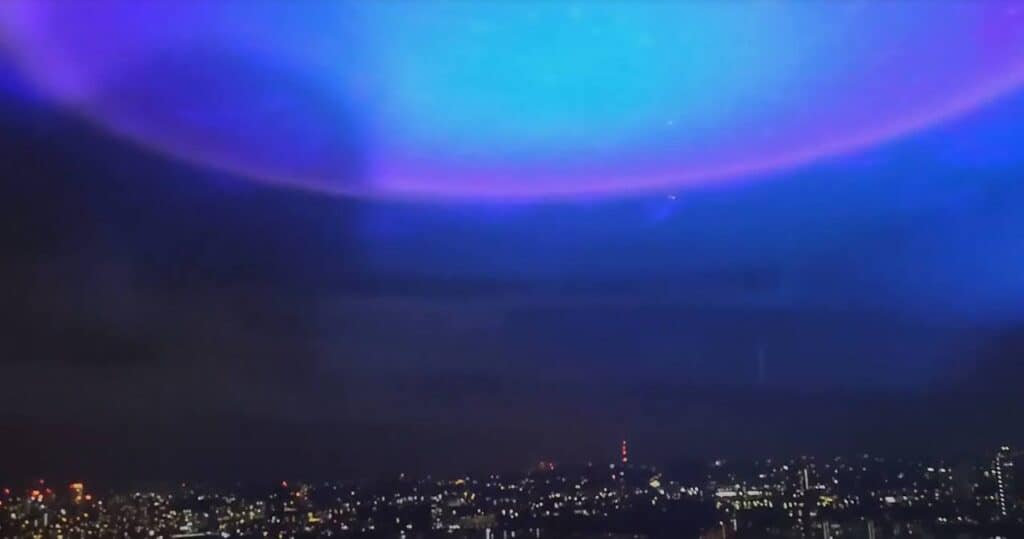 Looking out from inside abovetheClouds, neon pink unicorns are reported to have been seen dancing across the rooftops. This is no psychedelic artifice; however, through the reflective properties of its windows, artists can digitise the view and augment virtual reality on the stunning cityscape view to creatively modify the London skyline.
Altering the world to one we want to see: long before Zuckerberg announced a futuristic new fixation on the metaverse, abovetheClouds were creating their own world-first virtual reality city, running entirely in the web browser. The mission to remix reality of city life is kicked off in style with their first show, titled Streets and organised by London's curatorial cartel Mytetra. Streets will be presented as both a groundbreaking multiplayer VR game-world city and a sky-high authentic in-person experience – way abovetheClouds,
What unites and divides people and cities around the world?
What is decolonisation?
What is real?
Who am I?
The ambitious new exhibition Streets tackles head-on the complex and profound issue of decolonisation, by bringing together 30 international artists from cities with diverse stories of colonialism. This exhibition in London's hyperreal Canary Wharf is intimate and physical, yet simultaneously an extravagantly global, digital affair bursting with provocative and compelling new artworks borne from a startling array of the most and least politically visible cities across the planet.
From the vanilla-neutral avenues of Zurich to the astir alleyways of Hong Kong through to the shushed streets of Taipei, the artists yield a tapestry of magical original artworks musing on decolonisation, its stories, and our identities to reveal the unseen, unspoken yet understood energies of the social-citizen dynamics coursing through city streets.
The theme of decolonisation is not a simple subject: it demands discourse and deconstruction. Most importantly, understanding decolonisation begins with questioning ourselves.
The Streets exhibition appeals to this vital interrogation of the self through a conversational, emotional, and intimate approach to presenting the artworks. This introspective and playful approach then extends into new digital realities. The experience is also formed as a massively multiplayer experience in the virtual reality city where attendees from around the world can log in to share the moment, as digital avatars in the Streets urban landscape full of unique and vital artworks.
Through an eclectic and exceptional plethora of film, photography, publishing, field recordings, graphics, games, poetry, and much more besides, as an event Streets makes for a captivating and essential motivation for supporters of decolonisation to "have a word" with ourselves, and our global neighbours, to further understand as individuals our unique and vital role in enabling social progress.
Artists and researchers Ai Takahashi, Alan Maag, An Chen, Andrea Pacheco, Anronio Wong, Arianna Cheung, Becca Thomas, Catherine Li, Chihiro Ikawa, Hana Youshitome, Haruka Katayama, Jess Slater, John C, Kantiss Peng Huilin, Kanya Pratita, Karlie Zhao , Katayama Haruka, Lee Kawai, Lily Pellaud, MOOGZ, Nataliia Korotkova, Nikola Antolkovic, Pratibha Nambiar, Reika Matsumoto, Renee Cheung, Ryusei Ito, Sara Sadek, Scout XU Mingyan, Sophia Cakova, Vanessa Wee, Wing Li, Xiao Peng
Curated by Catherine Li @cat_herine_yuhui and MOOGZ, The Streets project was orchestrated by Ayako Fujieda, Evelyn Kwok, Fukuda Pero, Jen Teeter, Kae Amo and Rada Leu for Shared Campus.
STREETS at abovetheClouds Friday 26th November REGISTER HERE: abovetheClouds
Categories
Tags