"It's not that I'm not lucky, in fact, I'm the luckiest guy I know, it's just that the introductions had been made and the cocktails had been drunk by the time I arrived. Since I came to this town I've always been late to the party".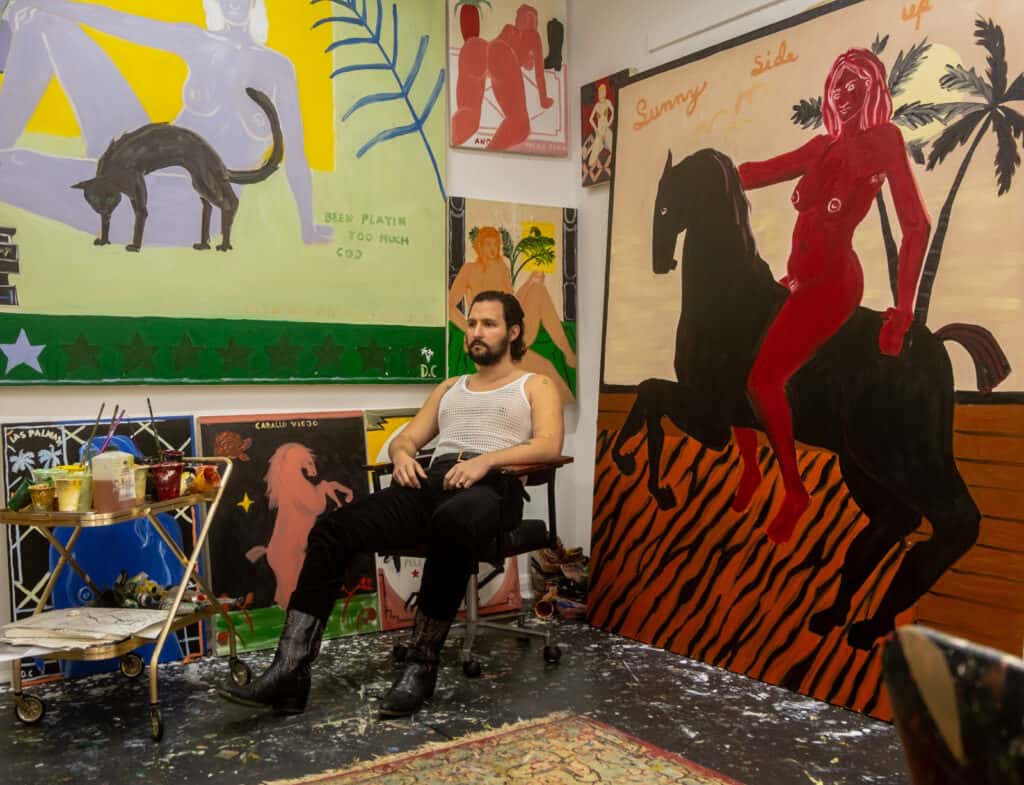 'ALWAYS LATE TO THE PARTY' is the second solo exhibition by Douglas Cantor with Guts Gallery that presents a series of new large scale paintings and an installation.

The latest works in this exhibition reveal Cantor's experience of being an immigrant and how his culture has come to exist and be reshaped by moving away from his home in Colombia.
Starting from behind, the feeling that comes with, for whatever reason, being removed from your familiar context to start a new life. Re-learning all the basic things that are taken for granted in our familiar surroundings, working out your way around things, your shortcuts, your interactions and the space you are entitled to, always being outside of the joke. These are all feelings too familiar to the immigrant.
"I don't make work about being an immigrant, I make work because I'm an immigrant."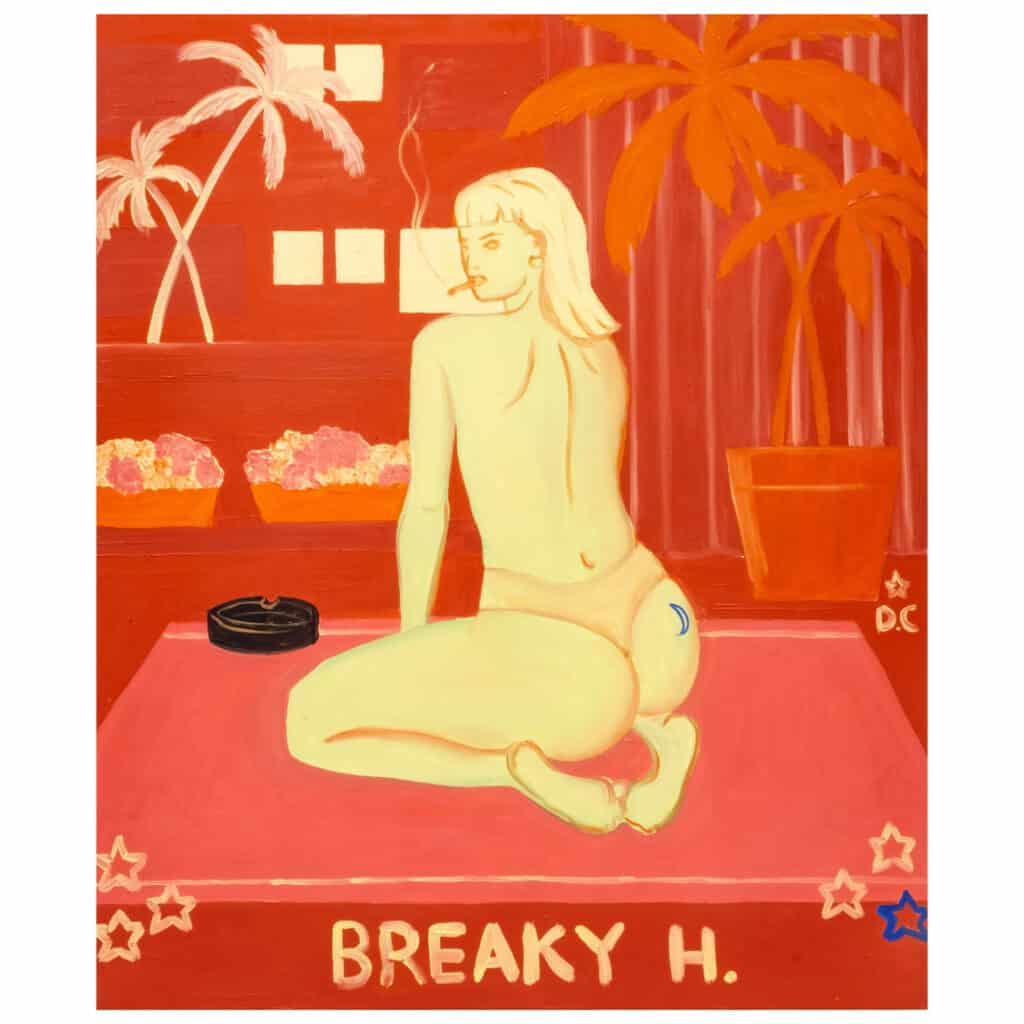 Finding your own place in a place that doesn't want you to belong until you assimilate to their ways, – and not even then-, is an exercise that simultaneously strengthens, transforms and dilutes the character, identity and culture of the individual.
This set of circumstances creates a reality that in turn gives birth to a new definition of what it means to be from, or come from a place, which in turn evolves culture and redefines tradition through the hustle and the struggle of having measure up, levelling the playing field and being seen and acknowledged. Life as a diaspora.
While in the past Cantor's work has been made through the filter of nostalgia for a version of home he used to know, now his focus is on the present and the way he has been shaped by these experiences; what it means to not belong here or there, fragmented lives and the discrepancies between the different realities of here and there. Leaving people 'behind' and the responsibility to give back.
As a result, Cantor's current work and practice is not about being Colombian, nor about being from a place, standing for tradition or even nostalgia, instead, is about the shape his culture morphed into under these circumstances and the result that comes from the experience of migration.
The paintings reflect all this and work as a vehicle to both record as well as project the constant development of life, they remain romantic and idealised, wishful and hopeful. They preserve the dreamings of the immigrant in what may be a cultural version of the American dream, in this case his own.
On the surface, the paintings depict Cantor's immediate context, familiar imagery, personal objects, daily life, close relationships and personal desires. The canvases are inhabited by intimate images of the artist's wife, portraits of close relationships, still moments experienced, personal belongings and the symbol of the horse which represents the artist himself.
Beneath this direct composition lies a much more personal, emotional and private aspect of Cantor's works, here the paintings exist as a means to deal with life, make sense of it and most importantly a way to confront and process his traumas, all told through less noticeable details as well as personal symbols that hold special meaning and relevance to the artist, an assortment of personal jokes that are even more so prevalent in the titles which are very carefully thought out, often coming from Cantor's own writing.
DOUGLAS CANTOR: ALWAYS LATE TO THE PARTY at Guts Gallery Unit 14/15, Ormside Street, London SE15 1TR Opens 18th November 6 – 9pm then on to 24th November gutsgallery.co.uk
About the artist
Douglas Cantor (b. 1989, Puerto Boyaca, Colombia) lives and works in Glasgow, UK. Cantor's paintings are a biographical exploration of the self. His work is a collection of existential thoughts, phrases, memories, and experiences that create a vocabulary personal and specific to his own history — his Latin American heritage, his time spent away and his experience as an immigrant. On the surface, Cantor's paintings often depict his most immediate context, with recurring motifs and subjects through which Cantor explores his painting process and where the act of painting is the driving force behind the decisions made. Underneath all this, Cantor's paintings are personal and private where, behind the interlacing layers of colour, snippets of text, and recurring motifs, lays the artist's personal exploration, depiction and conciliation of his feelings of segregation, his relationships, his experiences, realities and traumas. Cantor's compositions are romantic, idealised, and often permeated with a heavy sense of nostalgia. The result is paintings that are of all things relevant to him: places, patterns, animals, people, still life, text, plants, and food, where each element works as a vessel for the artist's thoughts, emotions, and unfolding identity.
Categories
Tags