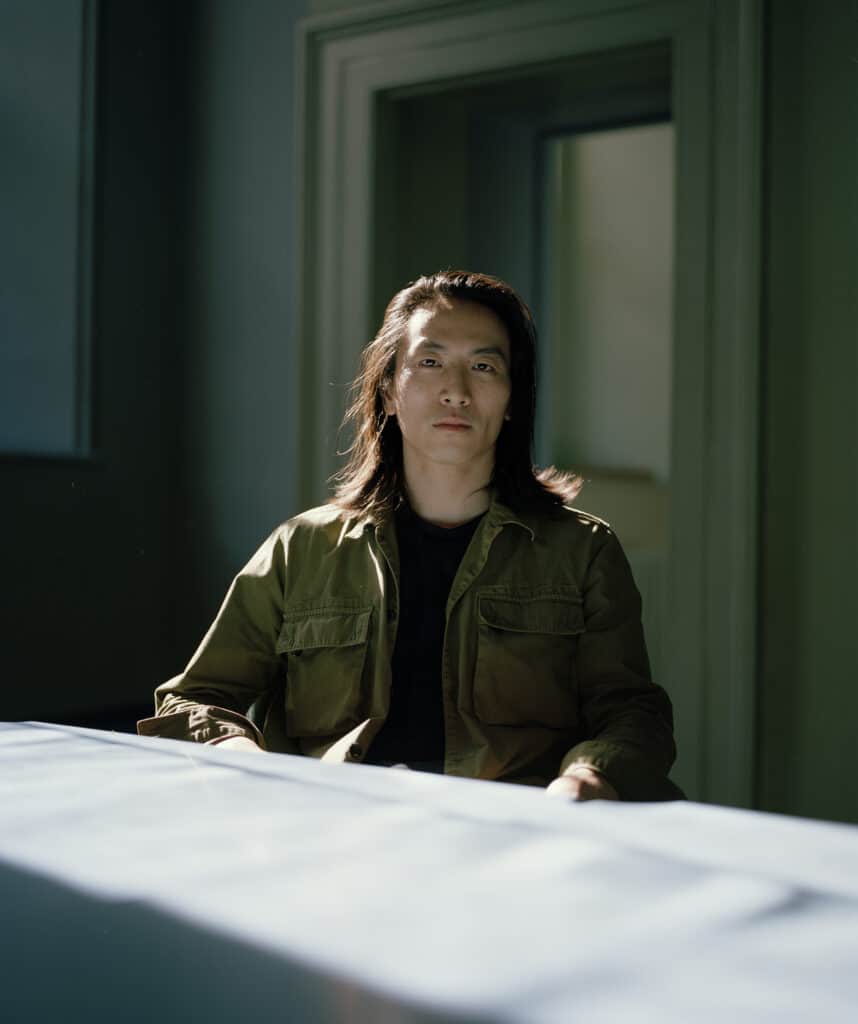 Lawrence Lek is the Grand Prix Winner of the 4th VH AWARD. Lek's 4th VH AWARD Grand-Prix-winning work, titled Black Cloud, is the culmination of the London-based artist's ongoing body of virtual-reality productions. Through his VR renderings, Lek, who is of Malaysian-Chinese descent, opens up inquiries into the "geopolitical" implications of artificial intelligence and illuminates the various links between AI and art – particularly the ways in which the different societal attitudes toward AI control peoples' values, lifestyles and modes of operation around the world.
We managed to grab some virtual time with Lek to ask him a few questions about his winning work, NFTs, London and the future …
Has the recent excitement with NFTs changed your art practice? 
As an artist, I think it's interesting how my work intersects with content creation. I've had a longstanding interest in how digital commerce will increasingly change patterns of labour and authorship in the future. NFTs are part of a shake-up of traditional patterns of ownership, which is a good thing but also causes a bit of a gold rush and hype cycle. So at the moment, NFTs haven't really changed my practice much, but it will continue to evolve.
Do you feel living and working in London impacts on your art even though it is digital? 
Digital Art is the formal medium I use but the content and subjects of my work draw a lot of inspiration from my everyday environment. Of course, the strange moodiness and atmosphere of London at 3am is something I think of a lot when I'm building virtual worlds.
Can you tell us a bit about the work Black Cloud? Is it influenced by Black Mirror? 
I have only watched one episode of Black Mirror, so I can't really say. But I think that their perspective takes dystopian scenarios to the extreme, but I look more at psychological mood and atmosphere. 
Black Cloud is part of a series of works, following Sinofuturism (1839-2046 AD) (2016), Geomancer (2017), and AIDOL (2019) that explore the psychological implications of technology, seen from the perspective of an imagined AI. 
The narrative imagines what happens when ghost city and smart city merge. The video is made within a custom-made virtual world called 'SimBeijing': an intelligent replica of the Chinese capital built to test self-driving cars. In my fictional scenario, the smart city did not turn out to be as planned. Accompanied by CGI drive-through renders of SimBeijing, the narrator of this video is the eponymous 'Black Cloud', an urban management AI who governs the systems of an uninhabited cityscape. They are feeling depressed because the city is abandoned, and are having a conversation with their built-in 'self-help' AI called Guanyin. Over the course of the video, the viewer becomes aware of the reasons behind why the city has been abandoned.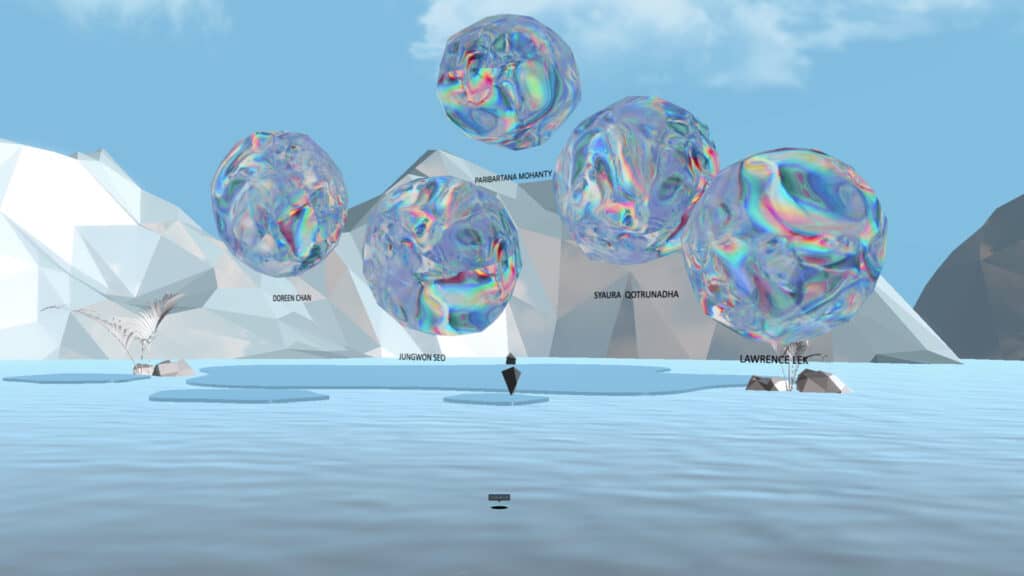 Is it possible to see our future in the present? 
I think a lot of science fiction and speculative fiction have used futurity to comment on the problems, hopes, and fears of the present. Just like history casts a shadow over today, today will cast a shadow over tomorrow. But that doesn't mean that we can "see" our future clearly in the present. It's too hazy
Established in 2016, the VH AWARD aims to support Asian artists from diverse backgrounds who are working in new media. The award stems from the Group's commitment to activating the intersections of art and technology through cross-cultural research and interdisciplinary artistic expressions.
This year, in celebration of its 4th edition, the VH AWARD has expanded to include all Asian artists whose works creatively portray and question the vast array of issues and trends occurring across Asia, including the relationship between humanity and artificial intelligence as well as the consequences of climate change. It marks the first time artists from outside South Korea have been eligible to apply.
There were five finalists including Lawrence Lek the other four are: Doreen Chan, based in the US and of Hong Kong-Chinese descent; Paribartana Mohanty, based in India and of Indian descent; Jungwon Seo, based in South Korea and of Korean descent; and Syaura Qotrunadha, based in Indonesia and of Indonesian descent.
All finalists participated in an online residency program hosted by Eyebeam, a New York City-based art and technology center. The program supports the production of new artworks while providing professional development sessions with mentors, such as curators Barbara London, Karen Archey and Ute Meta Bauer, as well as artists Zach Lieberman and Kamau Patton and a US-based artist working under the name, "American Artist."
Each artist received $25,000 USD to produce a screen-based, audio-visual work; and as the Grand Prix recipient, Lek will receive an additional $25,000 USD. All finalists' works will be screened at upcoming events at renowned art institutions and virtual museums around the globe.
Unique to this year's event was a virtual treasure hunt, where visitors could discover hidden collectible coins, dubbed "Non Fungible Tokens (NFTs)," during the ceremony. The first 50 guests to collect coins were presented with NFT artworks displaying key visual elements drawn from the finalists' works.
About the Artist
Lawrence Lek (b. 1982, Frankfurt, Germany; lives and works in London, UK)
Lawrence Lek ???is a London-based multimedia artist who unifies diverse practices into a continuously expanding cinematic universe. Lek uses video game software and CGI animation to develop digital environments as "three-dimensional collages of found objects and situations."By rendering real places within fictional scenarios, his digital environments reflect the impact of the virtual on our perception of reality. His VH AWARD proposal, Black Cloud(2021, is the culmination of an ongoing body of work that explores the geopolitical implications of AI to bridge between popular culture and critical discussions on technology. Other works by Lekinclude Sinofuturism(1839-2046 AD) (2016), Geomancer(2017), 2065 (2018) and Nøtel, in collaboration with electronic musician Kode9 (2019). His debut feature film AIDOL was selected for Moscow International Experimental Film Festival, International Film Festival Rotterdam and at transmediale 2020 festival at Volksbühne, Berlin. Lek composes soundtracks and conducts audio-visual mixes of his films, often incorporating live playthroughs of his open-world video games. Soundtrack releases include Temple OST (The Vinyl Factory, 2020) and AIDOL OST (Hyperdub, 2020). Performances include Doom at Somerset House, London (curated by Christian Marclay) and ProGeo, ICA, London. He received his B.A. from Trinity College, University of Cambridge in 2004 and earned his AA Diploma from the Architectural Association, London in 2008. He holds a Master of Architecture II from the Cooper Union, New York, NY and is a PhD candidate in Machine Learning for Film at the Royal College of Art, London.
Categories
Tags