It had never occurred to me to spend a day in Newbury – until I heard about Jemima Brown's project there. Actually, a tour of that and the associated locations makes for a fascinating day out. It turns on the fact that Greenham Common, on the town's outskirts, was a base for the Royal Air Force and United States Army Air Forces from 1942 onwards, and hit the headlines in 1980 when it was announced that 96 cruise missiles would be based there. Construction began on clay-covered above-ground concrete shelters to protect the missiles against attack (the resulting group of six artificial hills can still be seen, though the missiles were removed from 1989 onwards, and the Americans left in 1992).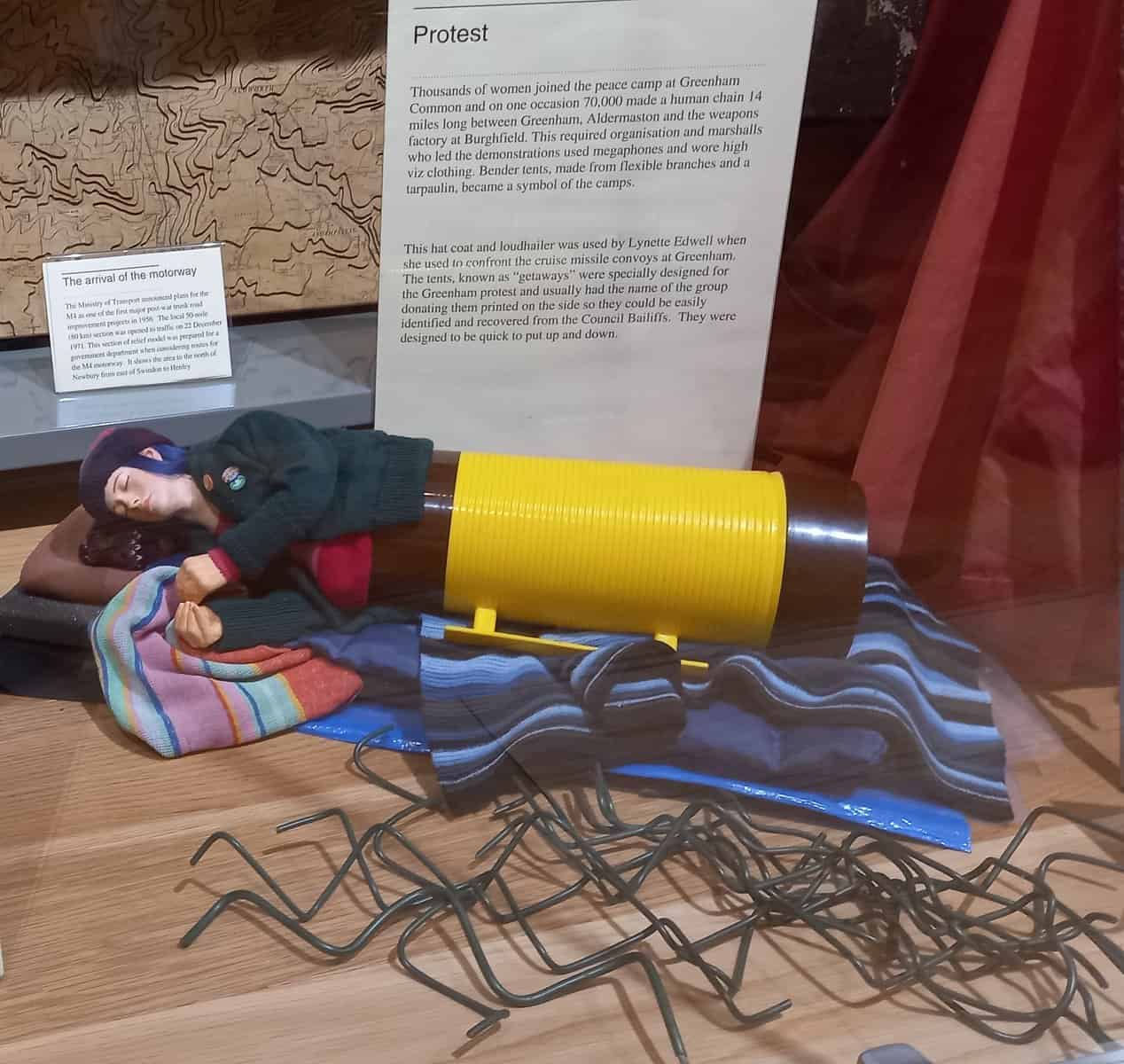 Protests were sparked, peaking when 30,000 women 'embraced the base' along its 11 mile perimeter in 1982. From 1981 onwards there was a women-only peace camp, with groups of protesters camping at each of the entrances.  The Guardian's Suzanne Moore has recalled how 'Women could use their identity as carers and mothers to say, this is about the future safety of our children. We weaponised traditional notions of femininity.'
Jemima Brown grew up nearby at the peak of the protests, and has explored its legacy over the past decade through her ongoing sculptural project 'Peace Camp', now presented in full to mark the 40th anniversary of the camp. It spreads into town centre shops and the library, but the main sites are in the West Berkshire Museum – installed very effectively in the context of local history displays that are interesting in themselves – and at the former airfield, now returned to its origins as a public common. Brown has made over 60 figures, approximately 1/3 of life size, which variously hide in unexpected places or congregate in groups.
Some are in The Base, a new art centre located on the industrial estate now occupying much of the Common. That is also showing Wendy Carrig's evocative photographs of the camp.
More of Brown's figures are in the Control Tower, now open as a café, dog-walking centre and museum, setting out the military and protest stories together with panoramic views over where it all took place. Brown has dressed the protesters in second-hand clothing which imitates the early 80's heyday of the camps, with the surprising yet persuasive distortion that their legs are formed by camping equipment – thermos flasks, torches, gas burners – evoking the practicalities of their lives and setting them apart as warriors of a different order.
'PEACE CAMP: Marking the 40th Anniversary of the Greenham Women's Peace Camp' runs at West Berkshire Museum to 30 April 2022, and to at other sites:
Old Chapel Textile Centre, Greenham, until 25th November 2021
Greenham Control Tower, Greenham Common, until 28th November 2021
The Green Sewing Shop window, Northbrook Street, until 30th November 2021
The Base, Greenham, until 30th November 2021
Newbury Library, The Wharf, until 30th November 2021
Art writer and curator Paul Carey-Kent sees a lot of shows: we asked him to jot down whatever came into his head
Categories
Tags