Create London has announced the opening of new and recent commissions by artists including Larry Achiampong, Leonor Antunes/A Practice for Everyday Life, Blak Outside, Shezad Dawood, Yinka Ilori, Verity-Jane Keefe, Joy Labinjo, nimtim architects, Eva Rothschild, Studio Morison and Abbas Zahedi.
Spanning infrastructure projects including two new playgrounds, three public squares, a play area and street furniture; interventions such as a mural, commemorative wall plaques, sculptural, sound and video works; and an off-site exhibition at RIBA, the projects are commissioned by Create to mark the centenary of Becontree Estate Dagenham, the biggest council estate in the UK and the most ambitious of the country's interwar housing estates.

Create's commissions reflect upon and showcase the diverse histories and lives of Becontree Estate's residents, continuing seven years of work adding to the cultural landscape of the estate, and highlighting the importance of artistic practices to society. Create's projects are part of Becontree Forever, a programme of art, architecture and infrastructure that marks the estate's centenary.

Each of the community-centred infrastructure projects seek to enrich the local area and give positive value to behaviour in public spaces, supported by, and in partnership with, the London Borough of Barking and Dagenham.

Sited on houses and public buildings across the estate, 17 hand-crafted commemorative plaques by Leonor Antunes in collaboration with A Practice for Everyday Life, are inspired by Becontree's industrial past, and the influence of architect Jane Drew. Informed by an intensive research and nomination process, the plaques highlight well-known figures from Becontree's 100-year past, including contributions from contemporary residents. The heritage colours of the plaques are mixed using car paint as a nod to the history of Ford Dagenham, and the bespoke typeface is informed by the earliest maps of the estate.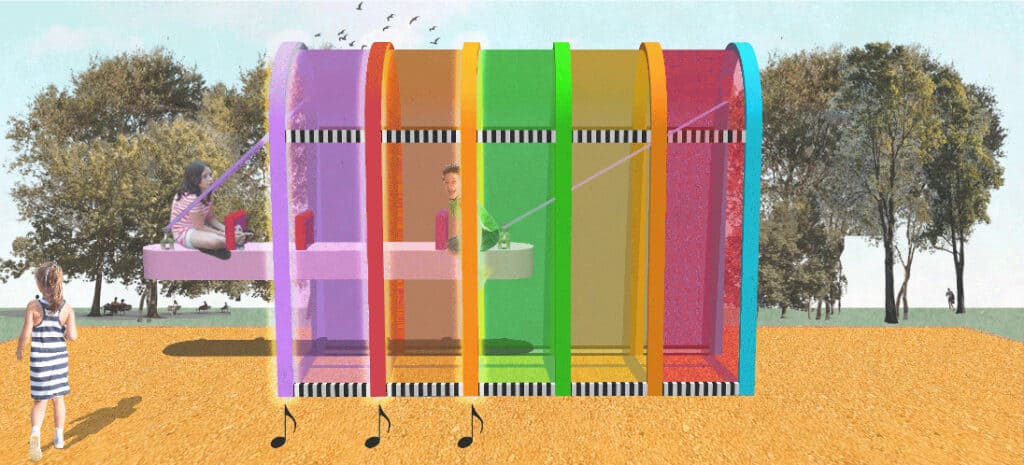 For The Flamboyance of Flamingos, artist and designer Yinka Ilori transforms an out-of-use play area in Parsloes Park on the Becontree Estate, into a rich colour-scape of new and revitalised play equipment and a refurbished basketball court. In harmony with the park's natural environment, the design imagines new and mid-century forms of collaborative play for children of all ages, including the reintroduction of pink flamingos – who once inhabited the park – in the form of bouncy spring rockers. The Flamboyance of Flamingos opens in November.

nimtim architects in partnership with artist Katie Schwab have redesigned twelve of Becontree's neglected 'corner plots', transforming them into Squaring the Corners,  three new public squares for community residents to meet, rest, play and garden. With designs reminiscent of the geometries, colours, and materials that already exist within the estate, each square encourages hyperlocal activities, such as informal doorstep play, and performs new functions by inviting residents to take ownership. Becontree Estate has over 2,000 'corner plots' situated at the ends of rows of houses. Squaring the Corners opens in Spring 2022 and is a co-commission with RIBA.

Memphis Parsloes, Eva Rothschild's new playground for Becontree Estate draws on childhood memories of a landmark stone pyramid or "Wishing Stone" on Killiney Hill in Ireland, where all levels of the pyramid have to be climbed before a wish can be made. The artist's playground is made up of vibrantly coloured geometric cubes, influenced by the colourful objects of the postmodern 1980s design collective, the Memphis Group.

From November, Studio Morison's upcycled terrazzo street furniture made from upcycled rubble from a demolition site on Becontree Estate will activate six shopping parades on Windmill Road, Martin's Corner, Goresbrook Road, Robin Hood Parade, Heathway Gardens and Andrew's Corner. The playful furniture is intended to celebrate and encourage a diversity of social behaviour, which is designed to encourage new ways of being still, being social and being present.

New contemporary art commissions reflect upon the history, stories and communities of Becontree in the context of the changes in urban communities over the past 100 years, supported by the National Lottery Heritage Fund.

Drawing on his own memories of life in Dagenham as a child and teenager, former resident Larry Achiampong has created a new score, titled These Ends, that combines new audio compositions and prose with field recordings and audio samples of places that were familiar to where he lived in the early 2000s with his father. Looking at both personal and communal heritage, through the lens of the landscape and life in the area, Achiampong's investigations expose his and others lived realities of socio-economic deprivation, racism and abandonment during the new millennium. These Ends focuses on scenarios that form part of the script for Achiampong's most ambitious film to date tentatively titled Journey Home, which will be presented at the artist's first major solo exhibition at Turner Contemporary (Margate) in 2022.

Blak Outside, Creative Resilience Pt 1 In 2021, the multidisciplinary creative collective, Blak Outside, hosted an intergenerational after-school club for Barking and Dagenham-based foster carers and children in care. In a programme of growing, cooking, walks and mapping, the group explored connections to and experiences of being outdoors. They developed tools to decolonise knowledge, ancestry, plant history, nature and the built environment, and to celebrate being safely and proudly outside. In collaboration with Blackfriars Estate, which was established 150 years ago, the group examined the changing use of, and access to, gardens and land. Creative Resilience Pt 1 is based at The White House, and is part of The New Town Culture programme.
Shezad Dawood's Visions of Paradise at The White House on Becontree Estate is a moving image work melding animation, local archive material, clips contributed by residents, and new 8mm film footage shot by the artist, hosted in a sculpture resembling ancient Neolithic standing stones. The title alludes to a description of the estate from the Ford factory era as a 'working-class paradise'.  Historical and contemporary Becontree motifs drawn from Dawood's conversations with residents, such as the Ford Capri, the Nigerian amunututu vegetable and pink flamingos, populate the work, which is set to a sound score by the contemporary composer and producer patten.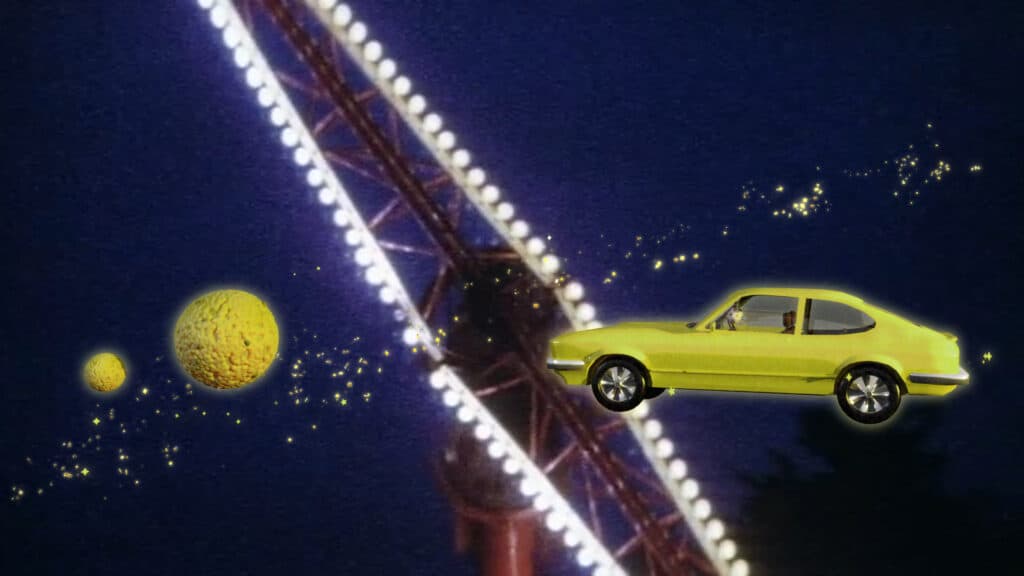 Living Together is a year-long major commission exploring the past, present and future of Becontree by Verity-Jane Keefe, which brings together her many years of artistic practice in and around the area. Exploring issues such as de-industrialisation, immigration, East End drift, worker's rights and the Right To Buy, Keefe has collaborated with a large supporting cast of residents, partners and community groups to realise activities including reading groups, virtual walks and a writer's residency with Tim Burrows.  Living Together has been made public throughout 2021 through LT TV, an online viewing platform; an exhibition at RIBA opening on 20 October 2021; and other events, and will eventually be collected as an artwork into the estate's official archive.

On a wall at the Dagenham Heathway Shopping Centre is Birthday Party on the Green, the first public mural by Joy Labinjo, who lived for a time in Dagenham. Drawing on photographs of gatherings by Becontree residents, official archive photographs and Labinjo's own images, the vibrant large-scale work reflects the artist's interest in depicting intimate seemingly familiar scenes of everyday and domestic situations that question our ideas of both belonging and sense of self. Known for large-scale paintings spanning abstraction, naturalism and graphic patterns, Labinjo's works often allude to her experiences of growing up Black, British and Nigerian in the 1990s and early 2000s.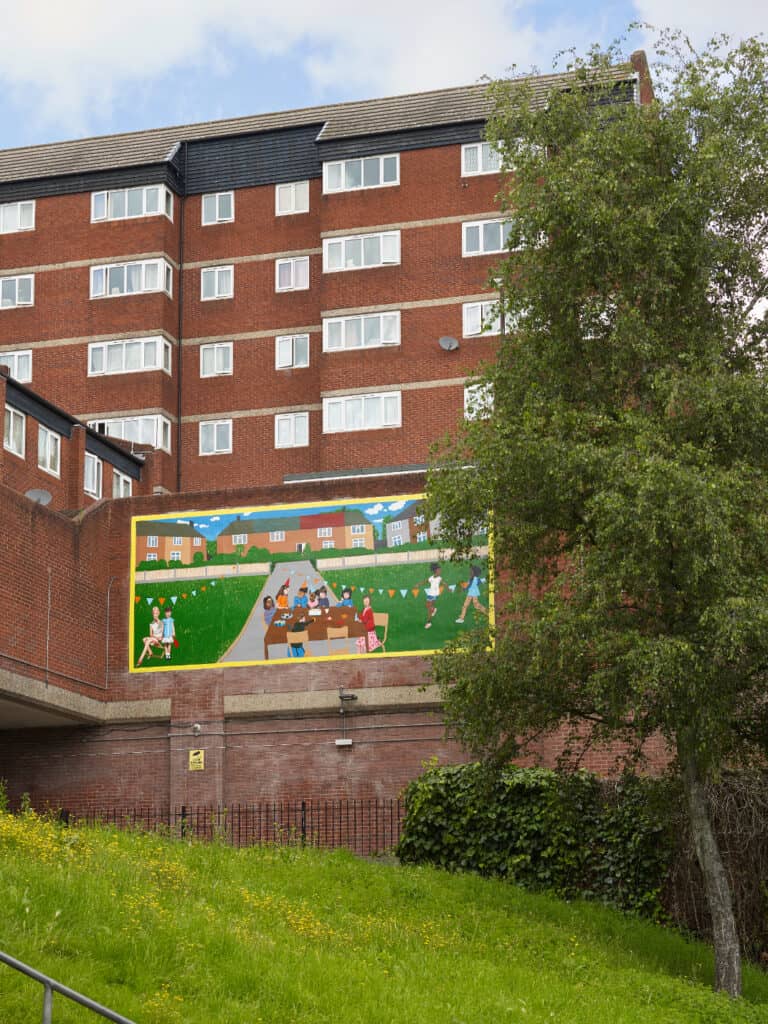 In his first video work documenting a collaborative process, We Don't Know Where We Are In The Drama, Abbas Zahedi worked with Arc Theatre's young women's group Raised Voices. He developed conversations around the Dagenham Idol, a Neolithic wooden human figure, to find common points of departure that connected with the young women's lived experiences on Becontree Estate, and to symbolically continue the story of the Idol. In the video set designer, Michalis is seen sculpting a series of Dagenham Idol replicas, one for each theatre group member to embellish and inscribe with their own experiences and narratives. Woven into the film is footage of artist and designer Madelon Vriesendorp's extensive collection of domestic artworks and figurines, placing the newly formed Idols in a dynamic landscape of personal work and souvenirs.
All participating artists: Abbas Zahedi, Aislinn Evans, Belinda Zhawi, Blak Outside, Boom Shakalaka Productions with One Room Collective, Elsa James, Emma Smith, Eva Rothschild, Joe Namy, Joy Labinjo, Katie Schwab, Katriona Beales, Larry Achiampong, Leonor Antunes with A Practice for everyday Life, nimtim architects Katie Schwab, Sadia Ur-Rehman, Sarina Mantle, Shezad Dawood, Studio Morison, susan pui san lok, Uriel Orlow, Verity-Jane Keefe, Yinka Ilori, The White House Painting Group and The White House Poetry Circle.
Project locations open October 2021:

Leonor Antunes in collaboration with A Practice for Everyday Life Various locations on public and private buildings, including The White House, 884 Green Lane, RM8 1BX and Sydney Russell School, Parsloes Ave, Dagenham RM9 5QT.

The Flamboyance of Flamingos by Yinka Ilori, ball court and play area
Parsloes Park, 333 Ivyhouse Rd, Dagenham RM9 5SA

Memphis Parsloes by Eva Rothschild, playground
Parsloes Park, 333 Ivyhouse Rd, Dagenham RM9 5SA

Visions of Paradise by Shezad Dawood, sculpture
The White House, 884 Green Ln, Dagenham RM8 1BX
Details of projects on Becontree Estate by Verity-Jane Keefe in 2021 including LT TV, are on https://livingtogether.org.uk/ 

Lived In Architecture – Becontree at 100, 21 October 2021 – 12 February 2022, Architecture Gallery, RIBA, 66 Portland Place, London W1B 1AD

Birthday Party on the Green by Joy Labinjo, mural
Dagenham Heathway Shopping Centre, Dagenham RM10 8RE
Categories
Tags