Painting is always the dominant medium in art fairs, and despite all the talk of NFTs and new media, that was particularly apparent this returning year of Frieze London. But that doesn't mean it isn't interesting. What do you want? Figuration, abstraction, something between the two? Still life, recycled images? Unusual uses of paint, or no paint at all?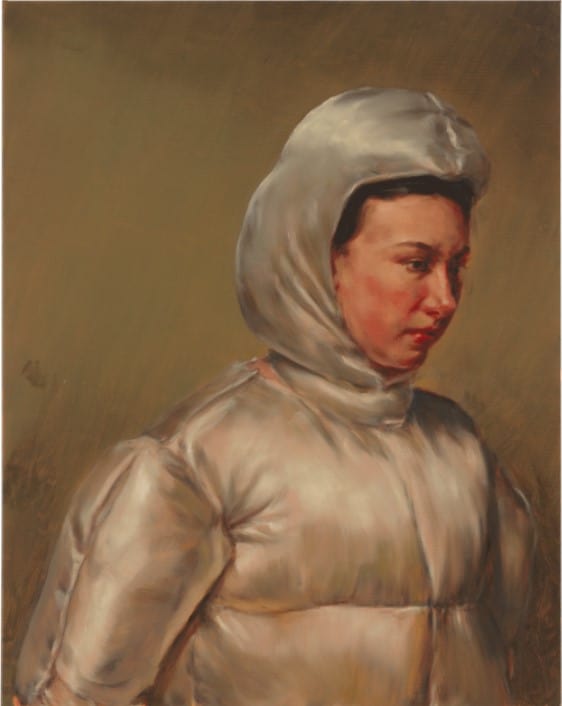 Michaël Borremans: The Commuter, 2021 at David Zwirner
This is one of two paintings from Michaël Borremans' most recent, typically enigmatic, series to depict figures clothed in a shiny quilted puffer costume. It looks rather like a space costume, possibly from some cod science fiction movie, in which case the title proposes regular inter-planetary travel to work at a time when everyone was being told to stay at home, however short their commute. I guess that's in tune with Borremans stated desire to create 'an atmosphere outside time, a space where time has been cancelled'.
Sabine Moritz: Mine I, 2021 at Pilar Corias
There was no shortage of big, bright abstraction at Frieze London. For example, Pilar Corias featured a solo of Sabine Moritz: vivid compositions intended to suggest mental states 'eliciting specific thoughts and feelings in the viewer through subject matter encompassing particular places, personal memories and natural forms'. The point not to mention, perhaps, is that her husband is Gerhard Richter.
Nigel Cooke: Spartans, 2021 at Pace
Nigel Cooke's recent mode is figuration so abstract it becomes ambiguous. Here I saw a face emerging from what might be the sun over a few leaves, but Cooke decribes it as a conversation between 'a decorated athlete, the decorated herm of Pan in Nicolas Poussin's The Triumph of Pan (1636) and the young Spartans of Degas posturing to each other in the athletic field', which he sees as 'drawing the animal out of the human, weaving the ancient and mythic into the sporting arena, flowing the face of a mandrill into an Egyptian mask'.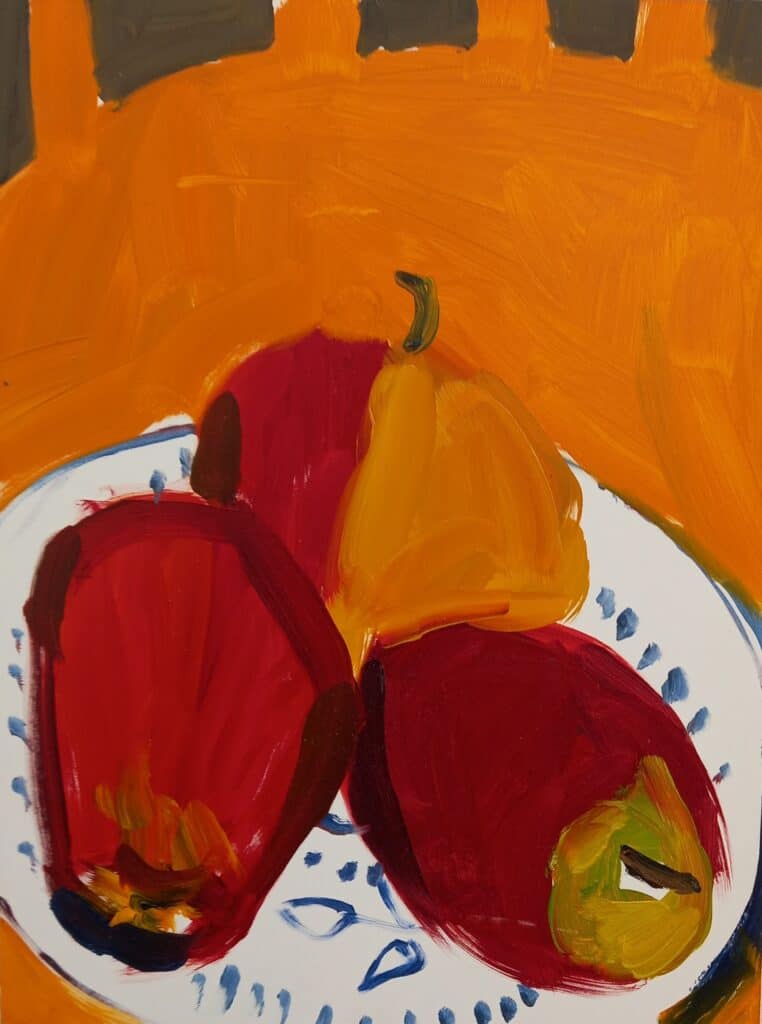 Chantal Joffe: Apples, 2021 at Victoria Miro
Plenty of artists showcased a lockdown-driven shift in practice. Chantal Joffe, known for painting people posing for her, turned towards still life, saying that the experience is very different as largely painted at night. 'I can drift in and out, paint at night, pick it up and drop it and drift. I've been painting these weird flowers. They're like a very dark clover, and for me they became a weird symbol of lockdown. They're quite post-apocalyptic…' They fitted well in Victoria Miro's botanically-themed booth.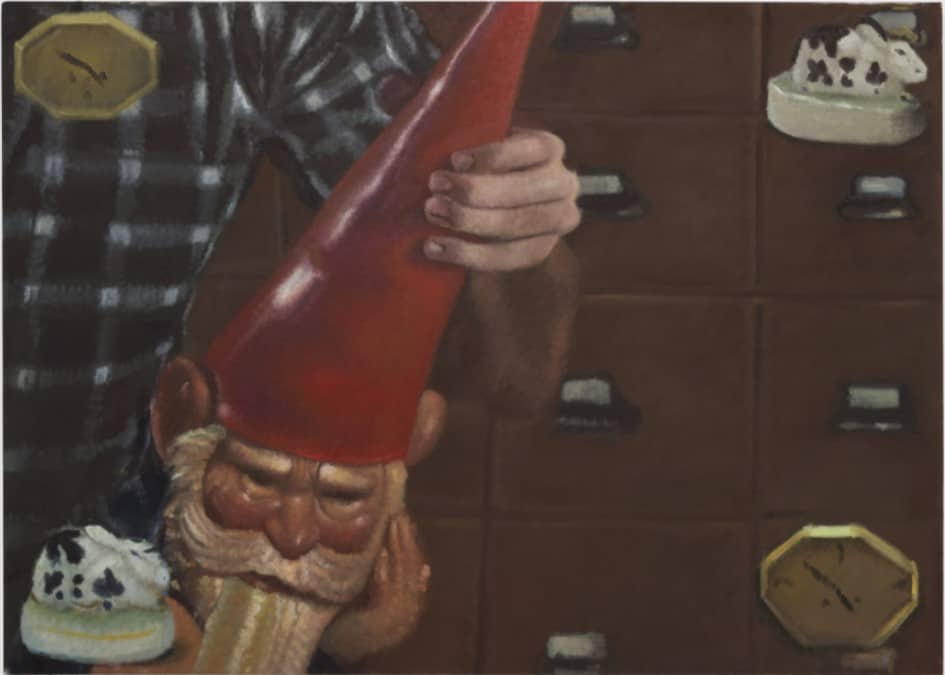 Issy Wood: Luke, brandishing, 2021 at Carlos/Ishikawa
Issy Wood hand-painted her solo booth's floor with clocks, suggesting the slow passage of locked down time which is picked up in 'But Who's Counting', her dairy of the period, and the subject of her paintings: stills from her TV binges on The Sopranos, Sex in the City, Friends, Gilmore Girls (as here) etc… Plenty have painted from stills before, of course, but Wood makes the genre atmospherically her own, and adorns the corners with more clocks and what she calls 'souvenirs from my pre-covid art-making'.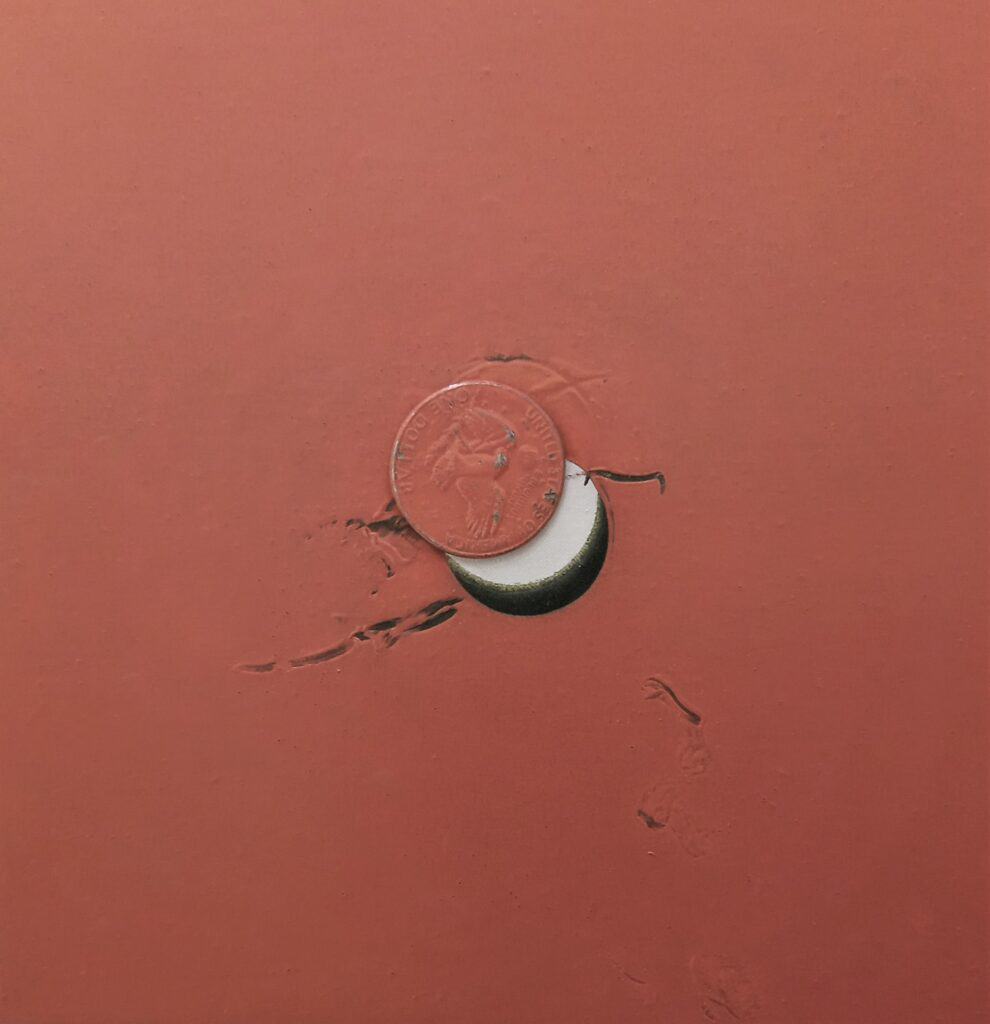 Paul Sietsema: Pink Coin, 2021 at Matthew Marks
This update on Warhol's love of money as subject isn't quite trompe-l'oeil, because the 'coin' does actually project into the space – but it is all paint. The one-dollar coin seems to have been pushed through a layer of paint to leave a void behind. The gallery explains that Sietsema is interested in the relationship between art and currency. His work 'explores the circulation of both ideas and markets… fusing the movement of capital with the movement of paint'.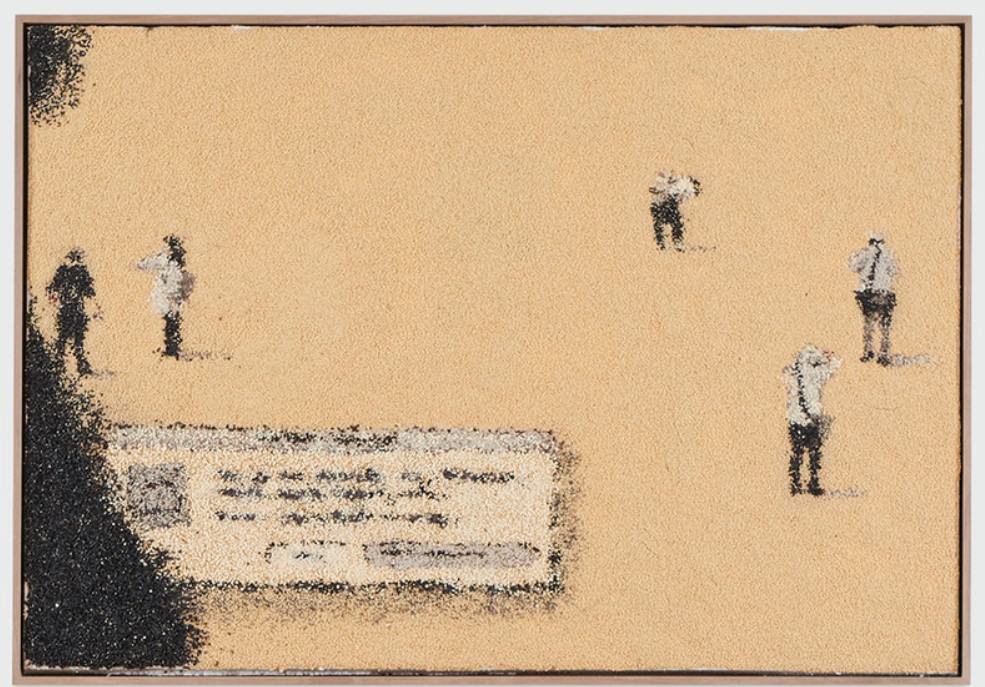 Trisha Baga: Sex, 2017 at Société
Filipino-American artist Trisha Baga is best known for installations that project film on top of other content to complex effect, running together digital, analogue and real. But I liked this, one of series of paintings composed, rather remarkably, of sesame seeds – suggesting both a material version of the pixelated images of the videos and the sand in a desert landscape. The view seems to be as surveyed – perhaps, given its fairly busy, the desert is a beach – by a shadowy foreground figure. I'm guessing it's called sex as per Latin because that makes it six figures, not because there's any sex to be spied on, but perhaps matters will develop. The whole may be a screen anyway, as some sort of dialogue box seems to be open – we're back to the digital versus real.
Art writer and curator Paul Carey-Kent sees a lot of shows: we asked him to jot down whatever came into his head
Categories
Tags