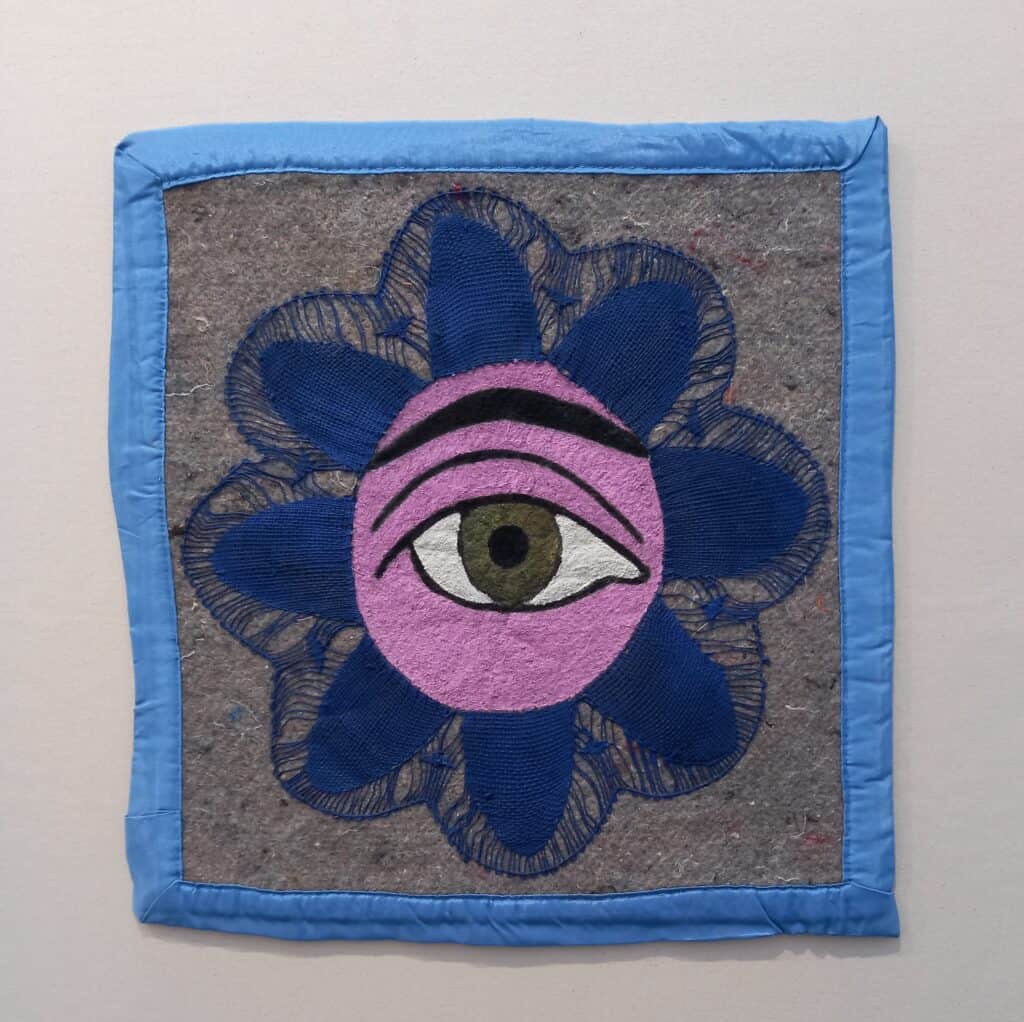 Enough of the crowding and superficiality of Frieze London's opening day, this year I opted for the more measured pace of Frieze Masters. Or, to put it another way, Frieze's covid-influenced capacity rules required me to visit  Masters first. But that wasn't so bad. Here are some things I liked, not new as such, but interesting…
Feliciano Centurión: from the Gazing Series, c. 1994, at Cecelia Brunson Projects, London / Galleria Millan, Sao Paulo (top)
In the context of a brief career, this is a late work by the Paraguayan artist Feliciano Centurión, who died of AIDS at 34. He grew up in a household of strong indigenous women who taught him to crochet and sew, which fed into a textile practice that became more intimately scaled after his HIV diagnosis. He often incorporated, as in this flower-eye's petals, the traditional Ñandutí ('spider web' in the indigenous Guaraní language) form of Paraguayan lace. Here the one eye we can see is actually the third eye, the speculative inner eye providing sight beyond the normal.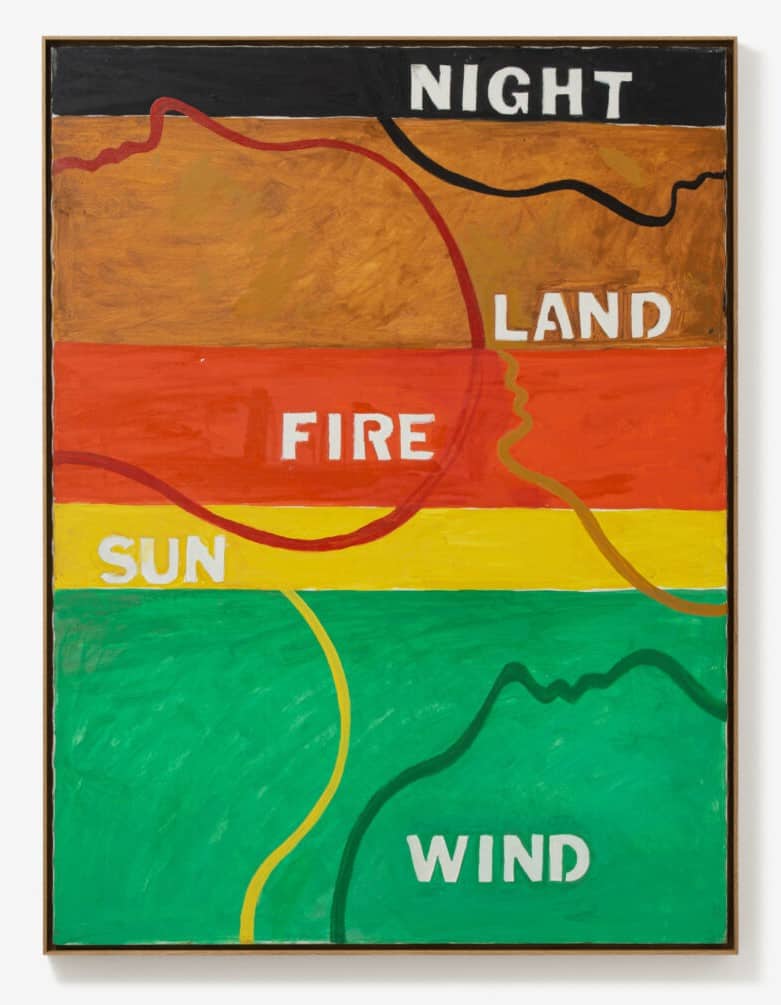 Nicola L., Planet Heads #1, 1990, at Alison Jacques, London
Franco-Moroccan Nicola L. (1932-2018) had a wide-ranging practice incorporating performative sculptures, often with a feminist agenda and design as well as less frequently-seen paintings. This is from a series that impose a linear head – almost in the manner of a Bruce Nauman neon figure – over an elemental categorisation of the earth that one might read now as indicating baleful human influences on the environment.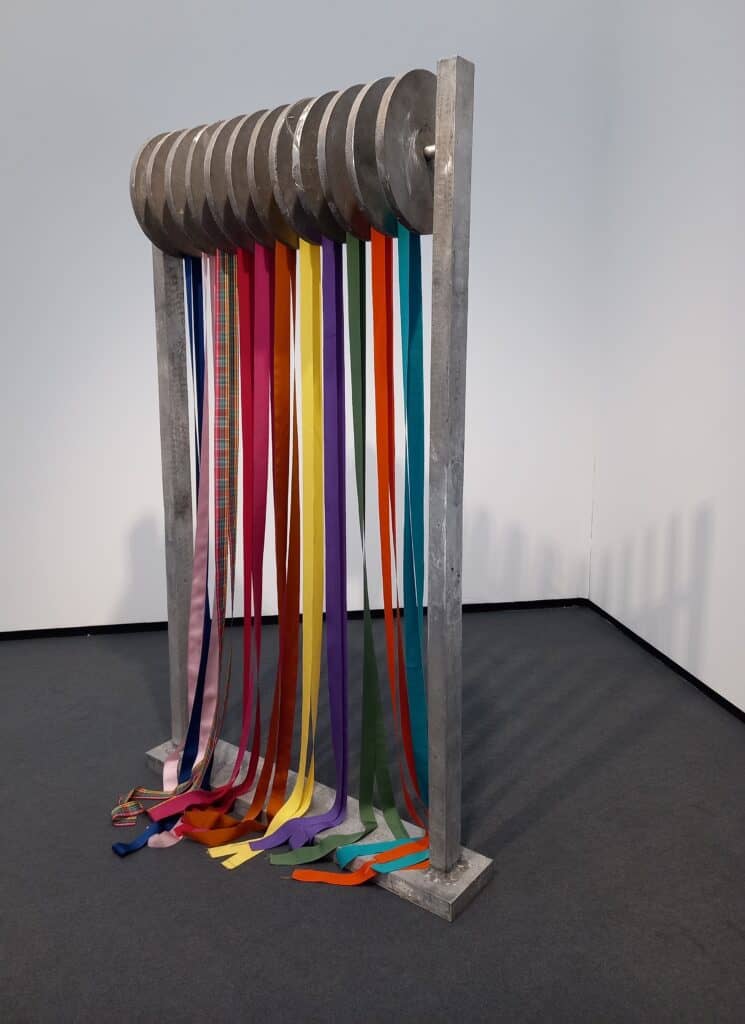 Jim Dine: The Ribbon Machine, 1965 at Templon, Paris
If this is a machine, I'm not sure how it works, but there is an industrial as well as domestic aspect to what is essentially an exploration of colour, which the American artist achieved through purchases from London shop The French Ribbon. Dine neatly elides other categories, too: is this a  sculpture, a painting without paint, or a textile work?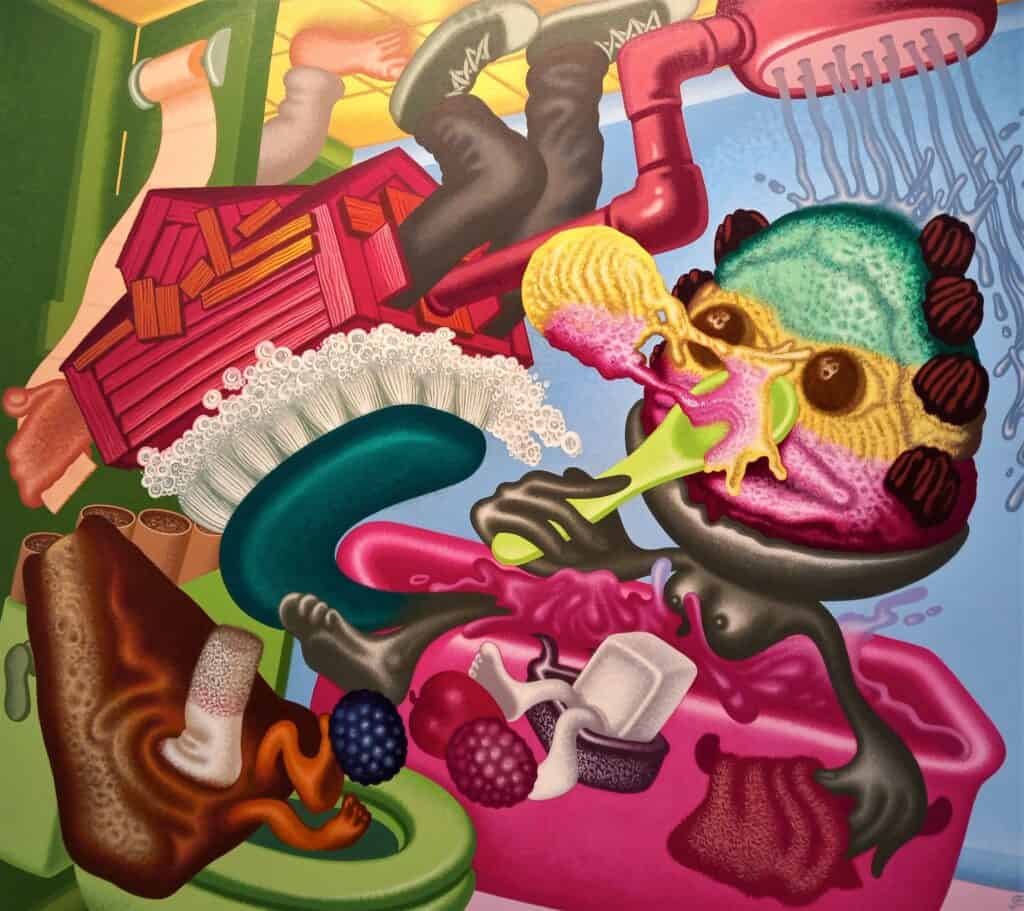 Peter Saul: Ice cream in a bathroom, 1998, at Perrotin, Paris etc
Peter Saul's raucously grotesque mix of pop iconography and abstract expressionist energy is increasingly well regarded for its combination of acid in-your-face attitude with complex painterly organisation. This combination of everything including the bathroom sink is more at the more at the absurd than political end of the 88 year old's  cartoonish range, but I'd still guess that shower's not much colder than the ice cream.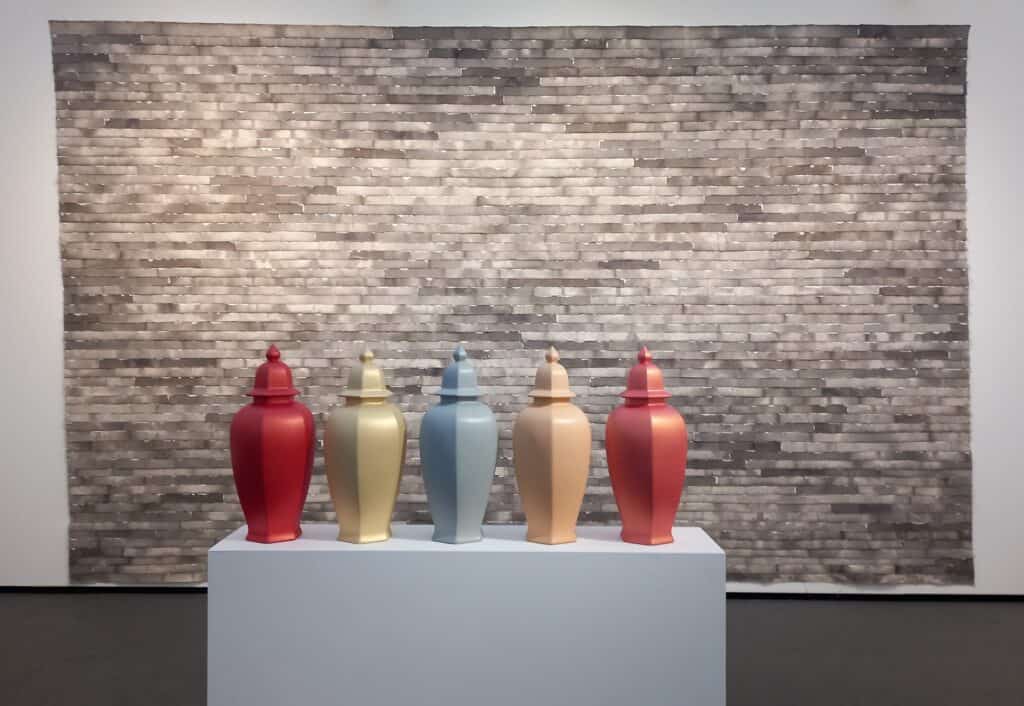 Allan McCollum: Linda Taylor, 1971, at Galerie Mitterrand, Paris
The backdrop to Mitterand's stand reprising McCollum's most famous serial works was a paradoxically soft wall made from 'bricks' of canvas, dyed, and held together with boat caulking. The title is a dedication to his apparent muse at the time, a waitress called Linda Taylor, and the combination of so many pieces of cloth is a conscious maximisation of the effect adduced by Hans Hoffman's maxim that if you draw a line on a canvas, it is actually the 5th line, given the four edges.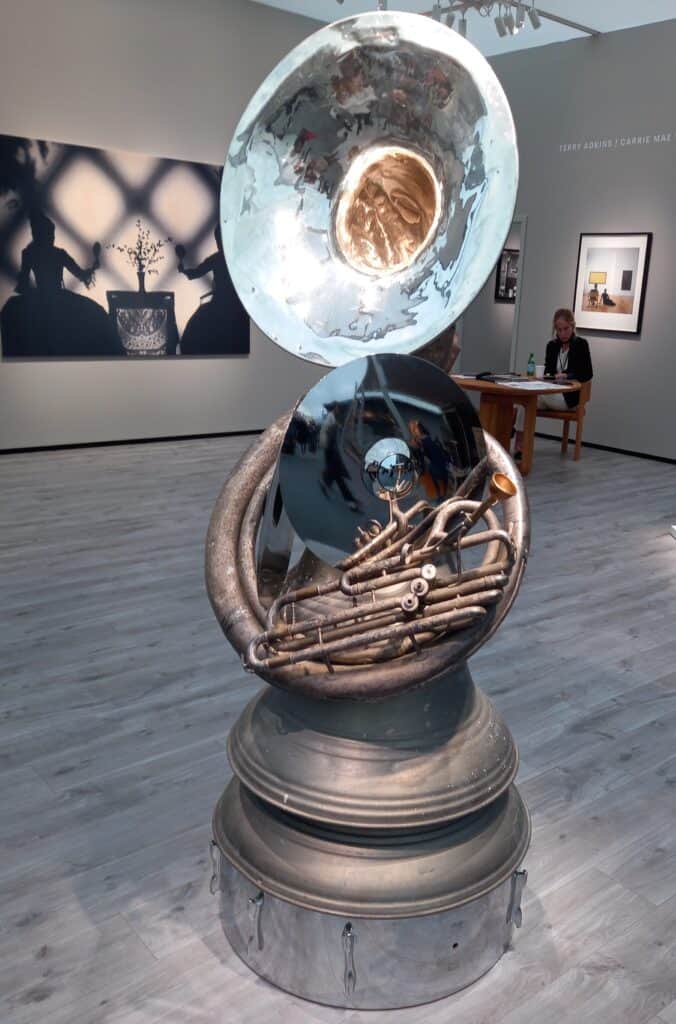 Terry Adkins: Mrs. Brown, 2010, at Le?vy Gorvy, New York etc
Terry Adkins (1953–2014) reconceived the conventions of portraiture and set out to revise incomplete or marginalized histories of Afrodiasporic culture. All of which is in play in this 'abstract portrait', formed from a sousaphone, a drum and aluminium bells and named after the mother of the abolitionist John Brown (1800–1859). Brown was seen polarisingly as either a prophet of justice or a terrorist, though I guess his mother took her son's side pretty firmly. Strictly speaking, by the way, this shouldn't have been in the Masters section: the official rule is that work must precede this century, so it's getting older (a more logical rule would be that work must be at least – say – 10 years old).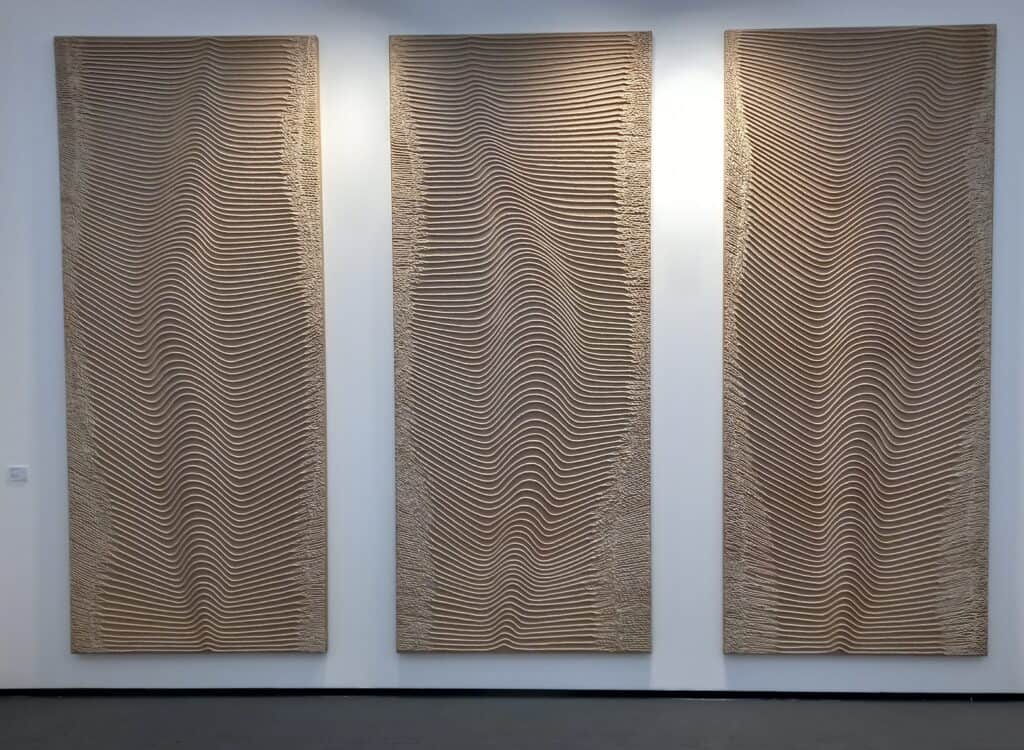 Seung-Taek Lee: Wind, 1972-82, at Gallery Hyundai, Seoul
Seung-Taek Lee (b.1932), a pioneer of Korean avant-garde, showed many works incorporating rope – forming patterns on canvas, tied around books and stones in ways which made them appear implausibly reshaped by it. This 3m high triptych was one of the largest works in the fair, elevating a humble material into a mythical skyscape which equates the rippling of rope with the action of the wind.
Art writer and curator Paul Carey-Kent sees a lot of shows: we asked him to jot down whatever came into his head
Categories
Tags