Those who have never been to a grand brick-and-mortar casino can hardly imagine how fulfilling the whole experience actually is and how far beyond gambling it goes. Yes, all the establishments are brimming with games and opportunities, but there's so much more to explore. So let's take a look at other extraordinary activities you can enjoy in between your favorite games.
Indulge in eating luxurious dishes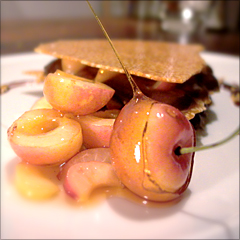 It's very easy to forget to eat while chasing jackpots. However, if you want to stay focused, you can't afford to be hungry, and the casino management is well aware of that. This is why there's always something to grab, whether it's a quick bite or a three-course meal at the restaurant. And what a restaurant it can be!
Just imagine, you're in Las Vegas, having an authentic French signature meal like artichoke and black truffle soup. The Ceasars Palace is home to the Guy Savoy restaurant, where you can enjoy the chef's signature dishes and the view at the Vegas' Eiffel Tower replica. With a pricy cognac in your hand, you'll truly feel like a high roller.
Many casinos employ famous chefs who gladly accept the challenge of surpassing themselves in making gastronomical wonders. However, not all casino restaurants are as glitzy, and if you feel more comfortable, you can find places that offer local dishes or even fast food. Furthermore, don't be surprised if some of the casino's perks include free meals – make sure you take advantage of the opportunity and have a whole new experience.
See a live show
The gambling glamour extends to the stage. Casinos are places where you can see some of the most famous names in show business. Singers, dancers, magicians, comedians, and many more artists take the stage to make your night out exceptional. So before you set off to a casino resort, take some time to explore the night scene and plan your stay so it includes the shows you'd love to see.
World-famous performers like Sting, iconic rock bands like the Scorpions, or pop divas like Gwen Stefani sell tickets like hotcakes. But, if you haven't got tickets in time, there are always shows you can attend without much prior preparation and have the time of your life.
Watch a game being played
One of the best ways to improve your gameplay is to observe. If you need to pace your budget or take a break, watching the games others play will greatly benefit your future strategy. Take a seat at the table if possible, or watch a public game of poker.
There's a strategic approach to every game, even slots. However, in this case, watching others play may not do you much good. Instead, find useful resources where you can read about the types of slot machines, their variance, payouts, and the like. The slot machine strategy can be mastered and once you're ready, go for that life-changing jackpot.
If poker is your game of choice, you'll need as much practice and knowledge as possible. This strategic, psychological game is overflowing with excitement, especially if you're not playing online. If you're a beginner or you're still not ready to participate, watching one would bring enough excitement on its own.
Have a spa day
This may surprise you, but a spa is very often an integral part of a casino resort. And, when you think about it, it makes perfect sense. If you win, you can invest in yourself and a day of utter pampering as a treat. However, if you lose, you could use some scented candles and a relaxing massage to reduce the stress before you get back in the saddle.
What's more, you are not by any means obligated to visit the spa at the resort you're staying at. If there are other resorts nearby, you can try out anywhere where the service is most appealing.
The takeaway
As you can see, there's so much to do at a casino, and gambling is just one of the things you can enjoy. With that in mind, take some time to plan ahead a little bit – catch a show, visit a spa, grab a bite. It will be well worth it, and it will sure make your experience that more memorable.
Categories
Tags