Tabish Khan the @LondonArtCritic picks his top exhibitions to see right now, this week it's all exhibitions to see in West End galleries. Each one comes with a concise review to help you decide whether it's for you. Those looking for more exhibitions should check out his top museum shows, where all are still open to visit.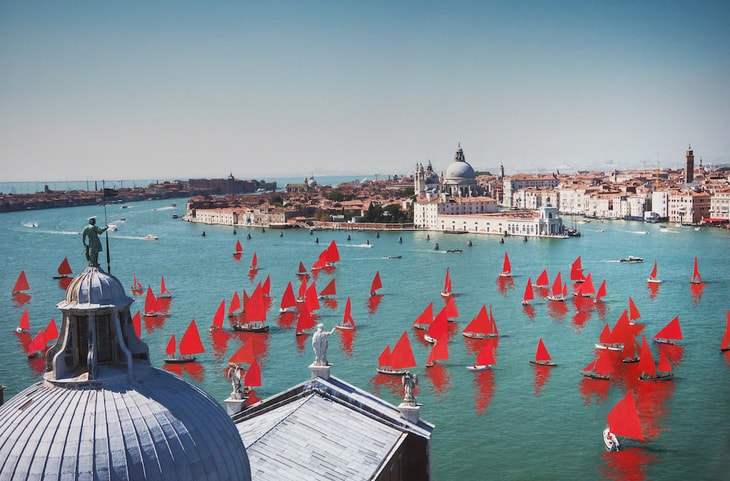 Melissa McGill: In Venice @ Mazzoleni
Red sails draw attention to the threats that Venice faces, both from rising sea levels and over-tourism. Yet it also celebrates the sailing communities that still exist within the city and sound boxes in the shape of Venetian public squares contain their noises that spill out when you open them. This stunning photography exhibitions combines global and local issues in works that show the side of Venice tourists don't see. Until 18 September.
Phyllida Barlow @ Hauser & Wirth
Big chunky sculpture make a protective ring around a gallery so we're forced to walk along the outskirts starting through the bars – are we looking into a cage or are we the ones caged, pressed up against the wall. Accompanied by works on paper this monumental sculpture of over 100 cement posts makes its playful and intimidating presence felt. Until 18 September.
The Landscape: From Arcadia to the Urban @ Rosenfeld
Old Master paintings hang alongside contemporary artists to show how the landscape genre has evolved as the world becomes more urbanised and industrialised. A new discovery for me was the fantastic and vast surreal architectural works of painter Inna Artemova that take you to another world. Until 2 October.
Jessie Stevenson: Way Out East @ Sapling
Vivid greens and blues, blazing reds and oranges. Jessie Stevenson's landscape paintings burst with the colours inspired by her local Norfolk, as well as both Old Masters and contemporary culture. Lose yourself in these joyous abstract figurative works. 8-25 September.
Alastair Gordon: Quodlibet @ Aleph Contemporary, 12 Piccadilly Arcade
These superb trompe l'oeil paintings resemble studio walls with studies and other objects pinned to the wall. The realism is so effective that from a distance I was convinced the masking tape wasn't painted and had in fact been placed on to the painting. It's one of two shows in this pop up with the colourful abstract pieces by Laurence Noga downstairs. Until 29 September.
Alvaro Barrington: Wave your Flags II @ Sadie Coles, Davies Street
These floral paintings are all created in the colours of the flags of Caribbean nations, framed using the materials used to make houses in that part of the world including the sheet metal that the works are mounted on. It's a celebration of the diverse Caribbean communities as well as a nice nod to Warhol's flower paintings where the same motif repeats. Until 11 September.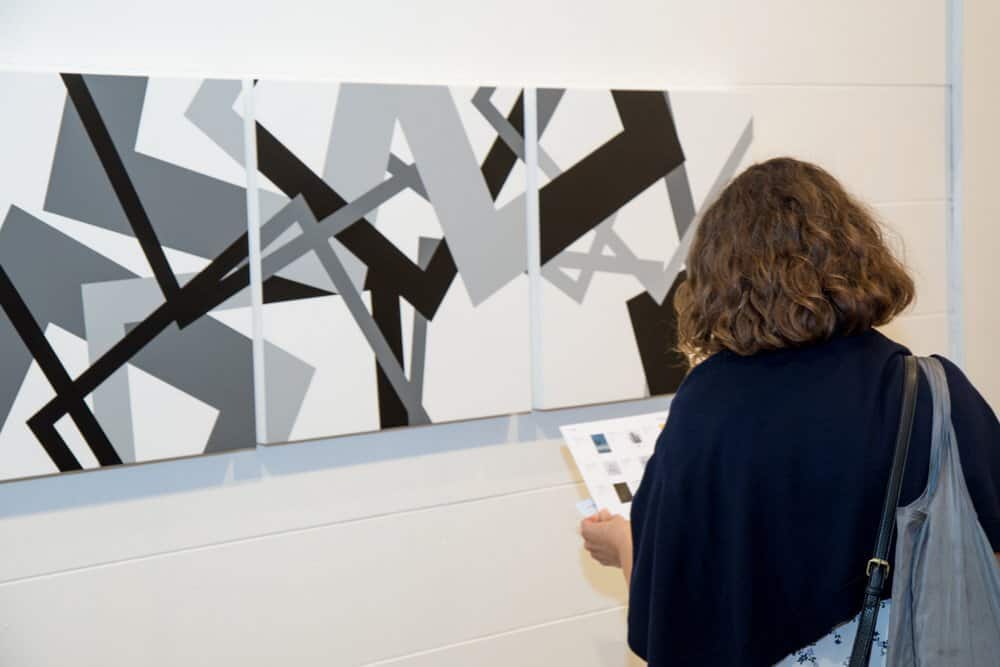 Disciples of Dora Maurer @ David Kovats pop up gallery
Artist Dora Maurer had a big Tate Modern retrospective recently and now the Hungarian Cultural Institute and David Kovats Gallery have combined to showcase artists who have been inspired by her. There are those who create colourful geometric abstract paintings that are clearly inspired by the works Maurer I'm familiar with, but also those inspired by her photography in a varied show. Until 19 September.
All images copyright artist and gallery. Hauser and Wirth photo Alex Delfanne.
Categories
Tags