FAD Magazine writer Lee Sharrock spoke to her favourite upcoming artists at The Other Art Fair, for a special TOAF edition of #TheUpcoming. Next up, landscape artist Sarah Weadon.
Sarah Weadon's canvases of dreamy skies populated by little fluffy clouds reflect the increased appreciation of nature we collectively had as a population going through the pandemic.  Cirrus, Stratus and Nimbostratus clouds and the constantly changing colours of the skies above the artist's Brighton home, provided solace and inspiration to her during lockdowns, and the visceral energy of her oil paintings resonated with something inside of us that understands we're all little elements of something far bigger and beyond our control.  Weadon paints mostly 'en plein air' in the tradition of iconic 19th Century British Romantic artists such as Constable or J.M.W. Turner, while her canvases have a contemporary twist, for they were created during an unprecedented global pandemic when our connection with nature and the changing seasons took on a far deeper meaning.  

Lee Sharrock: How did the pandemic and lockdowns affect your creativity? Did it give you more time to be creative and reflect on life, and did that inform the work you made in the last year? 
Sarah Weadon: The pandemic had a significant impact on my practise. Suddenly all 3 of my teenagers were at home together with my freelance husband and our dog. Life became extremely stressful overnight. 
It pulled into sharp focus what I needed to do, and I leaned into the restrictions, mainly because I was thrown back in to caring and managing not only the domestic running of the house but also checking in on the children's mental health too. The time constraints meant I streamlined my practise to just a few hours a week, and I had to make them count. When we were only allowed to leave for essentials I would paint out of our top window. Luckily we live on one of the highest hills in Brighton facing West. This bought some fabulous skies and I would often escape up there at sundown. 
The changing skies from day to night, and the warm colours that they bring were a huge source of inspiration. I found a freedom and sense of place away from the pandemic, something that gave me intense joy together with a strong emotional connection. Interestingly, over the course of the last year, I have found that this optimism has resonated powerfully with people that come across my paintings. People do seem to connect with the strong sense of freedom and hope that the sky brings. I guess I wasn't the only one looking up.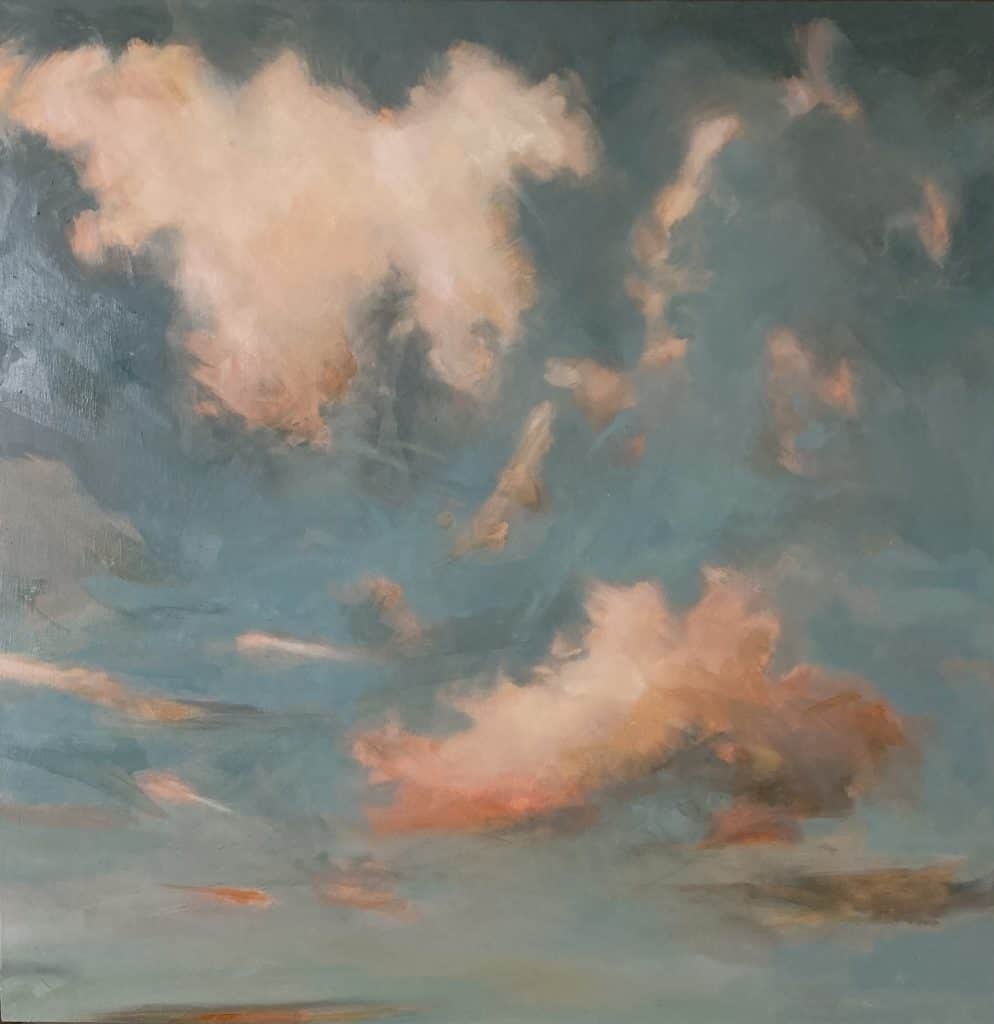 What was the path you took to become an artist, and can you give a brief summary of your work and the meaning behind it? 
SW: After training as a graphic designer at Camberwell College of Art I went on to work for many years as the Art director at Artists and Illustrators magazine, a job I thoroughly enjoyed. I would spend just as much time reading the magazine as I did designing it, and on reflection, I have always been a frustrated painter choosing design as a more commercial career path rather than Fine Art. I started painting again 5 years ago, and immediately knew it was Landscape painting that I wanted to pursue. 
I do prefer to be a part of the landscape and paint directly 'en plein air' as well as drawing and sketching in oils. I often visit the same spot in all seasons to experience the change in qualities of light, colour and sound. It's through these observations that the energy of the place is revealed. No matter what nature offers there is an underlying commitment to the emotional force, with the intention to just simply react, distil and interpret.

@sarah._weedon
Categories
Tags