FAD Magazine writer Lee Sharrock spoke to her favourite upcoming artists at The Other Art Fair for a special TOAF edition of #TheUpcoming.  Redbellyboy's joyful screen-prints fuse classic British catchphrases such as 'Hello Sunshine' and 'Fancy a nice cuppa tea' with Pop-Art style typography and an uplifting rainbow palette. The main outlet for Taylor's creativity was a career as a successful freelance film director until he rediscovered screen-printing 4 years ago, and the typeface he uses has a distinctly 60s cinematic aesthetic. In fact, I can imagine a film where Taylor designs the opening sequence, with the title of one of his screenprints "Time to strap on the rocket and fuck off!", a sentiment some of us might have felt during the past year!
Lee Sharrock: How did the pandemic and lockdowns affect your creativity? Did it give you more time to be creative and reflect on life, and did that inform the work you made in the last year? 

Redbellyboy: The lockdown was good and bad for my creativity. I came down with Covid in March 2020, which put me out of action for almost 2 months – so not great. However, the studio I work out of, Print Club London in Dalston, managed to stay open, so once I'd recovered, I was able to continue printing and developing new ideas. 

My work's become brighter, more colourful and more positive. I had a need to tap into some joy, so it was really rewarding to generate that myself by putting it into my work. Whether that's celebrating the simple ritual of having a cup of tea, or strapping on a rocket pack in my piece "Everybody Needs A Fuck Off Rocket." I was compelled to create images, almost to remind myself that there can be joy and humour even during these dark times. The pandemic's definitely inspired my most recent work 'You Are Loved'. It's by far my most personal and heartfelt piece yet. I wanted to create something that says, no matter what life throws at you, you can get through it, that no matter what, you are loved.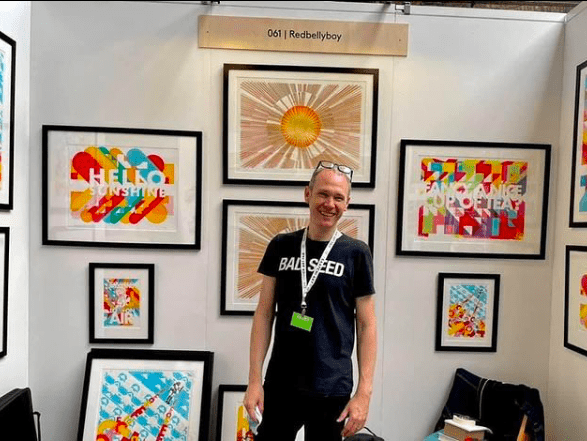 What was the path you took to become an artist, and can you give a brief summary of your work and the meaning behind it? 
I've been a freelance film director for over 20 years. As much as I love making films, I found myself craving a creative outlet where I could be more spontaneous, where I didn't need a crew of 30 people to bring an idea to life and honestly, where I could aim to please myself, rather than a herd of grown-ups.

I tried screen printing while I was studying film at Edinburgh College of Art, but hadn't been anywhere near a printing bed since. It wasn't until my friend Jonathan Reiner, a brilliant artist and screen printer, recommended I check out Print Club London – that was five years ago. Even then, it wasn't until I attended his solo show a year later, that I was inspired to give screen printing another go. So, my wife bought me a day course at the print club and I was hooked. Outside of the pandemic, I've been printing almost every week since. I love it.

@redbelllyboy
Categories
Tags