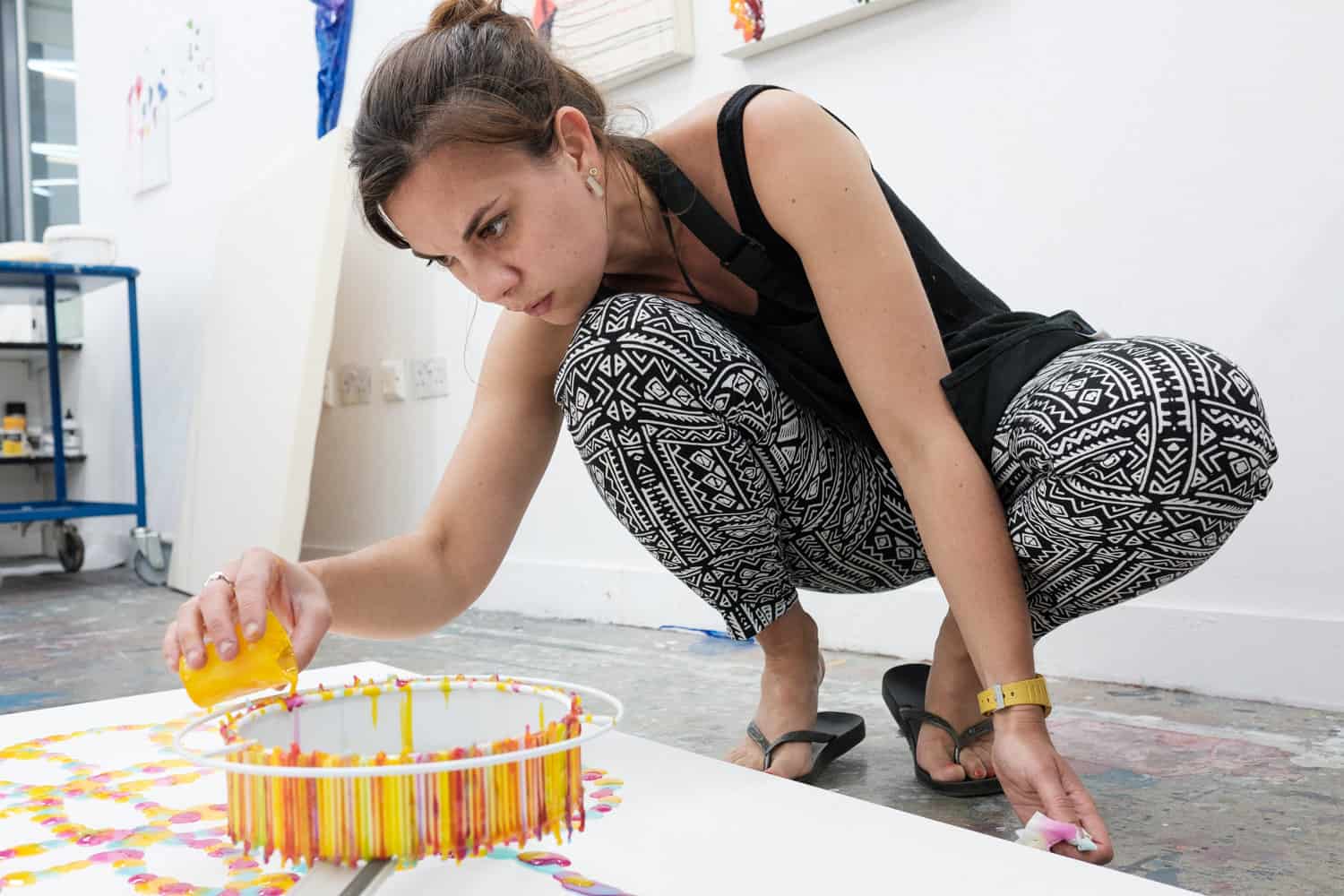 FAD Magazine writer Lee Sharrock spoke to her favourite upcoming artists at The Other Art Fair over the weekend, for a special TOAF edition of #TheUpcoming. 
Sarah Emily Porter has already received acclaim for her work in the form of awards including the Richard Seager Annual Arts Award and Broomhill National Sculpture Prize. At first glance, her abstract canvases and prints appear to be organic accidents, yet on closer exploration, they are carefully calculated mathematical abstractions. Popping with neon and juxtapositions of clashing colours that somehow work together, her bright palette is a perfect visual tonic after a year of pandemic-induced lockdowns.  Porter's paintings feel like a contemporary riff on Bridget Riley's Op Art mashed up with the carefully orchestrated paint splats of Ian Davenport.  
Lee Sharrock:  How did the pandemic & lockdowns affect your creativity? Did it give you more time to be creative and reflect on life, and did that inform the work you made in the last year? 
Sarah Emily Porter: Over the last year, when exhibitions were cancelled and galleries closed their doors, I, like many artists were forced to turn to social media – something I both loved and loathed. The artist support pledge was both a financial life saver and yet it felt like an emotional drain. I was constantly trying to keep up with others, making small works on paper in my kitchen, but I soon stopped as I really believe my work needs to be seen in person as it's all about the tactility of my materials.
Now we're coming out the other side of the pandemic the cultural shift to online sales feels like it's here to stay and has made me reappraise the role of the gallery and the accessibility of art in our cities. Selected by curators at the National Gallery and the Arts Council England, I'm going to be exploring these themes in my first interactive show at 22 Bury Street where the public will get an insight into my working processes and will have the opportunity to use one of the painting mechanisms to create a collaborative painting. It's part of Westminster City Council's voids activation initiative to encourage people back into the city – an opportunity I'd never have received without the pandemic! 
What was the path you took to become an artist, and can you give a brief summary of your work and the meaning behind it? 
At 18 it was my dream to be a successful artist but I was petrified of failing. I knew I needed some life experience first so went travelling, studied architectural history at Durham University and worked in events and marketing for 10 years before finally attending Chelsea College of Arts in 2016. Whilst there I got obsessed with the 'expanded field of painting' and began exploring the gap between painting and sculpture, making sculptural mechanisms that tilt poured paint down my canvases and allowed gravity and the natural inclinations of my materials to play a pivotal role in creating the outcome. The final work is a collaboration between the architectural geometries and mathematical systems that form the framework of my work and the unpredictable tendencies of my materials.
My life as an event manager is also still very present in my work – I often think of painting as an event, one that is as much concerned with the process of its emergence as it is with the final outcome. 
Categories
Tags