Tabish Khan the @LondonArtCritic picks six exhibitions to see, all where sculpture plays an integral part of each show. Each one comes with a concise review to help you decide whether it's for you. Readers should also see last week's selection, where four are still open to visit.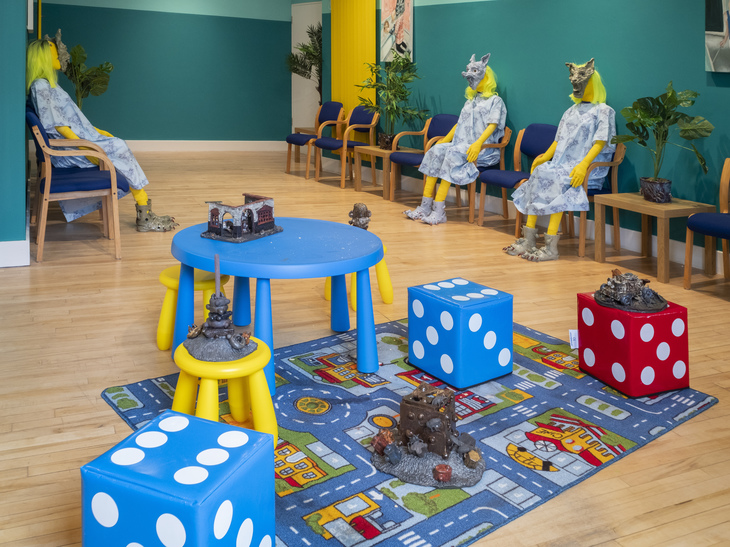 Lindsey Mendick: Hairy On The Inside @ Cooke Latham Gallery
What's it's like to live with Polycystic Ovary Syndrome and the excessive hair growth that's one of the symptoms? Artist Lindsey Mendick recalls it in a deeply personal video that is cut with film footage of movies featuring werewolves. Outside in the 'waiting room' are toys that have developed cysts and patients as wolves in this playful and emotional show. Until 21 May.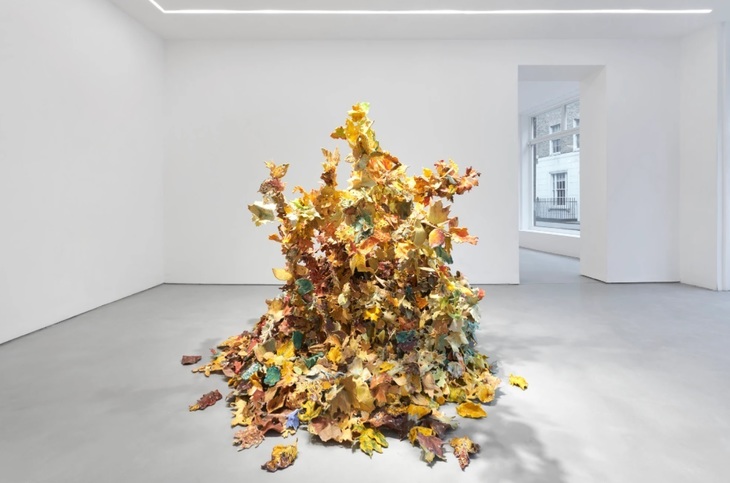 Rebecca Manson: Dry Agonies of a Baffled Lust @ Josh Lilley Gallery
Leaves caught up in the wind are frozen in ceramic in the breathtakingly detailed sculptures by Rebecca Manson. Other leaves wrap around a rake and sunflowers sprout in an excellent exhibition to see on my first visit since the the two gallery spaces have been connected into one. Until 22 May.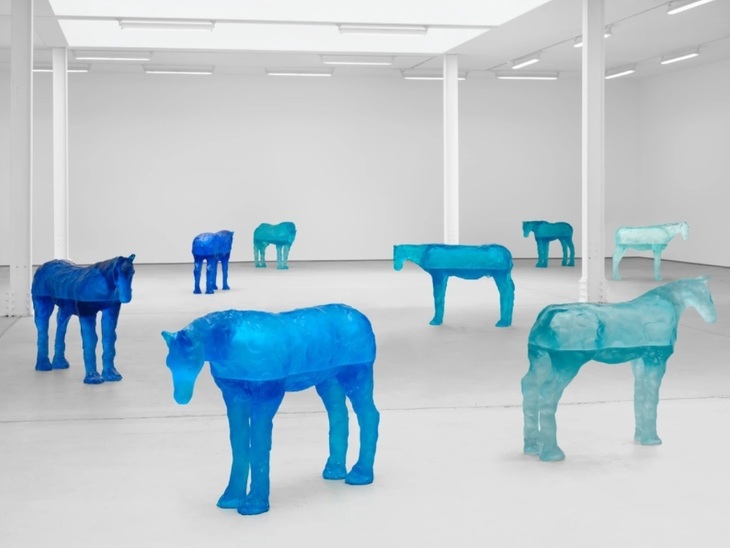 Ugo Rondinone: A Sky, a sea, distant mountains, horses, spring @ Sadie Coles, Kingly Street
You've seen a horse in a landscape, but have you ever seen a landscape in a horse? That's the idea behind the Ugo Rondinone exhibition at Sadie Coles. These aren't actually half-filled with liquid as they initially appear, but made from two shades of blue glass. It creates the illusion of the sea meeting the sky in a playful take on traditional seascapes. Until 22 May.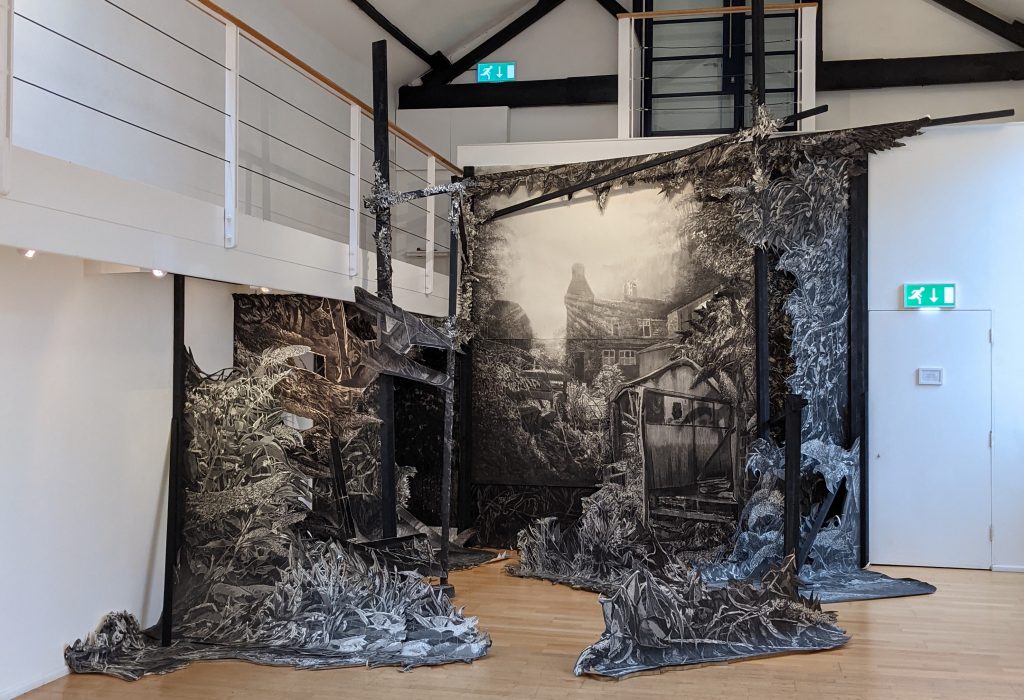 Model|Maquette: scale, illusion and space @ Cello Factory
Pulling together artists who all use models and maquettes in their work, this group show includes works ranging from a small scale model of a festival to Suzanne Moxhay's painterly abandoned buildings. Standing tall over the gallery is Juliette Losq's impressive walk in large scale detailed drawing. Until 23 May.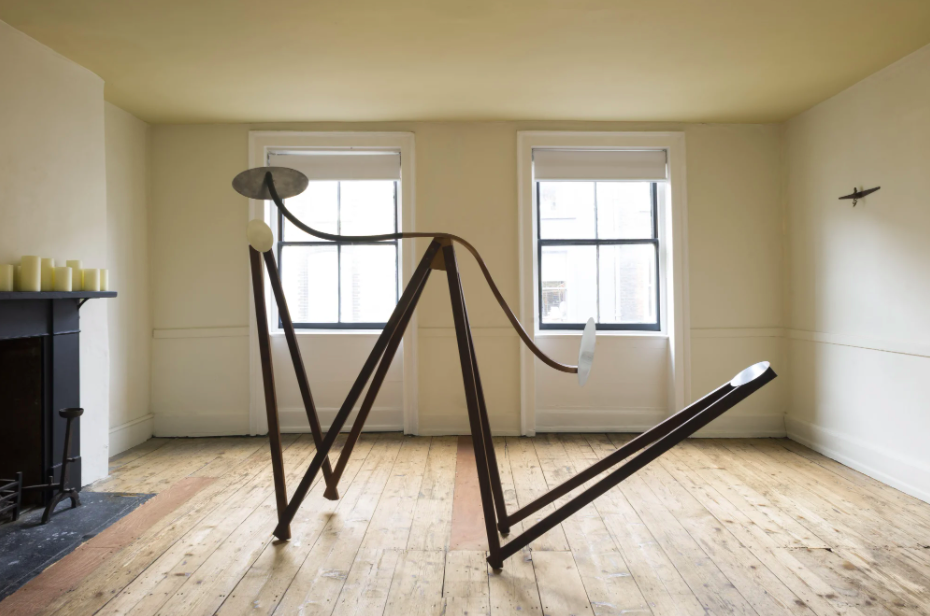 Alison Wilding: Mesmer, Again @ Karsten Schubert
With the light from the windows glinting off its reflective surfaces and its angles making it appear as if it has folded itself to fit into the room, the centrepiece work in this show feels at home in this gallery that evokes a more domestic setting than in the traditional white cube. Until 20 May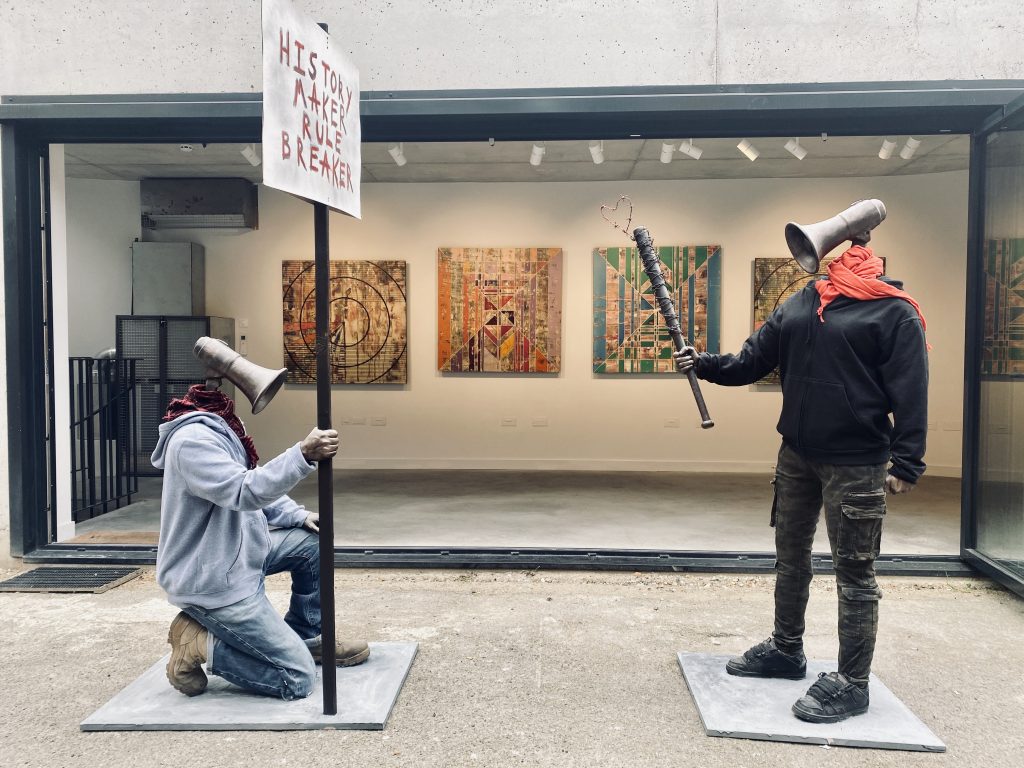 Hugo Farmer: The Thirteenth Stroke @ Hoxton Gallery
Creepy statues with megaphones for their heads take centre stage in this exhibition about protest. One lights a match, for a candle or for a Molotov cocktail? While another holds up a baseball bat wrapped in barbed wire that twists into a heart. This exhibition brings together the power, importance and destructive elements of protest. Until 16 May.
All images copyright artist and gallery. Cello Factory photo Tabish Khan.
?
Categories
Tags