Bernard Cohen: 'Clown', 2019 at Flowers
As non-essential shopping becomes a normal activity again, one question is: which businesses won't reopen? No doubt some galleries will close, but to counter that there are some new developments. Sticking with the Mayfair zone:
Cork Street has its mojo back, with gallery businesses helpfully prioritised by planning policy. Lisson's extra space, Saatchi Yates,  Holtermann Fine Art and South Africa's top gallery, Goodman, have arrived to complement such established presences as Waddington Custot, The Mayor Gallery, Redfern, Messums – all of which have  shows worth visiting at the moment. My illustration is from Flowers' solo show of recent work by  Bernard Cohen: his works are abstracting rather than abstract, and 'Clown' derives from a performance he saw as a child – he's 87 – in which Kelly the clown stood in a multicoloured pool of overhead lighting that was  adjusted to match his actions in seeming to sweep it away with a broom.

Ebecho Muslimova: 'Fatebe Gift Basket', 2020 at Galerie Maria Bernheim
Zurich gallerist Maria Bernheim has taken advantage of a shoe shop closure to mount – on Mount Street – a planned year of shows. Russian-born American artist Ebecho Muslimova features in the opening group show – she has made a strong impact with her corpulent alter ego Fatebe (say 'Fat Eebee') whom she describes as 'like a surrogate sister who can do amazing feats that I physically or socially can't'.
Thomas Dane have, for the first time, put on a show (revisiting Michael Landy's 'Break Down' on its 20th anniversary) in the lower floor of their 3 Duke St space: add the ground floor (Arturo Herrera) and the first floor of 11 Duke St and there is the potential for three exhibitions.
Stephen Friedman has not only expanded into a third space on Old Burlington St, you can also see many of their artists at the House of Modernity, 14 Cavendish Square.
Rudolf Stingel: 'Kirchner Wald im Winter 1925' at Sadie Coles, 8 Bury St
Sadie Coles has opened another separately located space: next to Modern Art in Bury Street. The first show is decidedly deadpan: from the street you see what looks like a large painting by Kirkner. Entering, you find it is the only work in the show, and is actually Rudolf Stingel's depiction of a Kirchner painting on the cover of a catalogue, complete with creases. And it's much bigger than the original painting, let alone the catalogue.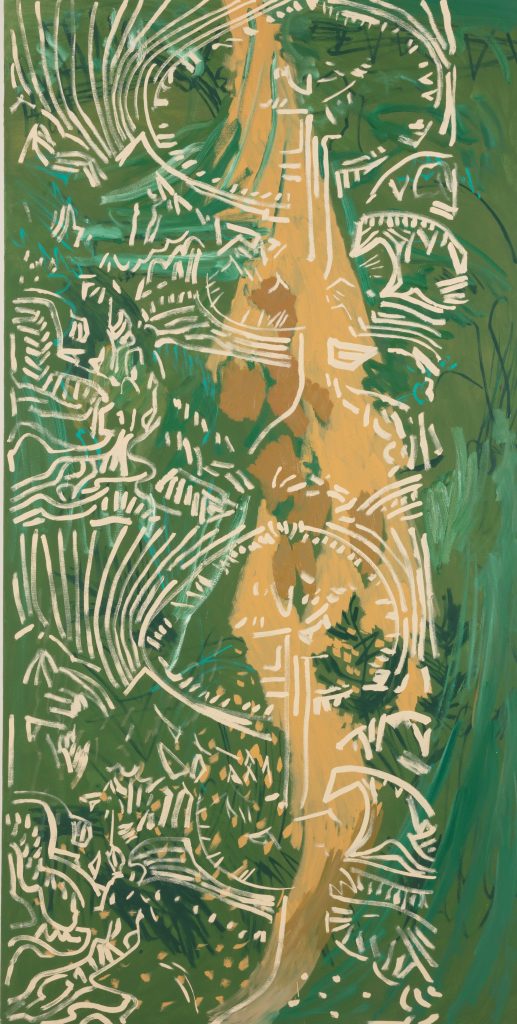 Raphael Egil: 'Gegenhang', 2020 at Cassius & Co., 63 Kinnerton St
Talking of Kirchner, he's an inspirational figures for Raphael Egil, who has a solo show at Cassius& Co., a brand new space in Belgravia. The white lines above are taken from Kirchner's woodcut Der Baum (1920)
Art writer and curator Paul Carey-Kent sees a lot of shows: we asked him to jot down whatever came into his head
Categories
Tags