In early February, the much-anticipated Framing Britney Spears charted the course of Britney Spears' life and career: her humble beginnings as a precocious pre-teen, her tumultuous path to adolescent stardom, and her present-day legal entrapment after a crushing "fall from grace". At the core of the film is the media's role in Britney's career. It features the ceaseless, tormenting paparazzi, endless circuits of condescending interviews, and one money-hungry father. Framing Britney Spears narrows in on what members of the #FreeBritney movement have been working toward for years: to free Britney from the conservatorship of her own father. A deluge of media fanfare followed the film's release "Speaking of Britney … What About All Those Other Women?" probed The New York Times, discussing how several young female celebrities––including Spears, Lindsay Lohan, Janet Jackson, Paris Hilton, and more––had an enormous influence on young women, even when these adolescent stars were young women themselves. In an article for The Washington Post, Jessica M. Goldstein similarly foregrounds the "media machine of the early 2000s", providing examples of the utterly inappropriate––yet accepted––behavior of the media on these young female stars.
Marika Thunder's solo exhibition, Dress Up My Lindsay, fits squarely into this conversation. Brooklyn-based, New York City-born, Thunder has ten oil paintings of Lindsay Lohan on view through April 12th at Public Access in New York. Public Access is just one of many galleries in the art world's Lower East Side mecca. Dress Up My Lindsay interrogates the psychological effect of the media's sexualization of childhood stars on not only the stars themselves but also adolescent girls at large. Thunder's series impressively employs a childlike naïveté that is all at once coupled with emblems of pop culture, tabloids and celebrity culture.
Nostalgia, youth, and pop culture certainly abound in Thunder's series, Dress Up My Lindsay. The exhibit emerges from the artist's own childhood, with ten fully realized paintings , all large-scale versions of Thunder's collages created as a nine-year-old girl. The collages have been bound together in "The Red Book", a visual and textual scrapbook of tabloid cut-outs of Lindsay overlayed with occasional commentary in black ink. In "The Red Book", Thunder's paintings are each positioned in parallel with the original tabloid, magazine, or cut-out that the artist collected throughout her own adolescent girlhood. We are thus immediately introduced to Thunder's nascent scribbles on the collages and how she re-visited these elements as an adult woman within her large-scale paintings. By portraying the proliferation of images of a teenage Lindsay coalesced and coveted by the artist as a child, Dress Up My Lindsay speaks to a profoundly dark underbelly of our society. Thunder's series very aptly brings our culture's fetishization, sexualization, and obsession with youth to the foreground of her canvases––from both the vantage point of the consumer and the consumed.
Thunder's Lindsay #7, 2020 speaks just to this: Lindsay's body is turned away from the viewer––presumably the paparazzi––with both arms on her hips as she twists her torso to look directly at us. Thunder paints Lindsay's body language remarkably, showcasing the creases in the actress's back, skin, as well as the musculature, and effort, required to turn around and present herself for the camera. Lindsay's cheeks, while caked in makeup, are still youthful, round, and full, reminding us of her young age despite her dark eyeshadow, piercing green eyes, and small display of "side-boob". Slapped over the painting are fragments of headlines: "This Week in Pictures" sits atop the left corner of the canvas. The words "LINDSAY" and "A FA" in all orange, white block lettered-capitalization cover the actress's mid-section. Leaving the audience to guess whether the bits suggest an "affair", "a fat", or "a fan," they insinuate themes of sexualization and material obsession with young actresses in the media.
Thunder embeds traces that so subtly remind us of the source material for these extraordinary portraits: a young girl's cut-outs, collected in her childhood scrapbook. The artist is painting these cutouts from her childhood: each Lindsay is wavering in shape, with jagged edges, painted, diaphanous tape bits, all atop their own white canvas. These are not simply portraits of Lindsay Lohan, but portraits of the cut-out collages of Lindsay.
Framing Britney Spears repeatedly points to Spears' unmatched influence over her youngest fans. Her debut music video, which boosted her most popular single, "Baby One More Time," shows Britney in a schoolgirl uniform, rendering a likeness to the school girls admiring her her. "If you're 12 or 13 years old, you're seeing a person who reminds you in some ways of you," argued New York Times critic Wesley Morris, who is heavily featured in the documentary. "It's the control and command over herself and her space that seems cool."
In her exhibit, Thunder boasts a remarkable ability to speak to the universal teenage female adolescent idolization and obsession. Consider the proliferation of painted, translucent tape throughout the series, the attenuated check-marks, the smudges of ink and what appears to evoke white-out. And there are those traced, cartoonish boots à la seconde (reminding us of Bratz Dolls of the early 2000s) that appear in Lindsay #9, 2021 and Lindsay #3: "Dress up my Lindsay", 2020. In Lindsay #10: Cupcake, 2021, a pea-green drawing of a cupcake with arrows pointing to the array of misspelt cupcake flavors: "Cherry M&Ms", "Chocolet Sprinkle", "Choccdlet", a nod to the young age of girls as they encounter the dark media of these so-called "bad girls".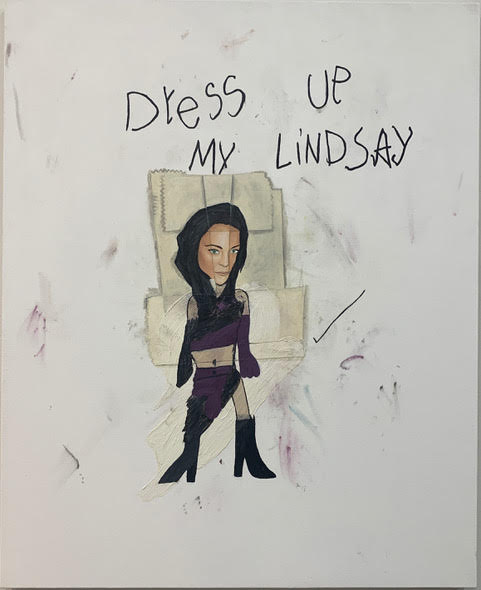 We see the overt overseuxalization and ceaseless pursuit by the media of the female pop star within Dress Up My Lindsay. Between the literally cut-up glamour, half-nudity, flashy-white teeth, penetrating look, distorted body, we witness the dissolution of her innocence, brought to the fore by the childlike markings overlaid atop Thunder's canvases. It was the lucrative, fast-growing tabloid industry of the '90s and early'00s that worked by feeding off of Lindsay, Britney, and so many young women, profiting off their downfall. In the documentary, Morris aptly points out, "Nobody was talking about mental health when Britney Spears was going through all of that stuff in public. The conversation was about what was wrong with her." Quite simply, he says, "There was too much money to be made off her suffering." Dress Up My Lindsay tackles the incessantly vicious media machine on Lindsay herself, puncturing its toxic effects on adolescent girls. The exhibition's title, Dress Up My Lindsay, also employs the subtle double-meaning of the word "play": of Linday, and young female stars, as a sort of "doll". The title comments on the media's toying with young female stars, "dressing them up" within grueling paparazzi shots to convey whatever story the media desires. And yet, "dress up" can refer to the very manner in which a child plays with a literal doll. Thunder intertwines the darkness of our society overlayed with naive, childlike markings.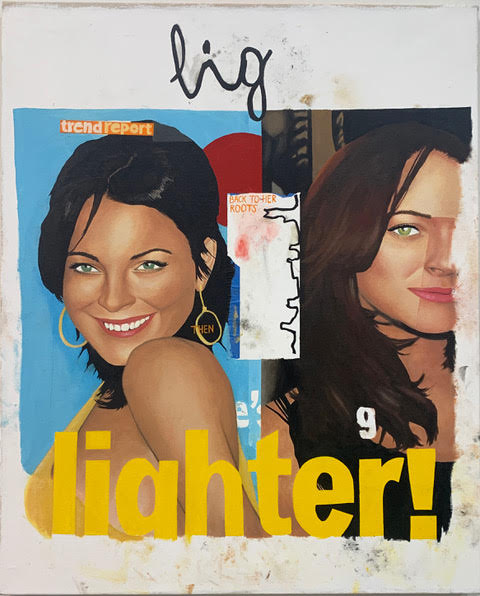 The Lindsay series is thus palpably in dialogue with #FreeBritney, and the conversations surrounding the "media machine" of the early 2000s. Thunder's paintings are boldly colored, graphic, obsessive, glamorous and yet raw, teeming with evocations of adolescent sexuality, teenage "girl crush" obsessions, and a sense of the media's construction––and very destruction––of female pop stardom.
Marika Thunder Dress Up My Lindsay Public Access NYC – April 12th
View this post on Instagram
Categories
Tags