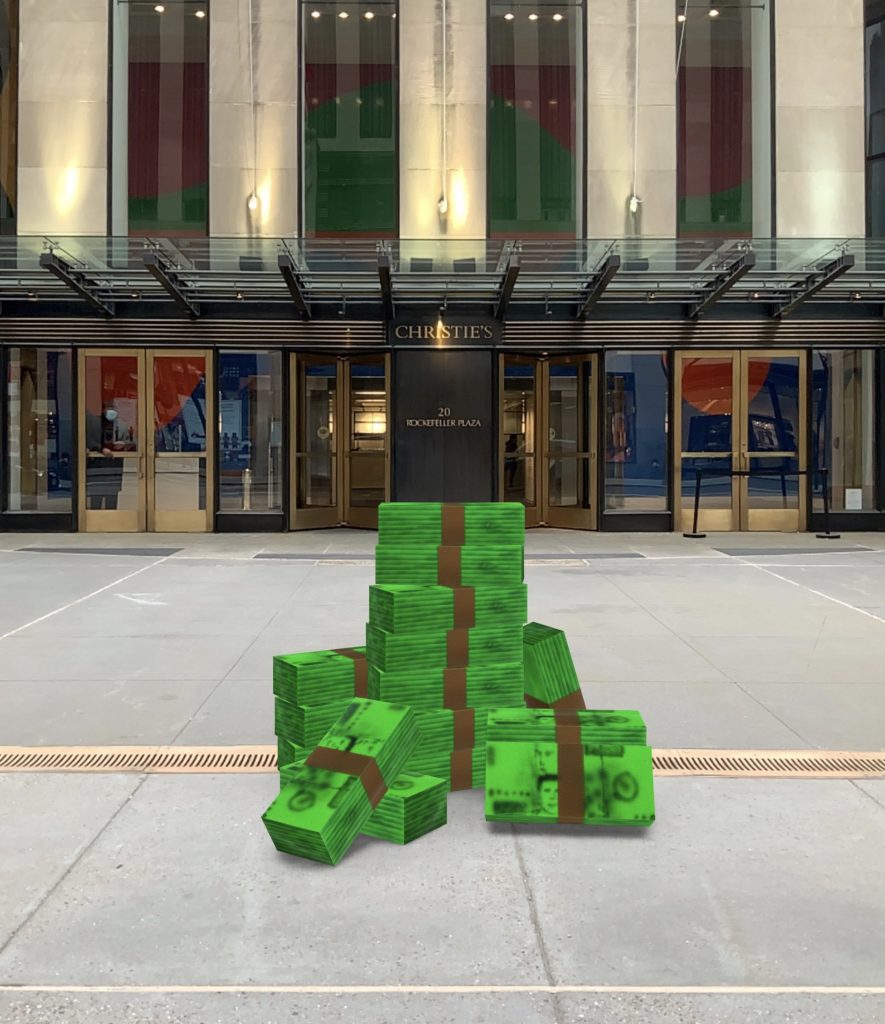 Appearing like a mirage one might see walking down Wall St, a glowing, fluorescent green pile of cash exists somewhere in between the digital and physical world, as a 1 of 1 Augmented Reality artwork — this is Ransom Money by Gao Hang x Unique Board. Visually, Ransom Money's virtual, three-dimensional form feels as palpable as it is unreachable — like the enormous sums of money being exchanged in the glittering, newly mainstream world of NFT art. Embodying the contemporary relationship between art and currency, Ransom Money elevates Gao Hang's ongoing study of human behavior and digital existence into a timely question of our trust in the authenticity of cryptocurrency and the value of digital art.
As an Augmented Reality NFT artwork, Ransom Money offers an infinite interactive experience to the collector, which most 2D digital art fails to deliver to its owner. Once the Ransom Money collector gains hands-on access to their 1 of 1 artwork by Gao, they have the key to create their own images anywhere they wish — to self-express, curate amongst physical works in their art collection, or to simply reflect on the art's presence in its surroundings, however mundane, beautiful, symbolic, or amusing.
Ransom Money (2021) Augmented Reality NFT

Originally crafted in fluorescent green airbrushed foam, Ransom Money in its AR form shocks the eye, recalling the artist's memory of seeing money appear on screen while playing the infamous Grand Theft Auto. Refined in his airbrush painting approach, Gao distills a sense of play mixed with aggression into his colorfield contemplations. Like a more macho and visceral version of Lichtenstein of our post-digital age, Gao expresses the flattened emotions that our glowing screens can cause us to feel, while simultaneously offering the viewer a portal into a heightened digital-meets-physical experience. Ransom Money questions the trust we have in currency itself, and presents a new narrative that values the digital over the physical. We look forward to igniting new conversations about art, technology, and currency.
On April 1st, 2021, April Fool's Day, UB will open the bidding for this NFT original artwork. 
Sign up here: anewspace.uniqueboard.com/gaohangxub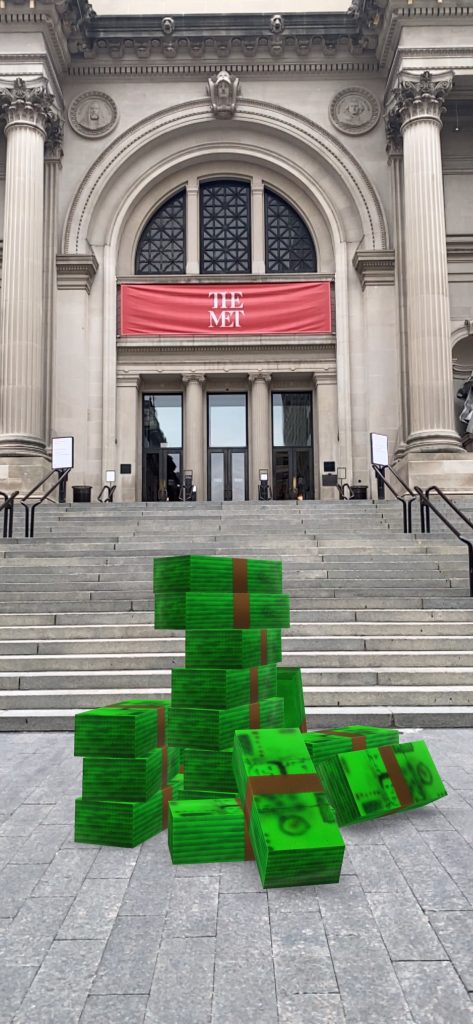 About the Artist
Gao Hang. A Houston based Chinese artist, represented by both Anya Tish Gallery (Houston) and The Secondbedroom gallery (San Francisco). Master of Fine Art degree in Painting/Drawing from University of Houston, and Bachelor of Art degree in Oil Painting from the Capital Normal University, 2020 Houston Artadia fellow. Gao's artworks have been shown in galleries and art museums in China, US, Korea and UK.  
"Gao Hang illustrates modern human habits with a sense of humor and absurdity while ironically commenting on the viewer's need for instant gratification. Hang evokes the postmodernist neo-pop movement by using subject matter and color as a conceptual and structural armature. Deliberately, Hang uses florescent hues which he considers to be the tones of his generation. "
—- Anya Tish Gallery
Categories
Tags