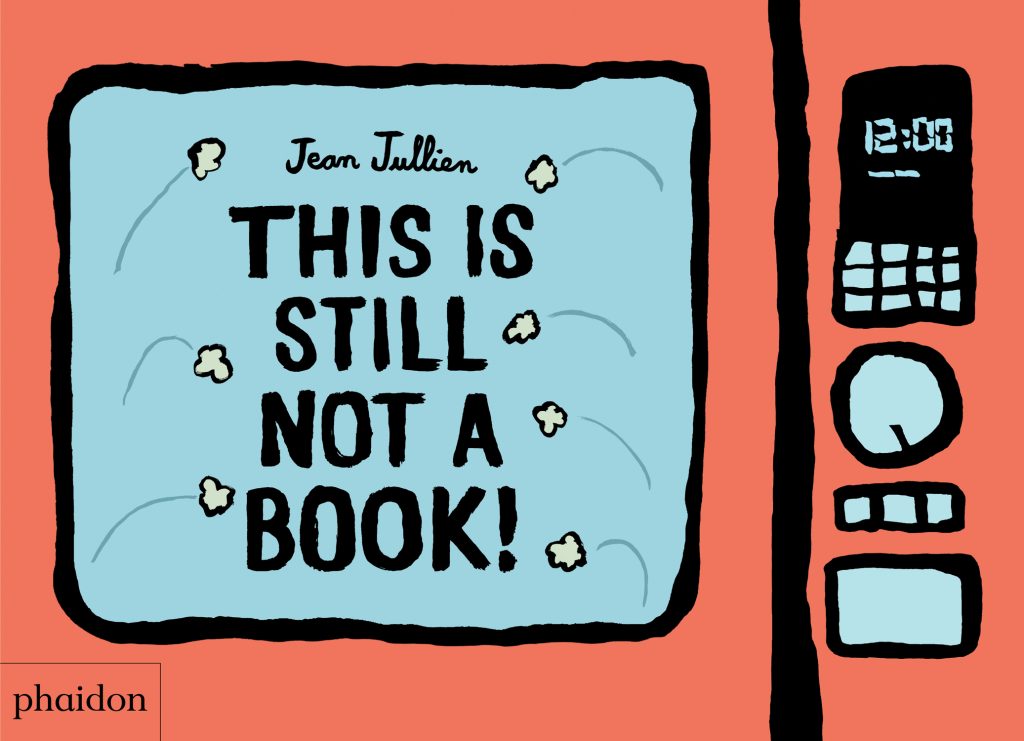 When internationally renowned graphic artist Jean Jullien published This Is Not A Book in 2016, it was hailed as one of the most clever books for children of the year by the media, booksellers and librarians. Known for his topical visual commentaries and boasting an online following of more than 1.2 million, Jullien delivers another serving with the publication of This Is Still Not A Book, a playfully deceptive board book designed to challenge young readers to think creatively about objects in their daily lives.
With an inventive page design that inspires kids to play, This Is Still Not A Book invites readers to question what usually lies between two covers by transforming its pages into a foldable shirt, a flip phone, a mouth wide open, a game of tug-of-war and more. Each turn of the page and change of orientation brings new surprises.
In the grand tradition of Lane Smith's It's A Book and Mo Willems' We Are In A Book, Jullien's latest for the youngest readers challenges what to expect from a book. Full of Jullien's distinctive and bold illustrations, this sturdy board book celebrates imagination, creativity and play.
£12.95 Board book 38 pages 2 -4 years available at phaidon.com
About the Artist
Jean Jullien is a proli c and beloved French graphic design artist. His creative output ranges from illustration, photography, and video to costumes, installations, books, posters, clothing — even skateboards. Jullien has shown work around the world with museums and galleries in Paris, London, Brussels, Los Angeles, New York, San Francisco, Berlin, Tokyo, Seoul, Singapore and more. His work appears in The New York Times, New Yorker, National Geographic, SZ Magazine, Telerama and more, and he has collaborated with Beams, RCA Records, The Connaught, Colette, Amnesty International, Le Coq Sportif, Jardin des Plantes (Nantes), Hotel Amour, Champion USA, Salomon, and Petit Bateau, among other global brands.
Categories
Tags