It's mid-July 2020 and I walk up to Jess Cochrane's street in South East London. Her house is painted black and stands out from the rest of the terrace. I already think she's cool from following her on Instagram, and now I'm a little frightened – I'm hit by Imposter Syndrome that I might not be chic enough for the artist to talk to, and all I'm really here to do is take my kit off. Jess opens the door and is immediately welcoming and high-spirited. She offers me a drink and we drink water out of wine glasses in her kitchen.
Cochrane takes photographs of her models, blowing these images up to often larger-than-life scale, then painting over the images. Having seen her previous work these painted additions seemed to de-perfect her models, giving them more bite and questioning the idea of beauty. She likes to leave her models' eyes untouched – a gesture of rebellion against the male gaze and objectification – they stare right back at you unashamed and powerful. 
It's remarkable how quickly I'm completely at ease and discussing fundamental issues with the world. We talk about the art scene in Australia and the concept of 'making it'. We talk about body issues and how Cochrane believes she can give back with her body-focused art. We talk about her athletic career. We talk about how curve modelling is associated with sex but not fashion. She quickly feels like a friend I want to go for coffee with and share boy troubles with. She's brilliant.
When I was a teenager I sat as a model once or twice for my mum and her friends who were artists. These were always clothed and I felt stiff and bored. Years later I would see a call out on the Blue Shop Cottage Instagram account looking for a life model for a duo of life-drawing classes run by Thierry Porter. These two sessions were brilliant, but because of the huge windows that front the gallery, I was in a nude one-piece. There were still some double-takes from dog walkers. Being semi-nude for these classes of 10~ was a great re-introduction to your body being observed for elongated periods of time. 
I had first heard about Jess when I heard her do a Q&A at a Soho Curios & Co event at the end of the previous year. I became a bit of a mega-fan and followed her on Instagram, liking her posts and introducing myself. I did a brief written interview with her following her exhibition 'A Study of a Woman Looking at Herself' at Rhodes Contemporary art where her works were paired with pieces by Francis Bacon. A few months on, Cochrane posted to her Instagram story looking for South East-based models. I was so excited. "I'm in".
Before we leave the kitchen we go over to the fruit bowl to pick some props. Jess is overjoyed with some peaches she had bought a couple of days before that are so ripe they're almost dripping. They come upstairs with us. 
Cochrane's studio is small and domestic, and an Ikea rug in the design of a receipt steals my attention. Her paint tubes are hung on the wall with binder clips which looks like an installation in its own right. Her cat Noodle is rushing around. Earlier on he was sat docilely in the washing up bowl. Three works are pinned to the back wall from her last shoot, making me all the more excited to start the process and become part of Cochrane's portfolio.
It feels very casual to get naked in front of Jess, as if I were just taking off a jumper. I've struggled with my body-image since I can remember, having always been bigger than my friends, and I'm surprised at how little taking off my clothes in this context bothers me. I'm not this relaxed with men for sure. Jess is complimentary and smiley as we place neon orange 'Special' stickers she bought from Peckham's famous Khans on my skin. She tells me she's having a bit of a stickers phase. 
I sit down on the set we've prepared: it's amazing what she's managed to do with an elasticated bed sheet and a desk chair. I feel like I'm on a throne. Cochrane's direction is precise but playful as we experiment with poses and angles. I feel like Kate Moss. I'm becoming progressively stickier from the peaches which I'm holding in my lap. Focussing on my body in an entirely non-sexual, and specifically non-judgmental context is the most empowered I might ever have felt. 
Once I leave, Jess will pick a few images from the shoot to have enlarged by the printers, and I'll then return to watch her begin her painting process.
Over the following fortnight I get updates from Cochrane's Instagram story about when the printers have finished the order. It's disconcerting to see a sneak peak of my own breasts on someone else's social media. It's exciting to be involved with a project that has sneak peaks. 
A few weeks pass and I'm back at Jess' door to watch her add the first few layers of paint to the work. She works quickly and with a determination that makes it seem that each mark has been premeditated. In reality she's following a finely-tuned instinct. It's mesmerising to watch as she adds the first pink layer in both dry scratches and wet strokes. With each mark she makes it becomes hard to remember the photograph ever having looked any different. I watch as my image changes slowly, my memory fading of how it was before – it's a bit like those videos that are made up of photographs taken once a day for 20 years. It's exciting to be one of only two people who know what the first layers were beneath the much thicker textured finished work. 
While I'm watching Cochrane work, I feel oddly detached from the photograph in front of me. It becomes an objective thing, rather than something that I identify as "me". With every mark my face and body become more abstract, becoming grotesque and beautiful. It ceases to really be about my body. It's a strange feeling that's hard to put into words, like if you were to meet yourself at a different age: it's not really me, but it is, isn't it?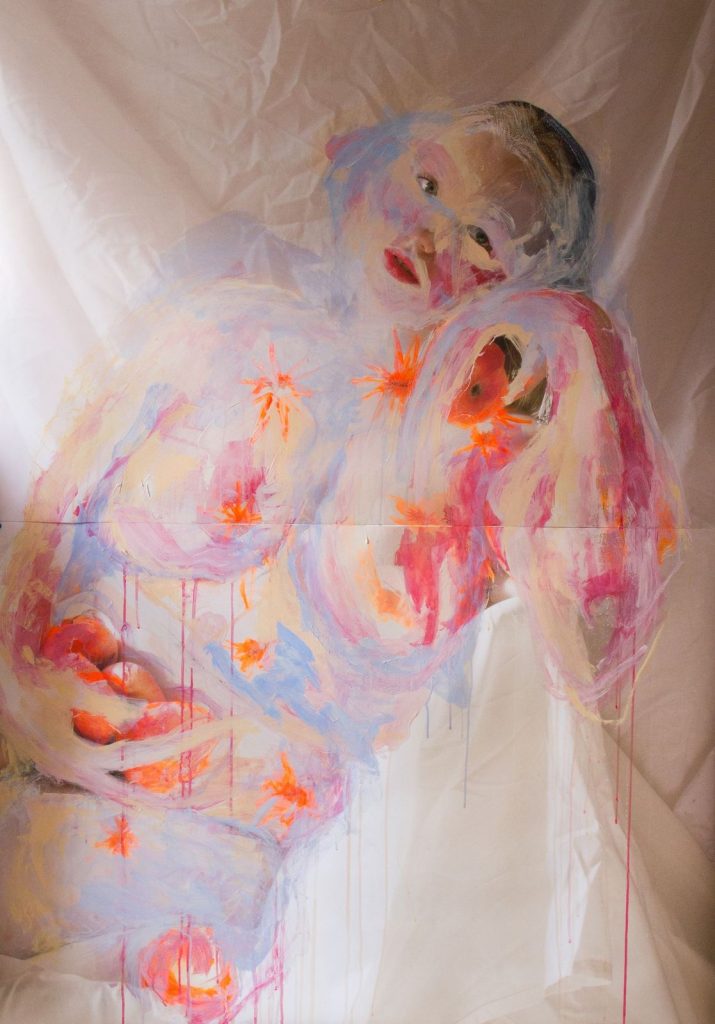 By August the final pieces are up on Cochrane's website and social media. They have names now: "A Peach That Is Soft Will Inevitably Bruise", "The Fruits Of My Labor Taste Sweet, But They Are Not For You To Eat", and "Peaches Are Symbolic". I feel proud but still detached from the image. In November one of the paintings are put on public outdoor display in Australia for Ambush Gallery's 'Here I Am: Art by Great Women' exhibition. It's strange to think that my face is out in Canberra, looking back at art viewers in a country I've never been to. 
The experience of being one of Jess Cochrane's models was empowering, and the final result made me think about my own image, ownership, and the disposability of the outer self. It was truly formative. I feel more liberated from the pressures of external image than ever before. 
Categories
Tags