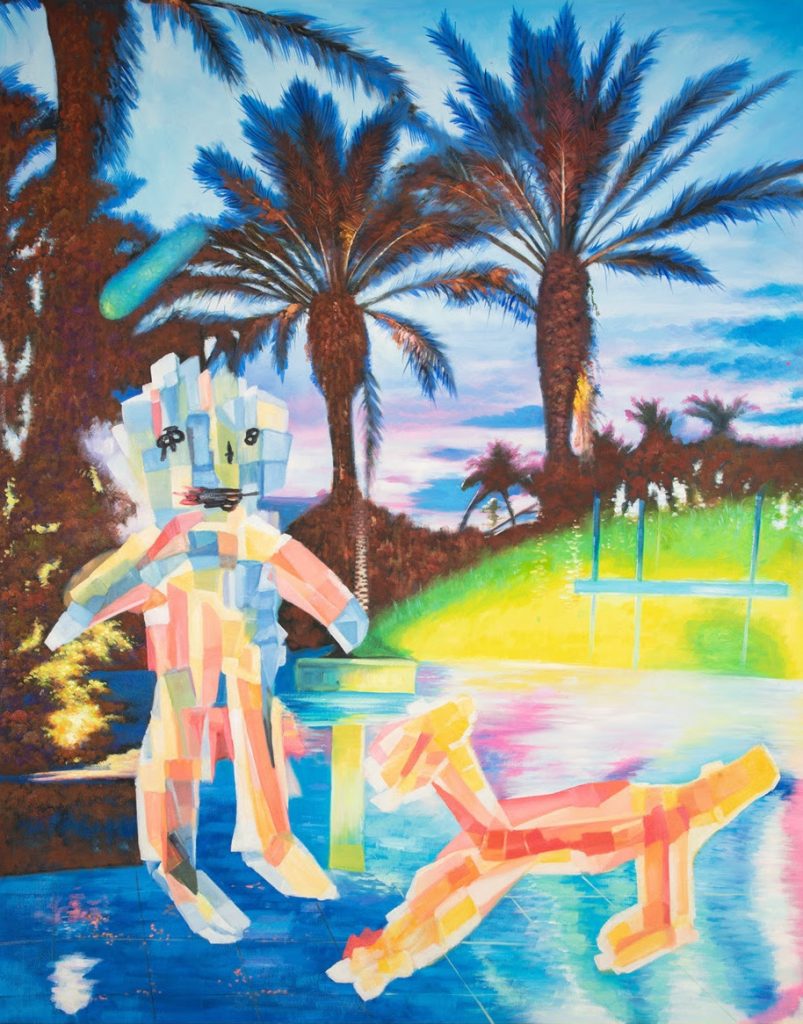 The works were re-created in oil paint on canvas from images I constructed on my iPhone. I take these photographs around my home in Florida and then paint over them with different characters. These light creatures hang out with dogs, or dance on the abandoned boat dock. I would sit outside alone by the water and create alien-like friends on a low-key cosmic tropical playground.

—Harmony Korine
Jeffrey Deitch presents Joven Twitchy, an exhibition of new paintings by Harmony Korine in the Miami Design District. Known as one of the most influential filmmakers of his generation, Korine has also cultivated a longtime painting practice that expands the definitions of art and artist through a multimedia approach infused with a post-Pop aesthetic. Painted in Miami, his Joven Twitchy works capture the sinister beauty of South Florida; they reflect the tropical fantasia of his films Spring Breakers (2012) and The Beach Bum (2019). Korine, who has been drawing since childhood, conceives of his "Twitchy" character as an imaginary companion—a ghost that accompanies him on a psychogeographic tour of Miami. Often presented as a golem-like figure, it also functions as a surrogate for the artist's own mischievous personality.
Korine originally conceived the Twitchy paintings as studies for his films. He creates each image using a smartphone, digitally hand-painting over the photographs before projecting the finished images onto canvas and rendering them in oil paint. Korine makes hundreds of phone drawings, choosing the strangest and most striking to transform into paintings. His approach to painting is similar to that of a film director shooting multiple takes to arrive at the strongest result. Avoiding material depth and emotionally charged brushwork, his compositions mimic the flatness of the screen—the paintings are purely about the image.
Richard Prince, in his text on Korine's Young Twitchy paintings, describes the series as existing in a "post-place . . . something about past present future." "You used to be on the phone," he writes, "now you are in the phone." Crossing the line between actuality and animation, Korine fills his canvases with bright, electric colors that approach disintegration while still feeling physically real, an effect akin to the bursts of light often used in cinematic special effects. Yet behind these vibrant hues lies a foreboding darkness; through Korine's paintings, the South Florida landscape becomes an otherworldly realm inhabited by enigmatic, even alien forces.
Harmony Korine Joven Twitchy January 29th – February 28th, 2021 Jeffrey Deitch 182 NE 39th Street, Miami Design District
About the Artist
Harmony Korine was born in 1973 in Bolinas, California, and lives and works in Nashville, Tennessee, and Miami, Florida. Exhibitions include S.M.A.K., Ghent, Belgium (2000); Whitney Biennial, New York (2000); 50th Biennale di Venezia (2003); Pigxote, Vanderbilt University Fine Arts Gallery, Nashville, TN (2009); Shadows and Loops, Frist Art Museum, Nashville, TN (201
Categories
Tags