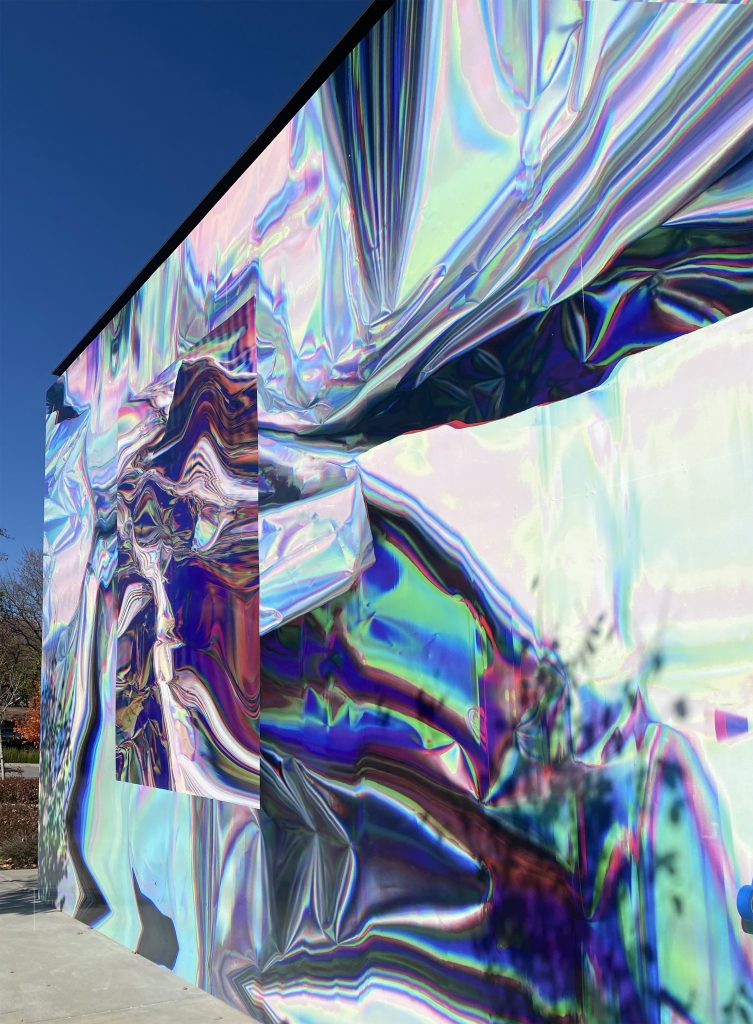 When tasked with transforming the Skylight Cinema in Bentonville, Arkansas by curators JustKids artist Anne Vieux turned to her talents in digital painting to create a captivating illusion of a hyperfluid space. Vieux applied her painting to the structure using printed vinyl, which allows her motifs to dissolve at the structure's edges and thereby pushes the limits of the image data.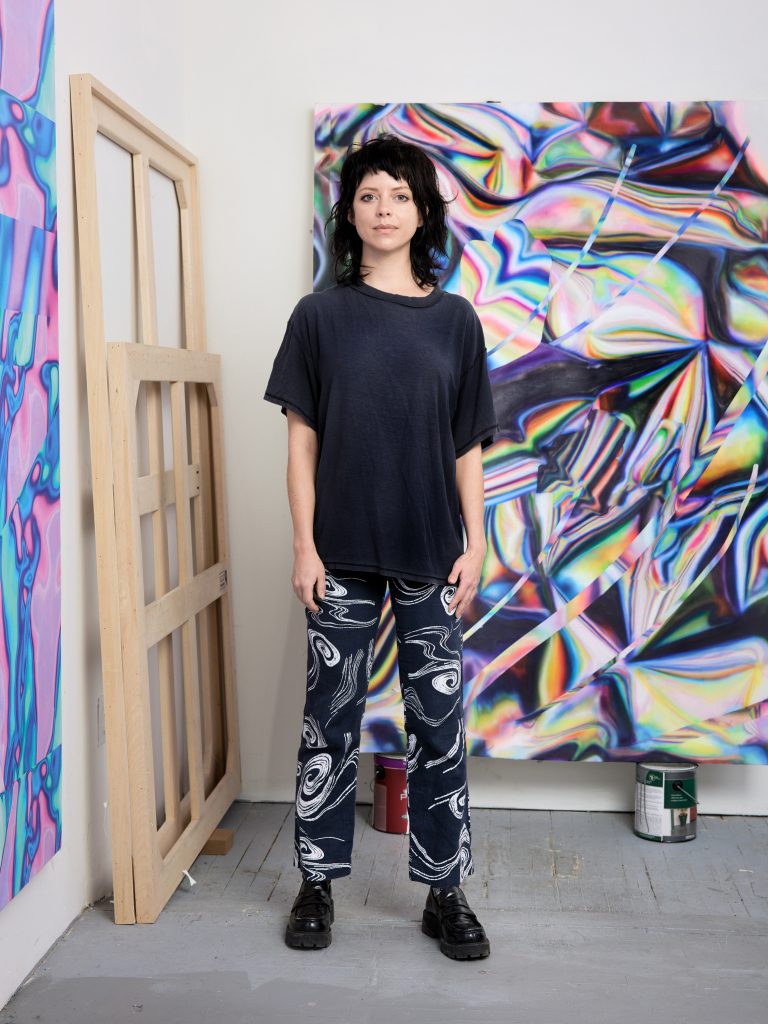 The brilliance of Vieux's approach stems from her ability to fully manipulate her images, zooming, warping, and composing digitally such that the image itself is conveyed through her own visual language. At
the same time, she worked to attenuate the physicality of the building itself in order to emphasize the plasticity of her painting imagery. A rectangle conjured in earthen tones, for example, oats weightlessly on the left side of the building, while sections of it are cropped, expanded, and repeated across the building's colonnade to the right. This repetition of form creates a visual topography that is underscored by the technological glow emitted from the combination of the scanned paper and acrylic lines that vibrate between the mono- and multi-dimensional.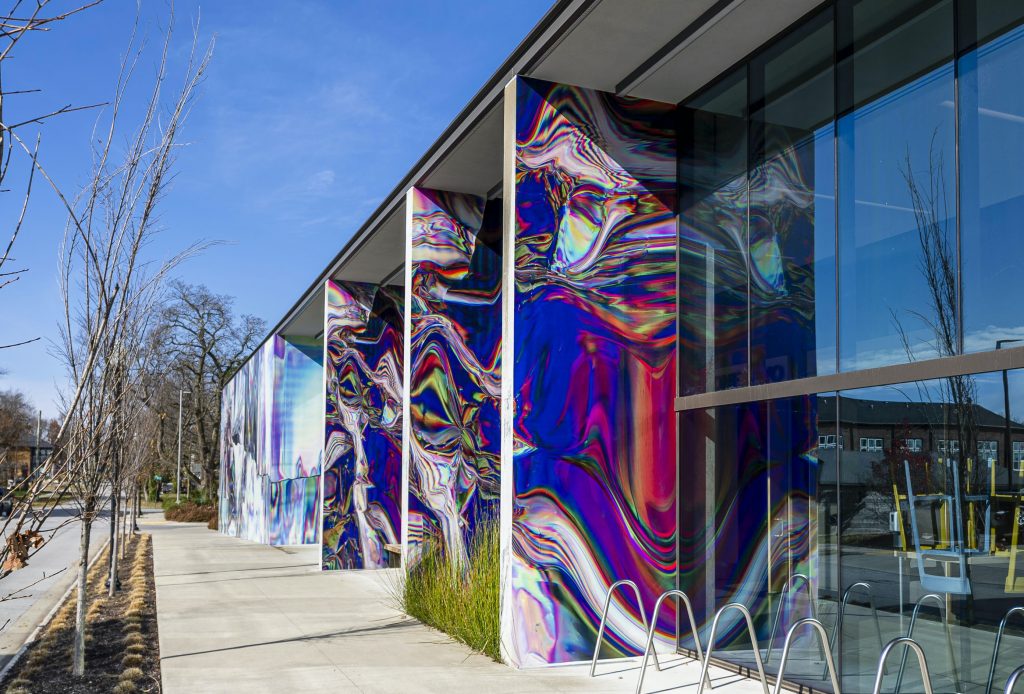 Meta-material can be de ned as any substance that has been engineered to have a property that is not naturally occurring. Channelling this concept, Vieux titled her installation meta_material because her aim is to probe the perceptual boundaries between the real and the virtual. She wants to slow down the experience of virtual space such that her audience can question the very nature of perception itself. The result, then, in Vieux's meta_material is that the viewer is empowered to explore these painterly effects on an experiential scale. By pushing past the tropes of painting as a window, mirror, or frame unto another world, Vieux's installation takes this concept of escape and compresses it into a screen space, thereby playing on historical models of abstraction and the elusive sublime.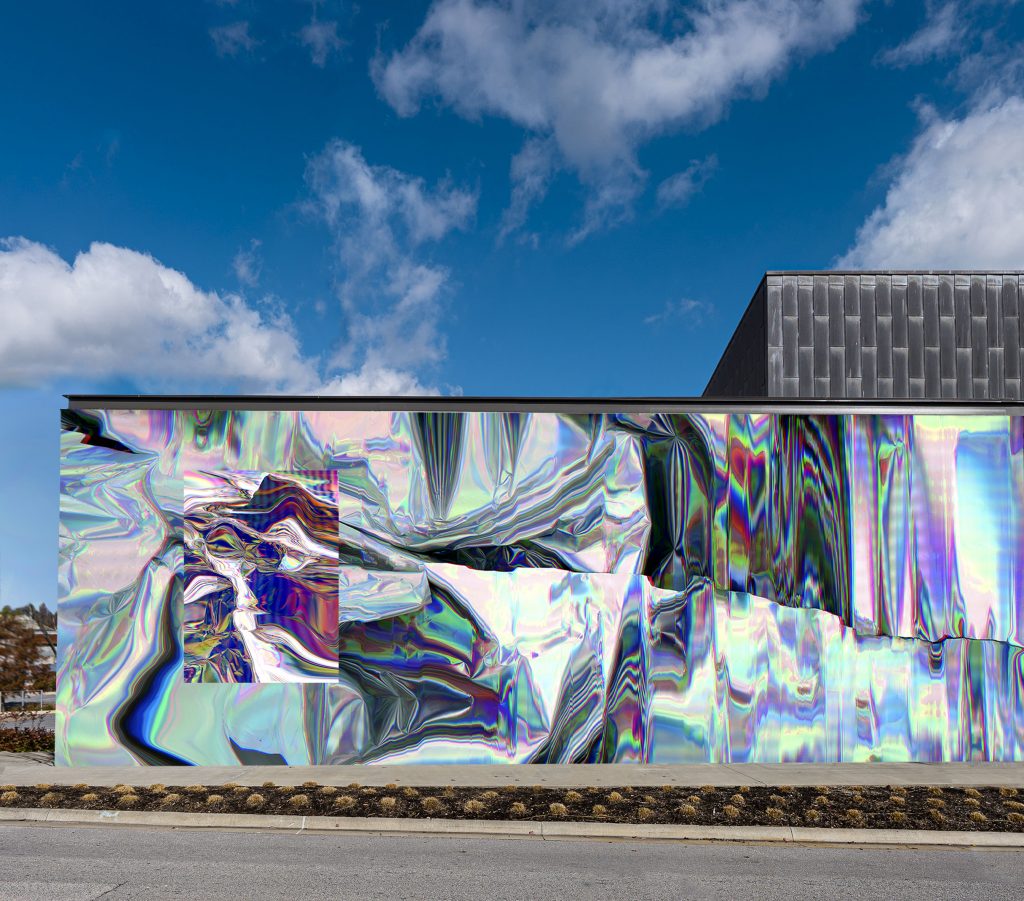 About the Artist
Anne Vieux is an American-born digital painter and sculptor. She's interested in the optics of the computer screen, and how light can shape abstraction. She received her MFA from Cranbrook Academy of Art in 2012 and her BFA in Painting and Art History at the Kansas City Art Institute in 2009. Vieux was the subject of several solo shows at Good Weather Gallery (Arkansas), Cuevas & Tilleard (New York), and Stream Gallery (New York). The artist also participated in group exhibitions across the United States in venues like The Willows (New York), CES Gallery (Los Angeles), Regina Rex, (New York), Brooklyn Academy of Music (New York) and Cranbrook Museum of Art (Michigan). Her printed works are now part of the Met Library Collection and the MoMA Library Collection.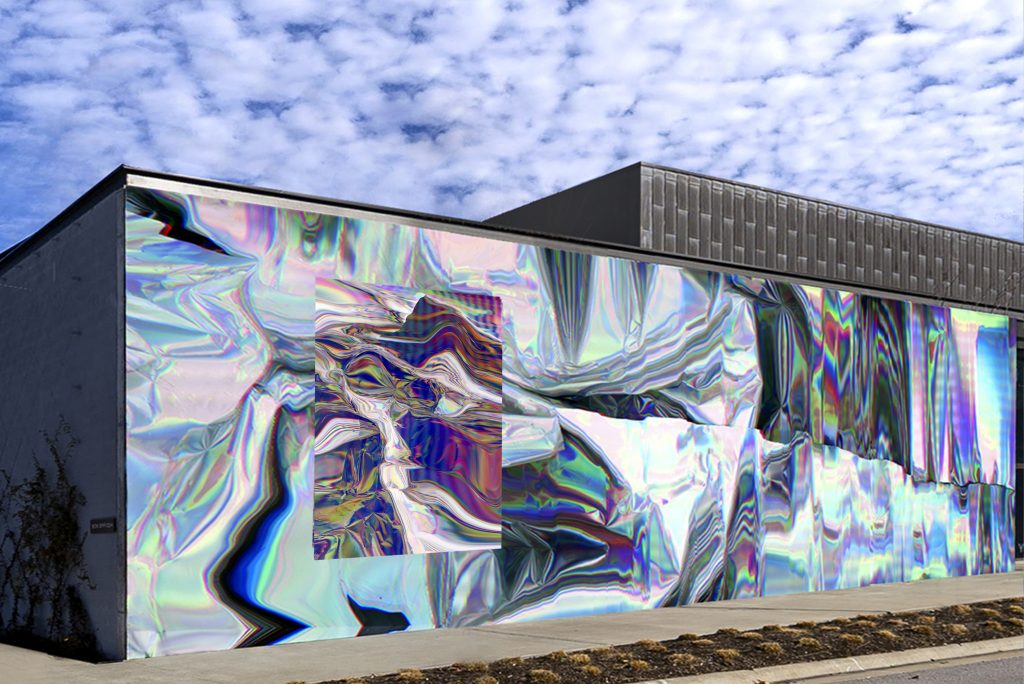 ARkanvas is statewide engagement bringing public art by world-renowned artists to Arkansas communities, including Bentonville, Rogers, Springdale, Fort Smith (Chaffee Crossing), Conway, Little Rock, Hot Springs, Stuttgart, and Pine Bluff. Curated by Justkids in partnership with Unexpected, the initiative's theme is Unite, a tribute to being united through shared outdoor and art experiences across the Natural State. "We wanted to do something to celebrate the arts, support artists, and create some excitement in our communities during this incredibly challenging time," said Olivia Walton. She is leading the project along with Elizabeth Miller, OZ Art manager. "We love that murals bring art to everyone, and we hope that these projects will inspire, spark conversation, and promote civic unity." Participating artists include renowned contemporary figures whose body of work re-imagines public spaces. www.arkanvas.com
Categories
Tags