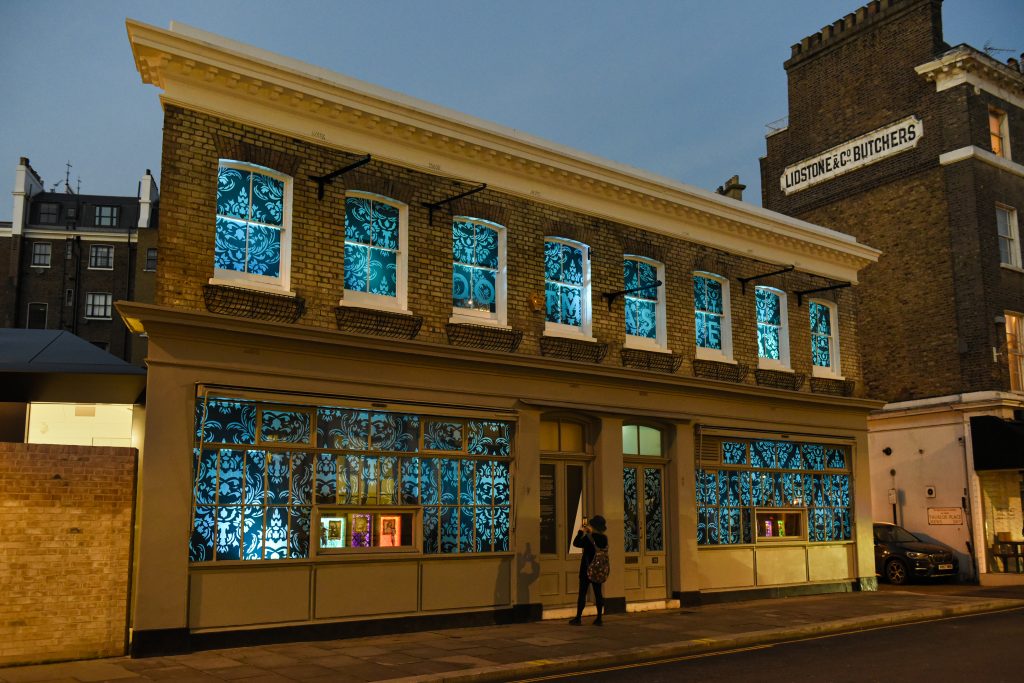 Eight artists have been commissioned to take over and transform some of West London's empty high street retail spaces as part of a major public art initiative called high street windows.
As Londoners are plunged back into full lockdown and galleries and museums are forced to close, high street windows, presented by kcaw, sees artists come forward with a series of vibrant public art pieces that they hope will inspire and support local communities during these difficult winter months.
Taking part in high street windows, the eight artists are creating a series of visual art commissions, displayed on empty shopfronts in High Street Kensington and South Kensington, to engage passers-by but also to pose critical questions about the past and future of our lives. Both areas have been affected by closures of stores in the past year, however, the level of activity remains reasonably high with the public taking daily walks.
The first five windows have been created by artists Ian Kirkpatrick and Fiona Grady in High Street Kensington with Dotmasters, Alexander Ikhide and Gala Bell installing work in South Kensington. A further three installations are to be completed shortly.
Dotmasters have transformed 35-36 Thurloe Place in South Kensington with a series of experimental light installations created during lockdown. The street practice of the artist Léon Seesix, Dotmasters seek to provide a sideways look at a populist media made with a typically English sense of humour. The entire building is transformed into a giant, glowing lightbox, blurring the boundaries between inside and outside.
Combining lost landmarks such as the Crystal Palace with mythological figures inspired by Whistler, Oscar Wilde, Francis Bacon, Charles Ricketts and Aubrey Beardsley, artist Ian Kirkpatrick based his artwork on "Nocturne" – a word coined by a past local resident James Abbott McNeill Whistler to describe a painting evoking the magical spirit of night. The artwork reimagines the borough's famous gardens run amok by mischievous dinosaurs, sphinxes, satyrs and fairies.
Art Deco Paradise by Fiona Grady is located on Kensington High Street. This bespoke installation is inspired by the Art Deco department stores that helped establish Kensington High Street as the centre of retail during the late nineteenth and early twentieth centuries. The birth of the department stores such as Derry & Toms and Barkings of Kensington had a significant impact on the profile of London; highlighting the changing lifestyle and aspirations of the public.
Multidisciplinary artist Alexander Ikhide has taken over 24-25 Cromwell Place. His practice explores various themes dealing with identity, culture and history, raising questions of representation of the Black body in a contemporary context.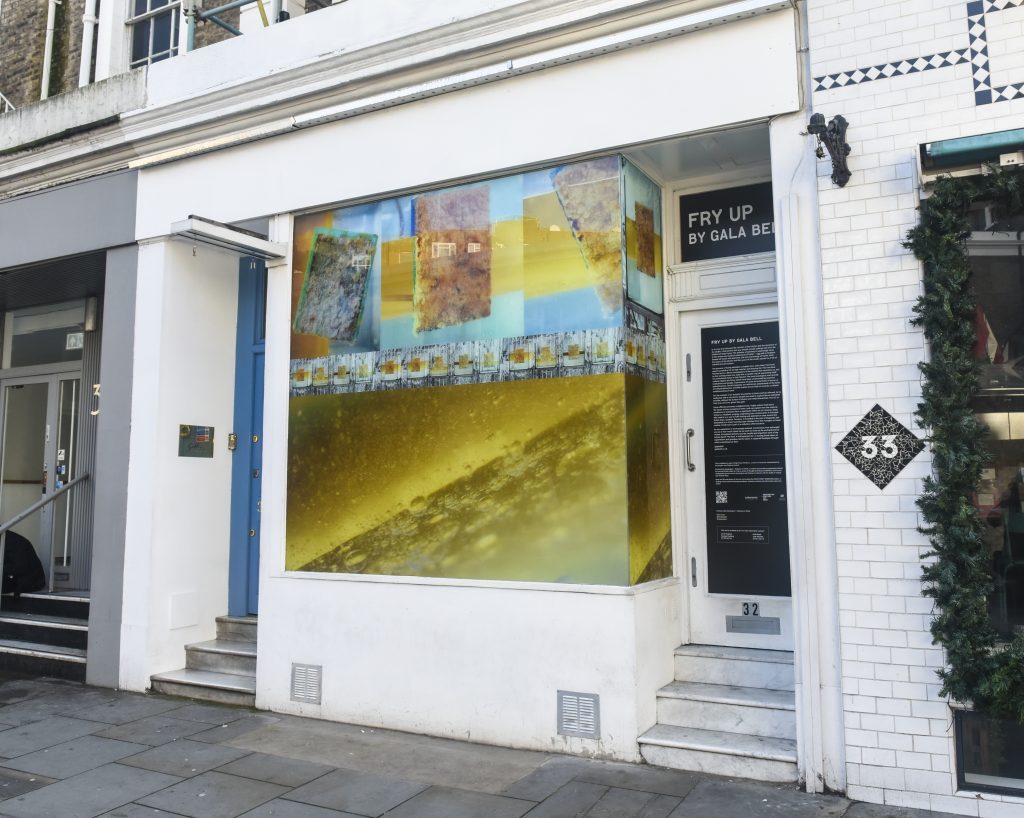 Gala Bell's Fry Up is located at 32 Thurloe Place in South Kensington
"In a cross over between the comfort of the kitchen and the dominion of the studio, it felt perfect that any artwork should undergo hot oil in the method of deep-frying. The alchemy of painting is surprisingly close to the recipe and material substances of batter – egg yolk in tempera, linseed oil mixed with pigments, the ground white powder of gesso, the heat and energy of hands. Both the space of the kitchen and the space of the studio operate as a lab of material transformation."
'Despite the inevitable slow-down, our objective is to offer that extra bit of support to our local area in a thoughtful and creative way,' says KCAW Founder and Director Vestalia Chilton. 'Many art shows have also been cancelled, and this is another way to keep our creative economy going not just in The Royal Borough but across the UK."
Commissioned by Kensington and Chelsea Council and produced by KCAW, a creative placemaking organisation behind the annual KCAW Public Art Trail delivering a series of thought-provoking installations and murals strategically placed across Kensington and Chelsea, these artworks aim to interact with the public in meaningful and unique ways.
For more info and maps visit kcaw.co.uk/high-street
Categories
Tags