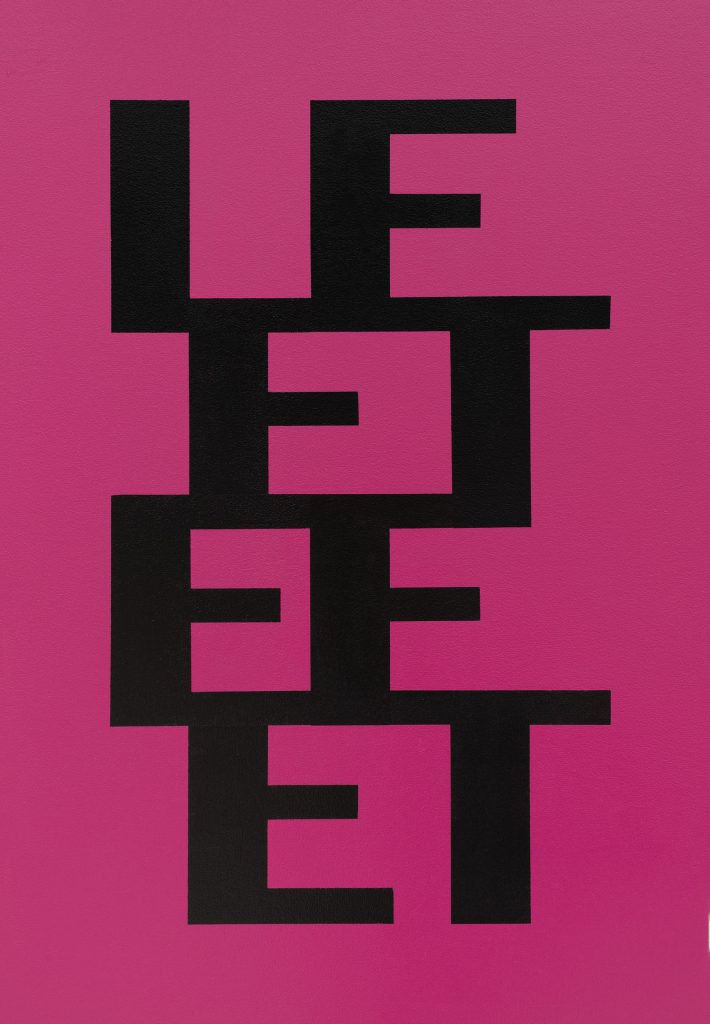 Already it seems somewhat normal that Art Basel Miami and its numerous satellites were held online this year. That doesn't mean the sun and parties and in-person experiences of art aren't missed, but they're not easy to get to anyway… Here are four works which interested me among the 2600 works 'shown':
Kay Rosen: Two Left Feet, 2020 at Sikkema Jenkins & Co., New York (top image)
Kay Rosen, known for her 50 year investigation of the visual possibilities of language, seeks to generate new meaning from everyday words through their colour, scale, design and arrangement. She says the phrase acknowledges the influence on her of radical 1970's performers such as Trisha Brown and Steve Reich as 'Two Left Feet succinctly messages their divergence from the status quo' – but even without the reference it draws the reader in to how closely the components letters of the words dance around each other.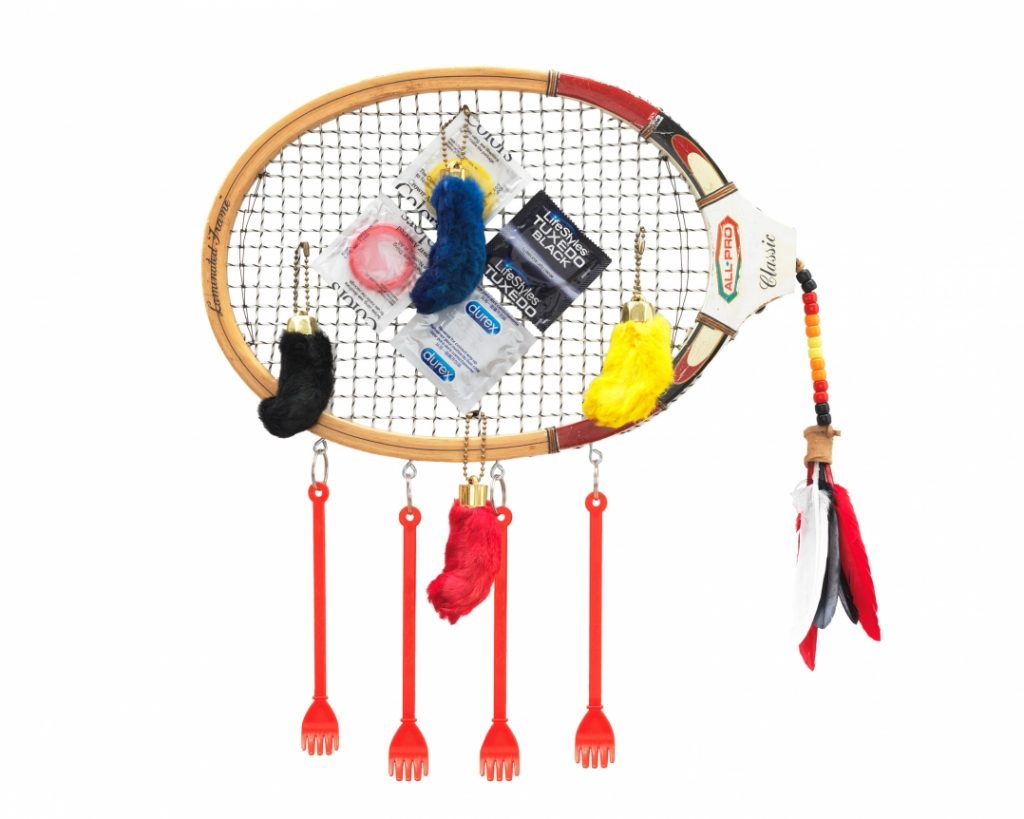 James Luna: Wet Dream Catcher, 1992 at Garth Greenan Gallery, New York
The wooden tennis racquet gives away the age of this work, which James Luna (1950-2018) used in performance while dressed as a shaman (he lived on the La Jolla Indian reservation in California). Luna presented this as a 'sacred' object, available for sale after the show. But its implausible function and signed limited edition status made it clear that he was fraudulently  repackaging his cultural heritage. 'In Indian culture', said Luna, 'humour can be a form of knowledge, critical thought, and perhaps used in a way of easing the pain'.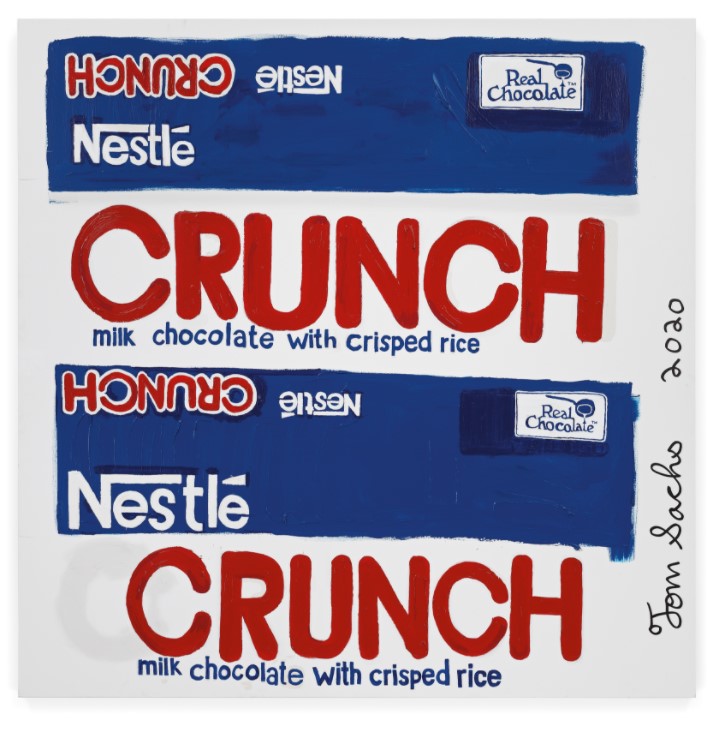 Tom Sachs: Double Crunch, 2020  at  Acquavella Galleries, New York
Where Warhol – and others – found their way into what became Pop by eliminating painterly mark-making in favour of a mechanical-looking celebration of consumer culture, Tom Sachs brings that back into his series of monumental 'Handmade Paintings', which elevate wrappers and logos from a more sceptical point of view – because, says Sachs, 'they all speak about power', leaving the many layers and painstaking but wonky attention to detail to suggest failed attempts to resist that power.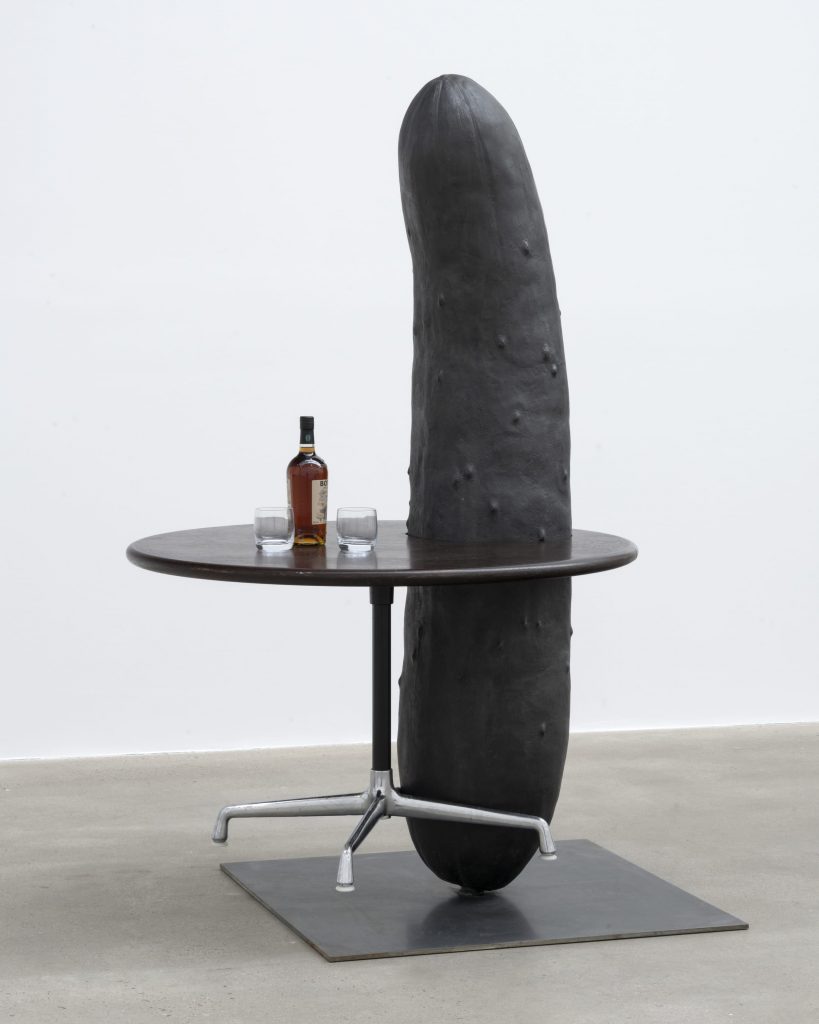 Erwin Wurm: Bar (Drinking sculpture), 2020 at Thaddaeus Ropac, London / Paris / Salzburg
In this witty recycling, the Austrian famous for framing absurd actions as sculpture assembles his landmark cucumber shaped sculpture in bronze at vintage table, ?and invites us – virtually, I suppose – to take a glass, pour some liquor, and drink. 'By setting the conditions of a social interaction', says the gallery,'Wurm investigates the way we behave in a domestic environment.' On the other hand, this could be a public bar, in which case the relevant question in Britain right now would be: does a cucumber that size count as a substantial meal?
Art writer and curator Paul Carey-Kent sees a lot of shows: we asked him to jot down whatever came into his head
Categories
Tags