"I don't have hard and fast rules about these things" the British artist says when asked about the impetus for her paintings. A select few of us sit in zoom virtual meeting room hanging on to Boakye's every word as she, and leading administrators at Tate Britain, discuss her exhibition, Fly In League With The Night on the eve of its' press day opening. Thanks to two city-wide lockdowns, the show has been postponed… and postponed again, adding to its' already rather manic anticipation.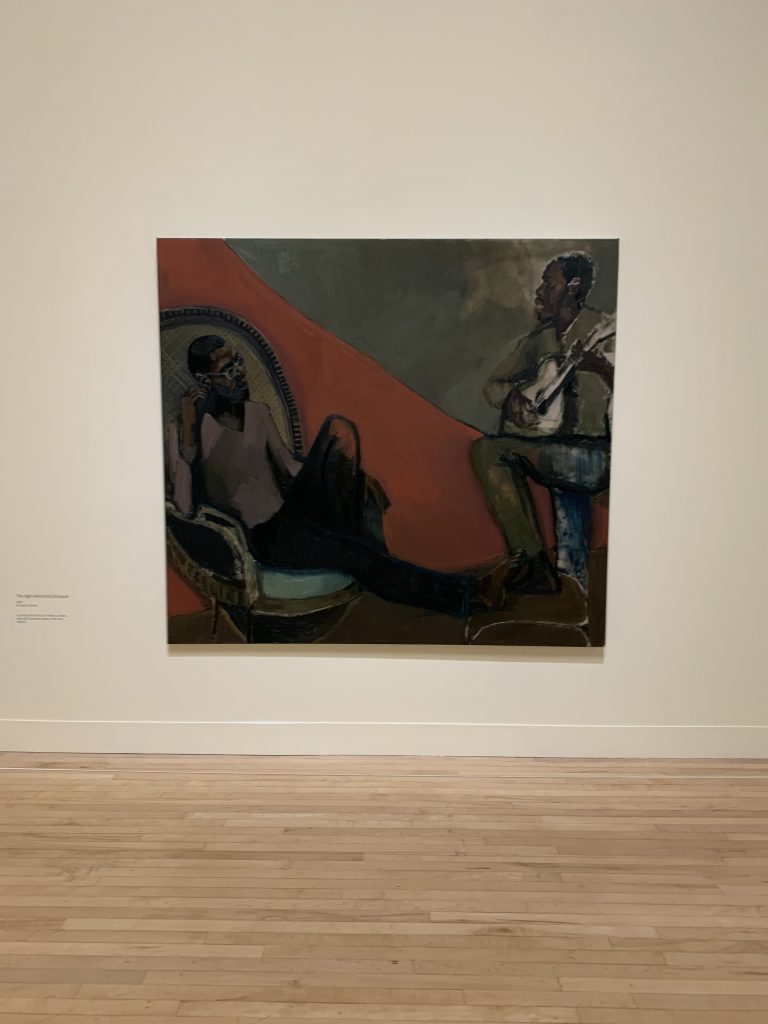 Boakye pauses "I just look into what seems to be the preoccupation of the day and work with that". Pictures of various paintings from the show fill my computer screen, and having seen Boakye's work in person, I knew the slides didn't begin to do Boakye's carefully honed craft justice. Each photograph was clear enough, though, to make me doubt that Boakye's process involves simply hitting the ground running, without a sketch or a plan. 
I, however, was so very wrong. The artist works quickly in her Bethnal Green studio, sometimes finishing an entire painting in just one day. And when she gets going, there is no stopping her—sometimes she'll even stay in a hotel next to her studio if her work calls for more time (she lives in west London, about an hours drive away.) The artist doesn't use even the roughest of preliminary sketches. As soon as an idea strikes, Boakye begins. If the painting's story continues to develop, great. And, if not, the canvas is cast aside, and soon destroyed. 
The nonchalance with which Boakye approaches the genius of her craft and creation should come off as hard to believe, or, at the very least, suspiciously calculated. But Boakye's ease is matched with such honest vulnerability and openness that you practically have no choice, but to believe her. Though Boakye draws inspiration from traditional portraiture, that "is not what I would call my work." Sure, some of the colours she uses and other formal qualities of her painting's mimic those of the Old Master's, but Boakye's brilliant black figures are figments of the imagination. Part of Boakye's genius lies in her subversion of traditional portrait painting. The artist positions her characters to command individual canvases, rooms, galleries, and entire audiences. Here, Boakye celebrates her own background while also calling attention to a long history of erasure and nonexistence of black figures in most traditional painting.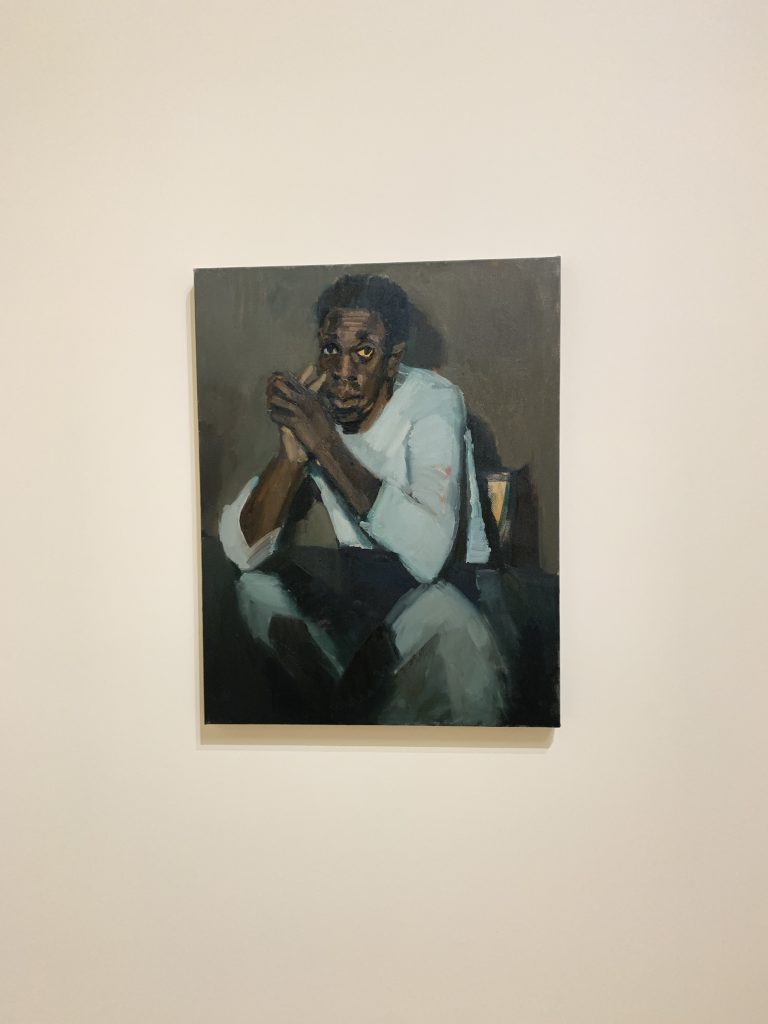 Just as an author spends long hours crafting authentic characters, figurative painters must do the same in their work. Because I write myself, I know how much work goes into building characters and making them believable, so I always take notice and have a profound respect for this key ingredient in short stories and books. But, it occurred to me that artists must go through a similarly painful process to realise their characters. Boakye credits her lifelong ability to "use my mind as an escape," and "live in my head" as a means of doing this. The artist emphasizes the invaluable role that her imagination has come to play in her life, and more specifically, in her painting. "I guess I blame my family because growing up my brothers would play with me and they would pretend my toy animals could speak. So I grew up thinking that everything could speak."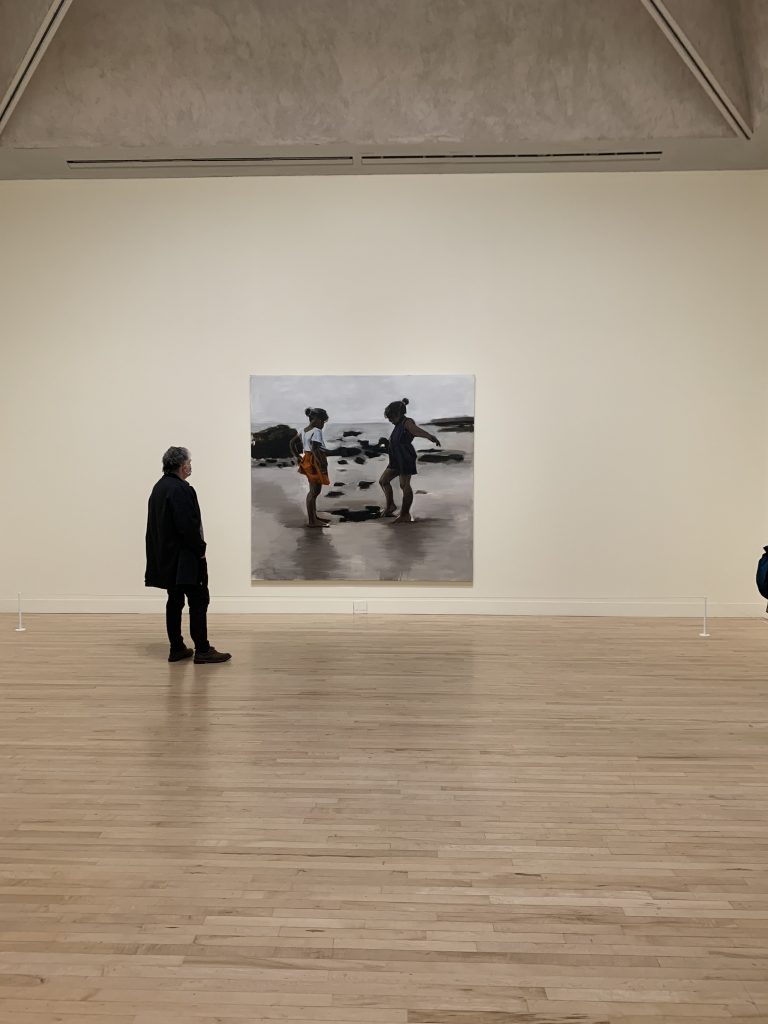 Boakye obviously grew out of this childhood love of all things make-believe and magic, but she was left with an incredible talent that would drive her artistic (and literary) process. "Even in my writing there are talking animals, I just can't seem to get away from them." With a charmingly self-deprecating laugh, the artist calls herself "someone who writes," but shies away from "labelling myself as a writer." Regardless of how Boakye describes her literary and creative talent, it's clear that a strong relationship to writing, and an uncanny capacity to bring characters to life has made her paintings what they are. The curation of Fly In League With The Night emphasises the incredibly life-like subjects of her paintings and shines a spotlight on the artist's knack for narrative. Curating any exhibition is challenging. With around 80 works spanning almost two decades of the artist's career, this feat is only further complicated by the show's sheer size. 
Tate Britain, however, was clearly up for the challenge because the curation is a resounding success. Boakye's paintings are perfectly placed– the internal layers of each are allowed separate and proper attention, while the works simultaneously confront each other. Distinctive concrete fragments of individual paintings converse, and, at the same time characters also align and collaborate. Respective narratives are bolstered, ultimately creating one that is connected. 2020 has by no means been an easy year, but this important and ravishing exhibition is certainly a silver lining. I urge you to reserve a ticket as the line for this exhibition is long, but obviously worth every effort. Take a page from the artist's book, (pun intended) and allow yourself to escape into her carefully, and beautifully crafted little world, if even just for an afternoon.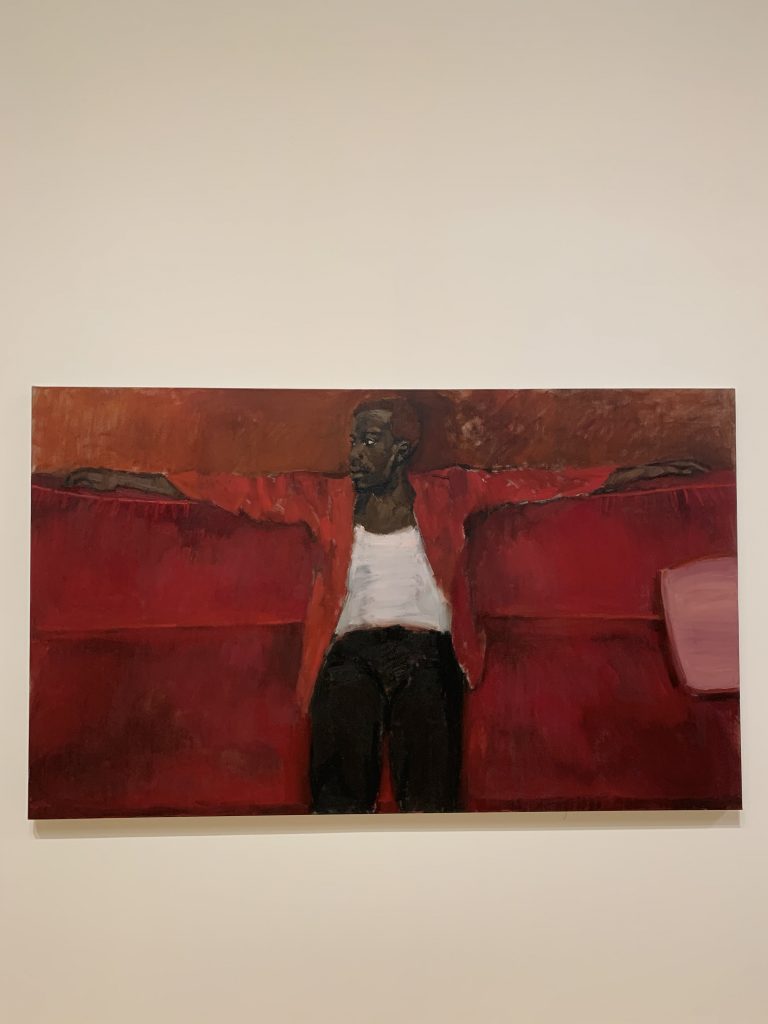 Lynette Yiadom-Boakye: Fly In League With The Night 2nd December 2020 – 9th May 2021 Supported by Denise Coates Foundation, with additional support from the Lynette Yiadom-Boakye Exhibition Supporters Circle, Tate Americas Foundation, Tate International Council, Tate Patrons and Tate Members
About the Artist
Lynette Yiadom-Boakye was born in 1977 in London, where she lives and works today. She is of Ghanaian descent and in 2019 participated in the critically acclaimed Ghana Freedom pavilion at the International Venice Biennale. In 2018 she was awarded the prestigious Carnegie International Prize and was shortlisted for the Turner Prize in 2013. Her work is represented in museum collections around the world and she has exhibited internationally including solo exhibitions at the New Museum of Contemporary Art, New York (2017); the Kunsthalle Basel, Switzerland (2016); Haus der Kunst, Munich (2015); and the Serpentine Gallery, London (2015).
Lynette Yiadom-Boakye: Fly In League With The Night is curated by Andrea Schlieker, Director of Exhibitions and Displays, Tate Britain and Isabella Maidment, Curator of Contemporary British Art with Aïcha Mehrez, Assistant Curator, Contemporary British Art. The exhibition is organised by Tate Britain in collaboration with Moderna Museet, Stockholm, KunstsammlungNordrhein-Westfalen, Düsseldorf, and Mudam Luxembourg – Musée d'ArtModerne Grand-Duc Jean.
Categories
Tags