In the strange times we find ourselves in, artists are again responding to their immediate surroundings, everyday objects, the iconography of the fridge magnet and postcard, the must-have product, the tech toy, the supermarket sale, even their pets. The nagging insanity of lockdown permeates, domestic claustrophobia, obsession, desire, fetishizing seductive glossy surfaces, worshipping the meaningless object, the media-make-believe, vacuous beauty is celebrated.
While other galleries show dusty re-runs from those long-gone ambassadors of the '60s, GALLERY46 presents five contemporary artists who are very much alive, kicking and working in POP…NOW!
This POP NOW! show aims to explore the movement's impact and influence on LGBTQ artists who continue to observe and explore contemporary pop culture.
BEX MASSEY'S work examines the throw-away nature of British popular culture and the anxiety drifting just below the surface of daily life. Motifs express the consumer gluttony extracted from her 80s/90s childhood memories. She appropriates and refashions this paraphernalia in her paintings fusing traditional techniques with garish colours to create a relevant contemporary canvas.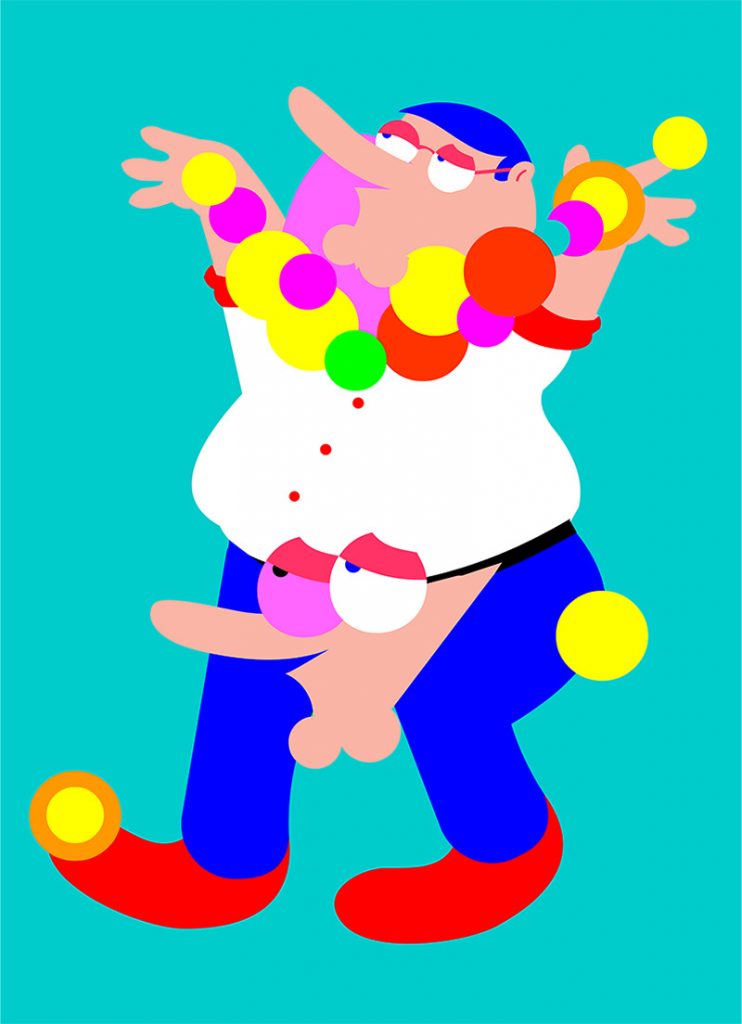 ladypat produces vibrantly intense and humorous work inspired by icons, history and identity. His eye popping visuals were first screened in nightclubs when he created videos for S-Express, Adamski, Hi-Fi Sean ft Yoko Ono, Scarlet Fantastic and Boy George. His latest work transforms digital images in to hand-made felt pieces creating a new folk pop art form – Compute & Craft.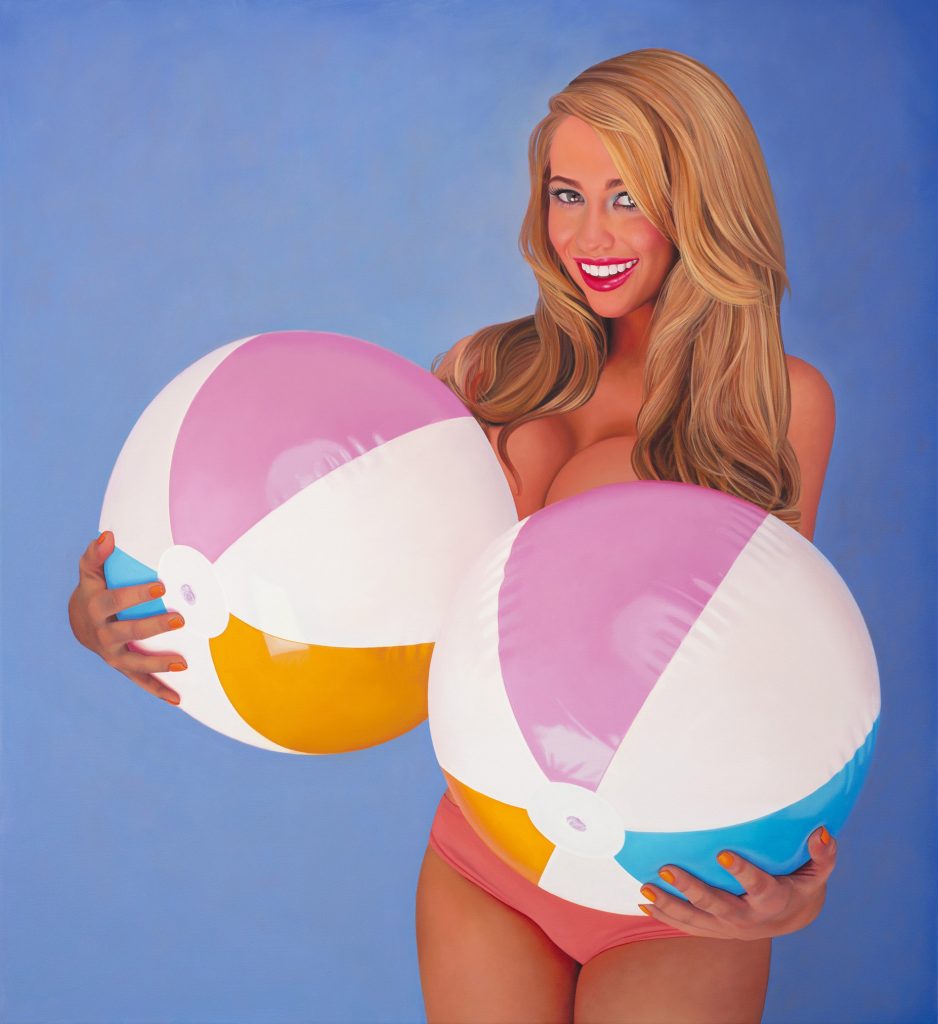 KELLY-ANNE DAVITT paints sweets, toys, dolls and online images of female nudes in a hyper-realistic playful pop style. Her electrifying immaculate canvases fuse traditional still life and portraiture with a contemporary approach. Kelly has exhibited many times and here shows recent work created during Covid-19 lockdown alongside some of her most iconic works.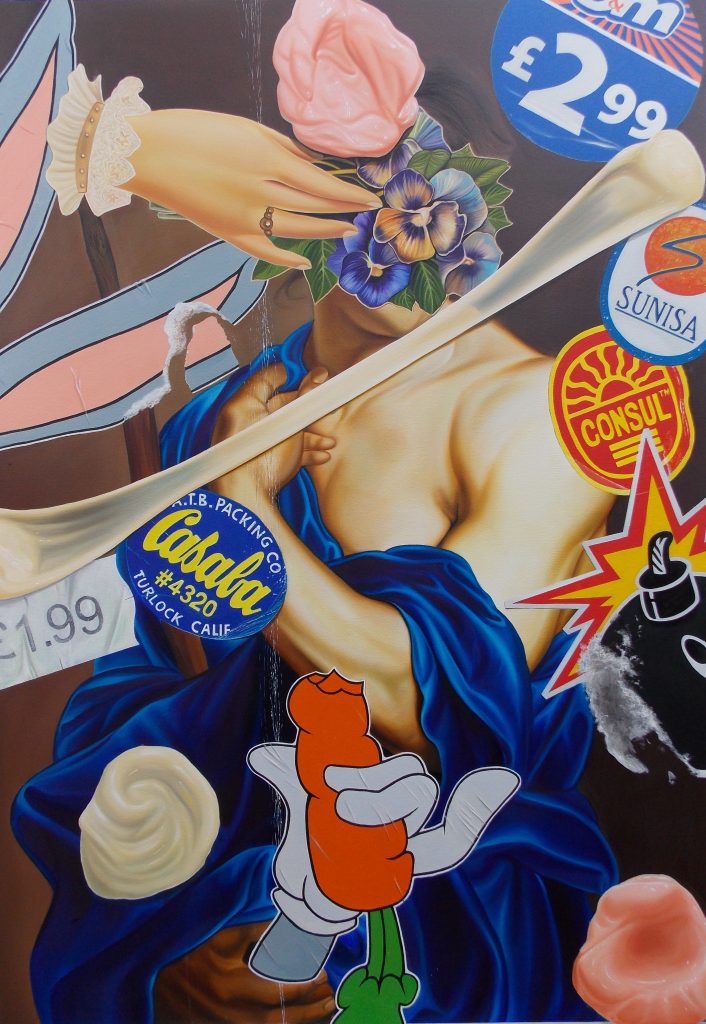 DANIEL EDWARDS glues trashy ephemera, price stickers and novelty giveaways onto postcards before scaling up to create large intricate pop paintings. He also recreates beautiful classical portraits on disused cardboard boxes – fusing the desirable with the disposable. This is the first time he has exhibited in London.
www.danedwardsart.com/biog.html
ORLANDO ROBIN CAMPBELL paints Venn diagrams in different shapes and 'loud' colours he can get by using house paint and gouache. The paintings and sculptures were made in his studio in France and some during the recent quarantine period. Orlando grew up with works by Frank Stella, Kenneth Noland, Eduardo Paolozzi and Patrick Caulfield, as his parents collected these artists over the years. He is drawn to the great American Color Field artists of the 1960s, such as Kenneth Noland and Ellsworth Kelly.
PRIVATE VIEW – This Thursday 3rd December  from 4pm – 10pm Also LATE OPENING – Saturday 5th 12 – 9pm then open daily to Sunday 13TH December www.gallery46.co.uk/pop-art/
Categories
Tags