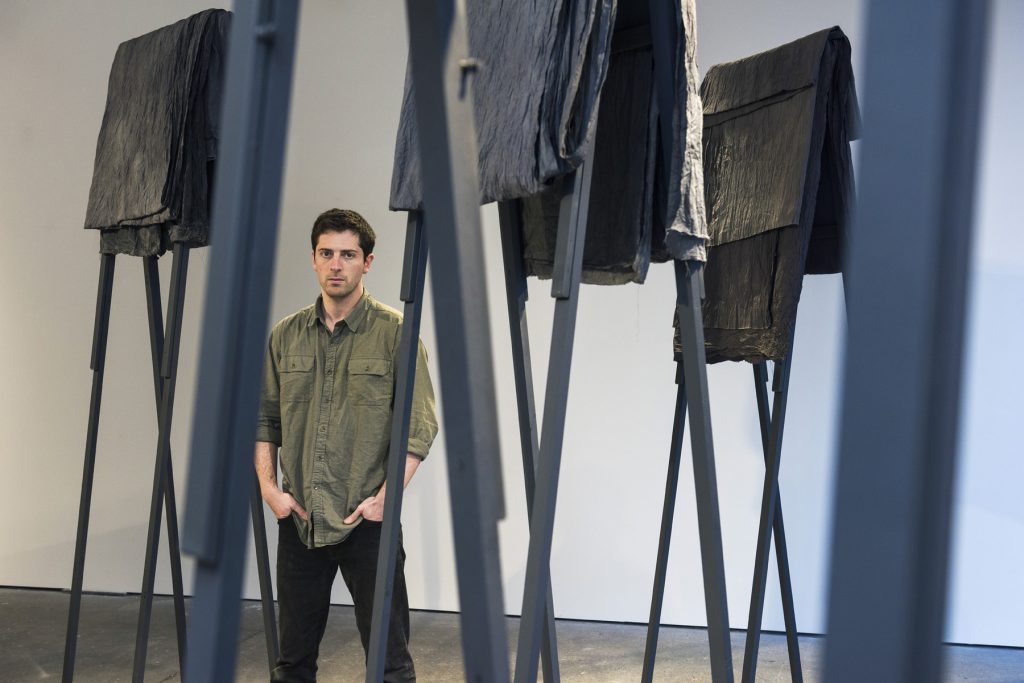 "For a tree, to move is to die; for a man, to move is to live"
Mo Yan, Change (2010)
The Chilean artist Marco Bizzarri responded to the Unit 1 Gallery | Workshop Open Call just as the world was nosediving into pandemic lockdown. He took up residency with the West London organisation in September, migrating with his wife and children into an uncertain future. Three months later his Solo Residency Exhibition 'Unearthed' opens with a private view experienced in the digital realm as the country is locked down for a second time.

Perhaps it is fitting that the installation should inhabit a deserted space, the only humans present those barely discernable through layers of dark paint applied to a pair of large panels, while ominous architectural shapes loom on another. Moving amongst tall structures draped in black cloth invokes visions of barren landscapes, robbed of their natural riches or devastated by disaster.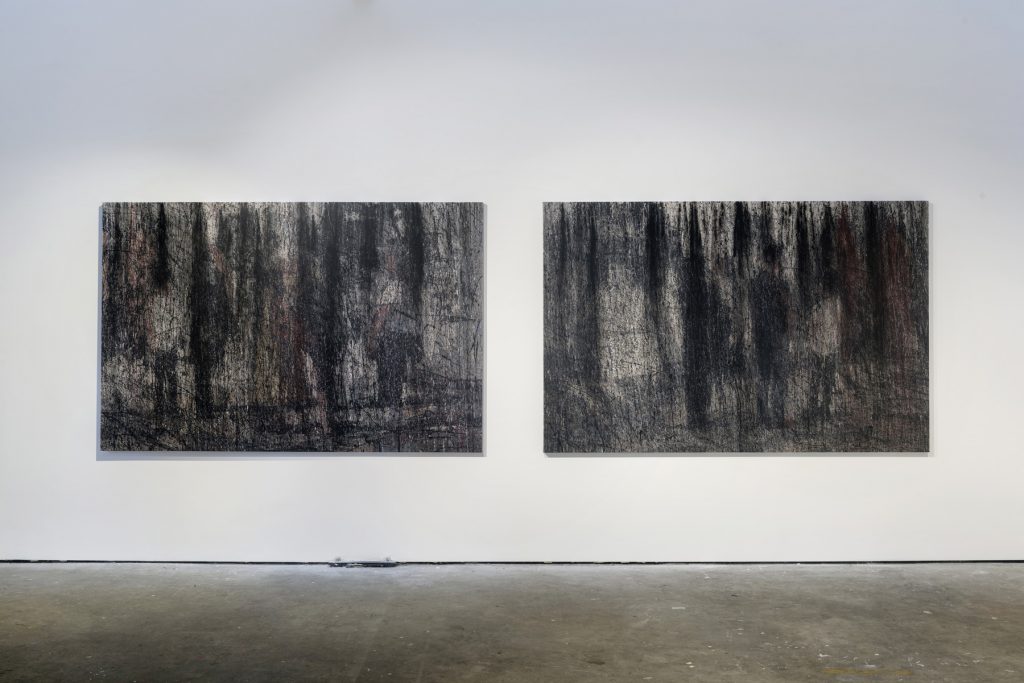 Themes of human displacement, exploitation and ecocide in the name of progress are a recurring motif in Bizzarri's work. A multi-layered process of concealment and exposure is at the core of his practice, an ongoing commentary on our refusal to comprehend when faced with uncomfortable truths. Initially figurative paintings are distorted and objects covered up, providing a mere hint at what lies beneath.
Previous works explored the loss of disappearing cultures in his native Chile, the devastating environmental effect of intensive mining across Latin America, or pervasive anonymity as society's excuse for looking the other way in the face of human suffering.
Bizzarri's work is based on profound research, most recently into his brother's tragic death in the Peruvian mountains in June 2017. His arrival in London was accompanied by a string of coincidences that provided a deep personal connection for this impressive body of work created during his residency with Unit 1 Gallery | Workshop.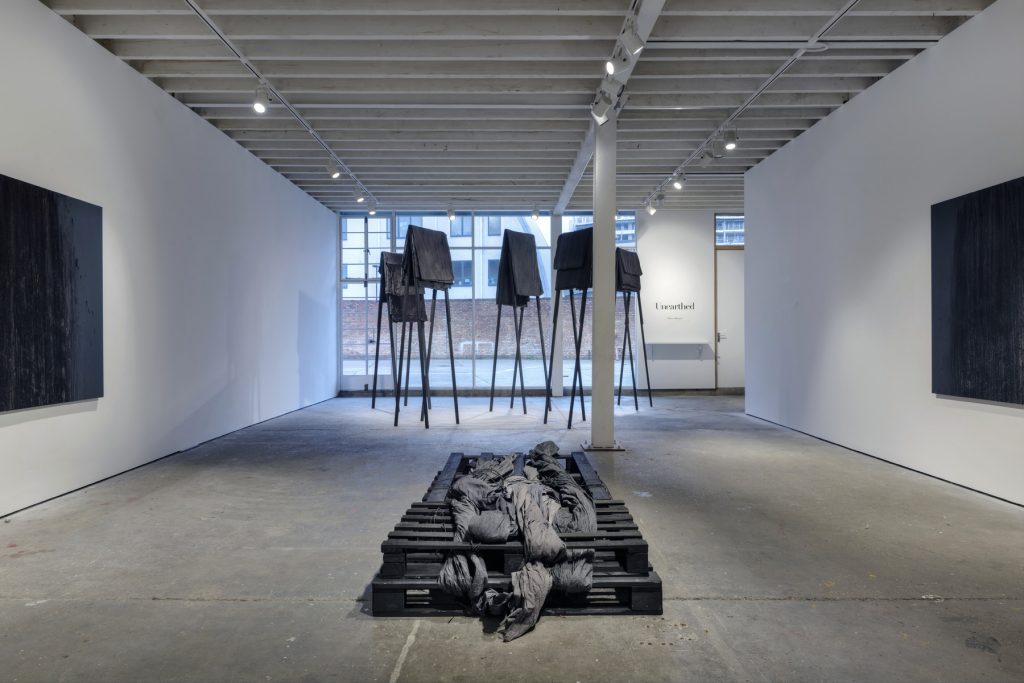 Not previously aware of the Grenfell Tower disaster that has since defined the neighbourhood, 'Unearthed' is a poignant response to the effects of social injustice experienced by a community that shares the anniversary of his own bereavement. Bizzarri succeeds in capturing the essence of grief as he provides a glimpse into his journey of arduous unravelling in search of truth.
The result is an installation that creates a place of solace and peace, a coming back to life.
Exhibition: Now —5th December 2020 Unit 1 Gallery | Workshop

About the Artist
Marco Bizzarri (b. 1988, Chile) is a visual artist graduated from the Pontificia Universidad Católica de Chile. Since 2014 his work has been exhibited in Chile, as well as abroad. Recent solo exhibitions include Incuria which took place in Galeria Animal (2019), Silente, CV Gallery (2018) and Plan de cierre (2017), which gathered the work developed during his residence in Centro Arc in the northern part of Chile. Furthermore, he has participated in a series of collective exhibitions like Habitantes at the Centro cultural Matta (Argentina, 2019), Cohabitar, Cede Galería, (Lima, Perú?), Outsider at the Gare of Strasbourg (France, 2014) and The Young Collectors Exhibition at the Leila Heller Gallery (USA, 2013).
Marco Bizzarri is the 14th Solo Resident at Unit 1 Gallery | Workshop.

Unit 1 Gallery | Workshop is an exhibition and residency space in London founded by artist Stacie McCormick in a former builder's merchant in 2015. Through their residency programmes and exhibitions, they give artists, curators and theorists a platform to present work and share ideas as well as creating an environment for freethinking and exchange.

unit1gallery-workshop.com | @unit1galleryworkshop
Photos courtesy of Unit1 Gallery | Workshop and Paul Tucker
Categories
Tags