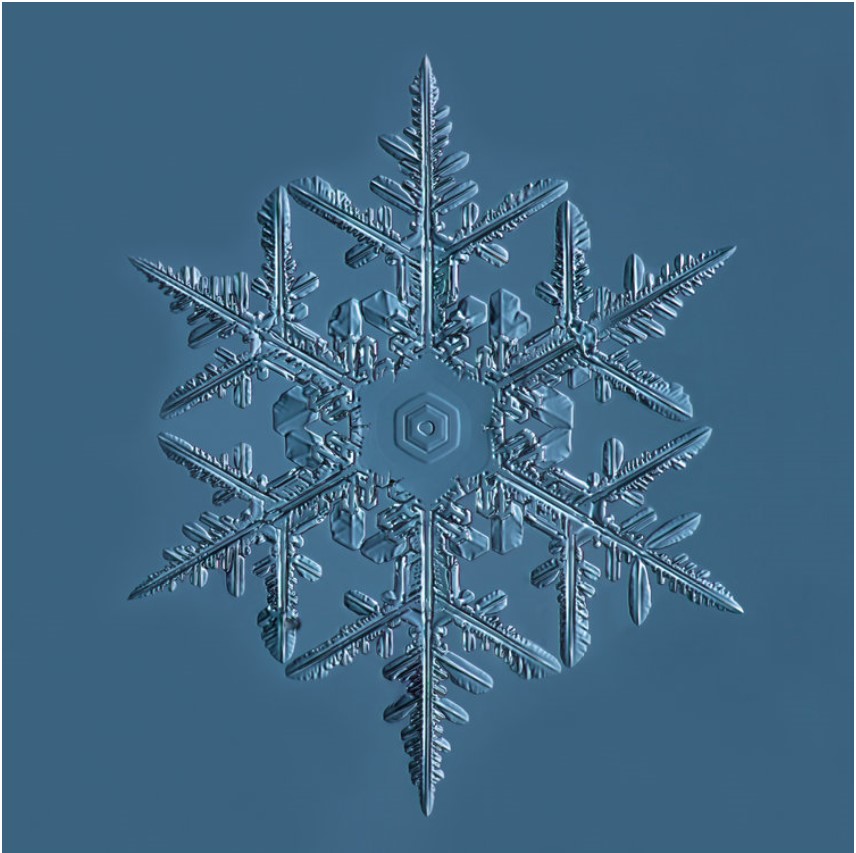 In this selection, which came out of research for the arts-meets-sciences magazine Seisma, five international artists use the theories and methods of science to generate art with distinctive shapes. Every year Jean-Bernard Metais captures the living yeast in his wine vats; Jean-Luc Moulène applies the generic structures of René Thom's catastrophe theory to a sculpture; Dan Holdsworth uses pixels from topographical mapping data to form seemingly abstract structures out of the landscape; Douglas Levere reveals the ultimate detail in a snowflake by combining up to fifty microscopic images, and Alicja Kwade's grid of rocks implies parallel worlds with varying timescales.
The Life of Fermentation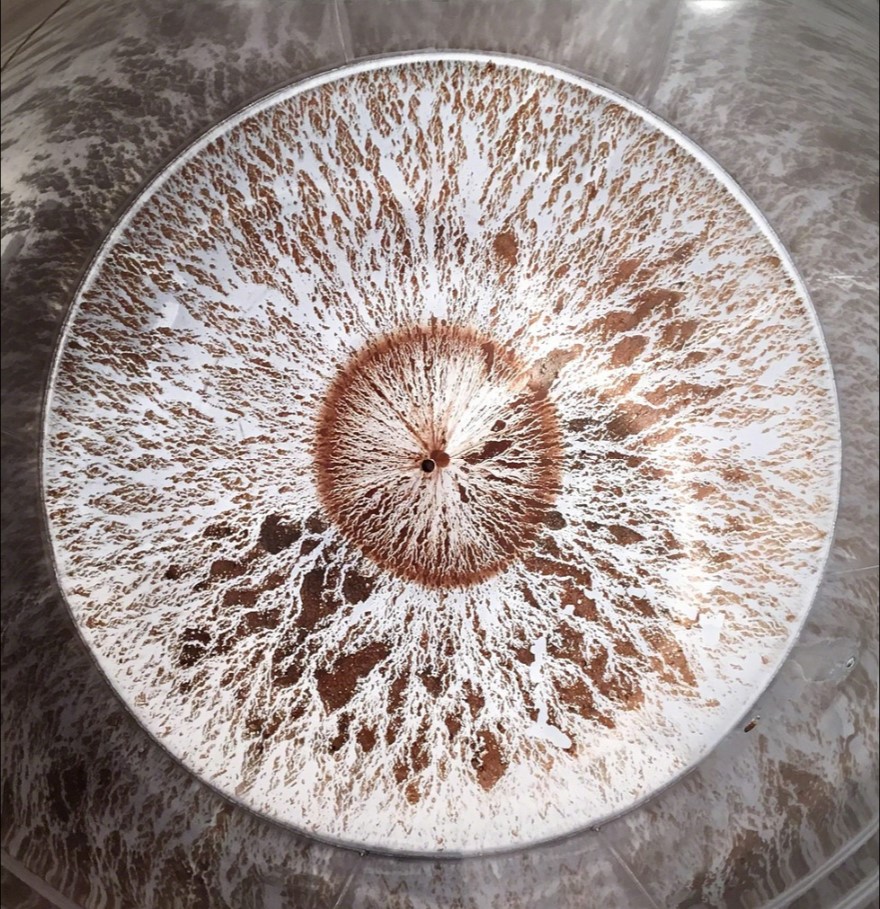 Jean-Bernard Metais: Le Cuvier de Jasnières, 2016 – Pigment print, 104 x 104 cm
French artist Jean-Bernard Metais has been growing grapes and making wine for over 40 years, capturing its gestation annually from the same overhead point of view with a rigorous yet sensual minimalism. Pictured this way, the process suggests multi-coloured irises as if the vat is alive – which of course it is, as yeasts are single-celled microorganisms classified as members of the fungus kingdom. Courtesy the artist and La Forest Divonne, Paris
All Types of Catastrophe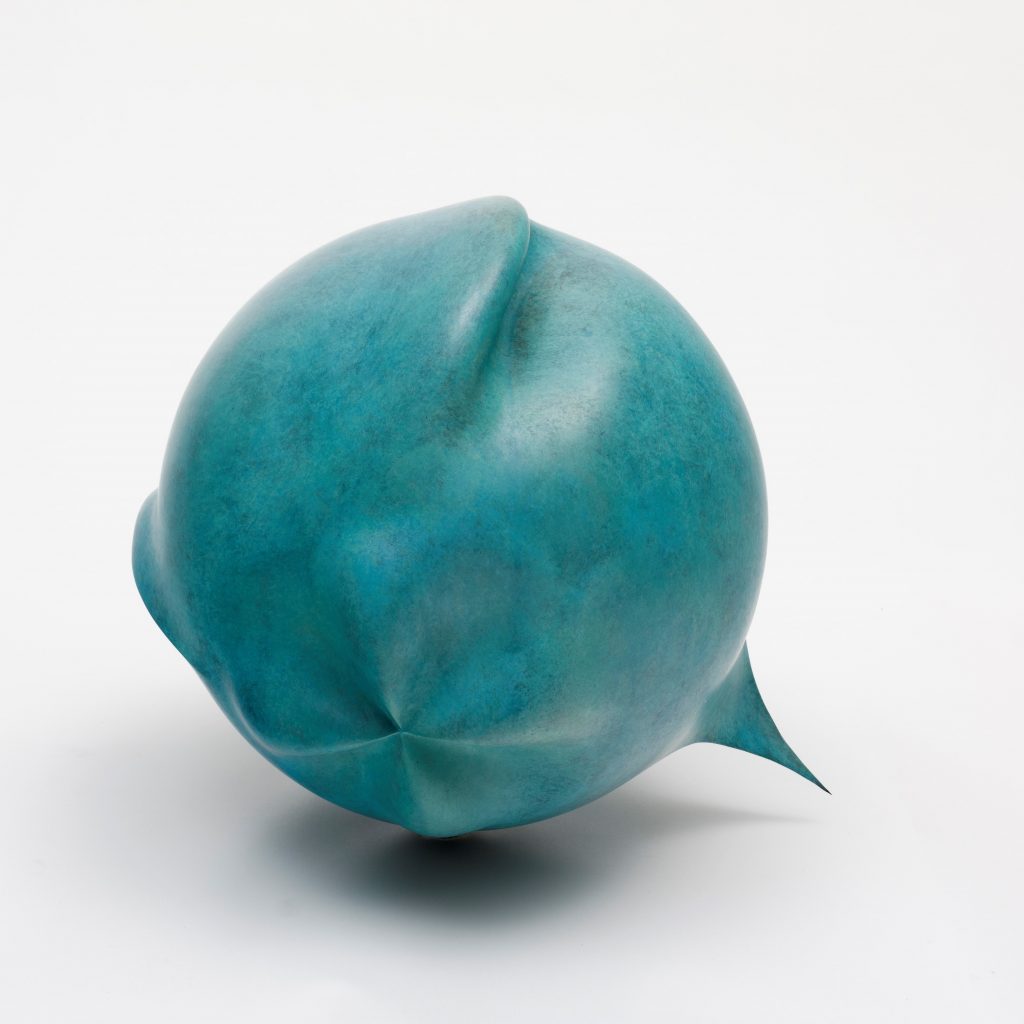 Jean-Luc Moulène: 'Catasphère, Fonderie de Coubertin, Paris, 2019' – bronze patina, 60 x 50 x 70 cm
Small changes can lead to large and sudden changes of the behaviour of a system: in the 1960's René Thom revealed that such bifurcation points tend to occur as part of well-defined geometrical structures. Jean-Luc Moulène's Catasphère applies the five generic structures of Thom's catastrophe theory to a sculpture: the fold, the wave, the elliptical umbilic, the cusp and the swallowtail.  An elegant form turns out to capture the possibilities for its own brutal change. © Jean-Luc Moulène. Courtesy the artist, Galerie Chantal Crousel, Paris, Thomas Dane Gallery, London/Naples and Miguel Abreu Gallery, New York. Photo: Florian Kleinefenn #jeanlucmoulene
Landscape of the Pixel
Dan Holdsworth: 'Spatial Objects', 2015
Dan Holdsworth demonstrates how digital information can generate objects which move well beyond the conventionally photographic. Here he uses topographical mapping data from the American West at the level of pixel and sub-pixel – well beyond the limits of any recognisable depiction of landscape. The resulting fractured geometries, presented on ten plank-like structures, effect a politically charged parallel between the transformation of the potential image achieved through manipulation and the transformation of the landscape resulting from human activity. © @danholdsworth, courtesy the artist
How to Catch a Snowflake
Douglas Levere: Snowflake +2015.02.02.001 (top) and Snowflake +2015.01.02.003.1
It snows on a near daily basis during winter in Buffalo New York due to the proximity of the Great Lakes. Douglas Levere makes the most of that, using a paintbrush to push individual snowflakes into position onto slide on an adjustable microscope base, then taking 10-50 exposures flash-lit from below and focused at slightly different depths. These are brought together in Photoshop so that the sharpest parts of each make up the final image. The colour temperature of these examples is shifted so they appear blue with cold… © @douglas.levere, Courtesy the artist
Which World Are We In?
Alicja Kwade:  LinienLand, 2019
You can walk into Alicja Kwade's three-dimensional grid structure, in which differently sized solid spheres of natural stone float in apparent weightlessness. Each individual cubic metal boundary implies a different reality, so that parallel worlds with varying timescales are implied by the use of rocks of different ages from around the world. Lineland, then, poetically represents a multiverse, which many scientists believe likely – for example because if space-time goes on forever it might start repeating eventually. Courtesy the artist and König Galerie, Berlin / London.
Art writer and curator Paul Carey-Kent sees a lot of shows: we asked him to jot down whatever came into his head. He is visual art editor for Seisma magazine.
Categories
Tags