The Line Art Walk has launched a new, free digital guide to help explore the public art, nature and heritage along the 3-mile route. Available on the free Bloomberg Connects App in the Apple Store and Google Play, the guide provides a dynamic new way to explore The East London Walk.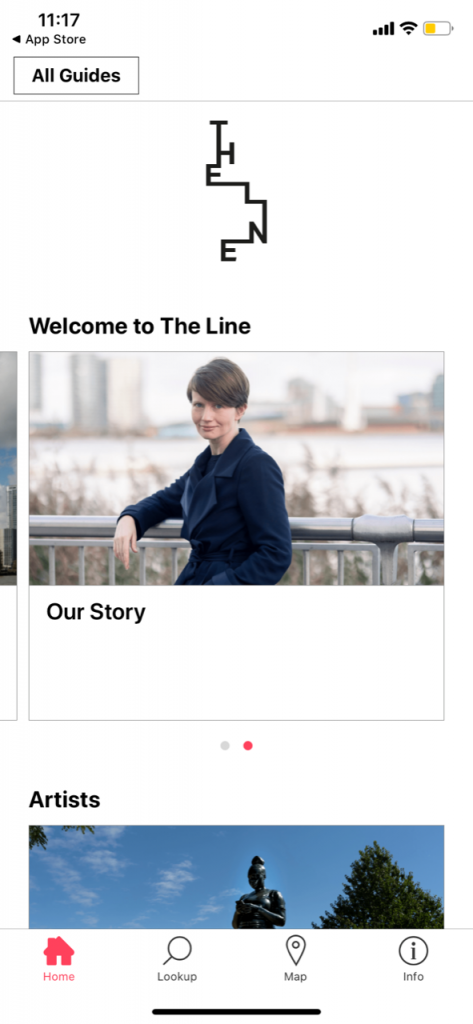 Bloomberg Connects brings The Line to life: the audio introductions from exhibited artists offer insight into the inspiration behind the works, Bill Nighy's guide to the nature, heritage and architecture of The Line highlights the wealth of history and wildlife to be discovered on the route and the mindfulness guides present The Line as a place to restore balance and focus to support wellbeing.

Megan Piper The Line co-founder
Established in 2015, The Line is London's first dedicated public art walk; an outstanding, free outdoor art gallery, following the line of the Greenwich Meridian along a route which passes through three of the most diverse boroughs in the UK (Newham, Tower Hamlets and Greenwich). The new digital guide highlights the history, nature, and architecture along the walk, as well as featuring new introductions by exhibited artists and a specially commissioned mindfulness guide.
Highlights include: 
'Walk The Line' in the company of legendary actor, Bill Nighy as he takes us on a tour of the history, architecture and wildlife to be found at 19 locations along the route; including the hidden stories of the rivers, creeks, canals and docks, as well as historical sites including Trinity Buoy Wharf and Three Mills.
Hear directly from exhibited artists and discover the inspiration behind their works, including:  Larry Achiampong, Alex Chinneck, Abigail Fallis, Thomas J Price, Antony Gormley, Laura Ford, Thomson & Craighead, Gary Hume and Richard Wilson.
Take time on The Line to pause and immerse yourself in the Mindfulness Guide – three guided meditations, specially created by Tessa Watt, author of Mindful London – for a deeper connection with your surroundings and to promote wellbeing.
Running at just over an hour and a half, the digital guide is also accompanied by a wealth of visuals, with archival images generously provided by partners including National Portrait Gallery, Getty Images, Royal Museums Greenwich and Newham Archives – as well as newly commissioned photographs of The Line by local photographer Emily Lovell.
The Line currently features monumental sculptures by eleven artists, including the recently installed Thomas J Price Reaching Out, which joins Joanna Rajkowska's The Hatchling and Abigail Fallis' DNA DL90 on the River Lea and Antony Gormley's Quantum Cloud and Gary Hume's Liberty Grip at Greenwich Peninsula. Other new additions for 2020 include the installation of Laura Ford's Bird Boy at Royal Victoria Dock in the Royal Docks and the extension of the route through Queen Elizabeth Olympic Park, to encompass the UK's largest sculpture, Anish Kapoor's ArcelorMittal Orbit, and Carsten Höller's The Slide.
In 2020, The Line celebrates its fifth anniversary with the extension of its route into Queen Elizabeth Olympic Park, the launch of a new website and, for the first time, site-specific projects, commissions and cultural collaborations. The Line is also now established as a registered charity and has recently been listed in Condé Nast Traveller's Best Walks in London. In October 2020, The Line received a Special Mention in the ULI Europe Awards for Excellence.  www.the-line.org
Categories
Tags