Serpentine is to open the 22nd Pavilion, designed by French-Lebanese Paris-based architect Lina Ghotmeh, at Serpentine South this week on Friday 9th June 2023.
There is such enthusiasm as the Pavilion's opening draws near and an occasion to provide a space for people to simply enjoy, stroll, and meet while discussing on the difficulties of today to spur the necessary change. The Pavilion rises as a wooden structure in keeping with the natural surroundings, inviting us to sit around exquisitely crafted stools and tables and take in the surroundings. Collaborating with The Conran Shop to create the tables and chairs I envisaged for the Pavilion, has been fantastic on this occasion. The Pavilion serves as a place of meeting, togetherness, conviviality, and joy, and the furniture serves as its focal point.

Lina Ghotmeh, Architect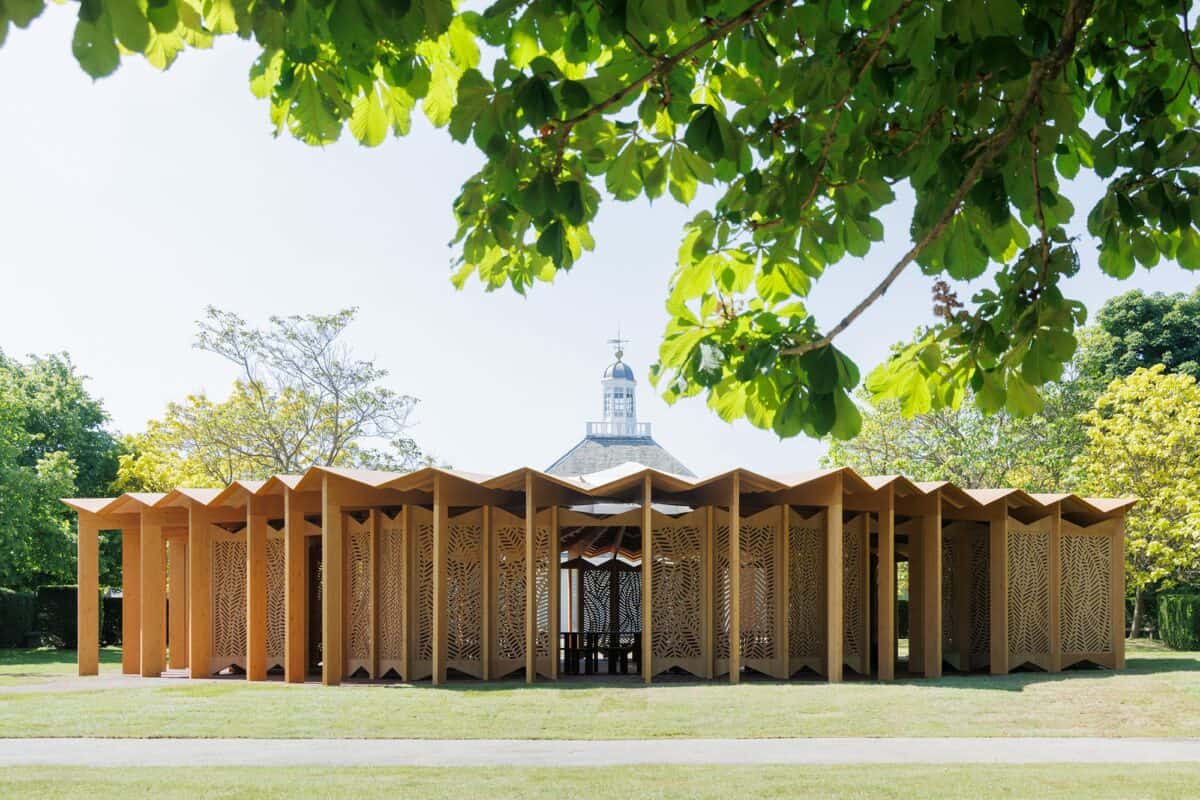 Inspired by the architect's Mediterranean heritage and fervent discussions around the table over current affairs, politics, personal lives, and dreams, the Pavilion is titled À table – a French call to sit down together at a table to engage and participate in dialogue while sharing a meal. As such, the interior of the Pavilion features a concentric table along the perimeter, inviting us to convene, sit down, think, share and celebrate exchanges that enable new relationships to form.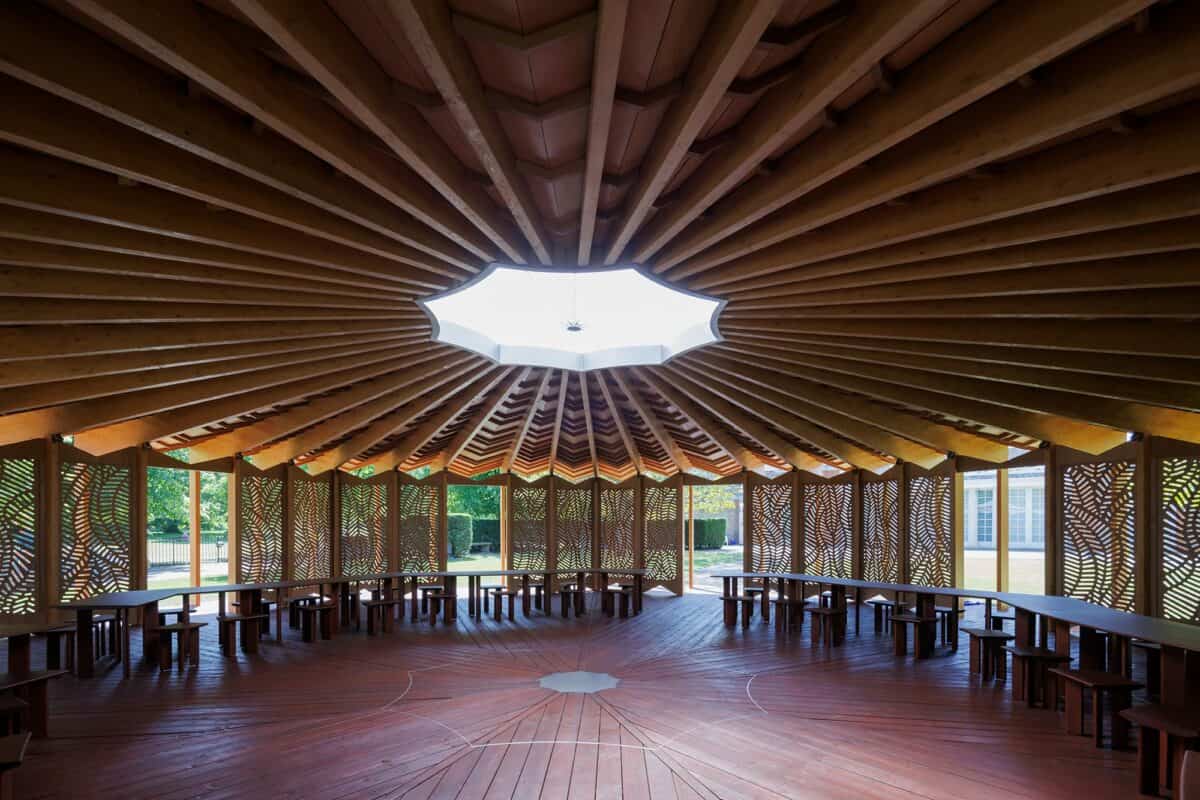 Considering food as an expression of care, the Pavilion's design is a space for grounding and reflection on our relationship to land, nature and environment. By offering a moment of conviviality around a table, Ghotmeh welcomes us to share the ideas, concerns, joys, dissatisfactions, responsibilities, traditions, cultural memories, and histories that bring us together.
We are honoured to unveil Lina Ghotmeh's first structure in the UK. À table, continues Serpentine's mission of building new connections between artists, architects and society. Drawing on natural elements that reflect its local surroundings, Ghotmeh's design promotes unity and conviviality in its form and function. We are endlessly grateful to our loyal partners and supporters for making Ghotmeh's remarkable concept for a Pavilion into an inspiring reality. Like all our programmes, À table will be open to all, and our hub for free summer programming in the park.

Bettina Korek, Chief Executive, and Hans Ulrich Obrist, Artistic Director,
An accompanying catalogue, designed by Paris-based studio Les Graphiquants, will feature contributions by Ali Cherri, Beatriz Colomina, Bernard Comment, Fouad Elkoury, Simone Fattal and David Zilber. It will also include a comprehensive conversation between Hans Ulrich Obrist and Lina Ghotmeh. The book will be co-published by Serpentine and Verlag der Buchhandlung Walther und Franz König, Köln, and will be available from August 2023.
A new soundscape for the Pavilion Dawn chorus has been created by artist and composer Tarek Atoui, based on Lina Ghotmeh's sketches, architectural materials and Atoui's ongoing research on classical and rural Arab music. It can be accessed on the Bloomberg Connects app, together with the architect's audio introduction to the project and other material.
Serpentine Programme Commissions
On Wednesday 7th June, Lina Ghotmeh will be in conversation with Serpentine Artistic Director Hans Ulrich Obrist exploring the inspiration behind the Pavilion, Ghotmeh's "Archaeology of the Future" and the history of the commission.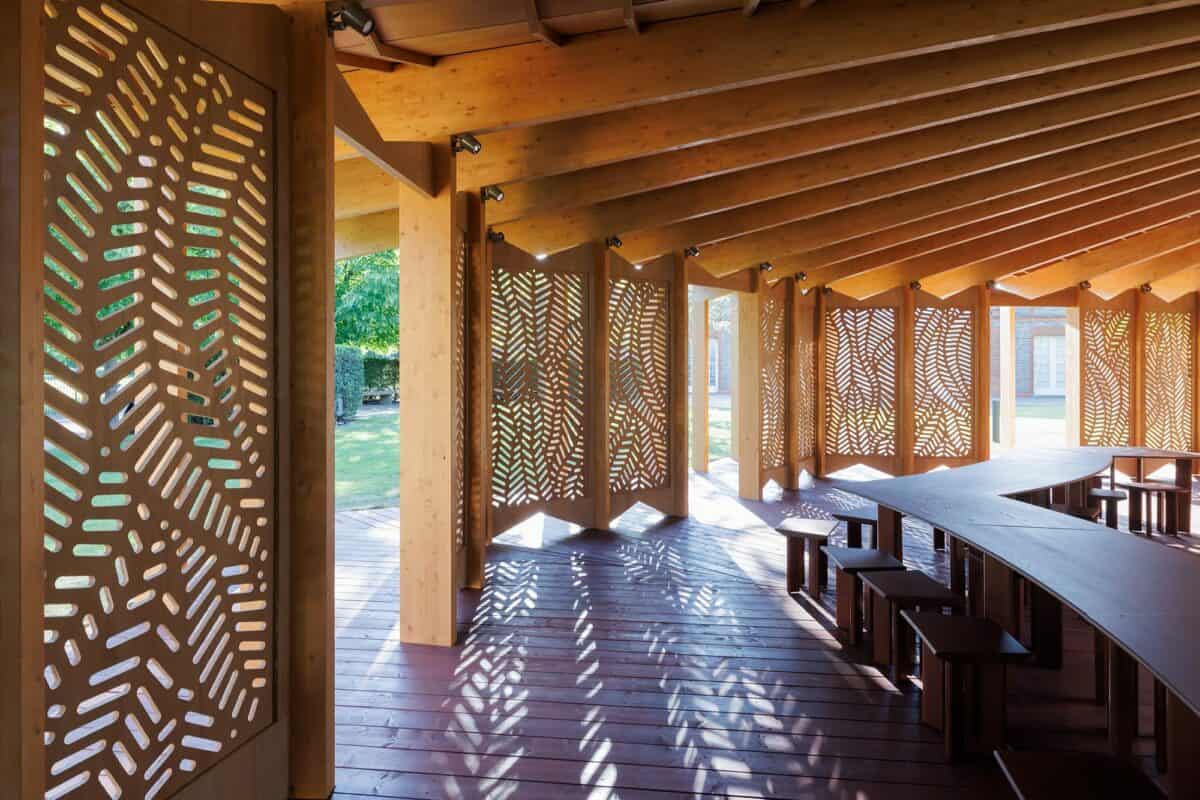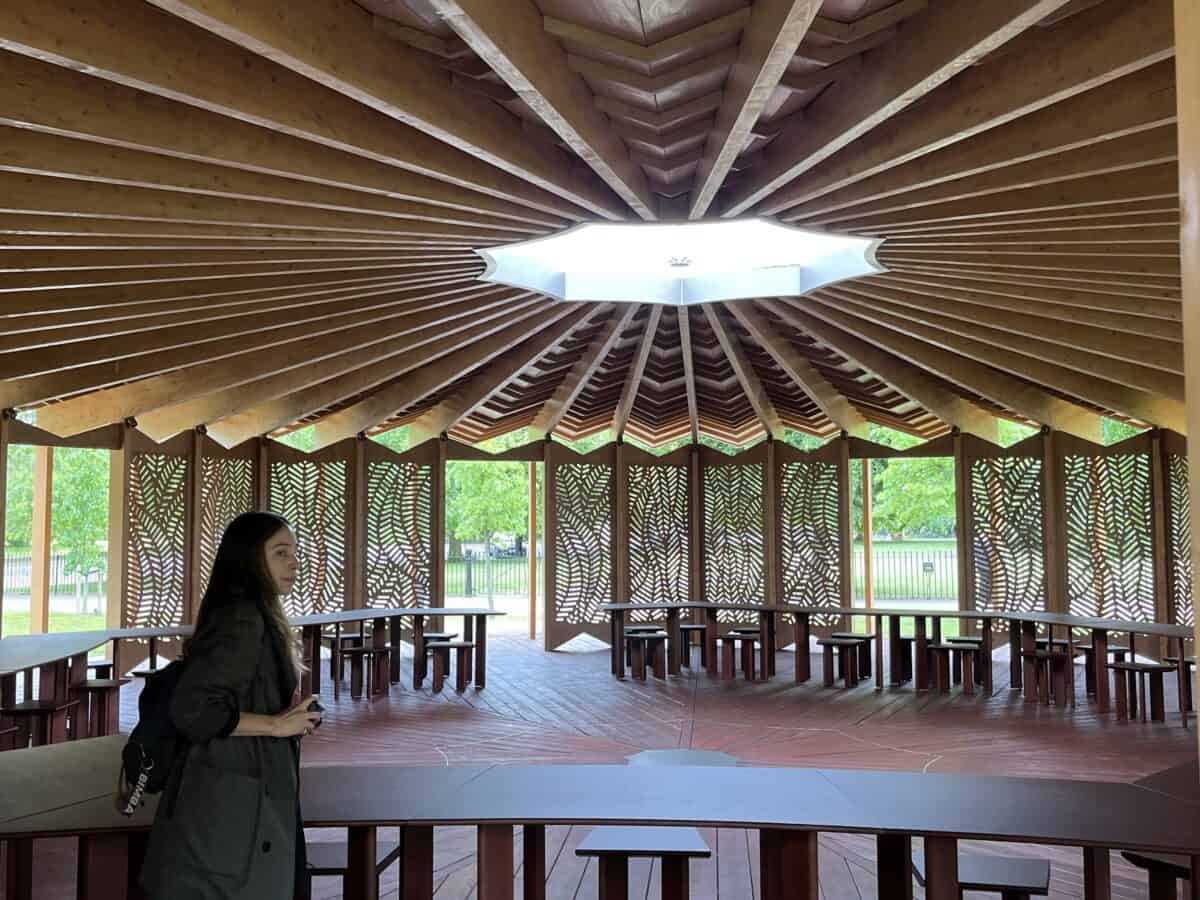 In a new collaboration with The Conran Shop, Lina Ghotmeh has designed two new exclusive pieces of furniture for this year's Pavilion. Celebrating nature and conviviality, the tables and stools dress the interior of the structure. Crafted from oak, with a dark-red finish, the 25 tables and 57 stools come together to complete a ceremonial display inside the Pavilion.
Honouring the history of the Serpentine building as a former teahouse, Ghotmeh will contribute a new menu based on organic ingredients in collaboration with Benugo. The menu will be available at the Pavilion throughout the summer months.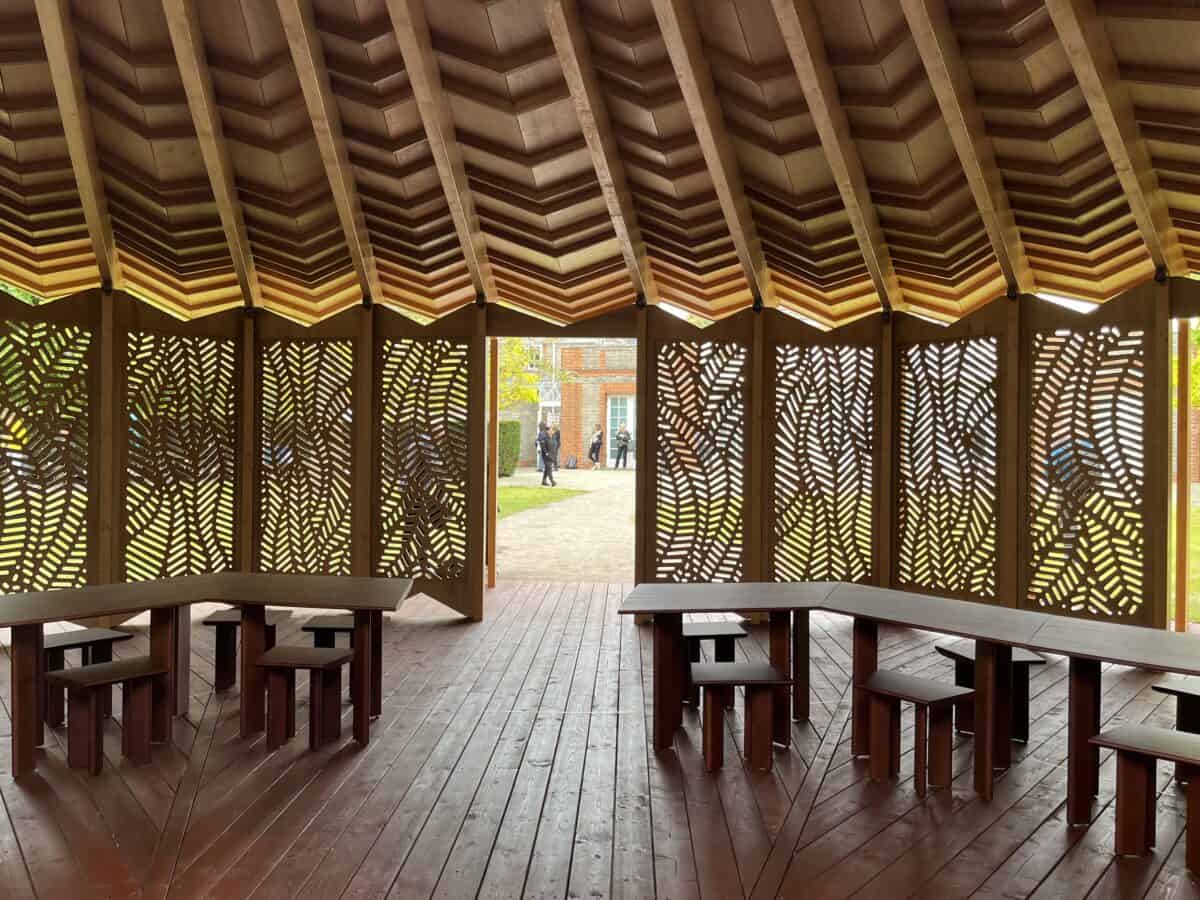 Park Nights is Serpentine's experimental, interdisciplinary live platform sited within the Pavilion. This year the series features new commissions and offers a space for practitioners to engage audiences once more. Featuring art, music, literature, and dance, Park Nights 2023 reimagines what it means to come together, witness, and share through live performance. The programme will take place on selected Friday evenings.
*The Living and the Dead Ensemble, on 25th August 2023, 8pm
*Castiel Vitorino Brasileiro on 15th September 2023, 8pm
*Christelle Oyiri on 6th October 2023, 8pm
Further Park Nights dates will be announced soon.
Structure and Build
Built predominantly from bio-sourced and low-carbon materials, the Serpentine Pavilion 2023 continues Ghotmeh's focus on sustainability and designing spaces that are conceived in dialogue with the natural environment that surrounds them. The design of the space responds to the shape of the surrounding tree canopies, the internal wooden beams that encircle the perimeter of the Pavilion emerge as thin tree trunks. The fretwork panels that sit between the beams feature plant-like cut out patterns, allowing natural light and ventilation. The Pavilion's pleated roof is inspired by a structure of a palm leaf and the lightwell in the middle furthers the space's integration with its environment. The structure's modest low roof takes inspiration from togunas: structures found in Mali, West Africa, which are traditionally used for community gatherings to discuss current issues, but also to offer shade and relief from heat. The low-lying roofs of these structures encourage people to remain seated peacefully and pause throughout discussions.
Placing nature, the organic and sustainability at its core, Ghotmeh's Pavilion will be designed to minimise its carbon footprint and environmental impact, in line with Serpentine's sustainability policy. The predominantly timber structure will be light-weight and fully demountable, with a focus on sustainably sourced materials and the reusability of the structure after its time installed at Serpentine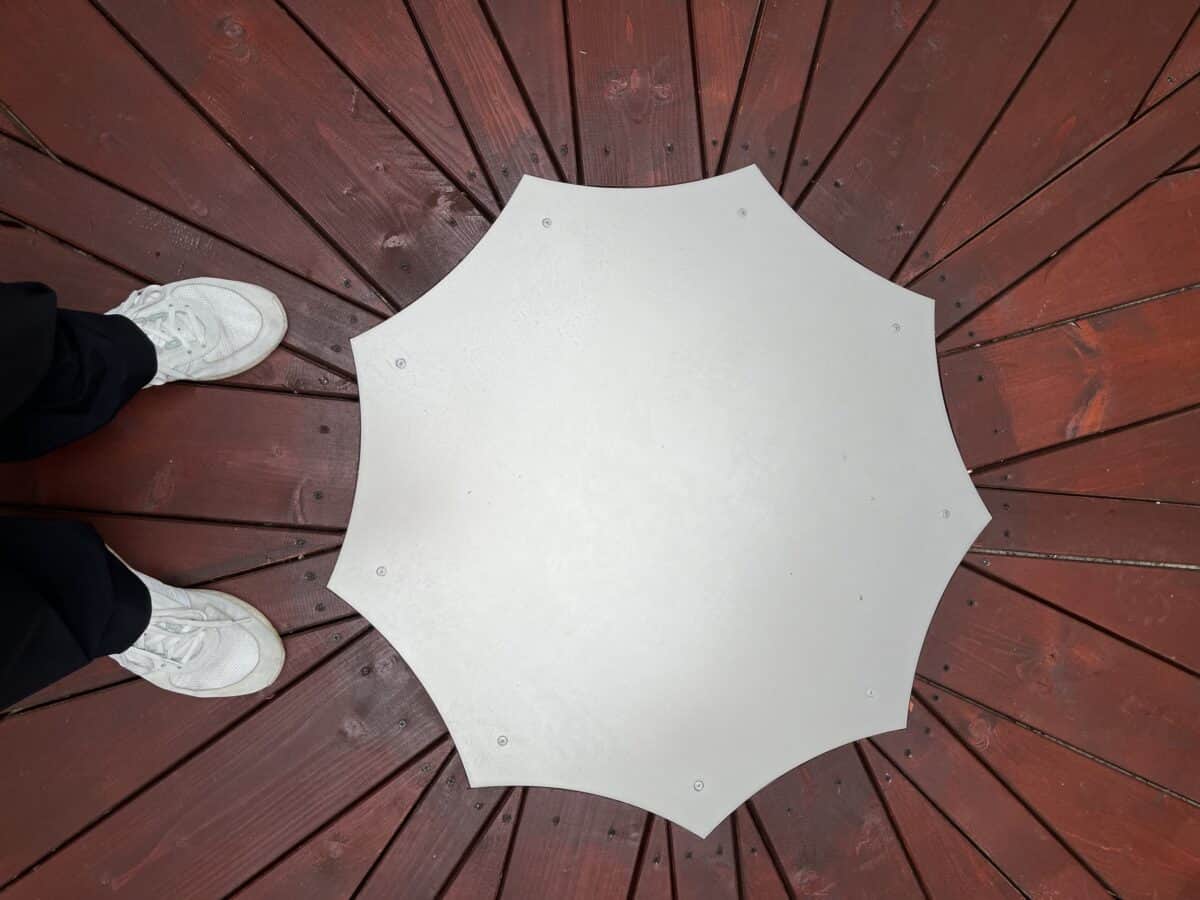 22nd Serpentine Pavillion 2023, À table designed by Lina Ghotmeh — Architecture, 9th June – 29th October 2023.
About the artist
Lina Ghotmeh's (b.1980, Beirut, Lebanon) projects include the Estonian National Museum (Grand Prix Afex 2016 & Mies Van Der Rohe Nominee); 'Stone Garden', crafted tower and gallery spaces in Beirut (Dezeen 2021 Architecture of the year Award), Lebanon; 'Réalimenter Masséna' wooden tower dedicated to sustainable food culture in Paris (laureate of Paris' call for innovative projects), France; Ateliers Hermès in Normandy, first passive low carbon workshops building in France; Wonderlab exhibition in Tokyo and Beijing & Les Grands Verres for the Palais de Tokyo, Paris, France.
Ghotmeh is actively involved in the academic world and has lectured in institutions across the world. She was the Louis I Khan 2021 visiting professor at Yale School of Architecture in United States and Gehry Chair 2021–22 at the University of Toronto, Canada. She co-presides the Scientific Network for architecture in extreme climates and was a member of the Aga Khan Award for Architecture 2022 Jury. Among Prizes, she was awarded in 2021 the 2020 Schelling Architecture Prize, has received the 2020 Tamayouz 'Woman of Outstanding Achievement', the French Fine Arts Academy Cardin Award 2019, the Architecture Academy Dejean Prize 2016 and the French Ministry of Culture Award in 2008.
Her work is currently exhibited at the Cooper Hewitt Smithsonian Museum in New York and was previously shown at the MAXXI in Rome (2021–22) and the 17th Architecture Biennale in Venice (2021). Her projects have been published by Phaidon, RIBA, Domus and Architectural Record.
Under Ghotmeh's leadership, Lina Ghotmeh — Architecture designed the new Hermès Leather Workshops. Titled Precise Acts – Hermès Workshops, a brick structure with impressive spanning arches was inaugurated in April 2023 in Louviers, Normandy, France. She is also the programme director for the Fondation d'entreprise Hermès' sixth Skills Academy 2023, on stone, highlighting innovative approaches to particular materials.
Serpentine Pavilion
This pioneering commission, which began in 2000 with Dame Zaha Hadid, has presented the first completed structures in England by some of the biggest names in international architecture. The Pavilion is realised with the support of technical advisors Aecom. In recent years, it has grown into a highly anticipated showcase for emerging talents, from Sumayya Vally, Counterspace (South Africa), the youngest architect to be commissioned, and Frida Escobedo (Mexico), to Diébédo Francis Kéré (Burkina Faso) and Bjarke Ingels (Denmark), whose 2016 Pavilion was the most visited architectural and design exhibition in the world. Last year's Pavilion, Black Chapel was designed by Theaster Gates (US).
In 2021, the Pavilion programme evolved beyond its physical location for the first time and expanded with a series of Fragments placed across London.
The 22nd Serpentine Pavilion marks the ninth year of support from Pavilion Sponsors Goldman Sachs. Richard Gnodde, CEO, Goldman Sachs International, said
Goldman Sachs is immensely proud of our long-standing partnership with Serpentine. Since 2015, we have been delighted to support the annual Serpentine Pavilion commission and are looking forward to seeing Lina Ghotmeh's incredible À table structure come to life this summer. Lina's focus on the intersection of art, architecture and design, taking inspiration from nature and the surrounding parkland, promises to be truly unique and will provide opportunities to convene, exchange ideas and reflect. Thank you to Lina, the team at Serpentine and all our partners for collaborating on this pioneering project.
Categories
Tags