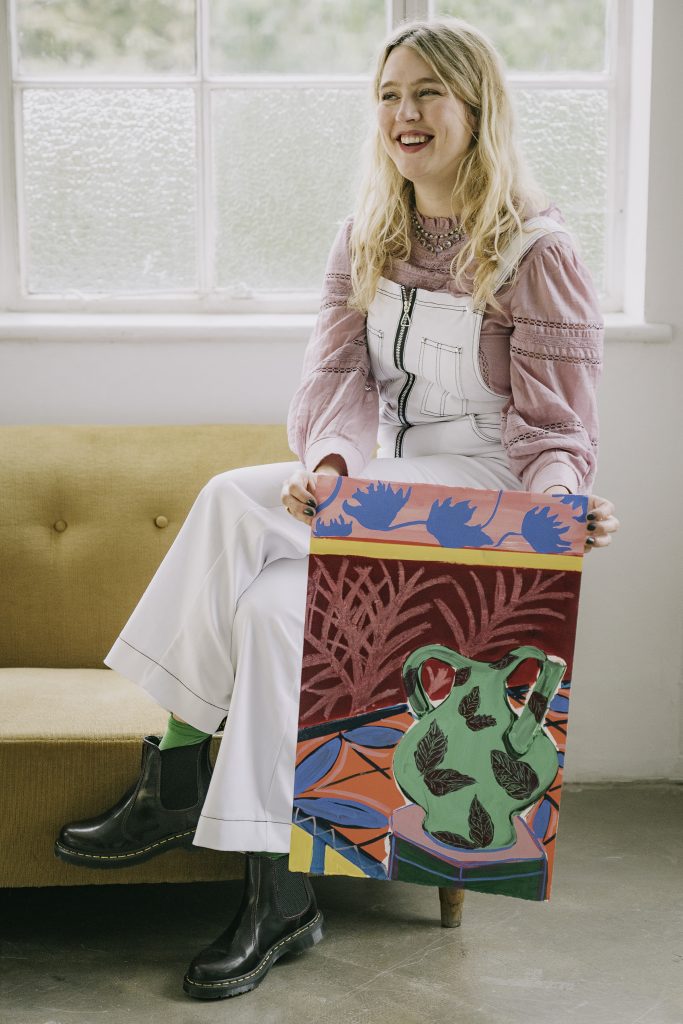 Revealed as part of the BOMBAY BRAMBLE Ripe for Discovery campaign, three up and coming artists have been commissioned in partnership with art-lover and actor Russell Tovey to create distinctive, limited-edition artwork labels. The three selected creators are Alfie Kungu, Charlotte McDonald and Rose Electra Harris.
These innovative artists were selected in partnership with award-winning actor Russell Tovey, a long-term supporter of the arts and co-host of art-focused podcast,  TalkART. 
"It's a pleasure to be given the chance to showcase these three incredible artists at this exciting stage of their careers, and to see their creativity coming to life on these beautiful bottles, which will now live on people's drinks cabinets as pieces of art. Working on this project with BOMBAY BRAMBLE and having the privilege of discovering and curating this host of budding artists embodies what I love about creativity – its power to connect – one artist's creation can go on to inspire creativity in future generations."

Russell Tovey commented 
Do you feel Ripe for Discovery? 
Yes, I hope so!

How has lockdown affected your art practice? 
I had been struggling before lockdown to make new work, I think mostly because I wasn't comfortable in my studio at the time but also, I felt a bit overwhelmed with ideas and things I wanted to try. I spent lockdown in the countryside with my parents and felt more inspired than I had in a long
time because of having time and no pressure to do anything. It took me about two weeks to settle and slightly get to grips with what was happening and then I managed to relax into it and enjoy concentrating on just making work, being out of the city, but also that sense of anything I did was a
bonus as the whole world was going through something very strange.

Has this help from Bombay Sapphire come at a good time? 
100%! Everything is always very up and down: one day you feel good and at ease with how things are going and the next you start worrying that you aren't on the right track. Just before Bombay Sapphire contacted me, I was having one of those worrying moments, so it really ignited a new energy and focus as it was something I really hadn't expected.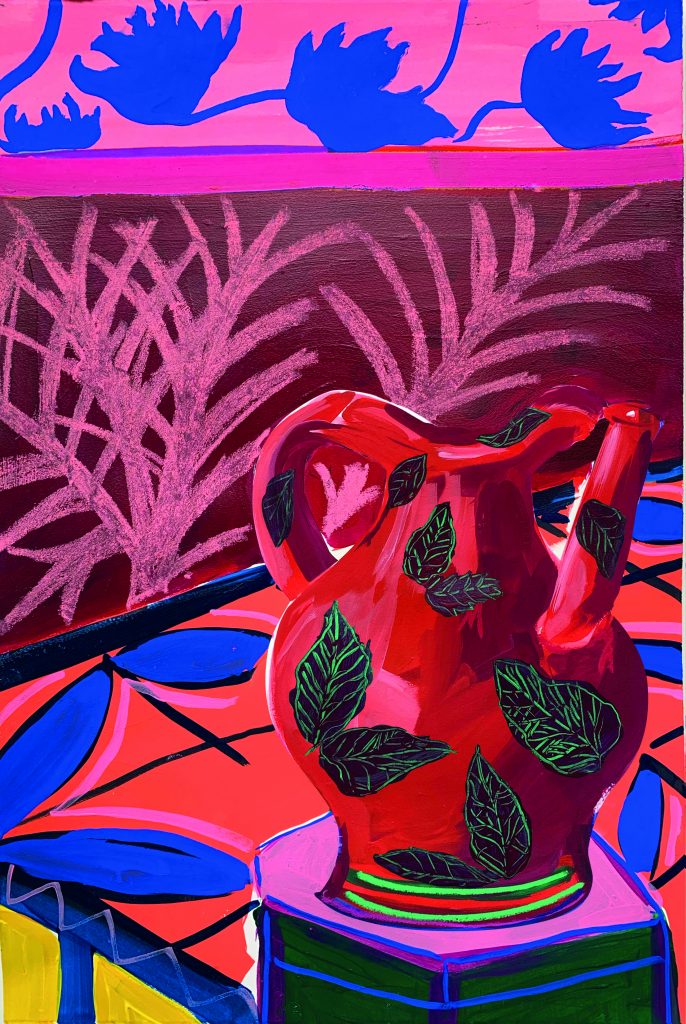 When you were creating your artwork, did you think about how it might look on a label? 
I actually didn't. I thought if I was too concerned with that aspect, I wouldn't actually make anything. I was happy with. I worked on a project last year with the clothing brand Reformation where I painted on recycled skateboards. I referenced this project due to the similar shape of the label and skateboard but then tried not to think about it too much and work as if I was making a composition like normal.
What's your favourite Bombay Bramble cocktail?
Very hard to choose but I'd have to say the classic Bombay Bramble and Tonic.

Do you have any plans for 2021? 
I have just recently moved into a new studio in South Bermondsey which is the biggest space I've ever had, so I'm excited to spend as much time as I possibly can here making new and large-scale work.

How can people find out more about your art practice? 
Follow me on Instagram or head over to my website www.roseelectraharris.com.
Available exclusively on Selfridges.com, shoppers are able to select their
preferred work of art and personalise the bottle label with their own name, or the name of a loved one with eye-catching gold foiled lettering. Shoppers will receive their personalised artistic purchases in limited-edition tote bags that feature a larger-scale version of the artworks.
As part of the project a donation has been made to The Artists' Benevolent Fund – a charity organisation that directly supports graduate artists to help give them the tools they need. At a time where the arts are under enormous pressure, an upfront donation of £10,000, has been donated plus a further 6% of the sales on the first 3,000 limited edition bottles sold via Selfridges.
Categories
Tags