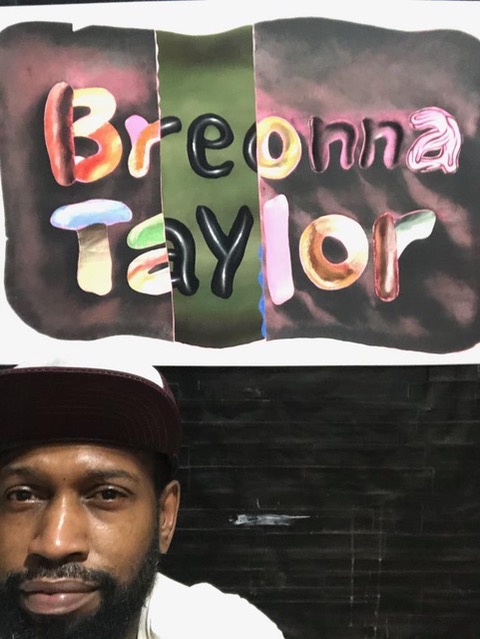 Over 100 Artists Create Protest Signs to Support the Families of Black Women Killed by the Police Online exhibition and benefit auction titled "Show Me the Signs" launches Today October 30, with 100% of proceeds supporting the African American Policy Forum's Mothers Network in conjunction with the #SayHerName Campaign. The Committee Chair is Lauren Taschen.
Over 100 artists have come together for the "Show Me the Signs" benefit auction and exhibition to directly help the families of Black women killed by the police, a systemic problem that has been glossed over in the United States for far too long. These artists have created powerful pieces in the form of protest signs to fight for change. All of the artists have donated their signs to be auctioned, with 100% of the proceeds going to the AAPF #SayHerName Mothers Network.
Founded by AAPF in December 2014, the #SayHerName campaign works with the mothers and families of Black women, girls, and femmes killed by police, to elevate their stories and fight for justice.

"Black women and girls do not fit the most accessible frames of anti-Black police violence, and because of that, it's difficult to tell their stories in a way that people recognize and remember. By working with the families of slain Black women, AAPF's #SayHerName campaign resists Black women's invisibility by telling their stories."

said Dr. Kimberlé Crenshaw, AAPF executive director and co-founder and founder of Say Her Name.

Featuring works by artists across creative industries including April Bey, Cardi B, Jim Carrey, George Condo, Billie Eilish, Aaron Fowler, David Hockney, Rashid Johnson, Bruno Mars, Marily Minter, Nancy Rubins, and Nathaniel Mary Quinn, "Show Me the Signs" brings together a diverse and inclusive collective of creative voices that reinforce solidarity and empower love. The benefit auction will be hosted on Artfizz, a new online community-driven marketplace for contemporary art, which is offering its platform to support the initiative prior to its official launch later this year.
"Breonna Taylor, a human being, was murdered within the cascade of circumstances that fuels a particularly deep sense of sorrow. In 2011, she was a student at the University of Kentucky; she cared for those in need as a health care provider. In the words of James Baldwin, 'not everything that is faced can be changed, but nothing can be changed until it is faced.'"

said Nathaniel Mary Quinn, participating artist and member of the "Show Me the Signs" Benefit Committee

100% of the funds raised will go directly to the African American Policy Forum to support the SayHerName campaign. Following a preview from October 30th to November 9th, the auction will launch for bidding in two parts, with Part 1 running from November 10th to 19th, and Part 2 running
from November 21st to 30th.
All of the signs from the auction will be on view from October 30th to November 14th at Blum & Poe in Los Angeles.

"We thank all of the participating artists who have shared their creative vision to stand for love and equal justice, and to support this important cause, Show Me the Signs' brings the creative community together with
a larger collective to protest police violence against Black women, support the families already impacted, and promote a better future for all."

said Amanda Hunt, Director of Public Programs and Creative Practice at Lucas Museum of Narrative Art and member of the "Show Me
the Signs" Benefit Committee.

To learn more about "Show Me the Signs" and bid online, please visit www.artfizz.com.
"Show Me the Signs" Online Auction www.artfizz.com
Preview: October 30th – November 9th, 2020
Live Auction Part 1: November 10th – November 19th, 2020
Live Auction Part 2: November 21st – November 30th, 2020

"Show Me the Signs" Exhibition October 30 – November 14, 2020 Blum & Poe 2727 S. La Cienega Boulevard Los Angeles, California 90034 For the safety of our visitors, Blum & Poe Los Angeles is open by appointment. To visit the gallery in person, please make a reservation here
About African American Policy Forum (AAPF)
Founded in 1996 by Kimberlé Crenshaw and Luke Charles Harris, African American Policy Forum (AAPF) is an innovative think tank that connects academics, activists and policymakers to promote efforts to dismantle structural inequality. AAPF utilizes new ideas and innovative perspectives to transform public discourse and policy. AAPF promotes frameworks and strategies that address a vision of racial justice that embraces the intersections of race, gender, class, and the array of barriers that disempower those who are marginalized in society. AAPF is dedicated
to advancing and expanding racial justice, gender equality, and the indivisibility of all human rights, both in the U.S. and internationally. To learn more about the African American Policy Forum (AAPF) and its #SayHerName campaign, please visit aapf.org.
About #SayHerName
Launched in December 2014 by the African American Policy Forum (AAPF) and Center for Intersectionality and Social Policy Studies (CISPS), the #SayHerName campaign brings awareness to the often invisible names and stories of Black women and girls who have been victimized by racist police violence, and provides support to their families.
About Artfizz
Artfizz is a new online platform that seeks to foster a community-driven marketplace for contemporary art. Founded on the belief that artists should continue to benefit from the ongoing sales of their work and be a part of their works' continued journey, Artfizz shares half of the commission with the artists whenever their works are resold on the platform. Further details will be announced later this year.
Categories
Tags