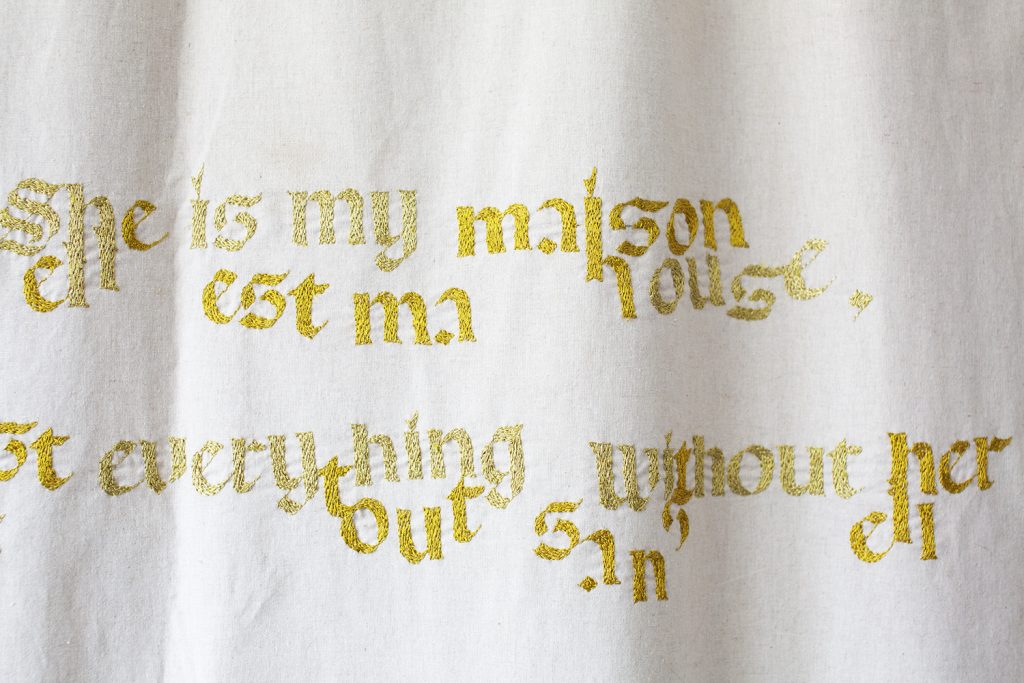 Florence Sweeney was born in Belgium, raised in Essex, and studied Fine Art in Bournemouth before making her way to London where she now lives and works. She recently made the decision to turn one of the bedrooms in her house into an art studio, where she currently works outside of her job as a Location Scout for film.
Her diverse art practice is grounded in sculpture, installation, drawing and textiles, however when speaking with her, you subtly find yourself questioning what the limits of an artwork can be. For Sweeney, the simple act of cutting down a thorn bush for her local community becomes a poetic and philosophical gesture; her careful overseeing of this project during lockdown could be viewed as an artwork in itself. This isn't to say that she does not produce art objects. She is a skilled maker embracing new processes regularly; be they digital, such as 3D printing, or rooted in more traditional practices, as embroidery.
Drawing the viewer in with alluring and confusing surfaces, as well as numerals and texts we long to decode, her work confronts some large subjects, one being death; a topic she acknowledges naturally and thoughtfully. Paradoxically everything about her work screams life; it's slow, but with meaning, flowing powerfully through ideas and materials. She turns the everyday and the simple acts of one's life into art, she calls the art world out on what it has become, and offers a different way to be an artist within it.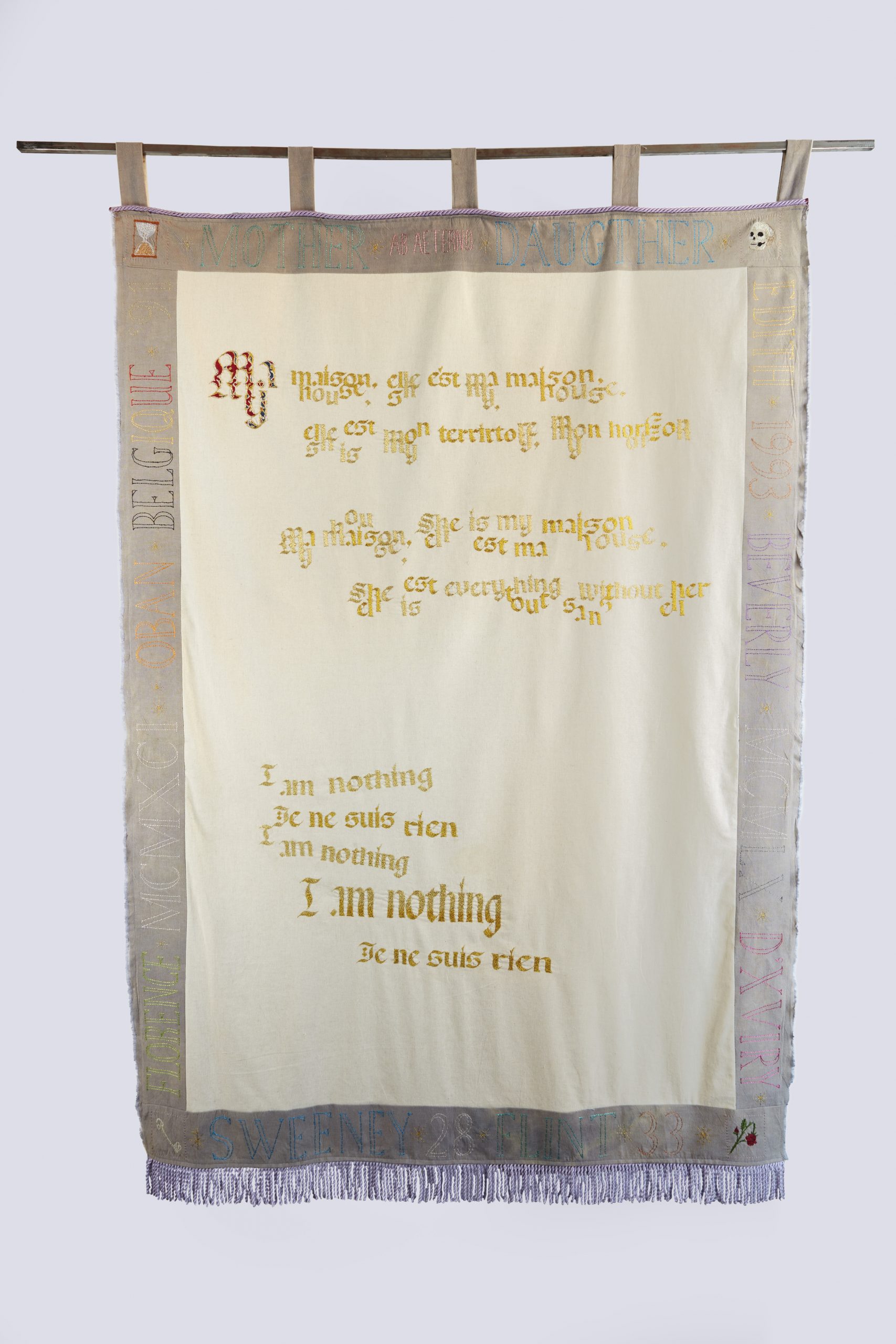 What have you been doing to keep busy this year?
Before lockdown I thought that all I would ever want is unlimited time at home (where my studio is) to do nothing but make work. But when lockdown started I thought I had lost my job and all my income, and the last thing I felt able to do was to make work. Instead, I focused on a task I felt I could control that would be of use to the community, by cutting down a 10ft thorn bush that had long been a burden to all of our neighbours. It felt symbolic to me. My new job was to keep an eye on the incinerator burning the thorn bush, while I sipped beers and smoked in the crisp March evenings. Transforming the inside of the house with DIY and the garden felt like the most important task and the ones I felt most able to concentrate on. My mind felt erratic, so everyday I had to fill it with tasks and to feel some control over the sudden abundance of spare time I had. Once these tasks were done I was able to feel relaxed at home (it helped that I learned later I was only furloughed and not fired) and finally the floodgates to think creatively opened. Since then I have tried to treat each day as if it were my last free day. (I have now returned to work.)
Have you managed to make work during this time?
The decision to move my studio into my home in 2019 has truly paid off during this time. It has been a challenging time in the studio that I've welcomed with some reservations. My time is normally limited to focus on my practice so I felt apprehensive about not wasting all the time I suddenly had. I used the time by exploring those ideas that had previously passed me by, getting inspiration from walking around unexpected spaces like Abney Cemetery in East London, and trying out new disciplines.
The biggest challenge was making work for the #artistsupportpledge as every outcome of experimenting felt too undeveloped to place a price on. It led me through making a multitude of works which mostly I haven't shown. I fully understand why the pledge has been brilliant for some artists, but for me in the context of my practice I felt dubious about it as I didn't want to put a price on experimental works or sell experiments that had been kicking around the studio.
It has made me think more about my own process and I've realised my practice is for life. It's a marathon and not a sprint. A slow practice is just as valid as a high productive artist who churns works out.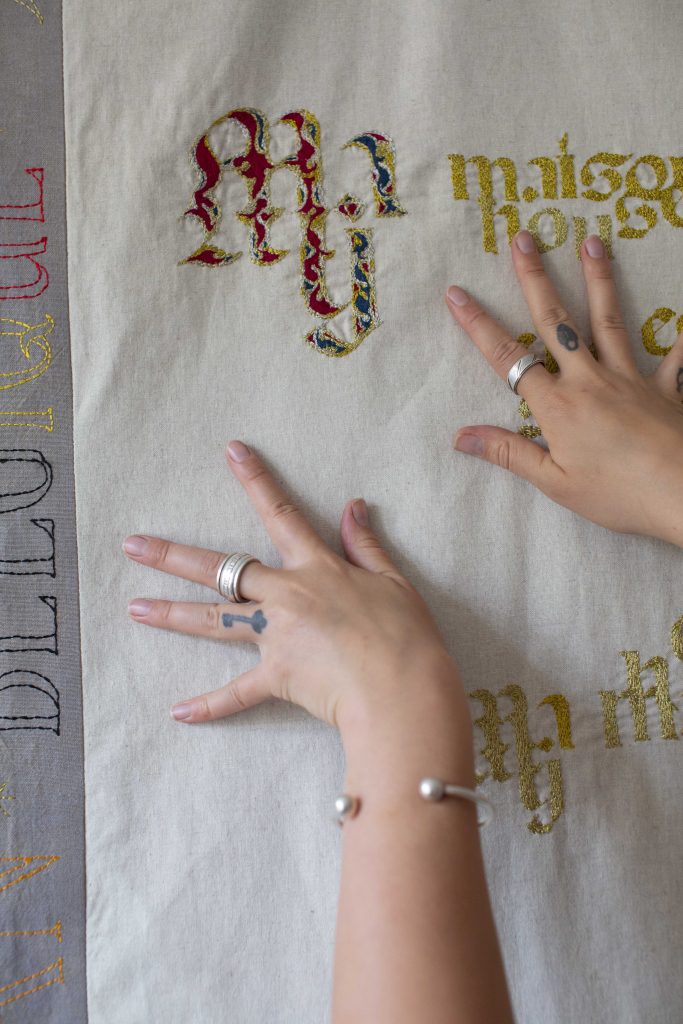 Has your work been affected by it?
I don't think there has ever been a time in my life where I've had 5 months on standstill, unable to go to work or facing crunching deadlines for shows. In this time I have reflected upon the beauty of slowing process and thought down, and have, out of necessity, stopped rushing and running around like an idiot. This is the London effect as the pressures are high and in some ways I duped myself Into believing that it's exhilarating. I had to believe it was to participate in it. As this period of extended lockdown draws to an end I want to implement an attitude where I don't push myself short on my efforts on work due to time. I have to remind myself that I have my artistic practice for the entirety of my life. Regaining agency on this matter has felt somewhat empowering within. If I look after myself first I shall live a long life to make as much work as I like.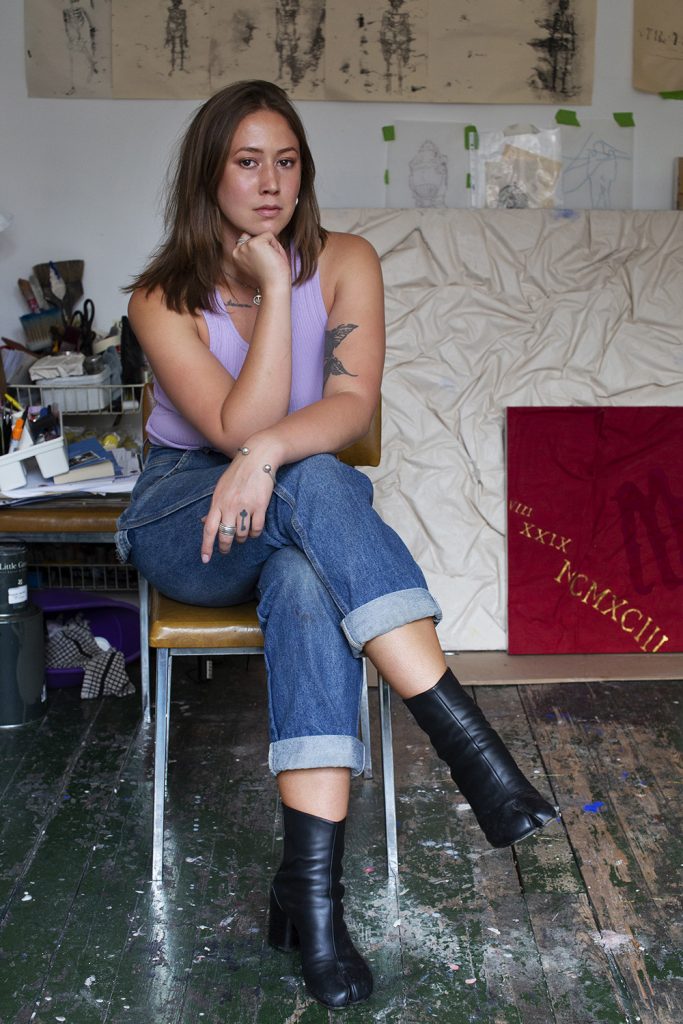 I am very much enjoying the new tapestry works, please can you tell me a bit about them?
The first home I knew was in Belgium, which was built by an Eurovision pop star and his father. The pop star wrote a song about the house called "Ma Maison". My mother adorned the walls with her own artworks, quilts and tapestries, within this architectural project of a house which for various reasons became a kind of prison. Last year or so I was presented with a cassette tape which my mother had recorded creatively with montages of guessing games, children's play etc for my relatives who were also children at the time. The beginning however opens with the song "Ma Maison". In a David Lynchian way, the song is haunting with its dramatic piano keys distorted by the tape. After the song closes you hear my mother's voice – this tape was the way I heard my mother's voice for the first time, as she died when I was very young and I had no memories of what she sounded like. The lyrics are uncannily poignant in relation to the history of the next two maternal successors of that household. The house is a cursed memory for me.
With this new body of work I'm producing tapestries with hand-stitched lettering in English and French, employing a gothic blackletter font, a style that was influenced by Anglo-French aesthetics. These tapestries are my way of reclaiming my voice, of poetically allowing space for the trauma that has happened and the coincidences that happen so often for me.
The Belgium house in my mind was this mythical place where memories were scattered, traumatic and ethereal; it felt like a fairytale. The house was brought to my attention in 2017 when for the first time in 20 years I received contact from my father about the house being in my name and for sale. I can't help but think this is a ruse. The house still remains a broken home, some kind of haunted fantasy.
Where do the words and numerals that feature in your work come from?
I have always had to be quite cryptic about my work, but during my BA I went for it and in the tradition of confessional art, I bared all of my bones. But people didn't think the story was mine as it's quite unusual, so I withdrew into abstract forms of ambiguity, those moody blues et al… I knew timing is everything, and right then it wasn't the time, so brooding in monochromatic paintings helped the process. The numerals are cryptic references to dates and distances of time. Milestones. My mother's resting place no longer exists except for a broken plaque propped up the side of a wall in a country I'm technically not allowed to visit for my safety and, that really fucks with my head, you know? I spend time walking through the magnificent seven graveyards of London taking frottages (rubbings on paper from gravestone) – of the gothic fonts, numerals, poetic language of remembering the deceased. Essentially with my work I am referring in an oblique way to the events of my past.
I love word play and finding coincidental links between them. I have been using sensationalist headlines from newspapers that narrate my background and repurposing them. A tabloid is 'condensed information that is easy to swallow', gripping and eye catching, in some ways this language has been a vehicle for myself to understand the trauma that has happened. But i'm still removed, and viewing it as a stranger for the juicy gossip. The idea of a tablet, tabloid or tableau of information is very much similar to a gravestone.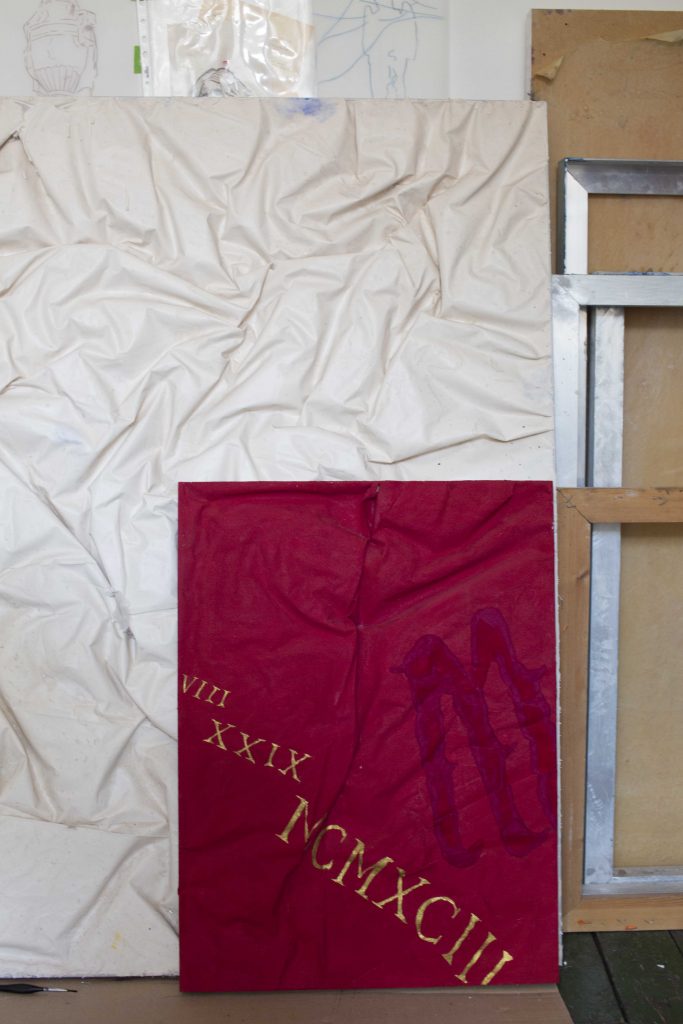 You are very hands on in your making approach and your experimental nature pays off in the surfaces you create. Are you enjoying any new materials recently?
I appreciate that you have noted my experimental nature! I think it is important to try different media and processes out whilst you can and to not limit yourself to one particular kind of practice – as an emerging artist for sure. Interests come in cycles, whether that's for a week or years. For example contemporary drawing was initially my first debut as an artist, then I dropped it. I've borrowed a 3D printer off Harrison Pearce, so I'm about to start experimenting with printing the 3D scans I've taken of fallen urns from Abney Cemetery.
What are you reading at the moment?
I've found Audible to be incredibly helpful for cramming in my booklist whilst in the studio and I've been listening to the following; Mark Fisher's "The Weird and The Eerie", James Joyce's "Dubliners", Sue Black's "All That Remains" and currently reading Toni Morrison's "Beloved", and the works of Friedrich Nietzsche as I've been doing a philosophy course via zoom during lockdown, which was kind of entertaining?
Who inspires you?
I am wholeheartedly inspired by those who have had to fight against adversity to make their dreams happen, I'm here rooting for the underdog. As they were fully aware, no one else was going to do it for them if they didn't do it themselves. I'm always keeping an eye out for such people. In terms of artists my classic go-to's for inspiration are Mona Hatoum, Louise Bourgeois, Faith Ringgold, Sophie Calle – with these women artists they have weaved multiple themes into their work touching on politics, socioeconomics, psychology and sexuality. Their body of works is completely varied, it's not one simple finished product and it breaks away from the limitations of expectation as an artist.
What places inspire you?
I am drawn to locations where you can feel generations of people have passed through, places that time has touched, where the ruins remain in dereliction. Places that you can decode and see how people have utilised the spaces. Epicentres of culture, places that slow you down in pace.
I am very lucky that my job in Scouting Locations in the film industry gives me access to places that aren't that accessible to the public. Whether it be a medieval manor where the Lord of the house was executed for having it off with King Henry VIII's wife and is rumoured to be haunted, or opulent mansions with walls adorned with Caravaggio's, Titian's, Angelica Kauffmans. I love to chat to the keepers of these locations and be given a little private tour. I make sure the place is respected and looked after during filming. It beats the monotony of some 9-5 jobs I've had before.
Have you seen any online exhibitions that resonated with you?
Not really, I've tried to stay offline during lockdown unless necessary. What felt necessary in the moment was how the fault lines in society were being exposed by Covid-19 and then the BLM movement. If I was online it was because I wanted to do better and do my research at a time when Lockdown gave people the time and the head space to fully engage with these issues. What I did not think was necessary was virtual showcases for e.g Art Basel Miami.
Having said that, I've thoroughly enjoyed the art accounts such as @jerrygagosian and @freeze_ @ibruprofen_avocado and @bradtroemel that skewer the art world's pretension and hypocrisy. But now with restricted events with Covid-19 in the winter months I expect to see more online art shows and I hope that they do exhibit what we really do need to be seeing.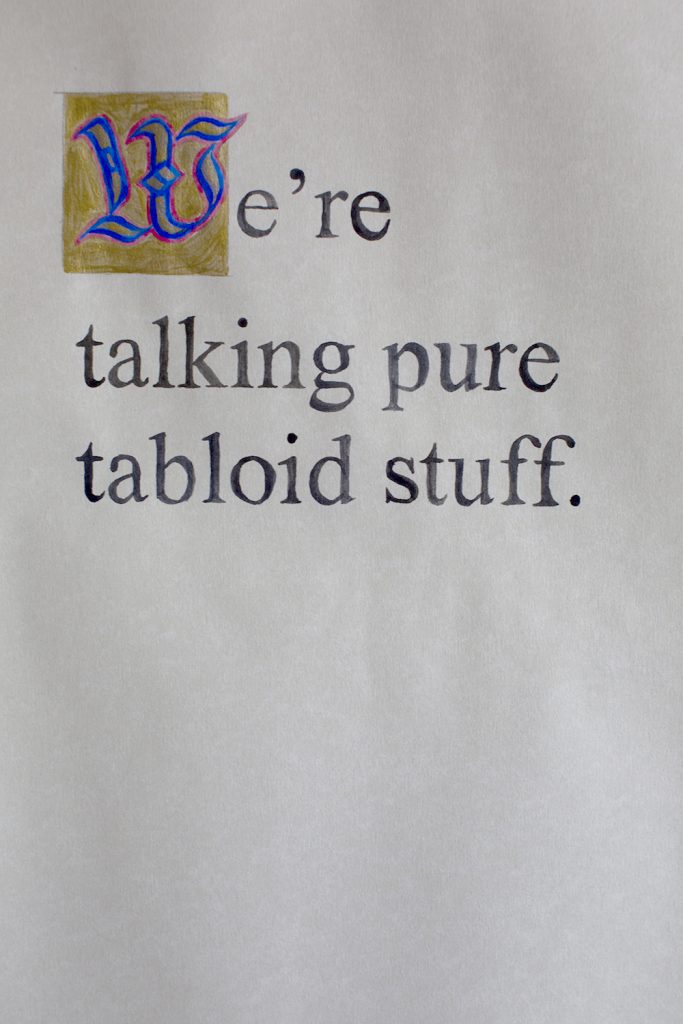 What do you wish you could change about the art world?
It has become quite Inaccessible if you were to follow the traditional channels. University fees are extortionate and the institutions have lost sight of what the student is. There are so many vanity projects set up by vacuous people, there is so little discourse and critique of what's going on. It feels we're in the agreeable "like" movement and as an opinionated person I can't be fucked with it. With Instagram giving everybody visibility the work that is churning out is in such high volumes it's easy to get lost. I strongly agree that artists need to slow down, refuse paying the extremely high fees and being broke, and set their own trajectories and networks. I wanna do a Georgia O'Keefe or Agnes Martin and turn my back on it all and live in an adobe house or be in a commune in Black Rock Mountain, that would be nice.
Have you got anything coming up for us to look out for?
I have a few collaborations in the pipeline that are conversations and ideas bouncing back and forth, such as collaborating with photographer Dolly Brown and contemporary dancer Dani Neugebauer with my latex installations. I'm working with new ideas with friends who are specialists in graphics, sound and video which is leading to a large body of work which I'm keeping a little quiet about. Soon I shall reveal all, just not rushing myself!
Categories
Tags