You could say that 1:54 is the Frieze fair this week – at any rate it's the only real life fair in the city during 'Frieze week'. So it seems only fair to pay it attention. With 25 galleries at Somerset House, the African art gathering named after the continent's number of nations is half the size of recent years, but no smaller than when it launched in 2013. And there are extra works at Christies. It's certainly big enough to contain plenty of interesting works. Here are four that appealed to me: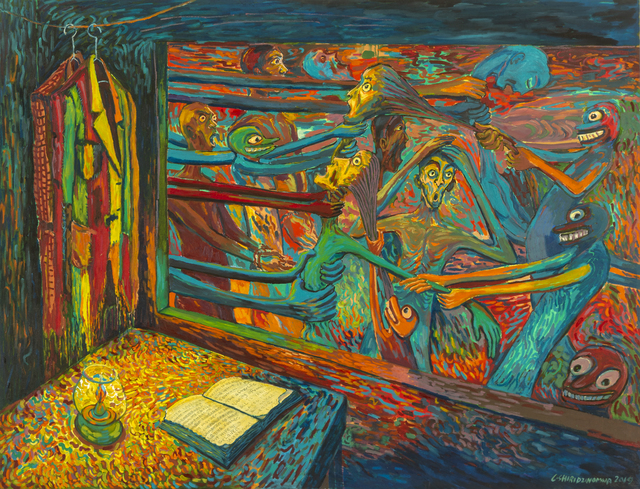 Cosmas Shiridzinomwa: 'Please Read the Book', 2019 at Gallery Delta, Harare.
Over 25 years Cosmas Shiridzinomwa has developed a mode of painting which applies queasy echoes of Van Gogh and Seurat's style to satirise Zimbabwean politics – necessarily encoded given the dangers of explicit expression: 'a lamp may become a beacon of transparency and truth' says his gallery, 'chairs, like thrones, are used to symbolise persons and authority…' Here one has the impression that the wisdom of the book may not be fully applied.

Yoan Sorin: 'Gloves, 2018'  at espace d'art contemporain 14N 61W, Martinique.
From strangling and hair pulling to punching… Yoan Sorin has a varied performatively-led practice – this stand also included his cut-out painting of a fire displayed in the fireplace. His grandfather was a boxer, but the humour in attaching bells to the gloves doesn't depend on that. At first I mistook the bells for cowrie shells…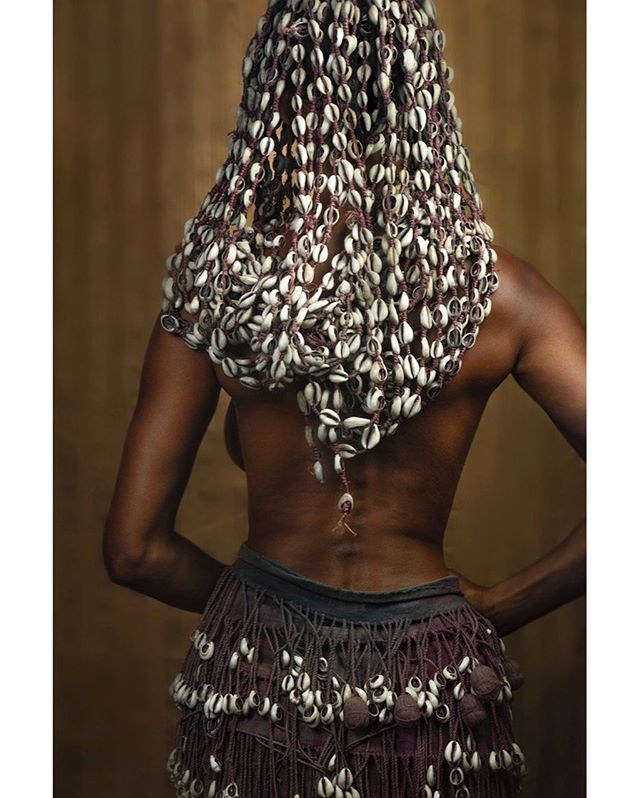 Delphine Diallo: self-portrait from God is a Woman, 2019 at Boogie-Wall, London
Brooklyn-based French-Senegalese photographer Delphine Diallo fuses tradition and modernity on a collaborative basis to assert black female identity.  This is a self-portrait with definite cowries from a series which combines artefacts from New York's Amyas Naegele collection with a particularly direct title. She points out that the shells are a successful currency, and also symbolise the protective power of the goddess of the ocean in many African myths.

Anya Paintsil: Your Mum Eats Like a Camel, 2020 at Ed Cross Fine Art, London
Based in Manchester, Anya Paintsil is a Welsh and Ghanaian artist working primarily with textiles. This semi-sculptural rug-hooking with a real but shell-free addition of synthetic  hair and unusual teeth shows her sister. Presumably the dresser of her hair has just mentioned her mother's appetite in what I take to be the desert equivalent of eating like a horse. Paintsil is showing several such playfully personal and tactile rugs, one of which reveals that her own hair is a good deal less disciplined than her sibling's.
Art writer and curator Paul Carey-Kent sees a lot of shows: we asked him to jot down whatever came into his head
Categories
Tags