The first Photoworks Festival – Propositions for Alternative Narratives can be experienced as a unique, limited edition 'festival in a box' and an associated series of online events with international partners and collaborators.
The box is a portable festival where the audience becomes the curator and decides where and how to install it. The online events, meanwhile, unpack the themes and topics the box addresses. The URL and IRL elements combine to bring together a festival that can be experienced anywhere in the world, rethinking what a photography festival can be and who it is for.
You can reserve your own Photoworks Festival box HERE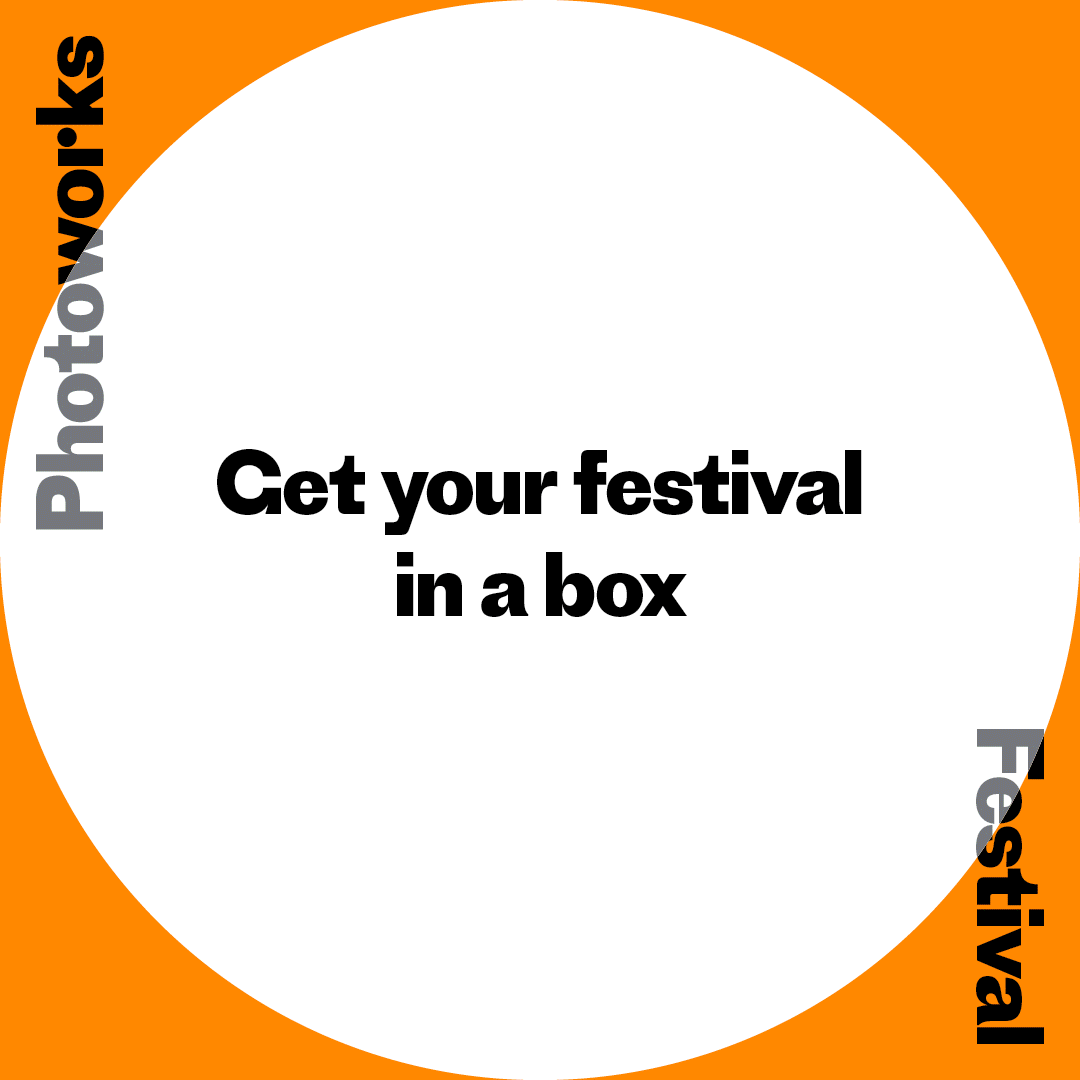 Designed by Swiss artists Gilliane Cachin and Joshua Schenkel, the festival in a box includes artworks by Farah Al Qasimi, Lotte Andersen, Poulomi Basu, Roger Eberhard, Ivars Gravlejs, Pixy Liao, Alix Marie, Ronan Mckenzie, Sethembile Msezane, Alberta Whittle and Guanyu Xu.
Shoair Mavlian, Director, Photoworks explains,
"Each of the artworks can be installed on your own walls: at home, in your office, in a gallery, in your classroom or with your community. There are an infinite amount of ways in which you can install the festival. Use nails, tape or clips to hang in your preferred space. The box also includes a wall label for each, giving more information about the artist and their work. Hang it as a group with friends, with fellow artists or solo. Hang it now for the Photoworks Festival (live until 25th October) and hang it again somewhere else in the future. Or keep it folded, as a special object on your bookcase."
The boxes have also been sent to schools, universities, institutions and artists to share with groups, artists or public audiences. These include GOMA, Glasgow, Stills, Edinburgh, Maison Europe?enne de la Photographie, Paris, C/O, Berlin, Aperture, New York, The Museum of Photography, Seoul, Loading Diyarbak?r, Jerwood Arts, London, Calvert 22, London. Keep an eye on Photoworks' website and the partner's own digital channels for news of how they will showcase to audiences IRL or URL and when.
Photoworks' digital platforms will also be transformed into a festival hub . Events , artist films, podcasts and special content will connect the 'festival in a box' within the virtual realm. A collaboration with Aperture brings Diana Markosian together with Photoworks Director Shoair Mavlian, 'unboxing' workshops will demonstrate interactive ways to curate the box and virtual festival tours will allow audiences to journey the festival with the Photoworks curatorial team. Festival artists will also be in conversation via a series of Instagram Lives throughout October. A practical workshop on environmental photographic practices also takes place, as well as a series of portfolio reviews for practising artists. A new issue of Photoworks' online magazine Photography+ will also be published at the end of the festival.
You can reserve your own Photoworks Festival box HERE
photoworks.org.uk
Alternative Narratives
Photoworks Festival is the reshaping of one of the UK's longest-running photography festivals – Brighton Photo Biennial – and is an idea developed by Shoair Mavlian, Director, Photoworks. It asks what photography festivals can be and who they are for. As well as the festival in a box and online programme, a series of billboards will be installed across Sussex, connecting with a local audience.
The Photoworks Festival forms part of Photoworks' 25th anniversary year and is a major component of Alternative Narratives, the Photoworks programming theme for 2020. Led by Mavlian and grounded in ten years of curatorial research, Alternative Narratives attempts to rework traditional histories and rethink cultural hierarchies to support artists whose work has been lesser seen and under-acknowledged to date. The festival challenges the idea of a linear narrative of photography, instead suggesting a more complex and interconnected revisionist history which helps build a fuller and more nuanced story.
Photoworks Festival Propositions for Alternative Narratives is curated by Shoair Mavlian, Julia Bunnemann (Photoworks Curator) and Raquel Villar-Pe?rez (Photoworks Assistant Curator).
Categories
Tags