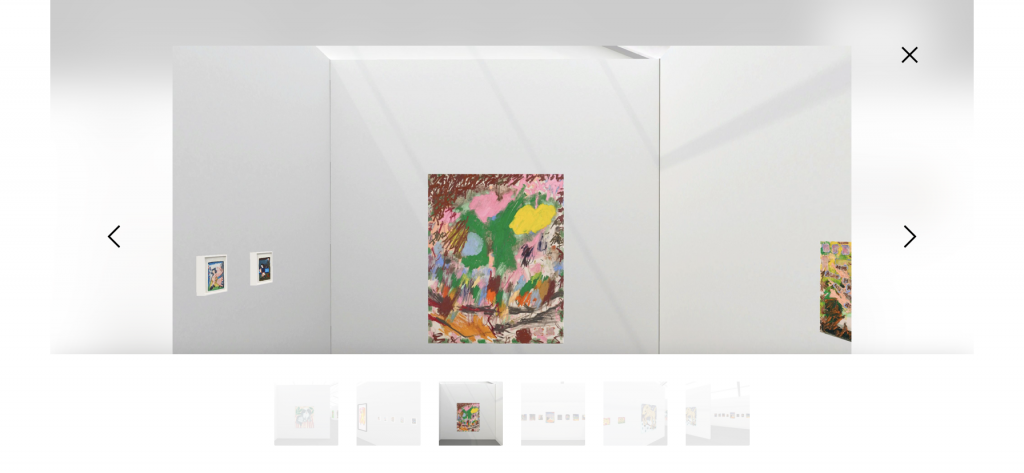 Install Shot Sim Smith at UNTITLED,ART 2020 photo: Mark Westall on iPhone XR
UNTITLED, ART opened online yesterday and we had a sneak peek, in the limited time we had in it /on it? its v cool, lots of fun, way better than other online art platforms we have been bombarded with so it's definitely worth having a go artland.com/untitled-art-online. You can navigate via a 3D map thing or if you are like us you can just use a simple list (phew) the work looks great and it's v easy to talk to the gallerist about the work and v easy to buy (maybe too easy).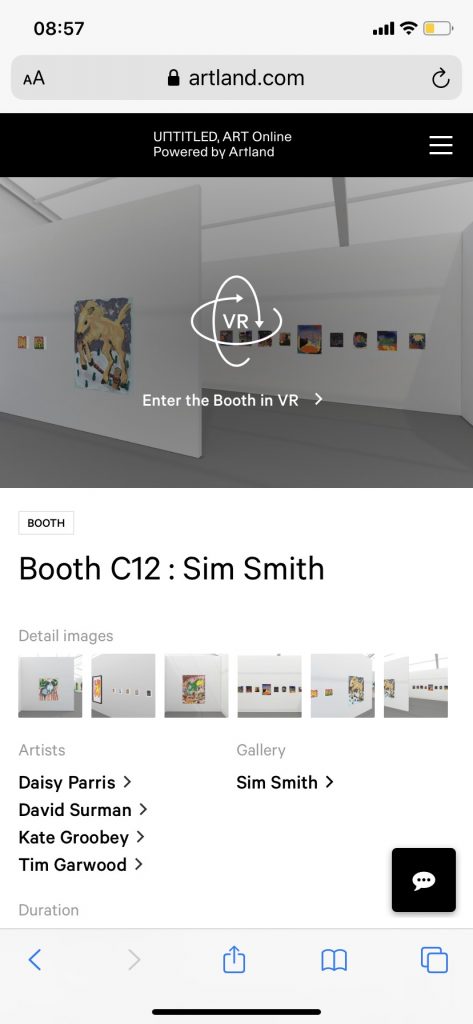 We will have a proper look today but what we really wanted to know was what was it like for an exhibitor, what are their expectations, what did they show, how easy is it to use etc so we asked our good friend and gallerist Sim Smith. Answers are below.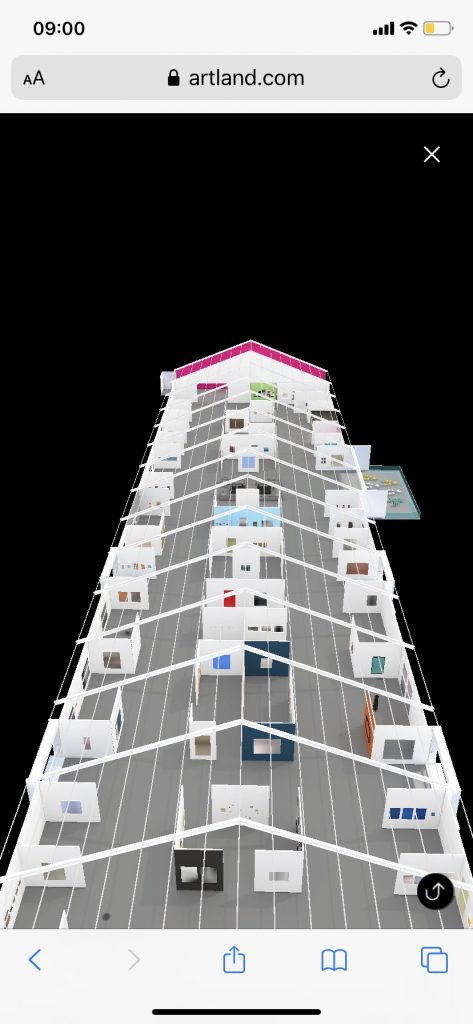 1 What expectations do you have of the fair?
We are very intrigued to see how people react to the experience. At the moment, perhaps more than ever, I think it is a time to be ambitious and experimental. At the gallery we are pushing hard for this and we have found that the team at UNTITLED, Art are a very likeminded group.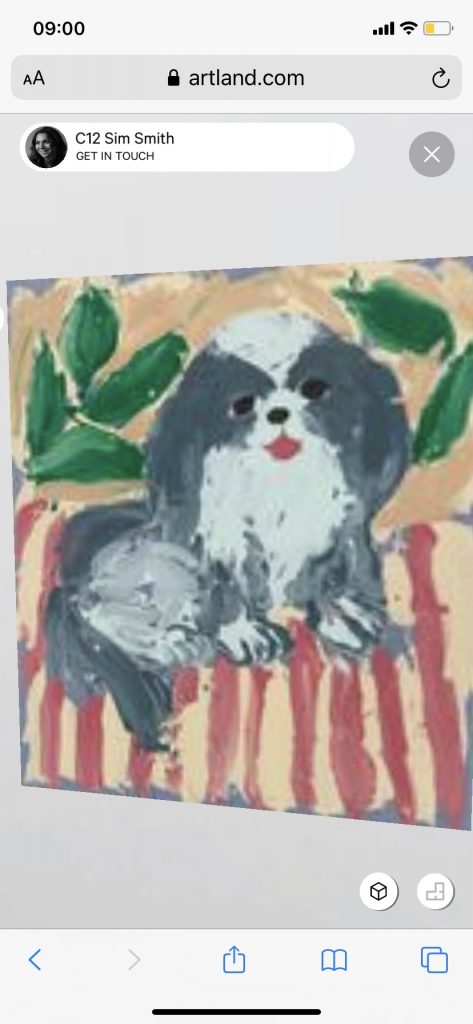 David Surman Demon Hunter 140 x 160 cm $10,000 Sim Smith UNTITLED, ART 2020
2 How many works / artists are you showing? Was there a limit?
We are showing Tim Garwood, Kate Groobey, Daisy Parris and David Surman. By the end of 2020 all four artists will have had solo exhibitions at the gallery. They are a brilliant group of artists to work with.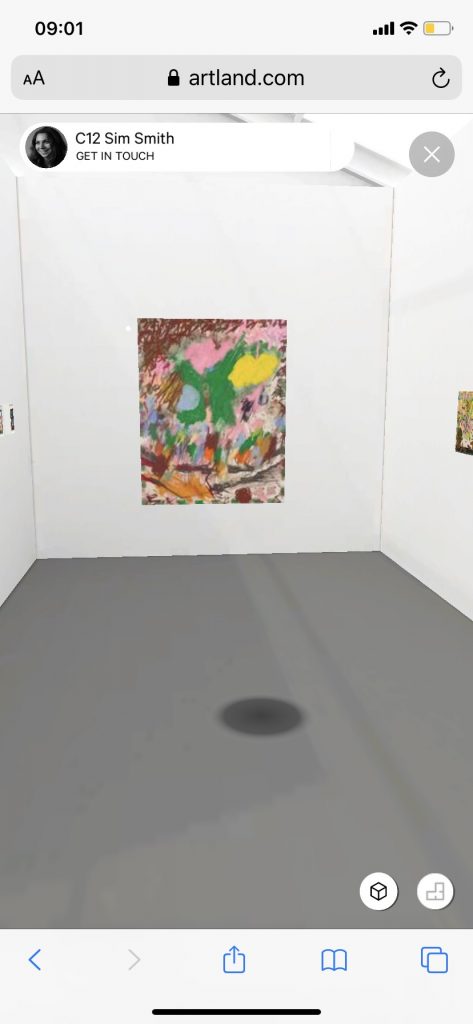 Install Shot Sim Smith at UNTITLED,ART 2020 photo: Mark Westall on iPhone XR
3 Was the platform easy to use did you get a lot of support from Untitled?
The teams at UNTITLED, Art and Artland were brilliant at pre-empting what the organisation of a virtual reality fair might entail for a gallery. They took on an enormous amount of work to make the opening of the fair a success and we look forward to working together again in the future.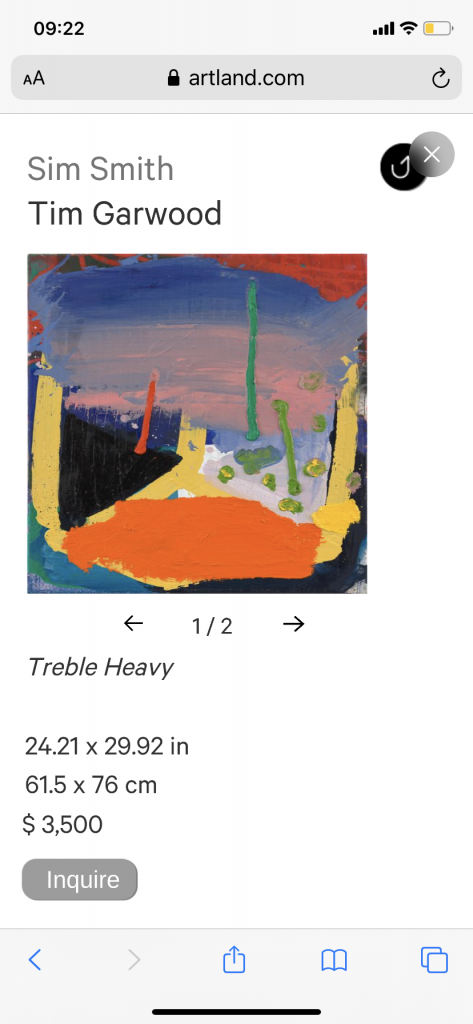 4 Is it nice to avoid all the transportation of a real life fair?
I think it's a different thing rather than a replacement but of course it's nice to not have to ship works half way round the world, even if we're just speaking in terms of environmental impact.
5 Have you had time to have a walk round the fair ?
We've had time to check out how the whole thing works technically which is useful to be able to help our collectors navigate the fair. We had a quick look around while the booths were being built and I'm looking forward to having a proper look around in the next couple of days.
6 Any drinks / dinners planned for during the fair?
I anticipate having dinner and drinks with my chatbot that I have been assigned by the fair.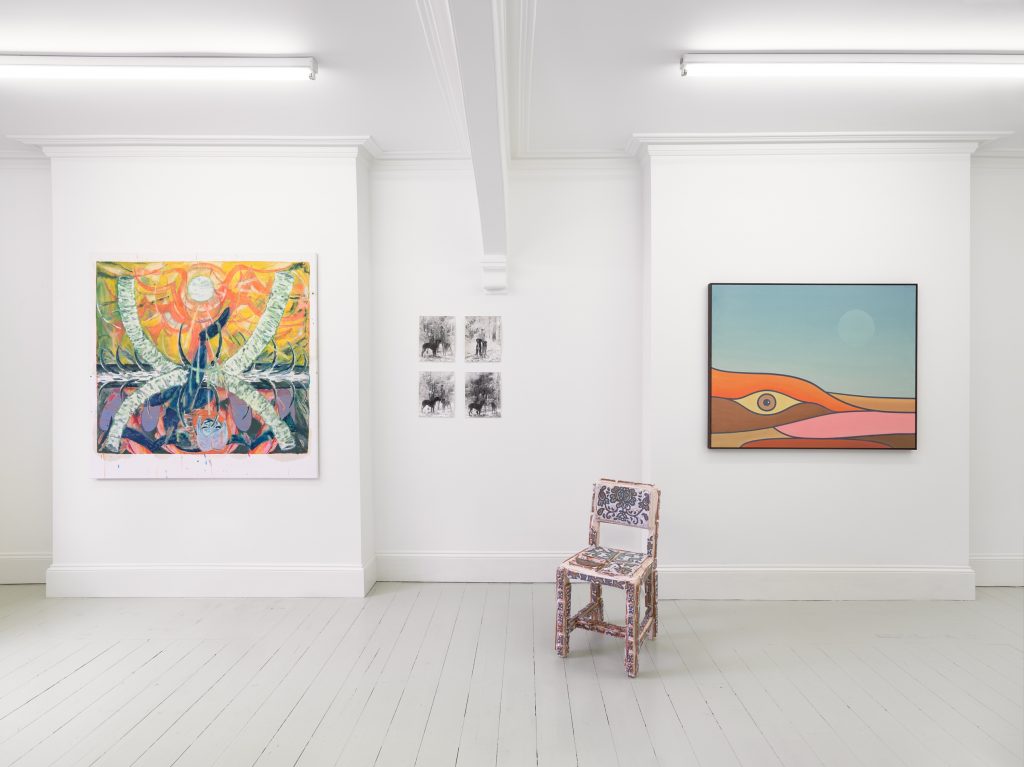 Install shot, New Raw Green – 15th August Sim Smith
7 Are you or your artists involved in any talks , events during the fair run?
No. We have a group show (New Raw Green) on at the gallery at the same time and are open for viewings over this weekend.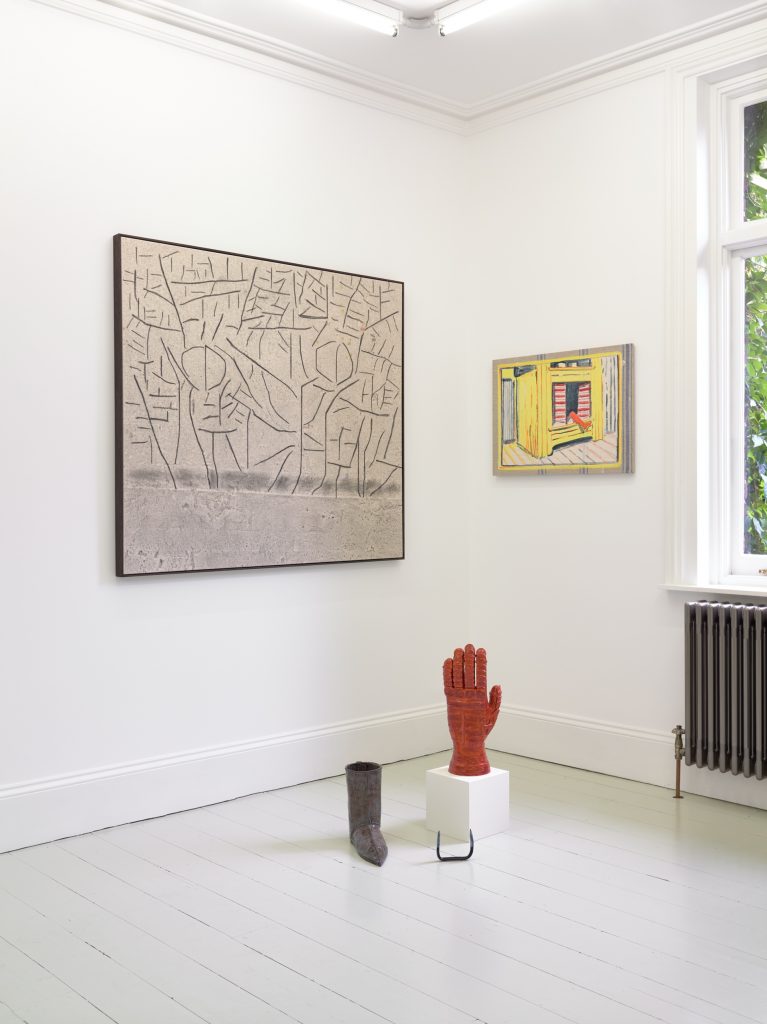 Install shot, New Raw Green – 15th August Sim Smith
8 How has the gallery coped with the lock down etc
It has been a strange time. I was in NYC just before it locked down and wasn't sure what to expect going into a pandemic when I returned to London. We held an online show when we were in total lockdown and have now resumed by appointment but we have seen record sales since April and things are continuing to look strong. There will be no August break this year! I think moving forward we are all going to have to be agile and responsive to a changing landscape, something I think UNTITLED, Art have done with this fair.
9 Any more shows , fairs planned for the rest of the year?
We have shows planned throughout the end of this year and through 2021. Our next show is a Kate Groobey solo which will open in September. We are keeping an open mind when it comes to fairs, collaborations and other opportunities. I think at the moment it's important to find the right fit and like-minded people who can help develop what the future may look like.
UNTITLED, ART Online The first-ever VR fair, using the very latest technology and hyper precision to create a vivid, realistic, and memorable virtual art fair experience never before possible. Now Open
artland.com/untitled-art-online until August 2nd.
UNTITLED, ART is an international, curated art fair founded in 2012 that focuses on curatorial balance and integrity across all disciplines of contemporary art. UNTITLED, ART innovates the standard fair model by selecting a curatorial team to identify and curate a selection of international galleries, artist-run exhibition spaces, and non-profit institutions and organizations, in dialogue with an architecturally designed venue. Founded in Miami Beach in 2012, UNTITLED, ART expanded to San Francisco in 2017.The next edition of UNTITLED, ART will take place in Miami Beach from December 2–6,2020.
New Raw Green – 15th August 2020 @simsmith_ Gallery visits by appointment only. View full exhibition online at
sim-smith.com
Sim Smith is based in Camberwell in a quintessential Georgian townhouse and garden. The gallery supports and promotes artists who are at an emerging stage of their career, championing new talent and nurturing ideas and projects that may not be able to be realised otherwise. The gallery runs a diverse exhibition program showcasing new and existing artists work in group and solo shows as well as off-site projects, collaborations and art fairs internationally.
Categories
Tags