Delphian Gallery, 'Navigating The Art World: Professional Practice for the Early Career Artist', supported by Foolscap Editions.
Delphian Gallery co-founder and co-director Benjamin Murphy recently sat down with art historian, writer and curator Hector Campbell to discuss their annual Open Call, the Delphian Podcast, their Lockdown Editions initiative and their inaugural publication 'Navigating The Art World: Professional Practice for the Early Career Artist', supported by Foolscap Editions.
Hector Campbell: Delphian Gallery recently announced the publication of its inaugural book, 'Navigating The Art World: Professional Practice for the Early Career Artist', which will include advice and recommendations aimed at providing informative support to emerging artists. What are your hopes for the book? And could you give us some insight into the advice it contains? 
Delphian Gallery (Benjamin Murphy): Our main goal for this book was to try and pull back the curtain a bit, to discuss some of the lesser talked about topics that are often obscured from view. We wrote a list of things we wish we had known at the beginning of our careers and set about trying to shine some light on those subjects.
We especially wanted to highlight some of the issues that cause unnecessary stress to artists early on in their careers, and give a little insight into how to avoid them. As an example, we talk about the insecurities created by reflecting too much on ones own "success", and comparing our careers to those of others. Everyone has these same concerns, even artists at the top of their game, but obviously most people hide these insecurities and, therefore, everyone feels like they face them alone. We wanted to be very candid, and talk about the lows as well as the highs. It's not a "how-to" guide to success, rather a road map to help you along the way.
Delphian Gallery, 'Navigating The Art World: Professional Practice for the Early Career Artist', supported by Foolscap Editions.
H.C: Contributions to the book have come from Rosalind Davis, Jordy Kerwick, Paul Weiner, Hedley Roberts, Claus Busch Risvig, Guts Gallery and myself, either in the form of opinion pieces or interviews. How important are these guest writers to the book? And how else has collaboration helped make this book a reality? 
D.G: From the very start we thought it was important that we do not try to act like an authority on anything. The whole book is written from that viewpoint – we are not claiming to be experts – and are wary of people who claim to be, as there is no one set route to career progression in the creative industries – but we are sharing some of the things we have learned along the way (both as artists and as gallerists) that we thought might be useful. 
In certain areas, we thought it would be beneficial to call in others whom we think will have some interesting insight to share their wisdom. We always wanted the book to be both interesting and useful, and we have no need for all of that wisdom to come from us, it's not a vanity project.
H.C: During the Covid19 pandemic lockdown, Delphian Gallery launched 'Lockdown Editions', an artist support initiative releasing timed edition prints, with 100% of profits going directly to the artists. Over the course of the past few months, you have released prints by Lucia Ferrari, Matt Macken, Igor Moritz, Moley Talhaoui, Una Ursprung, and many more. What has the public reaction to this project been like? And how have the artists involved benefitted from the financial support? 
D.G: The project went down super well, I think. We were able to raise over £20,000 for artists during the lockdown, which was needed now more than ever. In times of economic crisis it is obvious that art sales need to adapt, so keeping the prints at £100 makes them affordable and accessible for people in a time where everyone is tightening the purse strings. Them being time-limited rather than limited to some arbitrary number means that there is theoretically no limit to how much each artist can make, whilst also keeping them desirable.
Delphian Gallery, 'Lockdown Editions'.
H.C: This year your annual Delphian Gallery Open Call received thousands of submissions, and 39 artists have now been selected with the help of guest judges Kristin Hjellegjerde, Tabish Khan, Henrik Uldalen, Wingshan Smith, and Rhiannon Salisbury. Could you give us an insight into the judging process, and just how you deal with that amount of submissions? 
D.G: February is always a long month for us, as we have to spend a large part of each day reviewing submissions. One of the benefits of doing it through the hashtag is that we can review them from our phones wherever we are, that's a large part of how we manage it. Last year we were in San Francisco hanging a show and every so often one of us would have to sit down to review some submissions so they didn't get on top of us.
In terms of logistics, we pull together a long list of a few hundred submissions and put these in a document for the judges. We omit all biographical data from each work so that the work speaks totally for itself, and the judging process can be as unbiased and as democratic as possible. The judges then each fill out the document giving scores for each work, and we collate these to determine who the winners are. It's a very long process, but it's as accessible and fair as possible, and that's the most important thing for us. It's also completely free to enter which is another big thing for us, we wanted it to be as open an open call as possible.
H.C: Your Delphian Podcast, which features interviews with artists, curators and gallerists, is approaching its 30th episode. Do you have any stand-out moments from previous podcasts? And who would be some of your dream podcast guests? 
D.G: We recorded one inside a cupboard at Andy Dixon's LA studio last year which was an interesting experience. To be honest, and apologies for the cliche here, all of them are special to us because we wanted the podcast to be a vehicle for us to give others a platform, and to have as many voices and opinions heard as possible. Our aim is to always shut up and to let the guest speak as much as possible, and hopefully we're achieving that. 
Jake Chapman is one of the dream guests, and he's onboard we just need to work out a time that works for all of us.
Andy Dixon in his Los Angeles studio. Photography by Nick JS Thompson.
H.C: Social Media has always played an important part in your running of Delphian Gallery, with the aforementioned Open Call operating entirely through hashtags and your side account Daily Contemporary Art providing weekly takeovers to artists or art world practitioners. With the Delphian Gallery Instagram account passing the 100,000 followers mark in April, could you speak to the role that social media can play for both artists and galleries? 
D.G: As we've said in the past (and reiterated in the book), social media is an incredibly powerful business tool, and should be treated as such. We would never dream to delegate this responsibility to anyone else, and yet it seems like a lot of galleries do just that. Social media is now the first point of contact for many businesses to link up with their customers, fans, and contemporaries, and it should be utilised to its full potential. The same goes for artists: neglect it and you're only shooting yourselves in the foot.
H.C: Both yourself and Delphian Gallery co-director and co-founder Nick JS Thompson maintain individual careers as artists, with Nick recently releasing a selection of photography box sets as part of the Artist Support Pledge, and yourself working towards completing 100 monochromatic portraits of contemporary artists. How do your experiences as visual artists inform your role as gallerists, and vice versa?
D.G: I think it has taught us just how much goes into the makings of a career as an artist. It has taught us to take proper care of all of the admin and business that comes with being a professional artist, as, for most of us, no one else is going to do that for you.
Delphian Gallery co-founders and co-directors Benjamin Murphy & Nick JS Thompson working during lockdown.
H.C: Sadly your most recent exhibition, Florence Hutchings' solo exhibition 'The Doors of Perception' in Paris, had to be postponed due to the Covid19 lockdown. Do you have any plans to reschedule that exhibition? Or do you currently have future plans for any physical exhibitions? 
D.G: We definitely plan to host the exhibitions we have postponed, but obviously it's impossible to say right now when these will happen. We have been playing with ideas for a new type of online show that if it turns out to be workable, will be amazing. I'm not going to say any more about that just yet, but it's exciting…
Delphian Gallery's inaugural book, 'Navigating The Art World: Professional Practice for the Early Career Artist', supported by Foolscap Editions, is now available to preorder.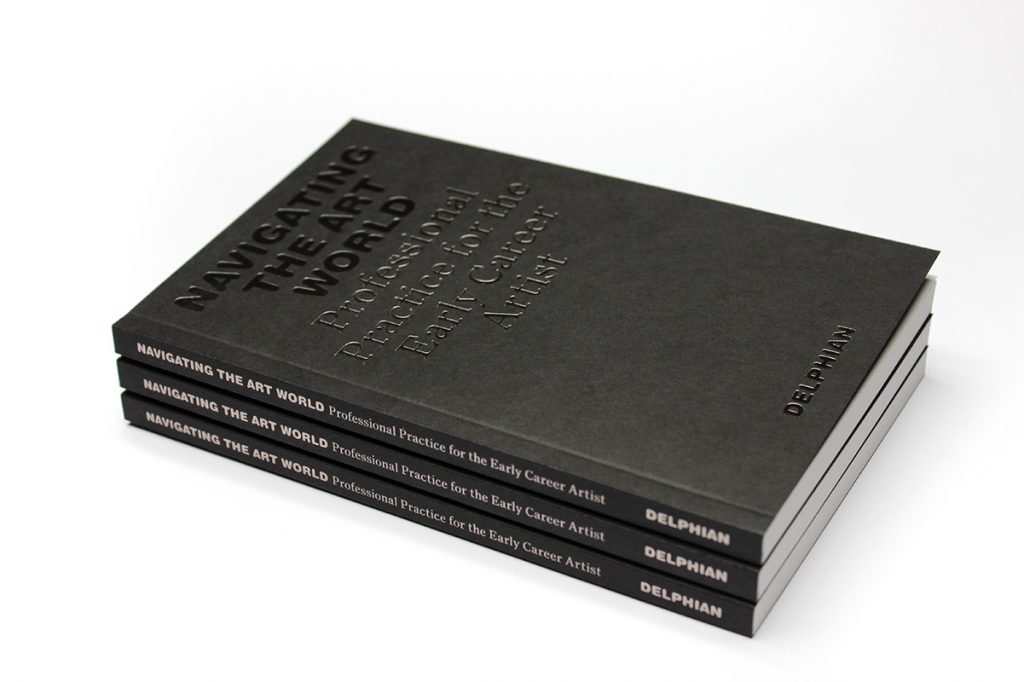 Delphian Gallery, 'Navigating The Art World: Professional Practice for the Early Career Artist', supported by Foolscap Editions.
Categories
Tags