Goldsmiths Centre for Contemporary Art presents SOLOS, a series of new commissions by Appau Jnr Boakye-Yiadom, Emma Cousin, Lindsey Mendick and Hardeep Pandhal. All four are early career artists who have been making work at home or in their studios throughout the lockdown.
The programme has been specifically devised as a commissioning structure with which to support the creation of new work during a time of severe precarity, by artists who are part of the CCA's community (either by being based in South East London, or by having worked with us previously).Each artist will make a solo exhibition in an individual gallery in the CCA. Their work either explicitly, or implicitly, tracks the impact of lockdown on their practices.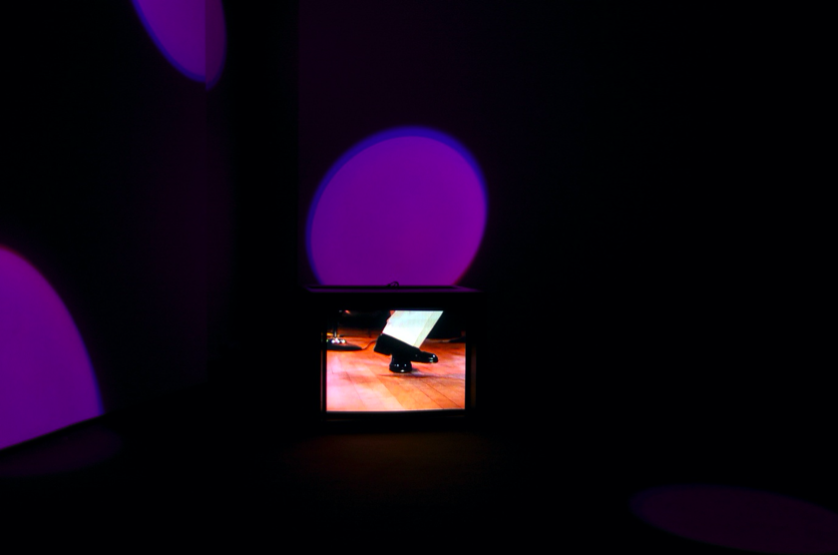 Appau Jnr Boakye-Yiadom, 4 minutes 6 conversation, 2014
Appau Jnr Boakye-Yiadom's commission will see him learn to play the drums, in real time across the show's duration in the gallery space. In this he draws on previous works that deploy drumming as an improvisatory medium that intercuts across video and sound work. This endeavour will continue this interest, exploring structures of support and investment, and how infrequently we are given the space to learn new skills.
Boakye-Yiadom works across ready-made objects, sound, sculpture, photography archive and self-produced moving image to create installations with multi-layered references. His works draw on plurality and cultural complexity, seeking those instances where cultures collide merge, grow and complicate. Incorporating snippets of film footage and fragments of sound into works, alongside collaborating with musicians for live improvisations, he employs an ongoing process of repurposing and re-mixing in reference to the way that cultural products inform each other and evolve continuously.
Emma Cousin will present large-scale paintings on canvas, scaled to the body. She will also make new drawings directly onto the gallery walls. In her images, made during lockdown, Cousin examines digging as a grounding metaphor for her process as a painter; for its associations with exhaustive exertion, moving through layers of memory, and uncovering root systems as both support structures and threatening protuberances. As such she brings to bear the body and auto-biographical detail on social critique, probing the strictures of lockdown that have exposed our reliance on each other to be both violent and intimate. In her figurative paintings and drawings Cousin stages complex explorations of semiotics, social conventions and body language. Darkly comic parades of characters contort across the canvas and spring from the examination of particular linguistic idioms and sayings; themselves the product of centuries of social habitus and convention. Her figures, in their interactions, excesses, leakages, and gurns, explore the expectations placed on our bodies, and the ways we navigate our limits and drives.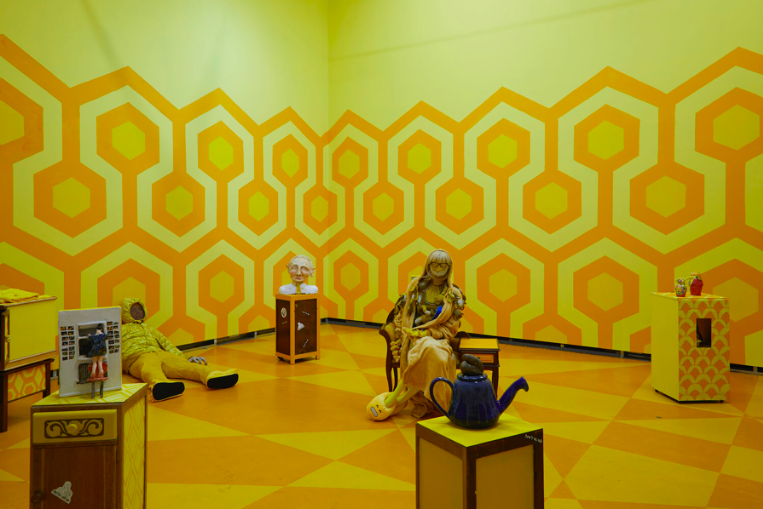 Lindsey Mendick, The Yellow Wallpaper, at Eastside Projects, Birmingham, 2020.
Lindsey Mendick's new works revolve around her relationship with her fiancé, who she became engaged to during lockdown. Their shared love of B-movie horror informs Mendick's installation which features paintings, stained glass, ceramic objects and miniature dioramas to create a vampiric love story. The works incorporate iconic objects that have come to represent the lockdown period, pitching humour and personal history into the gothic genre, one that traditionally transports us out of the lived reality into fantastical spaces. Mendick's practice is hinged to her skilled work in ceramics, which she describes being drawn to for its tactile nature and its desire to be manipulated by the maker. She also embraces banner painting, sewing, metalwork, furniture making and sound within her autobiographical practice. By playfully combining low culture iconography and high culture methods of construction, Mendick creates humorously decadent and elaborate installations that enable the viewer to explore their personal history in a cathartic fashion.
Hardeep Pandhal presents a new narrative-based work exploring the inner trappings of a fictive art school environment and the structures upon which it is upheld, whilst considering in equal measure both the emancipatory and stultifying effects of its workings. His work will manifest both physically and digitally in the gallery spaces; reflecting the migration of artworks from physical space under the restrictions of lockdown. Pandhal works with writing, graphics and voice to transform feelings of disinheritance and disaffection into generative spaces that bolster interdependence and self-belief.
SOLOS will open alongside an exhibition of work by the pioneering filmmaker, artist, writer and teacher Hollis Frampton, the first UK retrospective of his work in photography to date; and an exhibition of painting by East Sussex-based artist Sophie Barber.
SOLOS 18th Sept–13th Dec 2020 Opening Event 18 Sept, 1pm–8pm TBC @goldsmithscca
About the Artists
Appau Junior Boakye-Yiadom (b. 1984, London) lives and works in London. He graduated with a Postgraduate Diploma in Fine Art from the Royal Academy of Arts in 2008. Recent exhibitions include: Jerwood Solo Presentations, London (2019), Before: Adaptive Rhythm, Black Tower Projects, London (2018, solo); The Weather Garden: Anne Hardy curates the Arts Council Collection, Towner Art Gallery, Eastbourne (2019); Michael Jackson: On The Wall, Touring National Portrait Gallery, London, Paris Grand Palais, Paris, Bundeskunsthalle Bonn, Germany (2018/19); V22 Young London, London (2018); Scenes from a Chasm, Cuchifritos Gallery, New York (2018); 13th Dak'Art Biennale, Dakar (2018); Screening works for Hanging Out, Artists' Moving Image Festival, LUX Scotland, UK (2019), Nocturnal Creatures, Whitechapel Gallery Festival, London, UK (2019)
Emma Cousin (b.1986, Yorkshire) lives and works in London. Solo shows 2018/19 include: Milton Keynes Art Centre; Dolph Projects, Lewisham Arthouse Gallery and Edel Assanti Gallery, London. Recent group exhibitions 2019/20 include: Jerwood Visual Arts show 'Survey' at The Baltic Newcastle, Bluecoats Liverpool and G39 Cardiff; 'Ultra' at J.Hammond Projects London; 'Fumblelove" at ASC Gallery, London; 'Ridiculous' at Elephant West; Soft Bodies, at Castlefield Gallery, Manchester and 'Outlines' at Austin Desmond Gallery, London. Emma is a visiting lecturer at Sotheby's and teaches on Foundation at the Art Academy London. Emma graduated from Ruskin School of Drawing and Fine Art, University of Oxford in 2007. She started her own project space, Bread and Jam in 2015-17, which she ran for 2 years in her home in Brockley. She recently established the podcast 'Chats with artists under lockdown'.
Lindsey Mendick (b. 1987, London, UK) lives and works in London. She received an MA in Sculpture from the Royal College of Art, London. She was the recipient of the Alexandra Reinhardt memorial award in 2018 and was also selected for Jerwood Survey 2019. Recent solo and two-person exhibitions include: 'The Yellow Wallpaper', East Side Projects, Birmingham (2020), 'Regrets, I've Had a Few', SPACE, Ilford, UK (2019-2020); 'Of all the things I've lost' (with Paloma Proudfoot), Ballon Rouge Club, Brussels (2019); 'The Ex Files', Castor Projects, London (2019); 'The Turnpike Pottery', The Turnpike, Leigh (2018); 'Perfectly Ripe', Zabludowicz Collection, London (2018); 'PROUDICK' (with Paloma Proudfoot), Hannah Barry Gallery, London (2018); 'Jamie Fitzpatrick and Lindsey Mendick', Vitrine, Basel (2018); and 'She's Really Nice When You Get To Know Her', Visual Arts Center, Austin, Texas (2016).
Hardeep Pandhal (b. 1985, Birmingham) lives and works in Glasgow. He received a Leverhulme Scholarship to complete the MFA programme at The Glasgow School of Art in 2013. Recent solo exhibitions include: Confessions of a Thug: Pakiveli, Tramway, Glasgow; Paranoid Picnic: The Phantom BAME, New Art Exchange and Primary, Nottingham (2018); Self-Loathing Flashmob, Kelvin Hall, Glasgow International 2018, Glasgow; Liar Hydrant, Cubitt, London (2018). Recent group exhibitions include: Is This Tomorrow?, Whitechapel Gallery, London (2019); 2018 Triennial: Songs for Sabotage,? New Museum, New York (2018). He was shortlisted for the 2018 Film London Jarman Award.
Categories
Tags