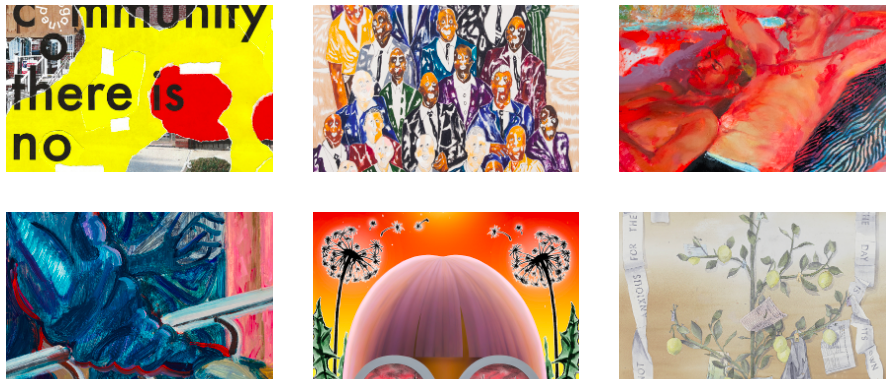 Public Art Fund has launched Art on the Grid, a multi-platform exhibition of new work by a group of 50 New York-based, emerging artists. The exhibition was conceived in the spring of 2020 in direct response to the COVID-19 pandemic. As it developed, the parallel epidemic of systemic racism came into sharp and painful focus. Both crises now set the backdrop for the exhibition. The city, country, and world will emerge changed by these events, and the exhibition's focus on reconnection and renewal have become even more urgent. Works in the exhibition are united around a number of themes including healing and loss; community and isolation; intimacy and solitude; and the creation of a future that is more just, inclusive, and equitable.
On view on 500 JCDecaux bus shelters and more than 1,700 LinkNYC kiosks across all five boroughs, these works serve as a reminder of the irrepressible creative spirit of New York City and transform the city into a free open-air art gallery this summer. In partnership with JCDecaux and NYC & Company, spaces typically reserved for advertising and public messaging serve as temporary canvases for 50 artists to showcase new works that encourage the public to re-engage with their communities.
For decades, Public Art Fund has presented timely collaborations with artists – from responses to the AIDS crisis of the 1980s and projects with General Idea and Gran Fury, to the ongoing global refugee crisis and Ai Weiwei's 2017 five-borough exhibition Good Fences Make Good Neighbors. Art on the Grid enables the city's rich artistic community to once again help shape the conversation about a traumatic collective experience.
The 50 artworks are being unveiled in two phases: On June 29, the work of ten artists is on view on 100 JCDecaux bus shelters and across the LinkNYC network. On July 27, an additional 40 artworks will be unveiled on 400 bus shelters and across the LinkNYC network. These 50 artworks on 500+ platforms citywide will be on view through September 20, 2020.
The broad and diverse roster of emerging artists included in the exhibition features rising stars residing in and representing multiple neighborhoods across New York City's five boroughs. In order to deepen connections with colleagues across the city during this period of disruption, and to ensure the participation of the broadest possible emerging talents, Public Art Fund's curatorial team invited 32 nominators to propose up to three artists each for consideration. These nominators include artists and art and cultural luminaries from the worlds of academia, museums, and cultural non-profits.
The first group of ten new artworks unveiled on June 29 are by Firelei Báez, Arielle Bobb-Willis, Elliott Jerome Brown Jr., Rafael Domenech, Chase Hall, Doron Langberg, Sharon Madanes, Emily Mae Smith, Cynthia Talmadge, and Andre D. Wagner.
The second group of 40 new artworks to be unveiled on July 27 are by Nina Chanel Abney, Tunji Adeniyi-Jones, Kamrooz Aram, Leilah Babirye, Chloë Bass, María Berrío, Elizabeth Bick, Zach Bruder, Jordan Casteel, Sara Cwynar, Jeremy Dennis, Marley Freeman, Ivan Forde, Chitra Ganesh, Oto Gillen, Baris Gokturk, Lucia Hierro, Esteban Jefferson, Yifan Jiang, Cheyenne Julien, Adam Khalil, Baseera Khan, Andrew Kuo, Sophie Larrimore, Nate Lewis, Joiri Minaya, Willa Nasatir, Jordan Nassar, Madhini Nirmal, Stephen Obisanya, Danielle Orchard, Anna Ostoya, Anna Park, GaHee Park, Jamaal Peterman, Kameelah Janan Rasheed, Adrienne Elise Tarver, Salman Toor, D'Angelo Lovell Williams, and Wong Kit Yi.
You can visit PublicArtFund.org/artonthegrid to view an interactive map of all bus shelters locations; the works will also appear at random across the LinkNYC network.
Nominators include Cecilia Alemani, Donald R. Mullen, Jr. Director & Chief Curator of High Line Art; Farah Al Qasimi, artist; Miguel Aragon, Assistant Professor, College of Staten Island, The City University of New York; Tauba Auerbach, artist; Jessica Bell Brown, Associate Curator of Contemporary Art, The Baltimore Museum of Art; Isolde Brielmaier, Curator-at-Large, International Center of Photography (ICP); A.K. Burns, artist; Emma Enderby, Chief Curator, The Shed; Adriana Farmiga, Associate Dean, Cooper Union; Andrea Geyer, artist; Jeffrey Gibson, artist; Thelma Golden, Director and Chief Curator, The Studio Museum in Harlem; Hugh Hayden, artist; Carmen Hermo, Associate Curator, Sackler Center for Feminist Art, Brooklyn Museum; Matthew Higgs, Director, White Columns; Shanay Jhaveri, Assistant Curator, International Art, Modern and Contemporary Art at The Metropolitan Museum of Art; Ruba Katrib, Curator, MoMA PS1; Martin Kersels, Director of Graduate Studies in Sculpture, Yale; Thomas Lax, Curator, Department of Media and Performance, Museum of Modern Art; Christopher Y. Lew, Nancy and Fred Poses Curator, Whitney Museum of American Art; Jennifer McGregor, Senior Director of Arts, Education and Programs, Wave Hill; Alan Michelson, artist; Ugo Rondinone, artist; Walid Raad, artist; Xaviera Simmons, artist; Sarah Sze, artist; Kelly Taxter, Barnett and Annalee Newman Curator of Contemporary Art, The Jewish Museum; Mickalene Thomas, artist; Mark Tribe, MFA Department Chair, SVA; Tomas Vu, Professor of Professional Practice, Discipline Director of Printmaking, Columbia; Jasmine Wahi, Holly Block Social Justice Curator, Bronx Museum of the Arts; Hank Willis Thomas, artist.
Art on the Grid is curated by Public Art Fund Director & Chief Curator Nicholas Baume, Public Art Fund Curator Daniel S. Palmer, and Public Art Fund Assistant Curator Katerina Stathopoulou.
ABOUT PUBLIC ART FUND
As the leader in its field, Public Art Fund brings dynamic contemporary art to a broad audience in New York City and beyond by mounting ambitious free exhibitions of international scope and impact that offer the public powerful experiences with art and the urban environment.
ABOUT NYC & COMPANY
NYC & Company is the official destination marketing organization and convention and visitors bureau for the City of New York, dedicated to maximizing travel and tourism opportunities throughout the five boroughs, building economic prosperity and spreading the positive image of New York City worldwide. For all there is to do and see in New York City, visit nycgo.com.
ABOUT JCDECAUX
JCDecaux is a member of the JCDecaux Group, the world's largest out-of-home media group with operations in more than 80 countries. JCDecaux operates through several lines of business in the United States, including airports, billboards, transit, malls as well as street furniture programs in the cities of New York, Boston, Chicago and San Francisco and across the Greater Los Angeles area. Through its ongoing partnership with the Public Art Fund and other programs, JCDecaux provides a place for artistic voices to reach our shared urban communities.
Categories
Tags