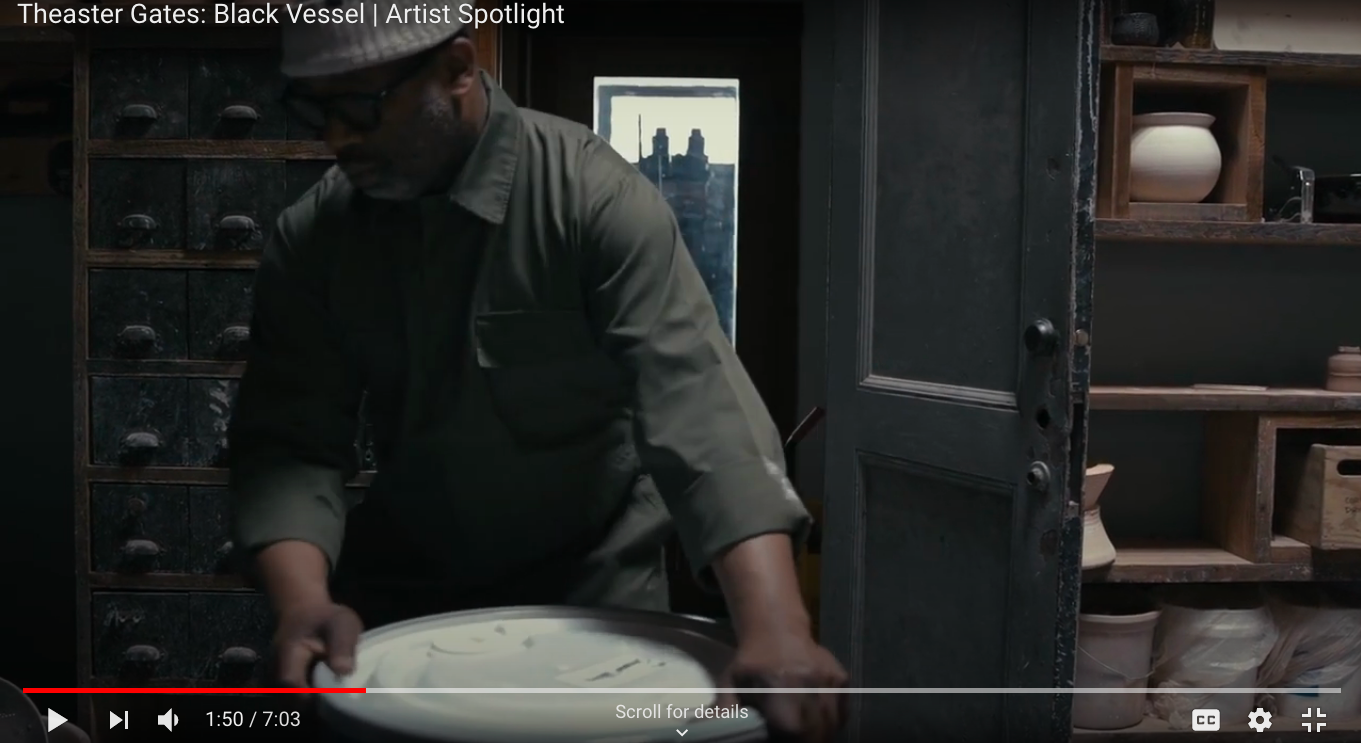 Join Theaster Gates in his studio as he prepares for his upcoming exhibition at Gagosian, New York, this fall. In this video, shot entirely on location in Chicago during the recent tumultuous weeks, Gates reflects on the metaphorical power of materials and process, and on the redemptive potential of art.

Artwork © Theaster Gates. Video: Chris Strong. Video editing and postproduction: Parallax Postproduction
About the Artist
Theaster Gates has incubated new models for artistic creation, social transformation, and building legacies. Traversing a vast array of methodologies encompassing sculpture, performance, and archives, he explores concepts of value and economy, as well as spiritual and material exchange, as they perform in charged social contexts.
Gates first began to work with clay at Iowa State University, Ames, where he received a BS in 1996. After graduating, he studied pottery in Tokoname, Japan, before receiving an MA in fine arts and religious studies from the University of Cape Town in 1998 and an MA in urban planning from Iowa State in 2006. These seemingly disparate interests came together in Gates's oeuvre as early as 2007, in Plate Convergence at the Hyde Park Art Center, Chicago. For this performance piece, Gates organized a dinner party themed on a fictional tale of a cultural collaboration between a Black family and a Japanese ceramicist.
In 2010 Gates created the Rebuild Foundation, a nonprofit platform targeting neighborhood regeneration, community arts programming, and cultural development in Chicago. Many of the foundation's initiatives have focused on revitalizing Chicago's South Side—creating hubs and archives for Black culture that catalyze discussions about race, equality, space, and history. Two years later, at Documenta 13 in Kassel, Germany, Gates expanded this redemptive urban initiative into a transatlantic correspondence with 12 Ballads for Huguenot House, in which two derelict nineteenth-century buildings—one in Kassel, the other in Chicago—underwent a mutual transmutation, whereby parts of each were reused in the rebuilding of the other, and the resulting spaces were consecrated with live performance.
Gates began his Civil Tapestry series, stitching salvaged fire hoses over wooden supports, in 2011. The resulting works appear abstract and minimalist but are historically charged; they evoke the Black American struggle during the Civil Rights movement, in which law enforcers broke up peaceful civilian marches with the violent use of high-pressure hoses. In 2012 Gates introduced tar as a medium in his work, with a series of textural, high-relief paintings in tribute to his father's occupation as a roofer. Sometimes featuring footprints and drips, these paintings literally and metaphorically equate making a roof with making art. In a subsequent series of scarred bronze wall reliefs, he immortalized the rough, tar-papered surfaces of Chicago roofs in a sculptural material that is ancient, noble, and universal.
Gates started the Black Madonna Press in 2018, distributing materials drawn from his expansive collection of print media and archival photography. His project Black Image Corporation (2018–) promoted new awareness of the legendary Johnson Publishing Company, which was responsible for circulating positive and glamorous images of Black middle-class life through culturally influential magazines such as Ebony and Jet. Selections of images from the vast Johnson Publishing Company archive, along with relics from the corporate offices, have featured in Gates's exhibitions at institutions including the Kunstmuseum Basel (2018), Osservatorio Fondazione Prada, Milan (2018–19, traveled to Gropius Bau, Berlin), and Haus der Kunst, Munich (2019–20).
Since 2009 Gates has led the Black Monks, a musical ensemble channeling traditional secular and religious Black music through experimental forms of improvisation and dialogue. Gates has brought his performative practice into the museum, including his ongoing series Processions—held at the Hirshhorn Museum and Sculpture Garden, Washington, DC, between 2016 and 2019—which investigates "sonic imagination" and celebrates Black history and culture through music workshops and recitals. In 2019 Gates brought B.A.R. (Black Artists Retreat), a project of cultural exchange that he has held yearly since 2013 at his studio in Chicago, to the Park Avenue Armory in New York.
Gates is a professor at the University of Chicago and director of artist initiatives at the Lunder Institute for American Art at Colby College in Waterville, Maine. He was artist-in-residence at the Getty Research Institute, Los Angeles, in 2018–19. In 2017 Gates was awarded the Artes Mundi 6 prize and received the French government's Chevalier de l'Ordre national de la Légion d'honneur.
Categories
Tags