I live and breathe art in everything I do, everything I think. When I look at art, I analyse it and lose myself in it. I've always been into loads of different styles of creation.  For me, there is no better feeling than looking at something beautiful – and I don't necessarily mean 'beautiful' in its traditional sense – and it sparks a feeling. If I look at an artwork and  feel something, I fall in love with it. I am interested in how and what it is making me feel.

Skepta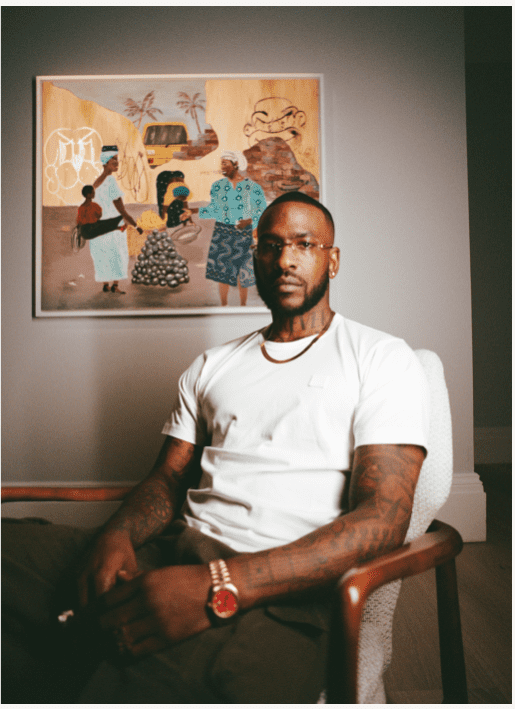 Skepta [@skeptagram], British-Nigerian rapper, producer and DJ makes his art world debut this week as he unveils, for the first time, his painting Mama Goes to Market at Sotheby's. The artist's vibrant and tender work, which he describes as "a brought-together memory" of Nigeria, will go on public exhibition in Sotheby's New Bond Street galleries, before it is auctioned in a sale of Contemporary Art, co-curated by Skepta (7-13 September 2022). 
Mama Goes to Market will be offered alongside works from the most established to the emerging generation of artists, including a selection Skepta has handpicked for his edit: a surreal portrait by Lynette Yiadom-Boakye, a densely textured Abstract Expressionist painting by Frank Bowling, a collage by Ouattara Watts, a mixed-media work by  Omar Ba, Aplerh-Doku Borlabi's prideful portrait, and a piece by Theaster Gates. Speaking to his curated edit,
Skepta said: 
I chose these pieces because, to me, they all had an African feeling about them. Whether they were created by African artists or not, they all share in this essence – be it the work's texture, colour or subject matter. And, in one way or another, they triggered powerful dialogues with my painting too.
The artist started painting Mama Goes to Market during the first lockdown in 2020. Picking up a paintbrush became a way to channel his emotions, in his words: 
"This painting came from a real frustration. It was the only way I could really express myself at that time." 
In Mama Goes to Market, the back wall is overlaid with graffiti, a reference to both the burgeoning street art scene in Lagos, and his love of the medium. Skepta enlisted the artist Slawn, graphic designer Chito and producer Goldie to "tag" the wall in his work ("as they would a physical wall"), and reworked their markings in the studio to blend them into the canvas with a stencil and spray paint.
For his "Contemporary Curated" edit, Skepta chose to include pieces by Slawn, Goldie and Chito respectively – the latter of whom recently collaborated with Givenchy, adorning its Spring 2022 pre-collection with airbrushed reinterpretations of the brand's iconic emblems. Goldie has a long history as an artist – before breaking into music he had initially gained exposure for his work as a graffiti artist in the early 1990s, and has again refocused on his art in recent years. Slawn, however –  like Skepta – also started painting during the first lockdown, and at the age of just 22,  his collector base already includes the likes of Frank Ocean and Lil Uzi. Slawn will also create a site-specific mural in Sotheby's New Bond Street galleries for the duration of the "Contemporary Curated" exhibition.
These works will be exhibited alongside a larger-than-life portrait by Aplerh-Doku Borlabi, whose mixed-media canvas combines oil paint with coconut husks to both emulate the way natural light surfaces on skin and to render the sitter's facial tones and bone structure. Skepta chose Borlabi's painting to appear besides Omar Ba's mixed-media piece, Outside. For the curator, both works reminded him of his own painting, fusing figurative and decorative elements – often inspired by traditional African patterns, fabrics and colours.
Drawn to its intensity, Skepta also shines a light on Lynette Yiadom-Boakye's surreal portrait, Body Snatching Soul Searcher. Raising questions around identity and representation, the artist chooses to portray her subjects outside of a specific time or place, inviting the viewer to project their own narratives, memories and interpretations. 
Elsewhere is a highly-textured, amber-coloured frieze by Frank Bowling and a kaleidoscopic canvas by Ouattara Watts – an artist who arguably gave rise to African Art in New York during the eighties after fellow artist, Jean-Michel Basquiat, convinced Watts to move to the US. And finally, Skepta highlights a piece by Theaster Gates, who incorporates repurposed materials from shuttered African-American businesses to function as both works of art and as a reflection of his deep commitment to social injustice and urban renewal in Chicago, the city in which he resides.
Categories
Tags